Planning Tips for Getting Married On Mexico's Pacific Coast
Nayarit-based planner Yazmin Gizeh offers her top advice for destination weddings in Mexico's Nayarit region along the Pacific Coast.
by stephanie cain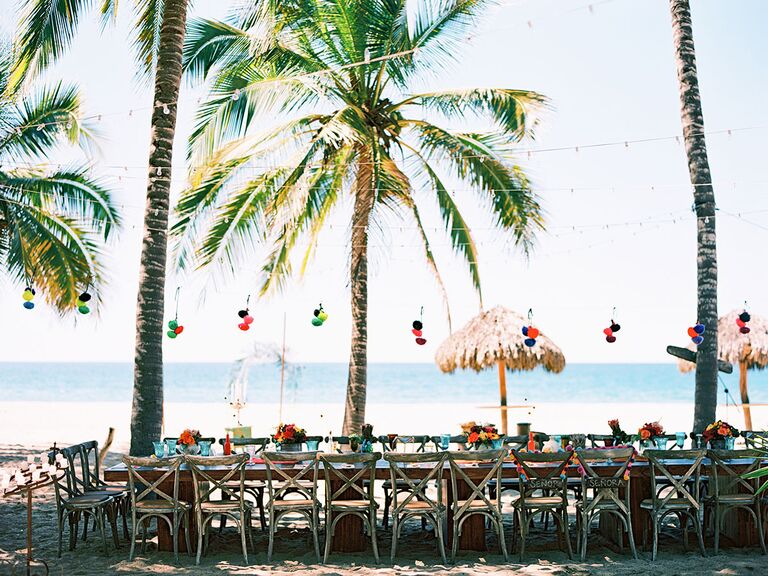 Sayulita, Mexico-based Yazmin Gizeh of Sea of Dreams Weddings has planned more than 500 weddings in the Nayarit region, located just north of Puerto Vallarta. We chatted with her to get the details on all things wedding planning along this area of Mexico's Pacific Coast.
What makes Nayarit, Mexico, unique?
It is one of the most beautiful destination places in the world. You have the opportunity to share the surroundings—mountains, ocean, animals, people and sunsets—with your friends and family who travel with you. Just to see the charm of the Mexican towns, the culture, colors and handicrafts makes Nayarit an incredible place for weddings.
What style of weddings do couples prefer in Nayarit?
Couples love to incorporate the vibrant colors of Mexico. Sometimes they incorporate it with the color of the flowers or add colorful details to the wedding like papel picados. Others opt for a more clean look with lots of greenery and natural wood.
What are some local details couples often include in Nayarit weddings?
Igor, a little donkey! He is so cute, and he walks around so guests can take a photo. He can even carry beers around for refreshments. Tacos al pastor are a must for a late-night snack and a churro maker for dessert. Around the wedding day, you can organize a boat tour to the Marietas Islands, where you can see the blue-footed booby. You can only see them here and in the Galapagos!
What's one logistical tip you often advise couples?
Provide transportation for your guests from the hotels or villas to the venue so they don't have to rent a car.

Name a Do and a Don't of wedding planning in Nayarit, Mexico.
Do: Try to incorporate culture in your wedding. The majority of my couples do a welcome party, and it is fun to see a Mexican fiesta, with a mariachi band, papel picados, tacos and, of course, margaritas.
Don't: Plan a full agenda for your guests. Leave time so that they can walk around and discover the town. Provide information about the area and things to do on your wedding website.
Lastly, would you share one ultimate insider tip about planning a destination wedding in Mexico?
Mexico is an amazing country. There are so many things to offer and for a destination weddings, there is a lot of freedom.
Pick up The Knot 2016 Winter issue, on newsstands November 14, to see Yazmin's work planning Jess and Dave's beachfront destination wedding in San Franscico, Nayarit, Mexico.