Why We Love Diann Valentine
Wedding designer to the likes of Usher, Toni Braxton and Martin Lawrence, Diann Valentine lets us in on the ins and outs of creating a stunning event.
by Susan Waits
Watch our exclusive video interview with Diann! >
Find and Follow a Design Muse
A muse can come in many forms, whether it be a person ("I've often paid homage to Tom Ford for his cool and modern take on sexy," Valentine says) or something as seemingly simple as a monarch butterfly, which she once used to create a custom mural. Valentine recommends both finding a muse for yourself and allowing your wedding designer to share his or her muses with you. "This will be telling in determining their design sensibility and whether or not they will be the right fit for bringing your love story to life," she says.
Work with the Architecture of Your Space
Your venue speaks volumes to the tone of your wedding. Where do you envision celebrating? A historic ballroom? A museum? Your family's backyard? Valentine says, "Every space has a spirit, a voice." She even reminds us of the famous quote from German poet Johann Wolfgang von Goethe: "Architecture is frozen music." Her best advice is to simply listen. Whether scouting a church, a private estate or a public building, she says to take in the walls, doorways, moldings, light fixtures -- all of it. Choose your space based on the environment you want to create, and plan your décor accordingly. "I never fight the architecture, whether art nouveau or rococo. I never work against the aura of a space."
Select Your Photographer Very Carefully
Several factors play a part in hiring your vendors -- availability and price sometimes being the trickiest. But when it comes to selecting your photographer, don't settle for anything less than the best. You are entrusting them to document your wedding, after all. Do plenty of research and choose a photographer that has a style and a proven portfolio that aligns perfectly with your aesthetic. "Just like with your man, when the right one comes along, you'll know the minute you see his or her work," Valentine says. "Carefully select the artist that will capture your story and ultimately create a family heirloom your grandchildren will one day enjoy."
Choose a Bouquet That Doesn't Distract from Your Dress
One area in particular Valentine suggests reimagining is the bridal bouquet. "I love flowers but can't quite grasp the wedding tradition that stipulates that you carry a bouquet that often blocks the most intricate detailing on your wedding gown," she says. For one bride, Valentine created a long cascade of orchids that hung to her side, allowing the focus to remain on her light-pink trumpet gown.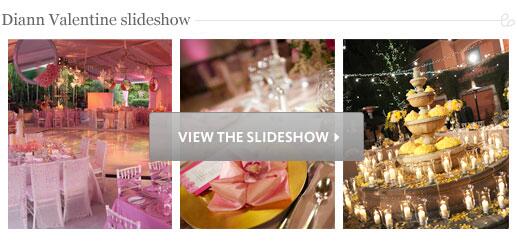 Surprise Your Bridesmaids
If you've ever been in a bridal party, you know the bridesmaid drill. You drop a ton of time, love and cash to make your BFF's wedding absolutely perfect. And you probably also know what's it's like to feel a little underappreciated through it all. "As happy as they are for their girl, bridesmaids always seem to get the least amount of consideration during the wedding," Valentine says. Remember to put yourself in their position and show them a little love, even if it just means easing up on the scheduling demands. "Now everyone knows (or if you don't know, you do now) that black girls' hair experience can take all day, but there is no need to make them wait for hours on end." Respect the time and effort your friends are putting into your day, and think up some fun surprises (ahem, mimosas!) to show your gratitude.