Did Blake Lively Show Us Her Wedding Dress in a Video Clip?
by Ivy Jacobson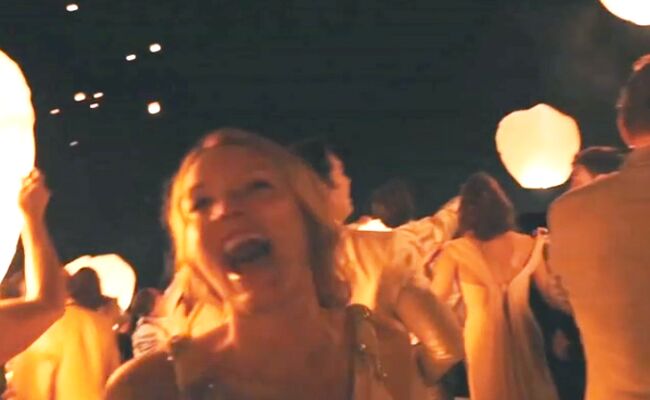 Besides offering adorable items for brides and grooms on her new lifestyle website, Preserve, Blake Lively might have let us in on another closely guarded wedding detail too: her wedding dress.
The site's welcome video shows lots of people in rustic Americana-style vignettes to embody Preserve's artisanal mission, but we had to keep watching the blink-and-you-miss-it 1:32 mark over and over again, because we're almost sure it's Blake dancing around excitedly during her wedding reception.
We can see Blake (or someone who's a dead ringer for her) jumping up and down in a white dress with sparkly beaded embellishments on the straps. Looks like a wedding dress to us! Her hair is also swept back into a chic low chignon. And if it is her (which we strongly suspect it is), she's wearing her Marchesa gown that has a very meaningful sparkler burn mark on the front.
The people around her also look like wedding guests dressed in formal attire surrounded by hanging paper lanterns at night.
What looks like Blake's hand is also visible at the :42 mark, showing off her gigantic oval-shaped diamond engagement ring.
We're obviously a little obsessed with Blake, but we'd also like to think that this clip isn't just wishful thinking! Do you think that this is Blake, Knotties?
Want more? Right here!
> 5 wedding items we love from Blake Lively's lifestyle website
> 500+ engagement rings we love