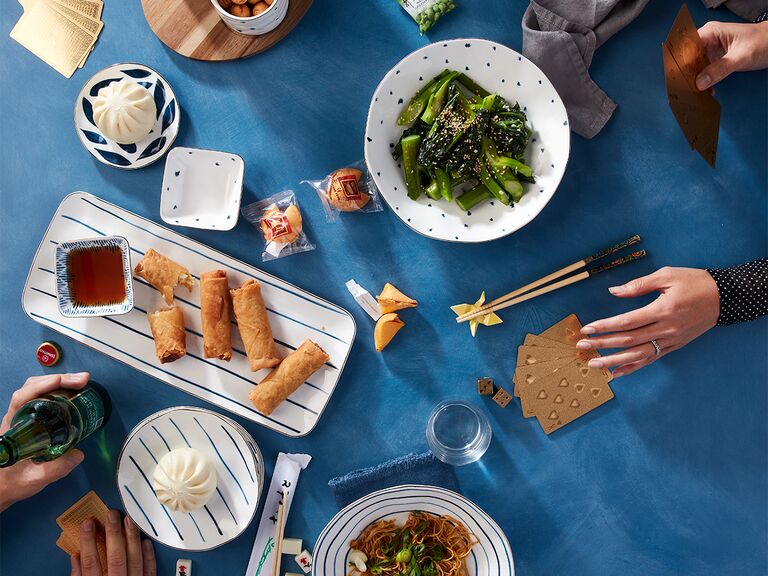 Entertaining doesn't have to start with a capital E: Anytime you invite friends over and offer them food or drinks, it counts. It doesn't have to be formal, and it doesn't have to be hard—the point is to get together without stressing. Your friends won't care if you serve apps as dinner or order takeout, and they don't need multiple forks, tablecloths or fancy flower arrangements either. The goal is to connect IRL and have a good cocktail (or maybe two or three), preferably somewhere no one's just waiting to slap the check down on the table.
That being said, having some decent dishes and serving pieces on hand can help you make even the most laid-back gatherings feel a little bit special. And your registry is the perfect opportunity to upgrade from the mismatched plates you've each brought into the relationship to a cohesive set that'll serve you now and in your newlywed life. Below, check out some relatable entertaining scenarios, tips on what to serve, plus the stylish and versatile dinnerware and barware you can register for to pull them off with ease. 
The Impromptu Get-Together
What to serve: A make-your-own taco bar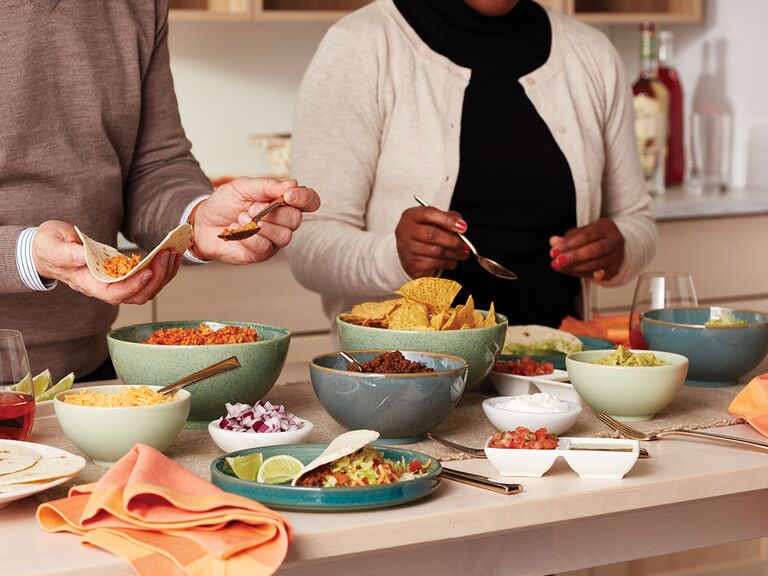 One of your friends just got engaged...or promoted? Time to text the group chat and set up a last-minute celebration. A buffet-style taco bar rules here because it's easy to work around any allergies or preferences. But mostly: It works super-well with margaritas! 

How to prep: Pick up all the taco fixin's on your way home from work, and, first things first, put out drinks so you can each grab a glass and catch up on how it went down. Toss all the delicious toppings into bowls on the counter and let everyone go to town customizing their tacos. Be sure to treat the guest of honor to a scoop of extra guac!
Registry tip: Short on storage space? A set of nesting plates and bowls takes up less room and makes serving a meal with lots of toppings or condiments easy-peasy. Lenox Luna 8-piece dinnerware set, $172; Lenox Tuscany Classics 6-piece stemless wineglass set, $54
Your Relatives Are Coming for Dinner
What to serve: A family-style Italian feast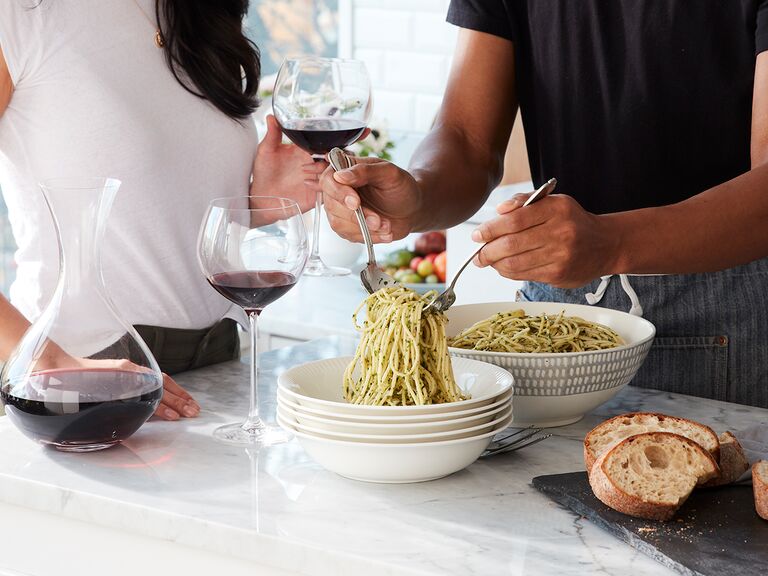 When you said "yes," you knew it came with the whole family, right? Even if you don't have a formal dining room, you can still show the in-laws how hard you're adulting with a hearty Italian dinner that'll make any mama proud.
How to prep: Divide and conquer in the kitchen. Make a big batch of pasta with your go-to sauce (we won't tell if it's from a jar) and fancy it up with freshly grated parmesan. Buy the prewashed greens, but whip up an easy dressing—try minced shallots, white wine vinegar, olive oil and a dash of truffle oil—and pile everything into big serving bowls you can take straight to the table. Then all you have to do is pop open that magnum of Chianti and prepare for the inevitable "When are you giving me a grandchild?"-type questions.
Registry tip: You can't go wrong with a classic white dinnerware collection that looks great with every décor style. Look for generously sized plates and bowls that are ideal for family-style meals. Lenox Profile dinnerware collection, from $50; Lenox Tuscany Classics 4-piece Beaujolais wineglass set, $54
Your Quote-Unquote Book Club 
What to serve: A spread of apps, sweets and coffee (or tea!)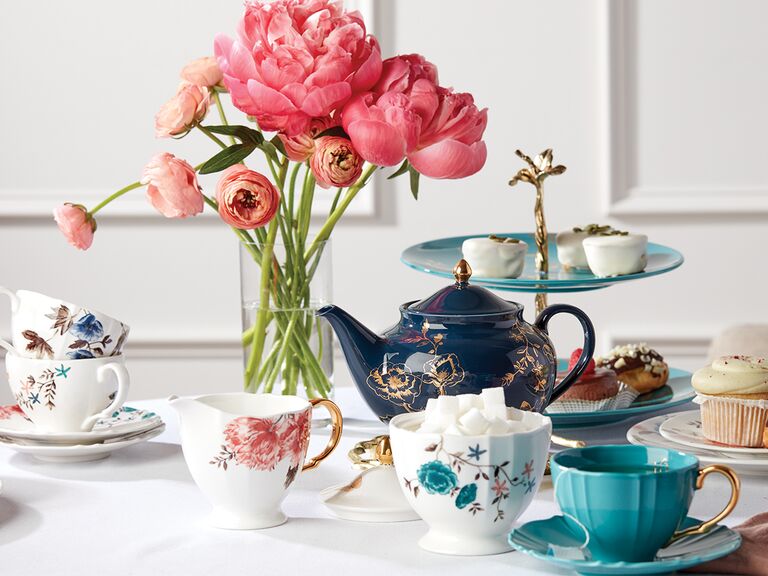 Everyone knows what "book club" is code for: time to catch up with the girls under the guise of intellectual pursuits. (No one cares if you didn't actually read the book—or that you're too busy gossiping to thoroughly discuss it.) It's also a great excuse to eat lots of snacks instead of a real meal.
How to prep: Pick up plenty of cheese, meats, olives, nuts and other accoutrements from the deli section of the good grocery store for your spread, and ask the group to BYOD (that's "bring your own dessert"). Arrange everything on the new serving pieces you've received off your registry and plop them on the coffee table within easy reach. Fueled by your fave caffeinated beverages, time will fly much faster than it did getting through your friend's mediocre book choice.
Registry tip: Serving pieces in different sizes will come in handy when you have people over. Look for a line with a variety of colors and patterns that you can mix and match depending on the occasion. Lenox Sprig & Vine dinnerware collection, from $29
The Sunday Funday Group Hang
What to serve: Takeout and beer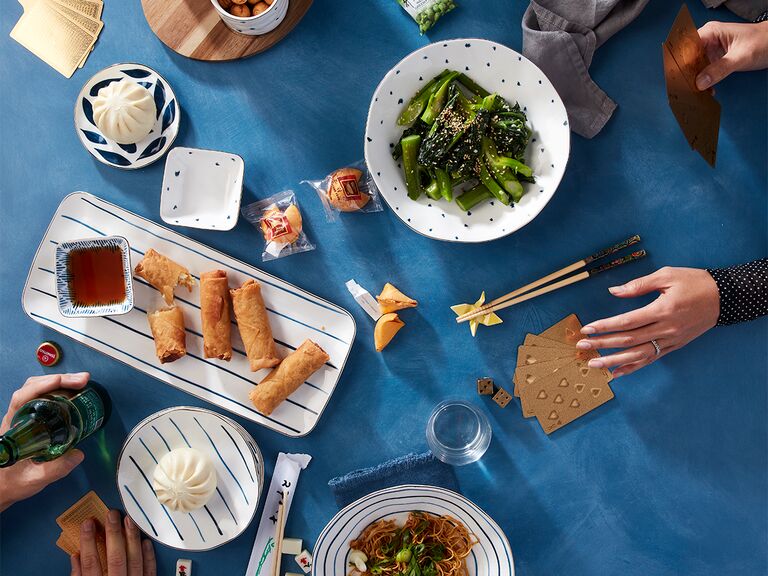 What do binge-watching Netflix, a big football game and Cards Against Humanity have in common? They're all a good excuse for a Sunday afternoon or early-evening group hang. The more the merrier for this gathering, where the dress code is one step up from PJs and it's over in time for a good night's sleep before starting the work week. 
 
How to prep: Stock up on beers and spiked seltzer so they have time to chill, pick up some bags of chips, and consider your prep work done. When everyone starts getting hungry, all you have to do is order from your fave delivery spot and grab plates from the cabinet so everyone can help themselves. Because nothing beats the Sunday scaries like a belly full of laughs—and takeout.
Registry tip: For casual entertaining, we like dinnerware with a modern vibe, like this set featuring a variety of blue-and-white patterns with a hand-painted feel. Lenox Blue Bay collection, from $15