Disney Wedding Dresses Are a Dream Come True for Brides of All Sizes
A dream is a wish your heart makes.
A dream is a wish your heart makes… and Disney wedding dresses are a dream come true. After announcing its 16-gown collection in February, Disney's Fairy Tale Weddings has officially unveiled its new line of 16 gowns representing beloved Disney Princess characters, including Tiana, Cinderella and more. Dubbed the "Disney Fairy Tale Weddings Collection," the much-anticipated Disney wedding dresses were designed and produced with Allure Bridals with the most popular princesses in mind.
"We know that so many brides have grown up admiring their favorite Disney Princess characters and are inspired by their journeys and gowns from the classic animated films," Nikki Deeds, National Sales Manager at Allure, tells The Knot. "Each of these incredible dresses is a modern take with intricate detailing specifically inspired by the beloved stories of these characters. The collection is diverse in design and priced to accommodate a bride's style and budget."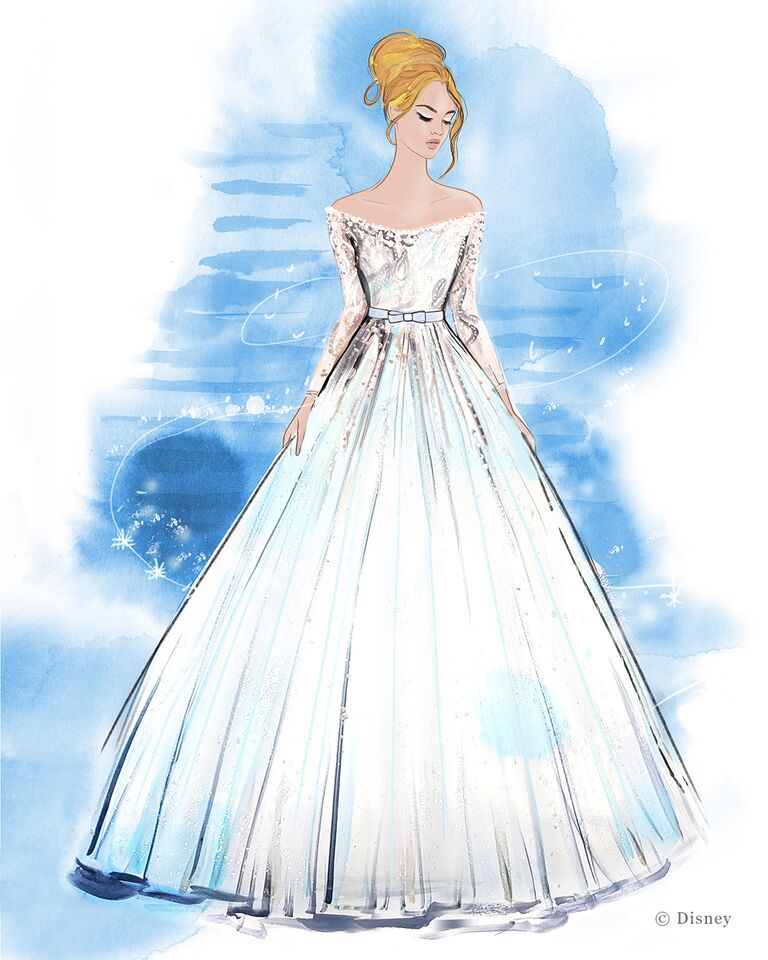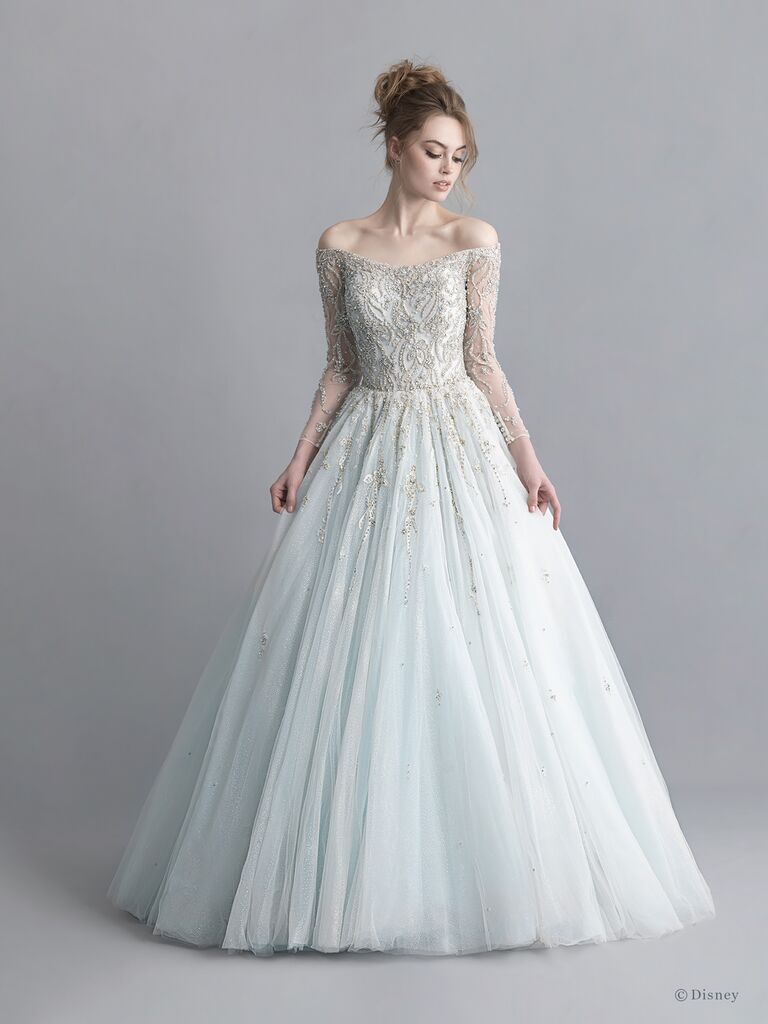 With 2020 being the 70th anniversary since the original animated Cinderella was released, Disney put extra effort into the midnight-fleeing character's ball gown, unveiled exclusively to The Knot. The piece includes 4,600 crystals and 44,000 additional beaded elements. "In honor of the 70th Anniversary for Disney's Cinderella, we held nothing back when designing the two Cinderella gowns in the Mainline and Platinum Collections," Deeds explains. "Featuring thousands of crystals and beaded elements, we designed these gowns to celebrate Cinderella's gorgeous transformation."
The 16-piece line of Disney wedding dresses will be sold by both Allure Bridals and Kleinfeld, both capturing the "style and spirit" of chosen princesses. Nine fantasy gowns will include silhouettes representative of the characters from her respective "fairy tale moment." The variety of styles includes everything from mermaid trains (because, Ariel) to dramatic ball gowns (hello, Cinderella) to ethereal tulle and flowing chiffon dresses. Other muses include Belle, Snow White, Aurora (Sleeping Beauty), Jasmine (Aladdin), Pocahontas and Rapunzel.
The Disney princess wedding dresses from Allure will be offered at select boutiques across the country with prices ranging from $1,200 to $2,500. However, if you've been dreaming of this day to arrive—and conjuring up a reason to visit Kleinfeld Bridal, the home of TLC's Say Yes to the Dress—seven of the styles (like the dwarves), will exclusively be featured at the New York and Toronto boutiques. The prices for these Disney wedding dresses, known as the Disney Fairy Tale Weddings Platinum Collection, will range from $3,500 to $10,000.
The collection is intended for brides of all shapes and sizes and will be available from sizes 0 to 30 across the board. As The Knot 2019 Fashion Study for Size Inclusivity found, the majority of brides sizes 12 and up, or a whopping 61 percent of survey respondents, reported they would've had a better shopping experience at boutiques had there been a larger selection of gowns in their sizes to try on. Both Allure Bridals and Kleinfeld will make this happen with its latest launch. "We designed the collection to offer a variety of silhouettes to flatter any bride," explains Deeds. "We also included our Allure patented corset construction to ensure all brides feel confident and comfortable. Like our other collections, we offer custom changes to accommodate any individual modifications as well."
The first piece in the collection to be released will be the Tiana Platinum gown, which is inspired by the bayou and Tiana's creative strength. It will include shimmering vines, blossoms and sparkle. Cinderella's blue gown will be the "gem" of the collection given the anniversary date. See the official sketches from Disney and the complete collection below. If you must have one, schedule your appointment with Kleinfeld Bridal Salon and other local bridal salons. In fact, 81 bridal salons across the U.S., Canada and Puerto Rico will carry the line.