12 Wedding Hairstyles Based on Your Favorite Disney Princesses
After all, Disney princesses have the best hair.
Who better to look to for fabulous wedding hair inspiration than the Disney princesses you grew up admiring? From Jasmine to Moana, we've chosen 12 different Disney princess-inspired wedding hairstyles for you to rock as you await your true love's kiss.
With the help of a fairy godmother (as in, a professional hairstylist and glam squad), your princess-based wedding hairstyle is totally doable. The only tough choice is which character you want to channel most. (Do you want long, natural-looking curls like Ariel, or sleek and sophisticated tresses like Mulan?) Here are 12 beautiful Disney princess wedding hairstyles based on the iconic characters for all of the fairy tale-adoring nearlyweds out there.
1. Ariel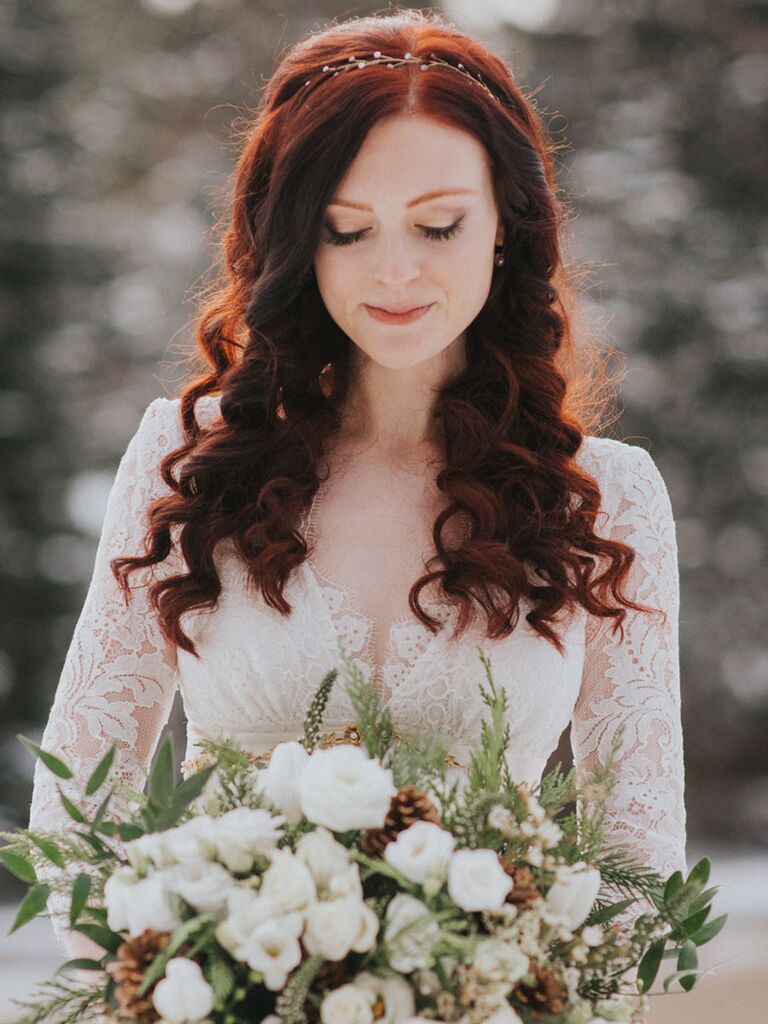 Want to emulate Ariel's beachy blowout? Channel your inner mermaid by keeping your hair down in loose and natural-looking waves. Add a sparkly headpiece or a flower if you want a little something extra. (No fork needed.)
2. Jasmine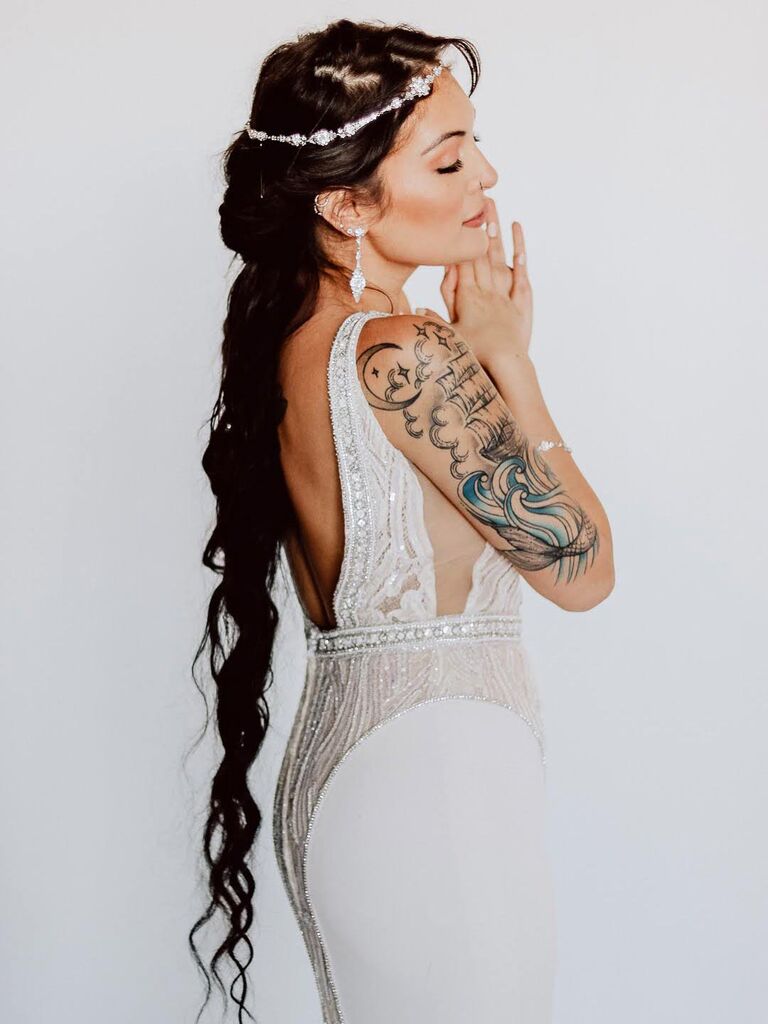 Jasmine has no shortage of confidence—and neither should you on your wedding day. Steal her look by rocking a stunning headpiece on top of a super long wavy ponytail or braid. If you don't have Jasmine's natural length, talk to your stylist about adding extensions.
3. Aurora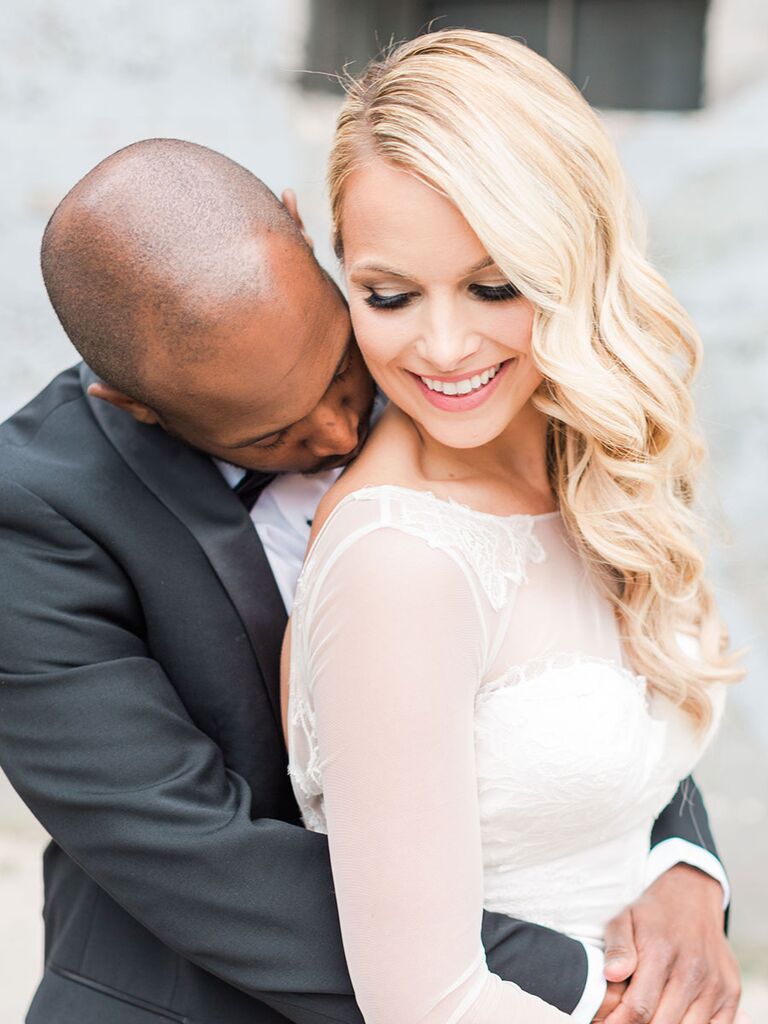 Aurora from Sleeping Beauty is one of the original Disney princesses, which means her style is as timeless as it gets. To achieve an old-school glam look, request smooth, blown-out, Hollywood-worthy curls to transform into a regal, romantic princess.
4. Tiana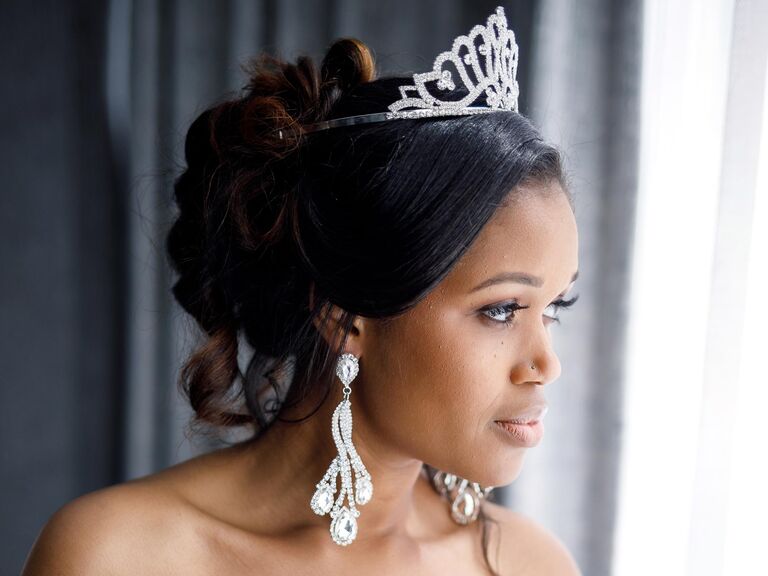 We love Tiana's updo for so many reasons: It's elegant and romantic, as much as it's polished. With a little texture too, this princess hairstyle will fully showcase your dress. Have your stylist twist your hair into a bun, and keep a few curls loose to mimic the coolest, most ambitious frog princess in the Bayou. (Finally, top it with a tiara for extra glam vibes.)
Hair by: Sassed by Candace Chantee
5. Belle
Nail Belle's beautiful hairstyle by pulling your tresses back into a low, romantic ponytail. Leave a few pieces out in the front for an extra wispy feel. With your hair out of the way, you can focus on what truly matters: locking eyes with your spouse and dancing all night long.
Hair by: Vicky C5
6. Mulan
Mulan loves to rock an updo—and we're so here for it. With this classic and sophisticated chignon, your hair will look sleek and gorgeous all night. Added bonus: You won't have to fuss with it at all.
Hair/Makeup by: Molly Todd Makeup
7. Cinderella
For an iconic Disney princess-inspired wedding hairstyle, sweep your hair into this classic updo with gorgeous braids. Add a twinkling headband, crown or tiara for a look that has "black tie" written all over it.
Hair by: Chantell Carrtherol
Elsa
There's a reason braids are a popular pick for brides: they're just the right balance of soft and edgy. Be inspired by this Frozen princess's look by twisting your hair into a side fishtail braid. Add in a few small flowers for a gorgeous and regal look.
Moana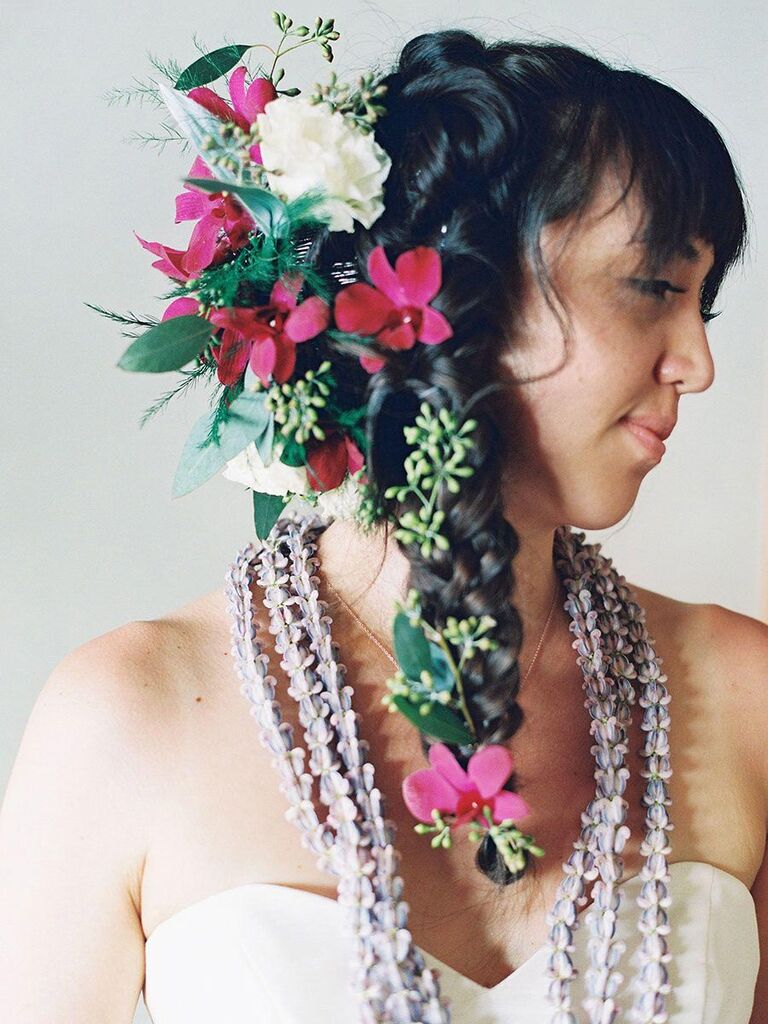 Channel Moana's independent and fierce spirit by adding big, colorful flowers into your day of 'do. We love this side braid, but feel free to try out a ponytail, bun, or twist. You'll look absolutely stunning no matter what you choose.
Anna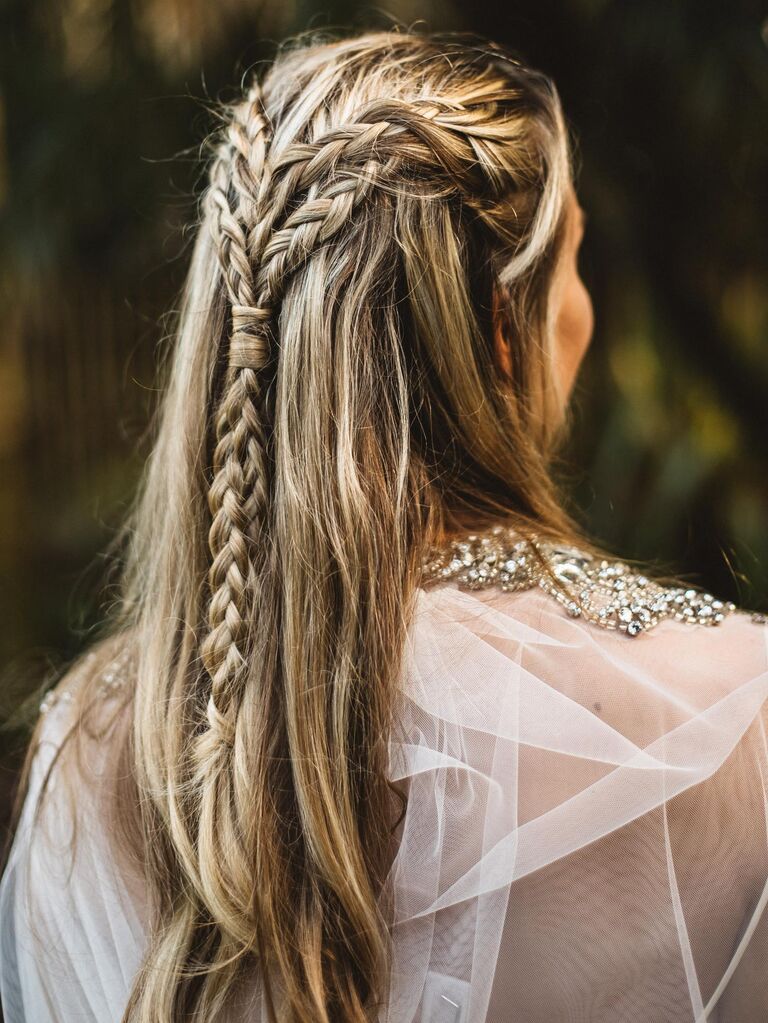 Want your hair out of the way, but sans an updo? Anna's half-up, half-down look is the perfect choice. Have your stylist braid the sides of your hair and then secure your strands in the back with an elastic.
Hair by: Majestic Hair FL
Snow White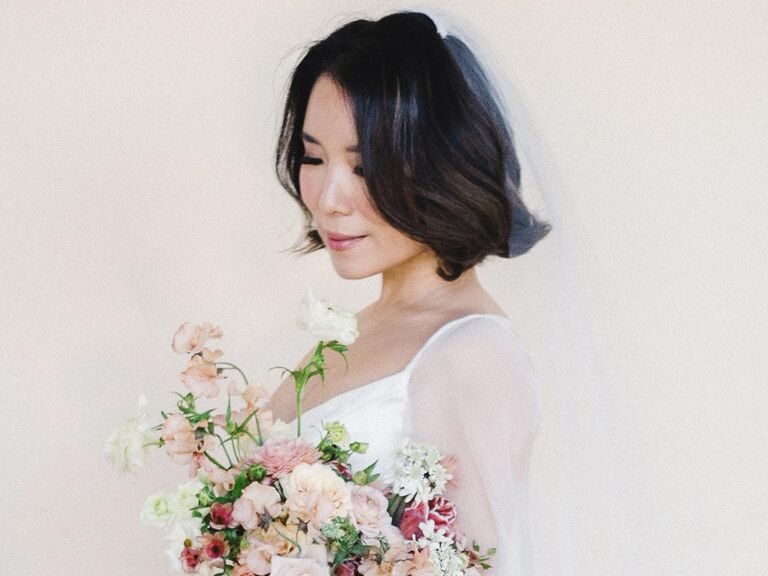 If you've got shorter locks, Snow White is the princess for you. Show off your cropped hairstyle by rocking subtle waves down the aisle for a pretty and understated style.
Hair by: Jasmine Chang Studio
Merida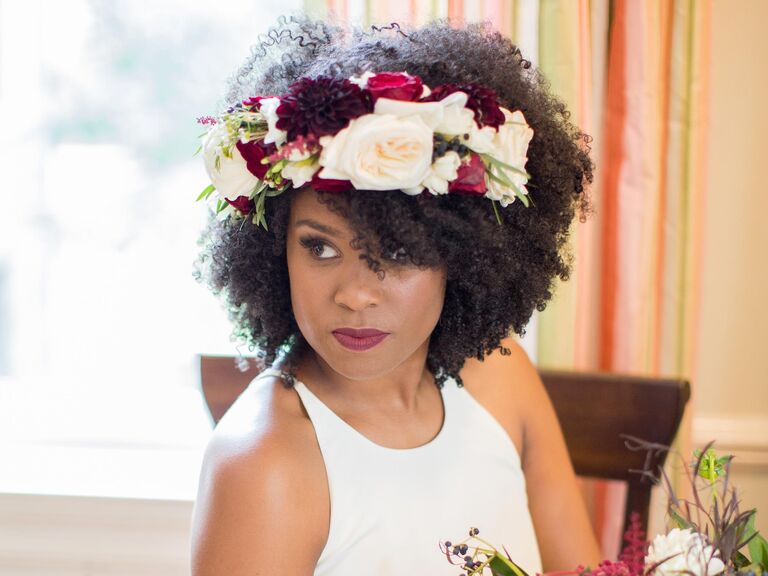 Merida is authentically herself in Brave, which is refreshing—just like her gorgeous natural hair texture. You should embrace what you've got too. Work with your stylist to find the right products to help your hair look its very best.