50 Disney Wedding Ideas For Your Happily Ever After
Live out your own fairytale.
We have included third party products to help you navigate and enjoy life's biggest moments. Purchases made through links on this page may earn us a commission.
If you love everything about fairytale endings—from swoon-worthy ball gowns to enchanting carriage rides into the sunset—incorporate that into your wedding. Not sure how? We rounded up 50 ways to host a Disney-themed wedding to help. Whether you want to lean fully into your love of the franchise or you're looking for subtle ways to incorporate it, we have ideas for every kind of wedding from Disney wedding favors to magical wedding day accesories. Plus, we have ideas for several different movies so you won't be cornered into one single Disney movie or character.
There are several different ways to plan a Disney-themed wedding. You can use colors from classic movies, book fairytale-inspired venues or include Disney love quotes in your vows. Did you grow up fascinated by Beauty and the Beast's enchanted rose? Hello, centerpiece inspiration. Or, maybe Alice In Wonderland is sparking some cocktail hour ideas (think: calligraphed "Drink Me" straw tags). If you're shopping for a magical gown, you can shop from Allure Bridal's Disney princess wedding dress collection too. Big-time Disney fans will be excited to hear you can actually get married at Disney parks, like Disneyland and Walt Disney World (read: pre-wedding party at Epcot). Psst: Check out Disney's wedding pavilion—it's absolutely gorgeous.
To pull the magical event off, we recommend working with a professional wedding planner. They'll be able to expertly execute a Disney-themed event while ensuring it still feels like an elegant wedding. If you're getting married in the Magic Kingdom or a different theme park, they'll ensure your special day goes off without a hitch. Ready to get inspired? See our favorite ideas for a Disney-themed wedding, below.
In this article:
Disney Wedding Invitations
Opt for a full-on Disney-inspired stationery suite, or pull inspiration from your favorite flick. Looking for more options? Check out designs on Etsy and The Knot Invitations.
In a nod to the Disney magic, include a magnetic "pass" to Disney World with your save-the-dates. Your guests can keep it on their fridges until the big day.
Whether you're a fan of Spirit or you just love all the horses in Disney, include a figurine in your flat lay for a sweet and subtle touch.
If you love any beach-inspired Disney movie (think: Moana or Lilo & Stitch), incorporate that into your nuptials. We love the idea of hosting a tropical wedding and including on-theme invitations.
Disney wedding ideas don't have to be light and airy. Pull inspiration from Alice in Wonderland and use dark stationery with bold, bright accents.
Disney Wedding Decorations
A few Disney wedding decorations will bring your magical dream to life. See a few of our favorites right here.
Up-Inspired Wedding Photobooth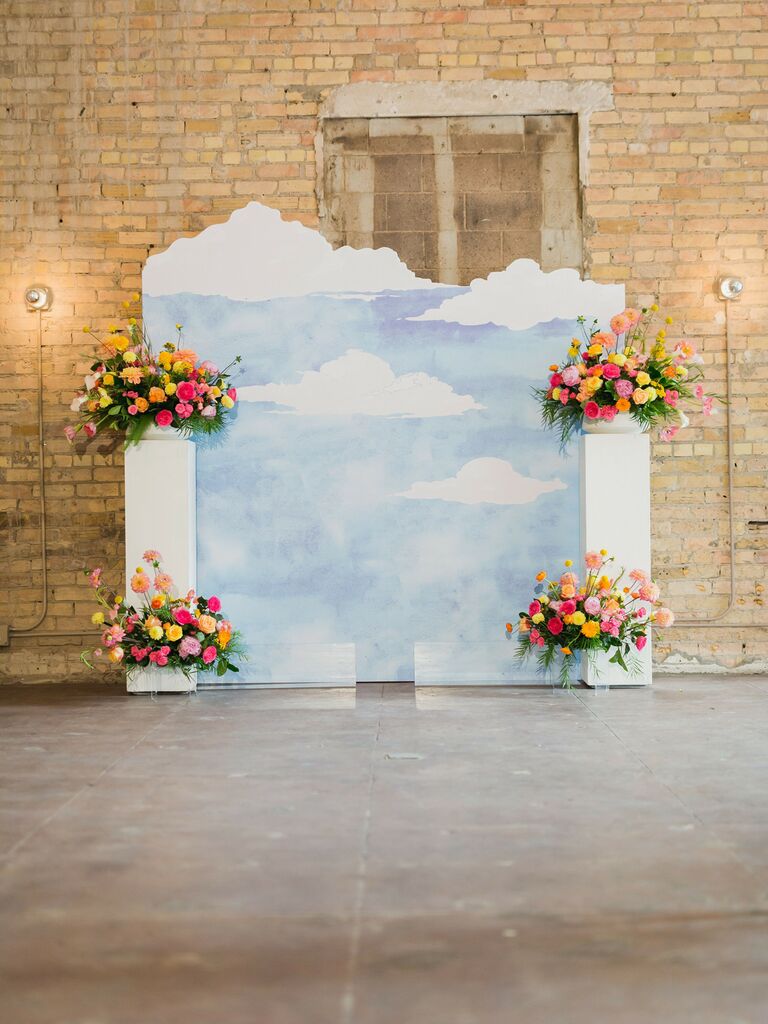 Not every Disney detail has to be over-the-top. Case in point: This adorable photo booth that's both fashionable and functional. You get to show off your love of the film Up while your guests can take memorable photos in front of it.
Tangled-Inspired Floating Lanterns
While the floating lanterns in Tangled are plain white, we love the idea of using colorful ones for your own wedding.
Beauty and the Beast Mirror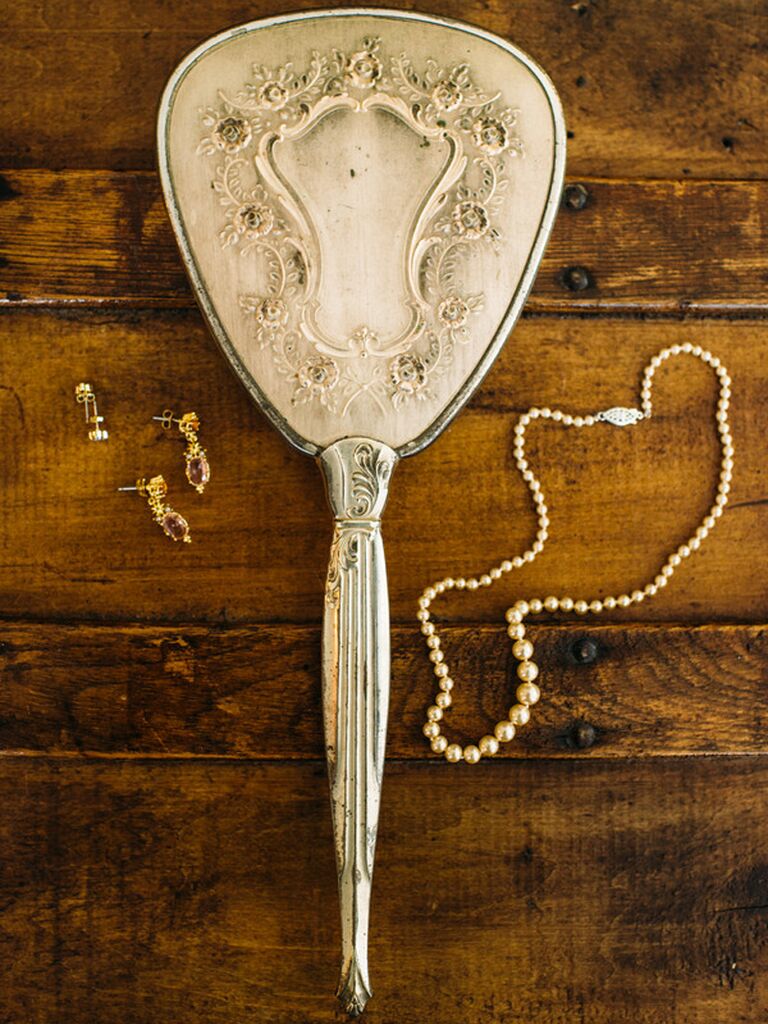 If you're hesitant about including Disney decor into your actual nuptials, use it before the main event. Bring a Beauty and the Beast-inspired mirror into your getting-ready room for a few magical pictures.
Dumbo-Inspired Cake Topper
We're throwing it back to one of the OG Disney films: Dumbo. Embrace your love for the movie by using an elephant-shaped cake topper.
Disney Love Sign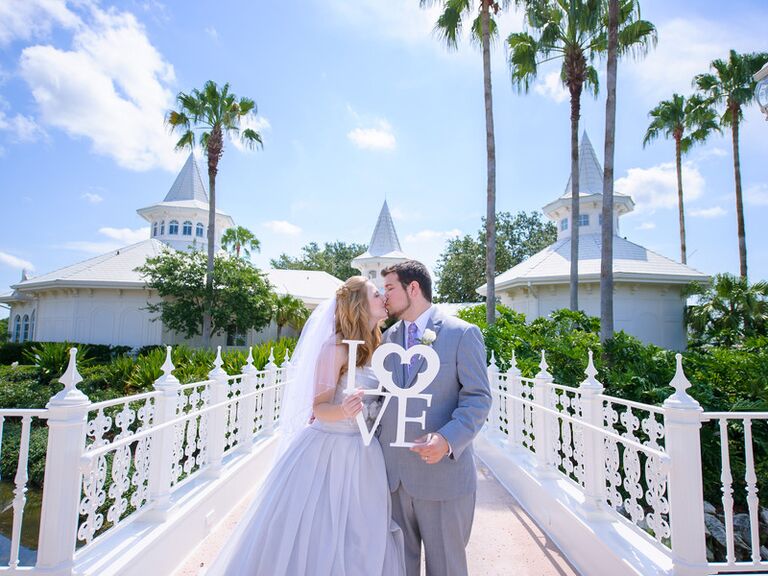 Invest in a Disney-themed "Love" sign for your nuptials. Not only can you use it as decor during the big day, you can also bring it into pictures.
Mickey and Minnie Cake Topper
There is nothing more iconic than a Mickey and Minnie Mouse cake topper for your wedding reception.
Avengers Cake Topper
Plan a super wedding. Include your favorite avengers onto the top of your cake for a sweet surprise.
Disney-Inspired Cake Topper
We love this creative Disney wedding idea. Have each partner choose the Disney character they like the most, and then put them together on top of your dessert.
Disney Wedding Ideas
There are so many opportunities to incorporate the fairytale magic into your nuptials outside of paper goods and decorations. Check out our favorite Disney wedding ideas, below.
Up-Inspired Wedding Welcome Wall
Welcome your guests to the ultimate adventure. Pull inspiration from Up and surround a wall of welcome cocktails with balloons. (We especially love this idea for brunch weddings.)
Castle Wedding Venue
For the ultimate fairytale wedding, exchange vows at a castle venue. Include string lights for a magical vibe at night.
Princess and the Frog Second Line Parade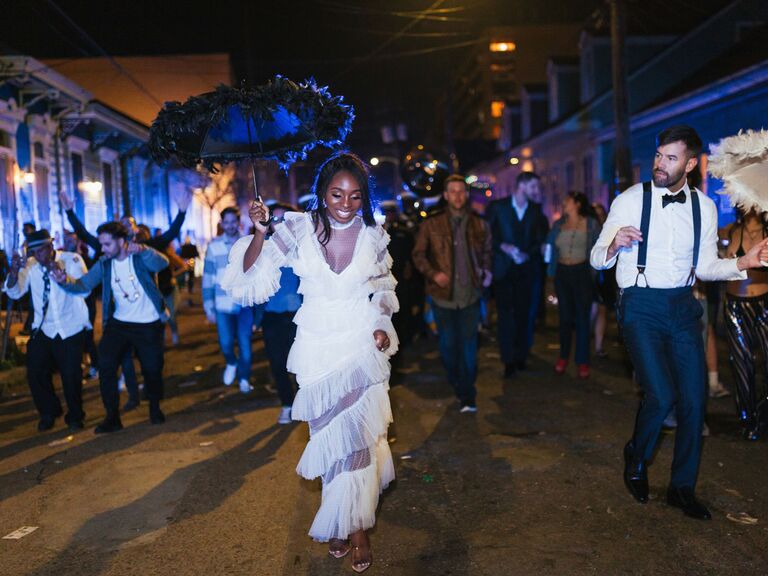 The Second Line is a tradition in New Orleans, which is the setting of The Princess and the Frog. Pay homage to the movie by planning your own personal parade.
Frozen-Inspired Wedding Venue
If you love the movie Frozen, consider planning a winter wedding. We love the idea of exchanging vows on a snowy mountaintop or in a ice castle. The cold never bothered you anyway—right?
Fairytale First Dance
Capture the magic of your relationship with a fairytale-inspired first dance. Have one partner dip the other for a romantic picture that will get all the like on Instagram.
Boat Wedding Venue
Pay homage to fan-favorites like The Little Mermaid and Moana by exchanging vows on a boat. The pictures will be absolutely stunning.
Disney Princess Ball Gown
No fairy godmothers needed here. Live out your fairytale moment by rocking a wedding gown fit for a princess.
Up-Inspired Guest Book
We love this idea because it's so creative. Rather than providing a traditional guest book, ask guests to sign a globe inspired by Up. Adventure is out there!
Romantic Kiss on the Hand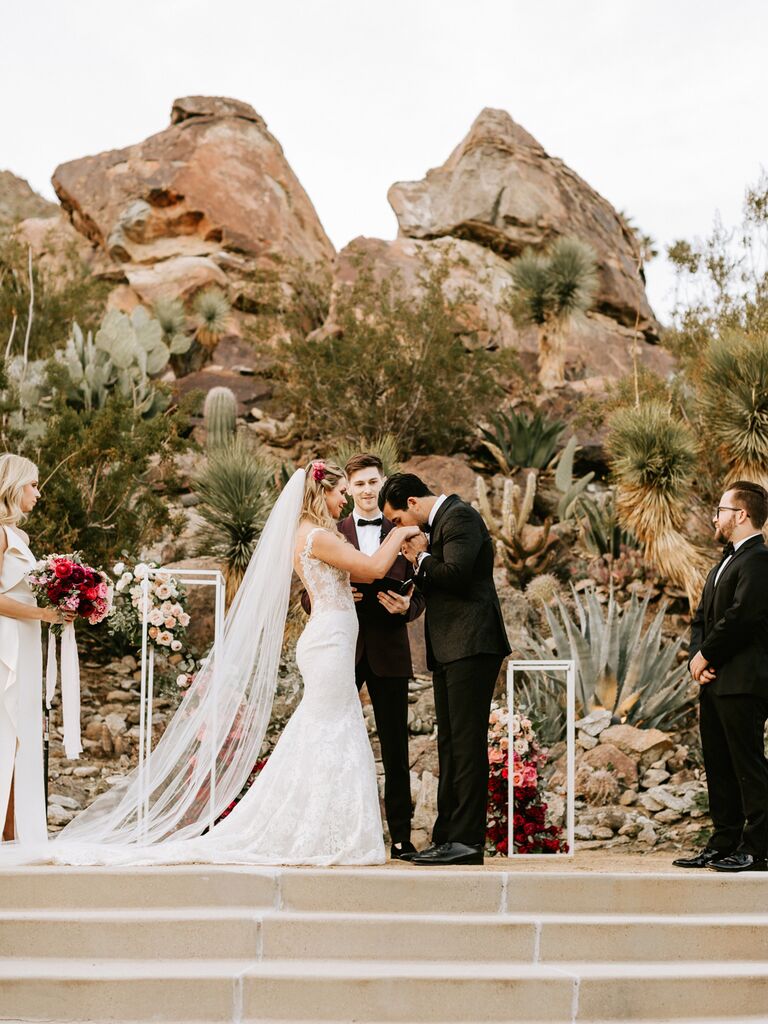 Watch any Disney princess movie, and you'll likely see a kiss on the hand. Work the tradition into your own ceremony for a sweet, romantic touch.
Enchanted Forest Wedding Venue
Set the tone for a magical day by inviting your guests into an enchanted forest venue. Pro tip: As you're wedding planning, search for the perfect place over on The Knot.
White Horse Wedding Recessional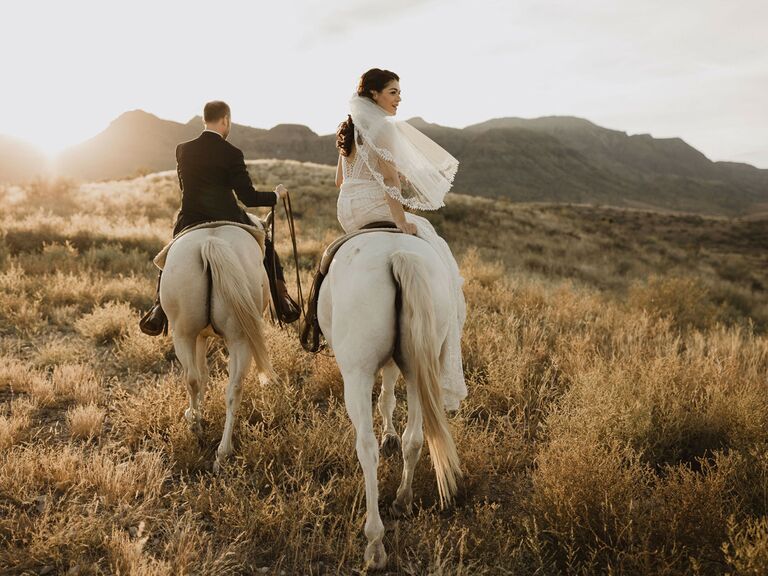 Ride off into the sunset with your one true love—fairytale style.
Castle Wedding Reception Venue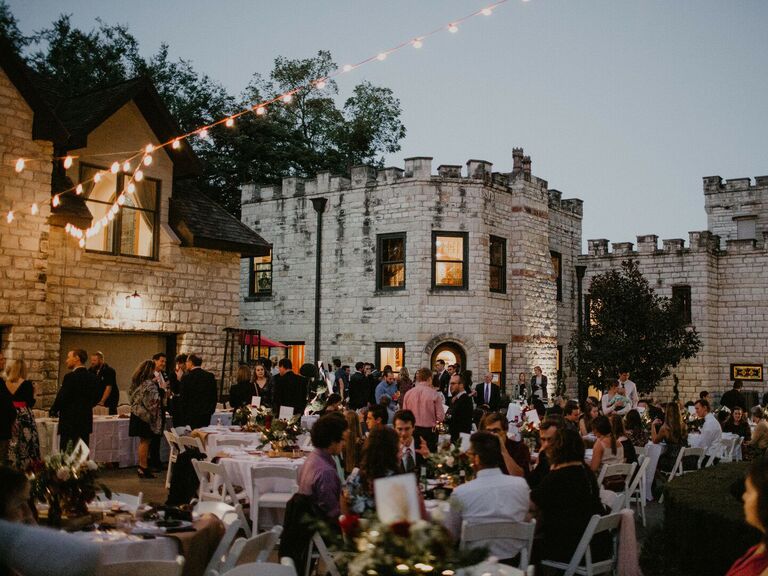 For your reception, invite guests to Cinderella's castle. Your pictures will be absolutely magical.
The Lion King-Inspired Wedding Attire
Animal print on your wedding day? It can be done! Rock a pair of printed loafers as a nod to The Lion King.
Animal Wedding Photoshoot
One thing we love about Disney movies is the bond people and animals share. Incorporate a few furry friends into your wedding portrait session for a magical touch.
Moana-Inspired Wedding Flower Crown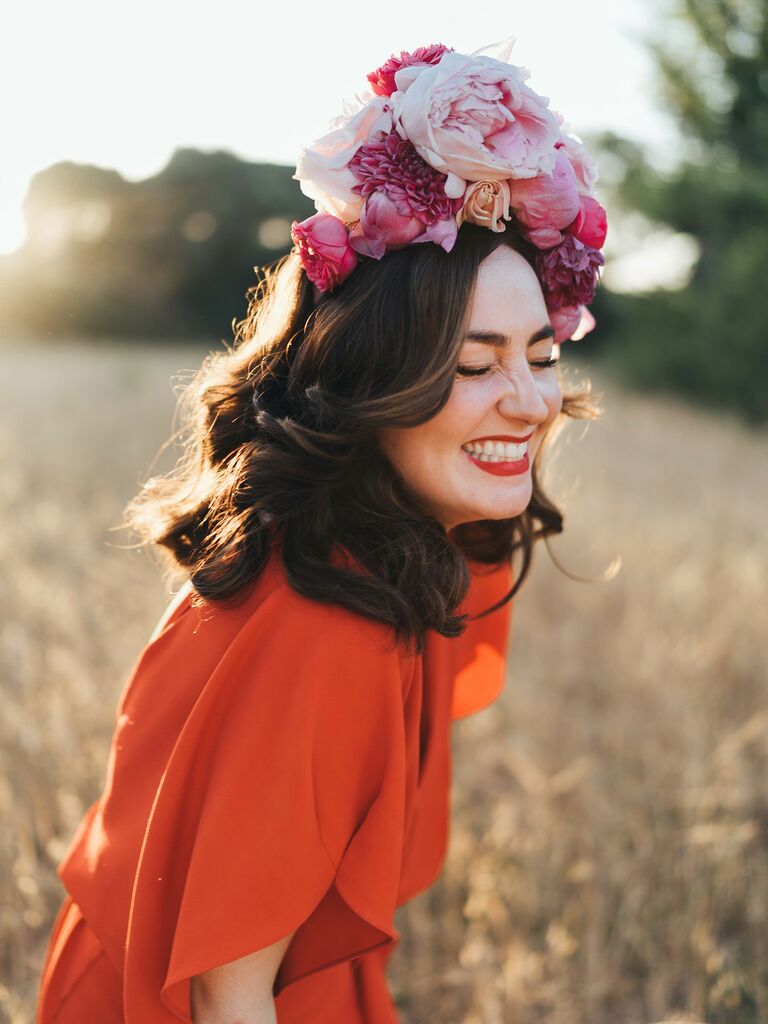 Pull inspiration from Moana for your wedding day by rocking a vibrant, oversized flower crown.
Beauty and the Beast-Inspired Wedding Wardrobe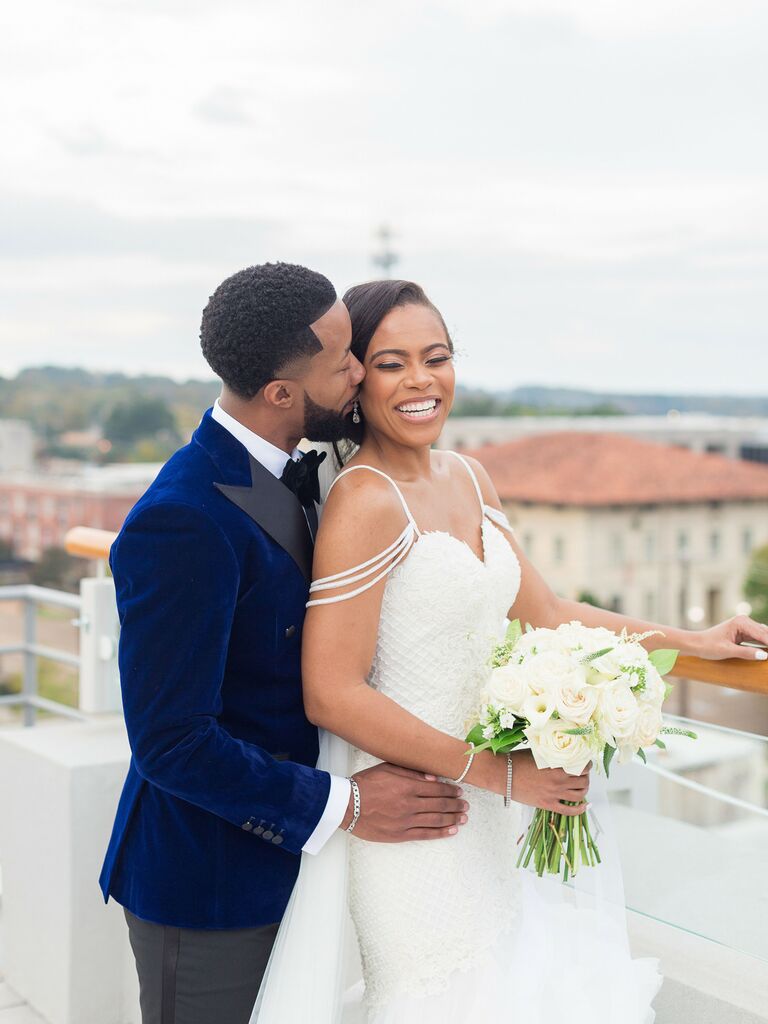 In the classic film, the Beast famously dresses up in a dapper blue jacket. Steal the style for yourself for a sweet nod to the movie.
Modern Wedding Tiara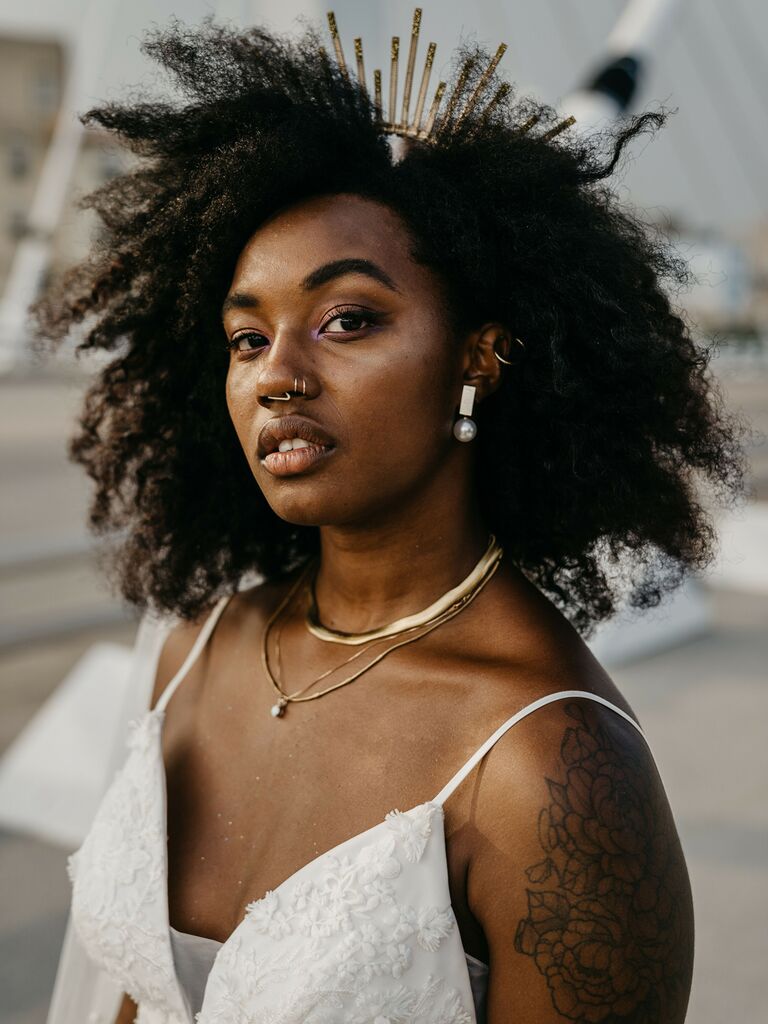 If a traditional tiara isn't quite your style, you still have options. Consider a stunning headpiece like this for a Disney-inspired day-of look.
Star Wars-Inspired Exit Shot
If you're Star Wars superfans, this Disney wedding idea is for you. Ask your guests to lift up lightsabers as you leave for an expic exit shot.
Tangled-Inspired Wedding Arch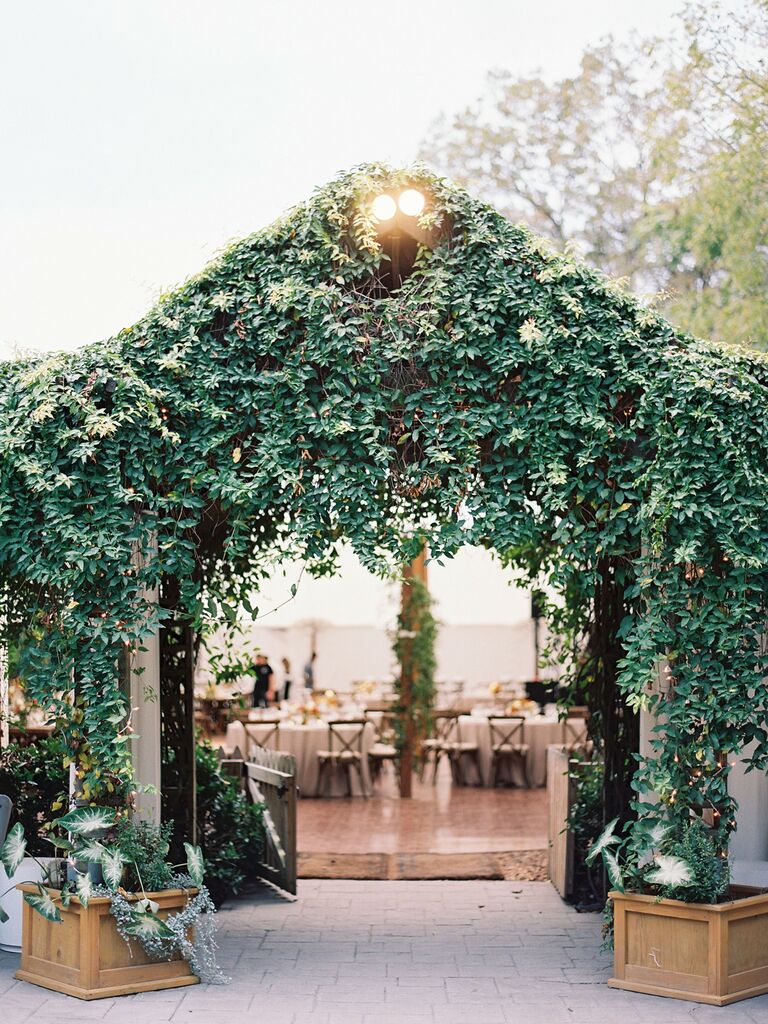 Is it just us, or is this wedding arch giving off serious Tangled vibes?
Bubbly Wedding Recession
Mimic the sparkling magic in Cinderella by asking your guests to blow bubbles during your recessional. It's not exactly pixie dust, but it's the next best thing!
Tropical Wedding Florals
\
Pay homage to your favorite beachy Disney movies by using tropical flowers for decor and outfit accessories—like a flower crown. They'll look perfect at any destination wedding (or if you've chosen to exchange vows on the Disney cruise line.)
Cinderella-Inspired Wedding Entrance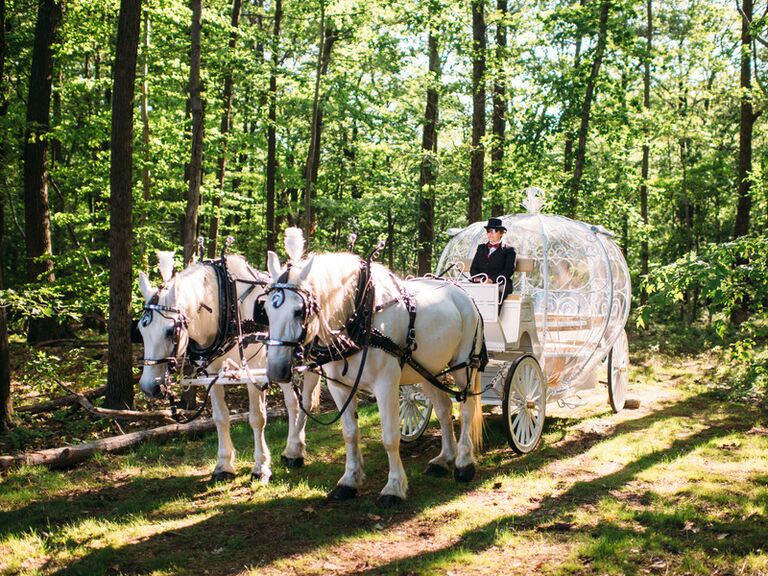 If you're dreaming of a Disney-inspired wedding, this idea is for you. Arrive to the ceremony in a horse-drawn carriage, just like Cinderella. It'll be absolutely magical.
Cartoon-Inspired Wedding Cookies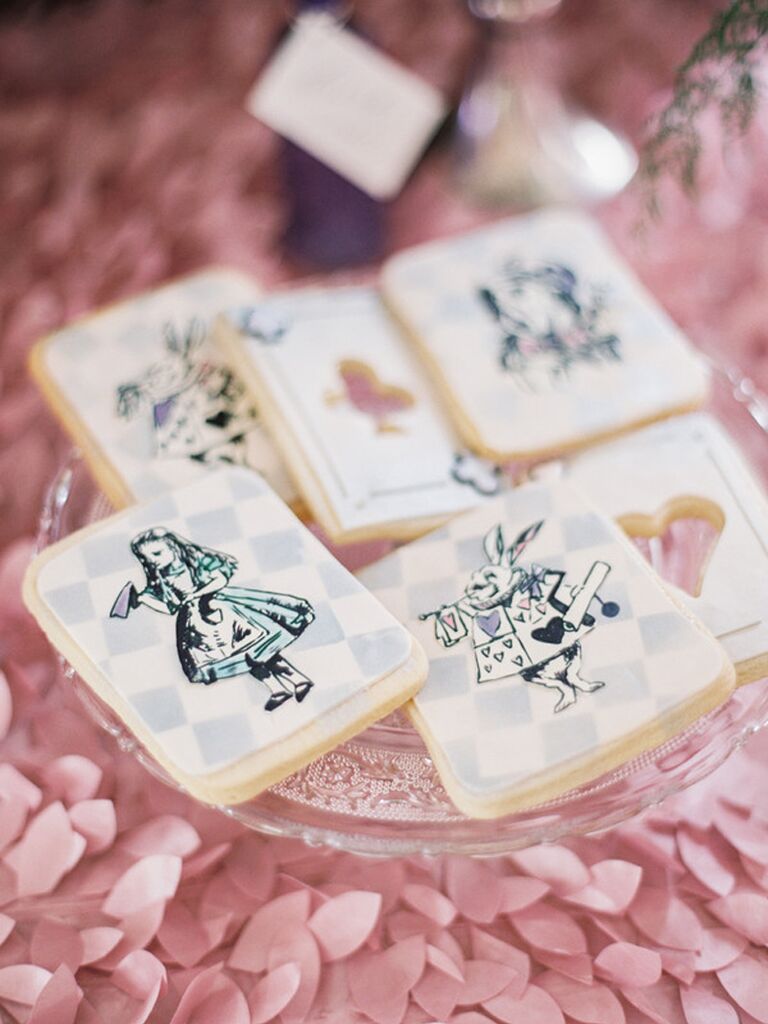 Another subtle way to host a Disney-themed wedding? Order custom cookies with drawings on your favorite Disney characters on them.
Disney-Inspired Wedding Table Numbers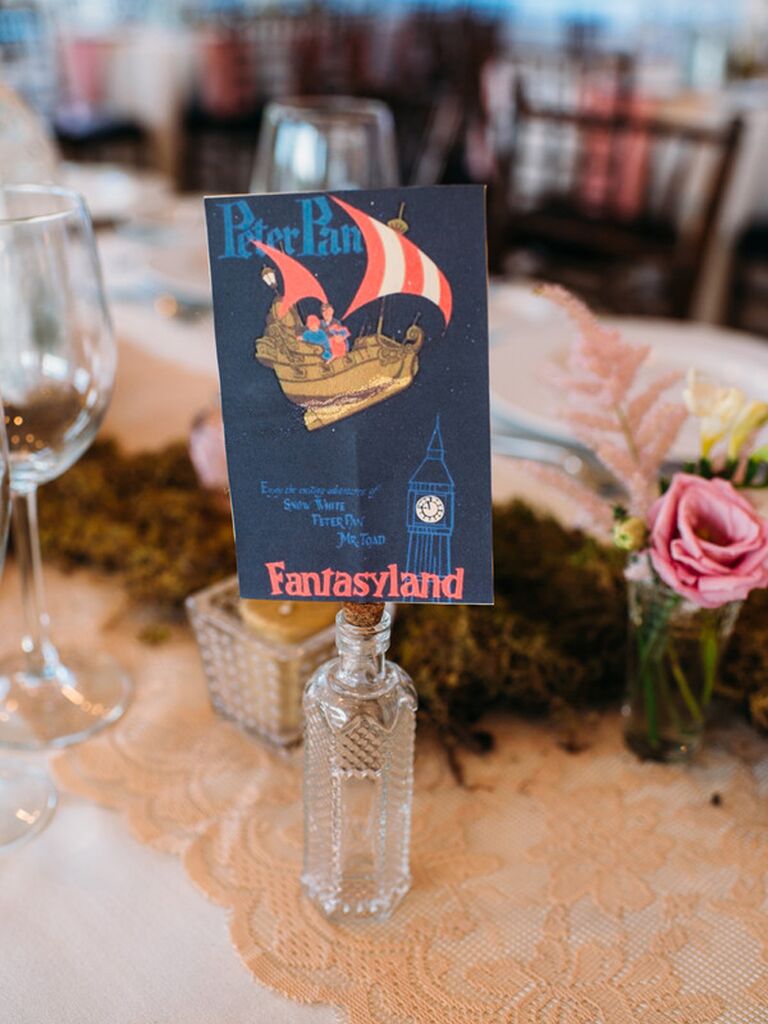 If you love several different Disney movies, use your reception as an opportunity to show that. We love the idea of naming the tables after your favorite flicks. Not only will it look adorable, it'll provide a topic of conversation for your wedding guests.
Beauty and the Beast Wedding Centerpieces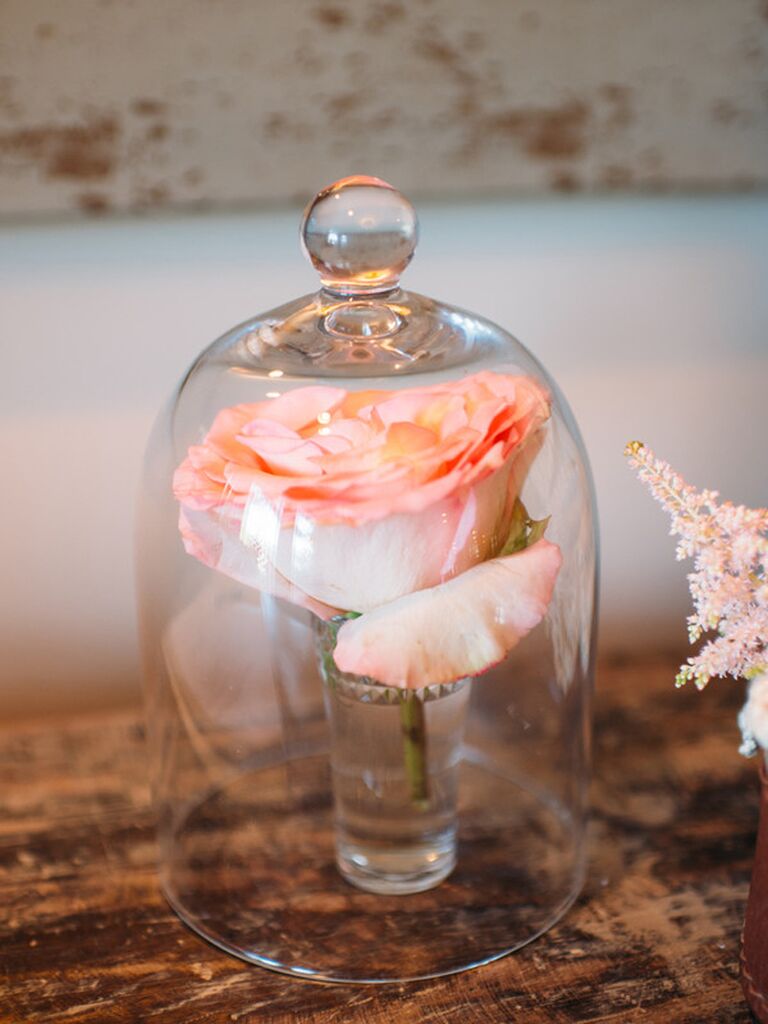 We love this idea because it's so simple. Show off your affection for Beauty and the Beast by using centerpieces inspired by the movie. Place one large flower underneath a terrarium for a clever and romantic tablescape.
Princess Bow Wedding Ring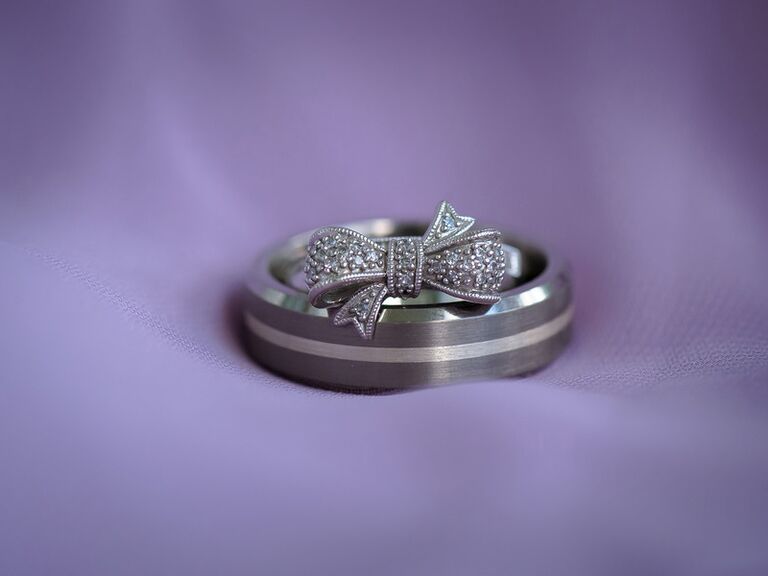 Get a wedding ring fit for a princess. Purchase a band that has a pretty bow on it.
Sparkly Cinderella Wedding Slippers
Exchange vows in style. Rock a pair of silver sparkly heels–just like Cinderella.
Princess-Bow Wedding Heels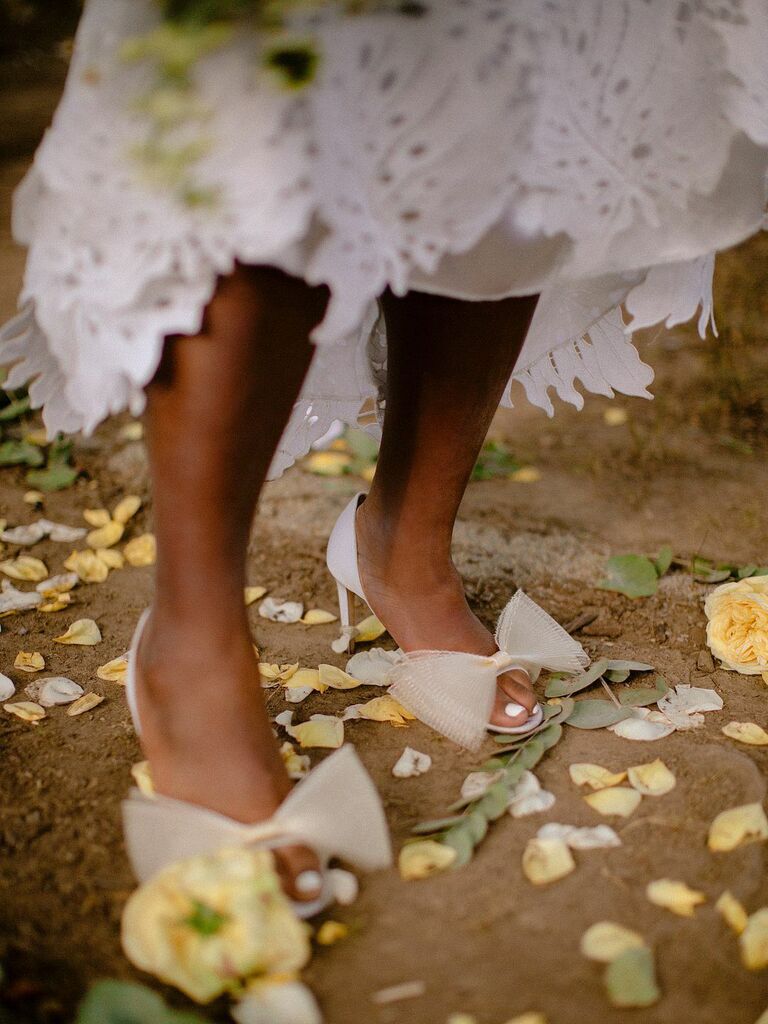 If sparkly heels aren't your thing, consider a pair of sandals with pretty bows on them. They're on an-trend way to incorporate your Disney theme.
Beach Wedding Venue
Several Disney movies take place on or near a beach. Pull inspiration from your favorite film and exchange vows on a pretty oceanside venue. Don't forget to take a few romantic pictures on the boardwalk.
Disney-Inspired Wedding Officiant
If there's one particular Disney character you love (Obi-Wan Kenobi, for example), hire an impersonator to be your wedding officiant.
Gaston-Inspired Wedding Favors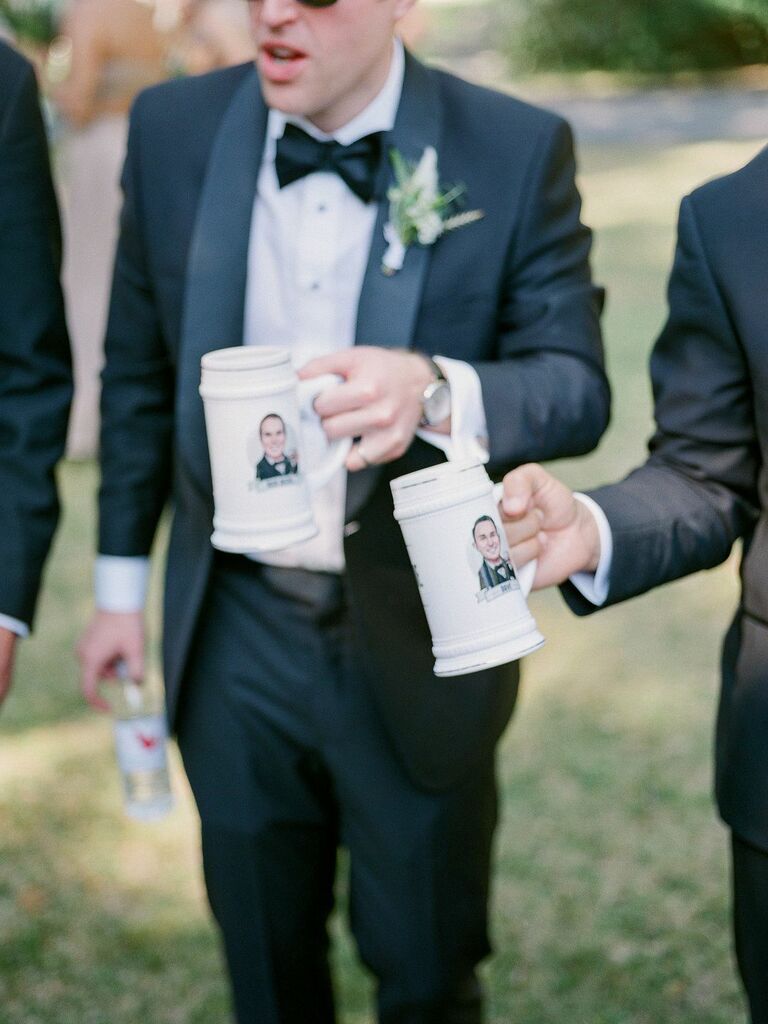 Gift your guests a Disney wedding favor they'll actually use after the fact. A beer mug (like the ones Gaston uses in Beauty and the Beast) are a creative choice for couples.
Coco-Inspired Wedding Favors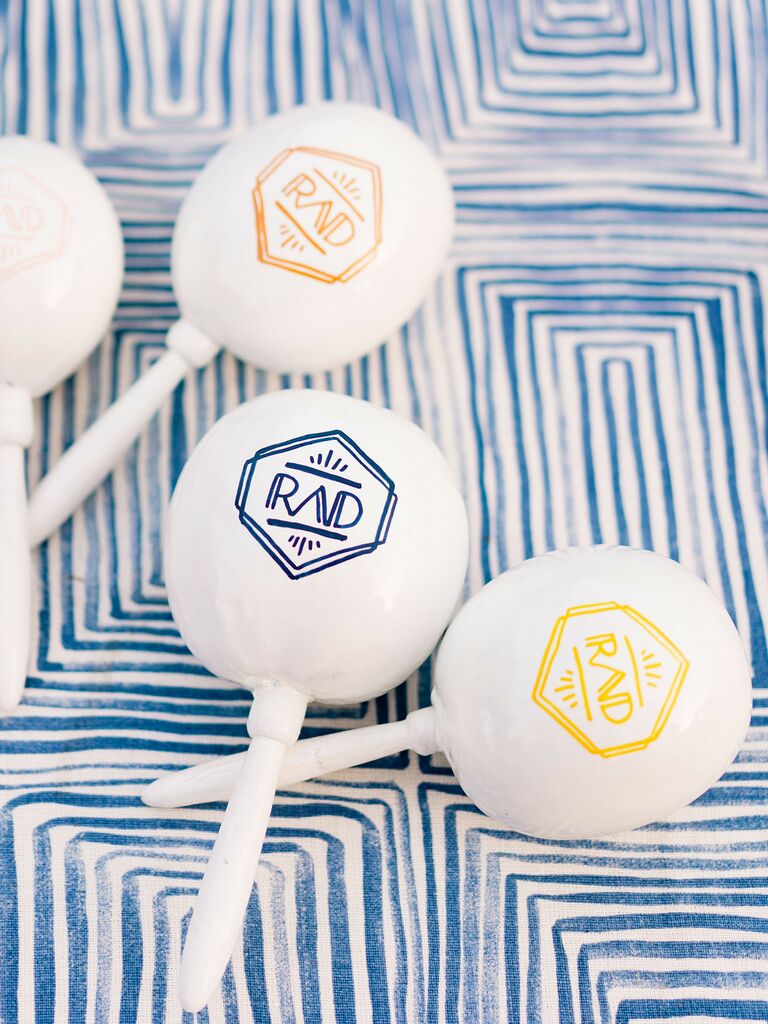 Offer your wedding guests engraved maracas as a nod to the icnoic film, Coco. They can use them at the reception while they dance.
Maleficent-Inspired Wedding Bar
If you love the dark-and-moody aesthetic, use Maleficent (from Sleeping Beauty) as your inspiration. Decorate your wedding bar with black and green.
Cartoon-Inspired Wedding Table Numbers
Label your reception tables after different Disney characters. It's a subtle way to incorporate your fandom into the day.
Enchanted Forest Wedding Centerpieces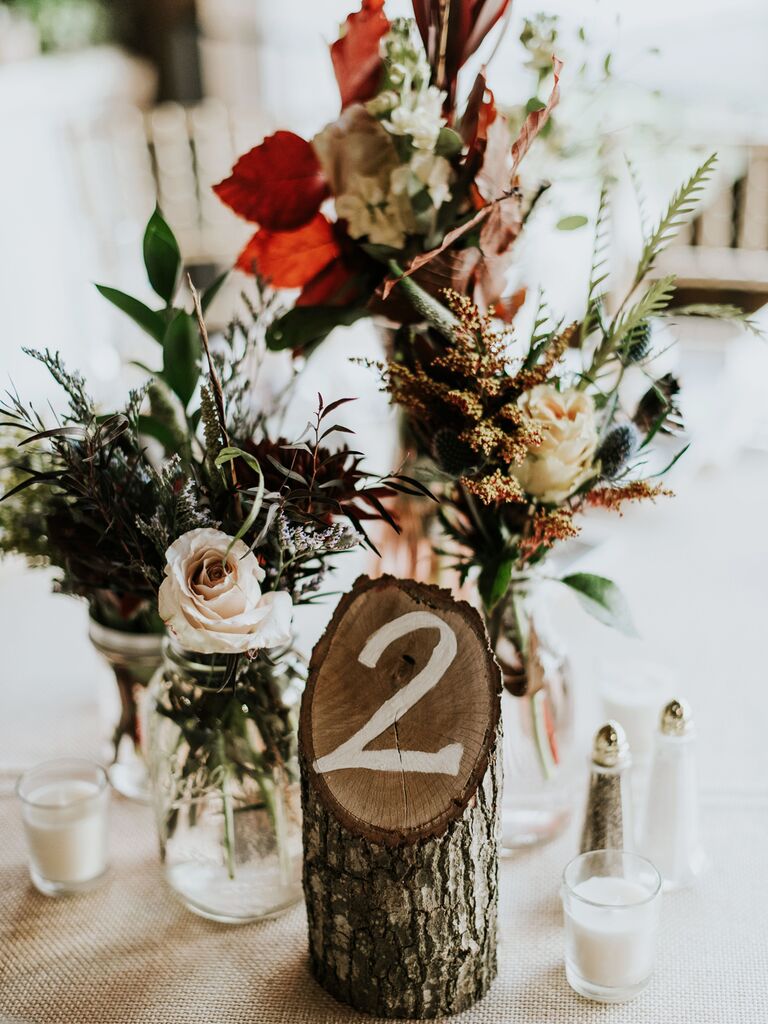 Bring the magic of the forest into your wedding reception with these adorable centerpieces.
Snow White-Inspired Wedding Arch
We love this wedding arch because it looks just like the shack the seven dwarfs live in. Plus, it'll look stunning at any rustic wedding venue.
Celebratory Firework Display
Aladdin, Mulan, Toy Story and several other Disney movies all have fireworks in them. End your celebration with a bang—and a tribute to Disney—by scheduling a firework display. It's the perfect way to start off your happily ever after.
Disney Love Quotes for Your Wedding
We love the idea of a Disney-themed wedding because it's so romantic. Take it one step further by incorporating these beautiful Disney love quotes into your wedding. Just be sure to keep a few tissues on hand!
"People always do crazy things when they're in love." –Hercules
"Because when I look at you, I can feel it. And I look at you and I'm home." –Finding Nemo
"My dream wouldn't be complete without you in it." –The Princess and the Frog
"You are my greatest adventure." –The Incredibles
"Love is a song that never ends." –Bambi
"Yes, you'll be in my heart. From this day on, now and forever more." –Tarzan
"Love always finds a way, it's true. And I love you." –Ray
"My heart has wings and I can fly." –Cinderella
"Love is putting someone else's needs before yours." –Frozen
"One song. My heart keeps singing, of one love, only for you." –Snow White and the Seven Dwarfs
"To face the future with another, who means more than any other, is to be loved." –The Rescuers
"If you live to be 100, I want to live to 100 minus one day so I never have to live without you." –Winnie the Pooh
"You mean more to me than anyone in this whole world." –Peter Pan
"I wouldn't have nothing if I didn't have you." –Monsters, Inc.
"For it is plain as anyone can see, we're simply meant to be." –The Nightmare Before Christmas
"Together there's no end to what our dream can start." –Pocahontas: Journey to a New World
"You're the one! The one I have been looking for." –The Little Mermaid
"Love goes on and on." –Robin Hood
"This is my family. I found it all on my own. It's little and broken, but still good. Yeah, still good." –Lilo & Stitch
"There isn't anything I wouldn't do for you, you've got a friend in me." –Toy Story
"Any day spent with you is my favorite day." –Winnie the Pooh
"Some people are worth melting for." –Frozen
"You're mad. Bonkers. Off your head ... But I'll tell you a secret ... some of the best people are." –Alice in Wonderland
"You're the best thing I never knew I needed" –Princess and the Frog
"Thanks for the adventure" –Up