15 Minutes with Korri McFann
The pro shares insider tips for planning a wedding at Disney.
by Elizabeth Roehrig
Want to know more about the behind-the-scenes magic of a Disney wedding? Korri McFann, marketing director for Disney's Fairy Tale Weddings & Honeymoons, knows all the secrets. With almost 20 years in the wedding industry, she worked her way up from the front desk at Disney to become a wedding planner and consultant before moving into her role in marketing. She gave us some tips for planning a totally romantic Disney wedding—and shared some exciting news!
What's your favorite part of your job?
"I love getting to share wedding inspiration on our Ever After blog with our community. Our team tweets or posts and interacts on a daily basis with our social community. We get to see brides at varying stages—past brides, new brides, brides-to-be or couples-to-be interacting online. And I obviously love to see the events happen too. We get to literally make people's wedding dreams come true."
What advice would you give to couples who are interested in planning a Disney wedding?
"What's exciting about planning with us is that our team is here to hold your hand through the process from the moment that you call. There are so many questions when you're first engaged: What's your budget? Where are you getting married? It really gets overwhelming. We're here to help couples achieve their vision and make the event a reflection of their personalities. Then the planner takes over and actually plans all of those elements, allowing the couple to be guests at their own wedding day. It's our 'be our guest' strategy."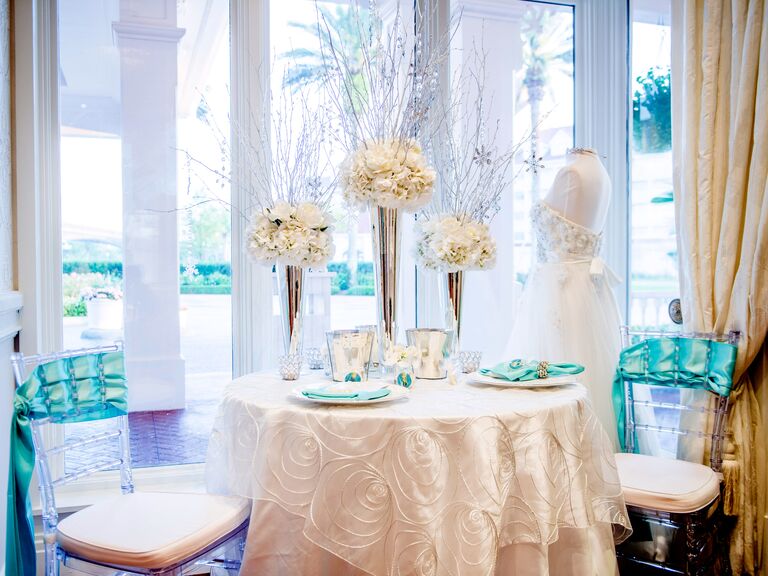 Can you tell us more about the process?
"Most couples go online to Disney Weddings where they create an account and start saving ideas, colors and more. When couples reach out to us, a wedding consultant will help with the date and venues and budgeting. And then once we have secured your date, you'll be assigned a wedding planner to help bring the event to life. The planner coordinates a team of people to pull off the event—the florals, entertainment, catering, photography and videography. We're a one-stop shop so we've got everything here; you don't have to go out and hunt for all of those elements. A lot of couples come and visit us once, maybe twice. They meet us in our planning studio, Franck's Bridal Studio (named after Franck from Father of the Bride), to see cakes and linens and go through their Pinterest and vision boards. It's fun to be in there and look at things, touch linens and see what a chiavari chair is versus a ghost chair."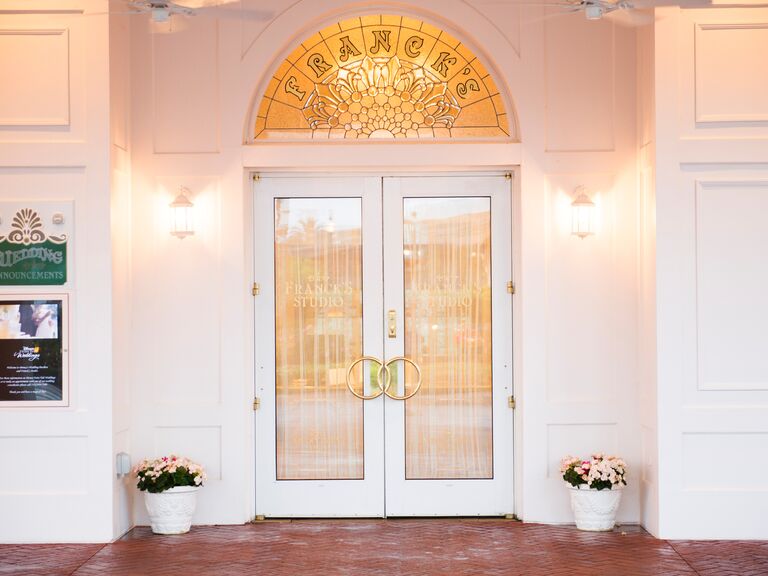 What are some ways you help couples that are planning from far away?
"We have couples traveling from all over the world to see us—as far away as Japan, believe it or not. Our website has amazing tools, where couples can tell us about themselves, save their dream colors, upload Pinterest boards, save specific Fairy Tale images. Being a destination wedding leader as long as we have, we want to put as much power in the couple's hands as they go through that journey. There's so much info on the different destinations that we offer to make it easy for a couple to get a sense of where they want to go. They might consider Walt Disney World Resort, Disney Cruise Line or Disneyland. Or even maybe Aulani, our resort and spa in Oahu, Hawaii."
Any insider planning tips you can share?
"You know what I'm really loving—bridal portrait sessions. These sessions are like your first look but even longer. We actually take them into the park before it opens—just imagine you're all dressed up, it's the two of you at sunrise and it's absolutely magical and beautiful. I love to see those photos. I think they're stunning and amazing."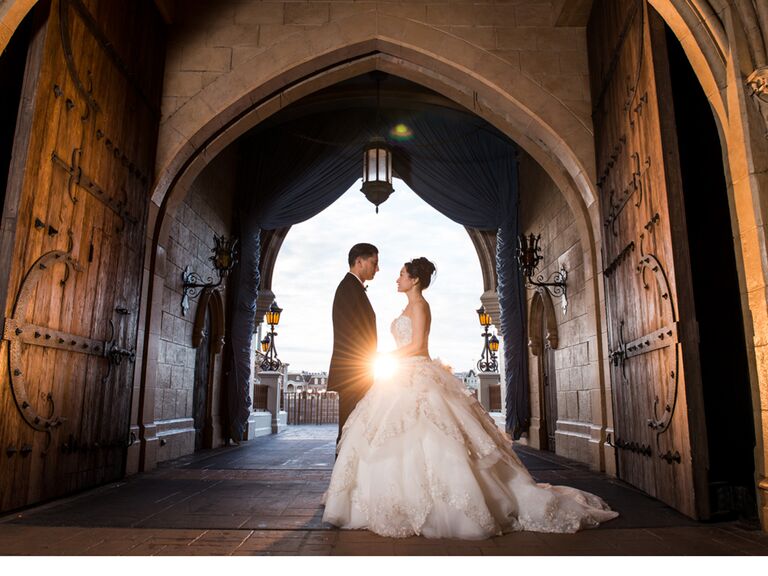 What are some signature elements you offer?
"Most people's dream is to have fireworks. Couples can choose dessert parties or cocktail hours at Epcot where the fireworks are happening—it's a cool backdrop that you can't get anywhere else. And a lot of brides want to feel like a princess. They want it to feel like it's their royal ball, and bringing it to life and making that happen is really fun. Couples can take some inspiration from Snow White and we'll do it in a sophisticated way—we'll take the theme of a red apple and tie it throughout the entire weekend from the rehearsal dinner to the reception. We'll also get couples looking for an Alice in Wonderland type theme and we can do something more edgy and whimsical. We also have little surprises and delights, as we like to call them, throughout the day, like hiding a little crystal Mickey in the bride's bouquet. It's those little things that make the magic."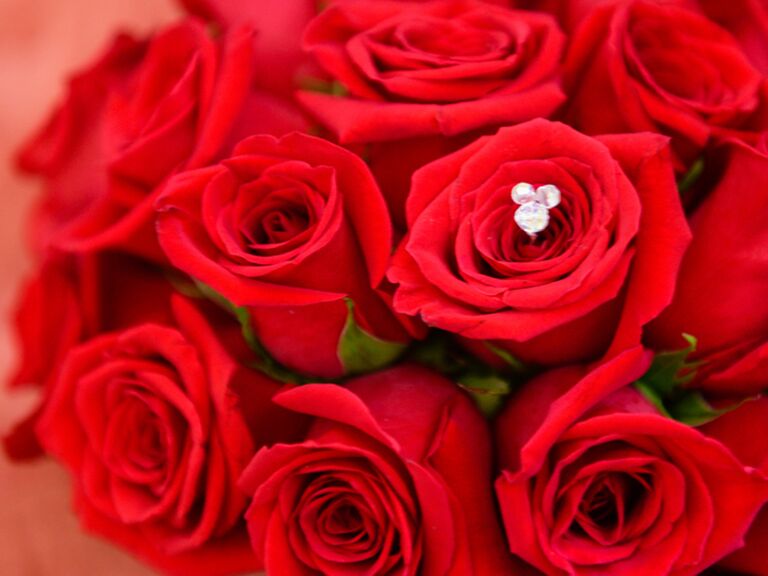 Any other unique offerings?
"The magnitude of different backdrops and settings. We could do a unique event in Epcot, whether it's in Italy or France. Atlantic Dance Hall is on the boardwalk where you can dance in a two-story nightclub and have a beautiful view. For something more offbeat, maybe we're at Disney's Animal Kingdom. We have beautiful ballrooms too—my favorite is Disney's Boardwalk Inn. When it comes to ceremonies, my favorite is Disney's Wedding Pavilion because it's on its own island surrounded by water with the backdrop of Cinderella Castle. We've got Fort Wilderness where we've done weddings in a woodsy environment with chandeliers hanging from trees. Literally the options are endless."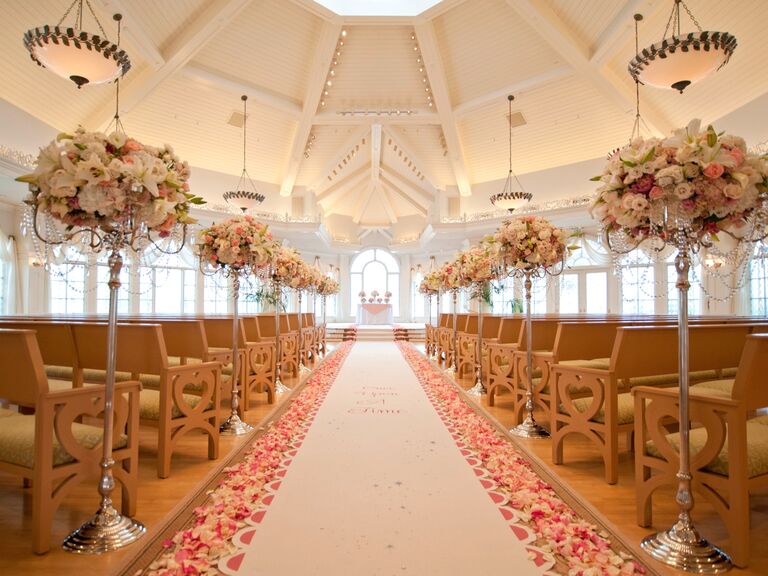 Is there anything new or upcoming you can tell us about?
"Every year we put our new Disney Fairy Tale Wedding dresses down the runway in October. I love seeing the fresh take on princess-inspired dresses. This past season was all about a hint of gold, glimmer and shimmer, and it was absolutely beautiful. And we're actually launching Disney's Fairy Tale Weddings in Shanghai this summer, so we'll be taking the brand to a new destination. Shanghai Disney Resort will open June 16 and our weddings will happen that fall. What's lovely is, no matter what your culture is and where you live around the globe, we're seeing that brides are very similar—they're all going through the same emotions and looking for that fairy tale or dreamlike wedding."
Are there are any misconceptions people have about Disney Weddings?
"I think the biggest misconception is that people may not understand the breadth, scope and variety of destinations that we have. When couples go to our site, I think they're blown away by what a fairy tale wedding is and what we can pull off. People may not recognize how beautiful, upscale, adult and romantic that can be."
Do you have an all-time favorite wedding that you remember?
"There are so many! But my favorite thing is seeing a couple relax and enjoy themselves. It's a lot of pressure to be a bride, to be a groom; it's a lot of pressure to be the couple hosting the night. But the best wedding is when you can be in that moment, take a deep breath and enjoy this special time."
The Knot and Disney's Fairy Tale Weddings & Honeymoons present Happily Ever After, a sponsored series full of elegant ideas and fun advice to help brides plan their dream wedding. Visit Disney Weddings to learn more about their wedding and honeymoon collections