You Can Now Get Married in Front of Cinderella's Castle at Disney World!
If you want to feel like an actual princess on your wedding day, Walt Disney World has just the spot for you.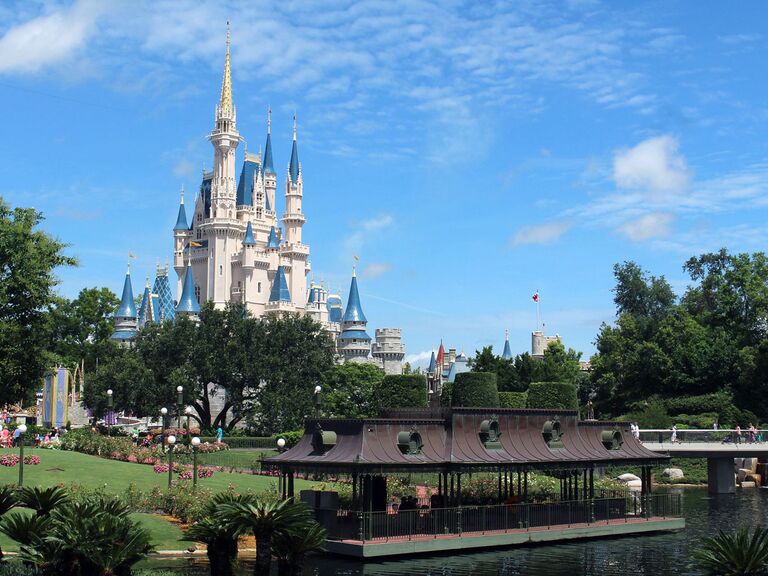 Pixabay
Engaged Disney fans, rejoice! If you're looking for a venue that combines royal castle views with a lush garden, get excited: Disney's Fairy Tale Weddings & Honeymoons just announced that you can now get married in the East Plaza Garden at Disney's Magic Kingdom in Orlando, Florida—which just happens to be right in front of Cinderella's Castle.
The East Plaza Garden is located at the end of Main Street USA, where weddings will be held in the morning "just after the official 'rope drop' at the park entrance."
"Not only does Cinderella Castle provide a stunning backdrop for your nuptials, but you can arrive to your ceremony in style with Cinderella's Coach, and for your wedding party, a classic turn-of-the-century Main Street Vehicle," Disney's website states. "With Disney Fine Art Photography capturing all the special moments of your ceremony, it will surely be a wedding you will never forget."
And it wouldn't be complete without trumpeters officially heralding the bride's entrance in the coach, "steered by bewigged, royal coachmen." Your prince/groom can also arrive in style in one of the Main Street Vehicles.
Glass slippers not necessary.
Check out photos of the East Plaza Garden here and see a video of the whole experience below: