Sweet Wedding Candy Bar Ideas Your Guests Will Love
The best thing about candy bars is their multitasking abilities, plus they're so easy to personalize.
We have included third party products to help you navigate and enjoy life's biggest moments. Purchases made through links on this page may earn us a commission.
Here's a little insider tip: Everyone loves candy bars. And we mean everyone. For starters, guests can pick and choose their own treats, so they're not stuck with anything they don't want to eat. And this easy dessert buffet also doubles as décor (and triples as favors!).
When you're thinking about which candy to include there are a few things to keep in mind: make sure there's enough for everyone and be conscious of allergies. Order about six ounces of candy per guest and give everything a clear label so no one has to guess, especially when it comes to peanut allergies. To make sure things stay clean and well stocked throughout the wedding reception, ask an attendant to check in on the candy bar every 30 minutes or so.
Color-Coordinated Candy Bar
Keep in theme by coordinating your candy bar to the decorations, like this white and yellow combo. Pair your candy bar with a cute sign to tell guests where to stock up on some sweets. Consider hiring an attendant to keep your wedding candy table looking tidy throughout the reception.
From: A Rustic-Chic Country Wedding at Amador Cellars in Plymouth, California
Colorful Candy Bar
If you don't care about matching the candy with the décor, go all out and grab every color for a bright and fun candy bar. Give guests fun containers, like this mini mason jar, so they can take some home too.
From: A Rustic, Vintage-Inspired Wedding at the Inn at Wild Rose Hall in Austin, Texas
Wedding Cake and Candy Bar Dessert Table
Make the ultimate dessert table by having a candy bar right next to your wedding cake. To really entice your guests, you'll want to make your wedding candy bar as cohesive as possible. We are huge fans of filling large clear jars with the candy of your choice for a more pulled together look.
From: A Traditional Italian Inspired Wedding at Holman Ranch in Carmel Valley, California
Candy Bar With Ribbon Backdrop
Add to the fun of a wedding candy bar with a ribbon or streamer backdrop. It will make your candy bar pop.
From: A Shabby-Chic Wedding at Riverside On The Potomac in Leesburg, Virginia
'Love Is Sweet' Candy Bar
Have fun with your wedding candy bar by naming it or coming up with a punny slogan, like this "love is sweet" DIY banner.
From: A Romantic Wedding at Noah's Event Venue in Chandler, Arizona
Beach-Themed Candy Bar
If you're getting married on a beach or having a beach-themed wedding, fill your candy bar with all things blue. Add nautical décor, like this beach-themed trinket box, to tie it all together. Just be sure to factor the heat and humidity into your selections – a wedding candy bar of chocolate may melt in the sun.
From: A Bohemian Spring Wedding at Pearl S. Buck House in Perkasie, Pennsylvania
Modern Black-and-White Candy Bar
Keep it classic and chic with a black-and-white color scheme. Try laying out candy in dishes, like this one that spells out "love" so that your guests have easy access to the sweets.
From: An Old-World-Inspired Wedding at J.E. Reeves Victorian Home and Museum in Dover, Ohio
Glamorous White and Gold Candy Bar
For something a little more glamorous, pick out candy with shiny gold wrappers. Add to the sparkle with all things gold, like these gold foil paper fans.
From: A Timeless, Glamorous Wedding at the Fairmont Hotel in San Francisco, California
Purple and Pink Candy Bar
If you're feeling the pantone color of the year, this purple and pink candy bar is right up your alley. Don't forget a candy scoop so guests don't get their hands sticky.
From: A Traditional Wedding at Waterside Restaurant in North Bergen, New Jersey
Bright Colorful Candy Bar
As big fans of color, we say the brighter the better. These rich hues will instantly draw guests in. For a more interesting décor set up, use vases to store the candy.
From: A Contemporary, Cultural Wedding at Hei La Moon Restaurant in Boston, Massachusetts
Blue and Yellow Candy Bar
Blue and yellow make for a whimsical combination. Give it a more cozy-casual vibe by storing candy in a picnic basket.
From: A Whimsical Wedding at Foxboro Ranch in Flagstaff, Arizona
Candy Bar Decorated With Art Deco Feathers
Add a little extra glam to your wedding candy bar with these art deco feathers.
From: A Vintage-Inspired Classic Wedding at Ivy Hills Country Club in Newtown, Ohio
Purple and Blue Candy Bar
Blue and purple make for a pretty striking color combo, and guests will definitely enjoy the fun selection (we're thinking Airheads, Skittles, gumdrops and more). Store them all in this cute oval tub.
From: A Charming, Crafty Wedding in Waterloo Region Museum in Kitchener, Ontario
Beach Décor With Starfish and Saltwater Taffy
Can you really have a beach-themed wedding without saltwater taffy? We think not. We're also loving the starfish and adorable seahorse. For an added emphasis on all things sea and beach, add a few other sea accessories like these decorative shells.
From: A Whimsical Beach Wedding at Palm Beach Shores Community Center in Palm Beach Shores, Florida
Candy Bar With DIY Décor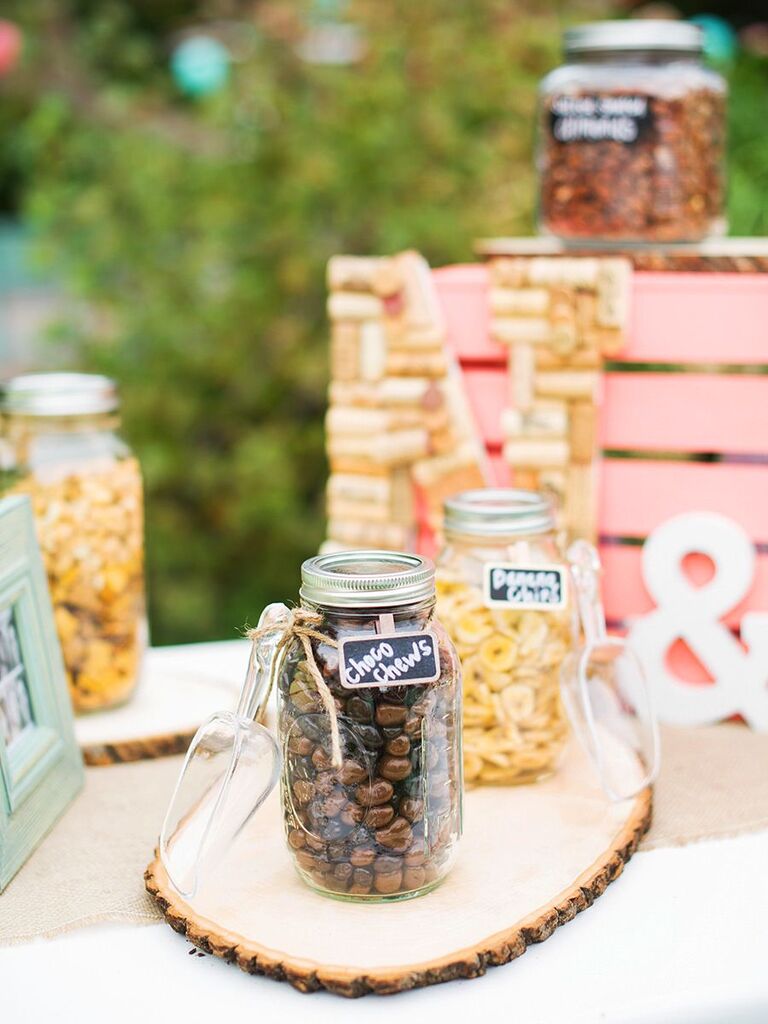 Customize your candy bar with some DIY accents. Fill mason jars with the candy of your choice with fun DIY tags.
From: A Rustic, DIY Outdoor Wedding at Rancho Soquel in Aptos, California
Candy Bar With Rustic Décor
Rustic-chic weddings are having a major moment. Tie in that theme with your wedding candy bar by adding some nice wooden accents, like a crate.
From: A Casual, DIY Wedding at De Nieuwe Erf in Diessen, Netherlands
Antique Cart Candy Bar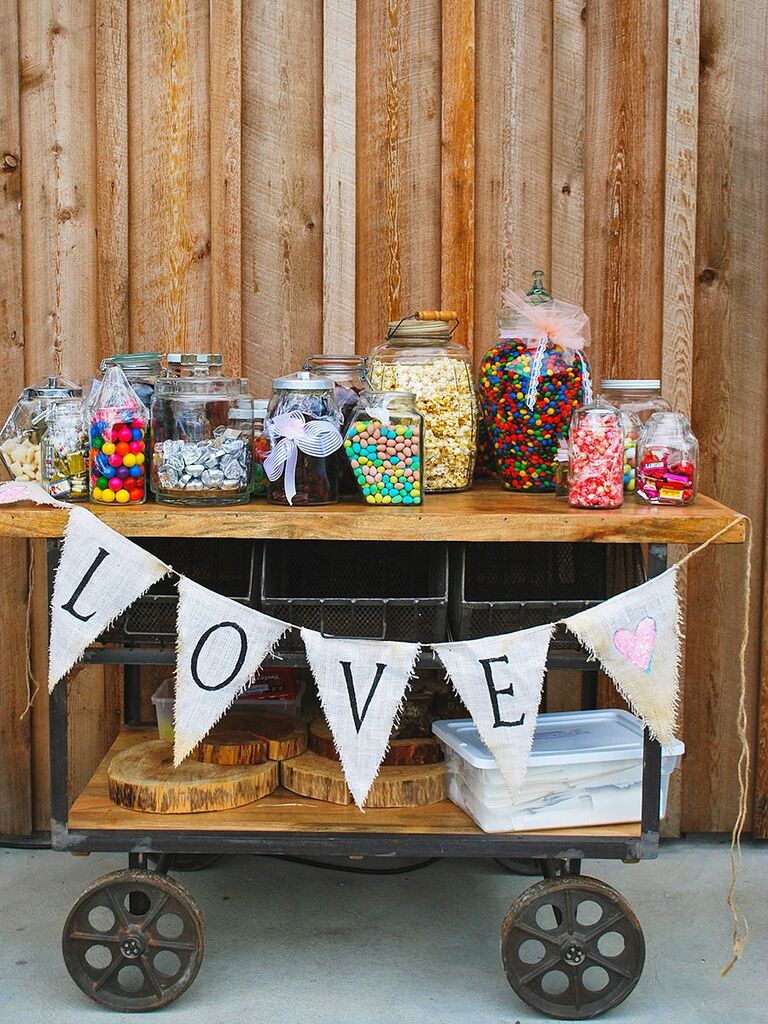 If you want something more vintage, set up your candy bar on an antique cart. For a sign similar to the one pictured, look for something like this burlap banner.
From: A Rustic Wedding at Bird's Eye Cove Farm in Maple Bay, British Columbia
Wedding Candy Bar FAQs
How much does a candy bar cost for a wedding?
Your wedding candy table can be as overflowing or as understated as you'd like. Candy is one of the most affordable wedding favors available, so you and your fiancé can have a lot of fun picking out your favorite flavors to share with guests. Even allotting just a dollar or two of candy per guest can go a long way in filling your wedding candy bar to the brim.
How much candy do I need for a candy bar at a wedding?
To determine how much you'll need for your wedding candy bar, take a look at your guest list. If your loved ones are known for having big sweet tooths, you may want to purchase enough candy for everyone to have three or four pieces each. If you're offering candy in favor of traditional dessert offerings, you may want to offer goodie bags for guests to take their selections home with them.
How do you make a candy bar for a wedding?
The sky's the limit when creating the perfect wedding candy bar. Select a table that's easily accessible – keep it near the bar or buffet for easy reach. Store candies in elegant glass jars, fish bowls, or any pretty containers that match your wedding aesthetic. Consider including small gift bags for your guests to take goodies home with them as a favor. The customization of your wedding candy table is totally up to you and your sweetie!