How to DIY A Windswept Wedding Updo
Windswept bridal updos (also known as undone updos) are all the rage right now, and surprisingly easy to pull off. Check out our step-by-step video on how to do your own, below.
by shelley brown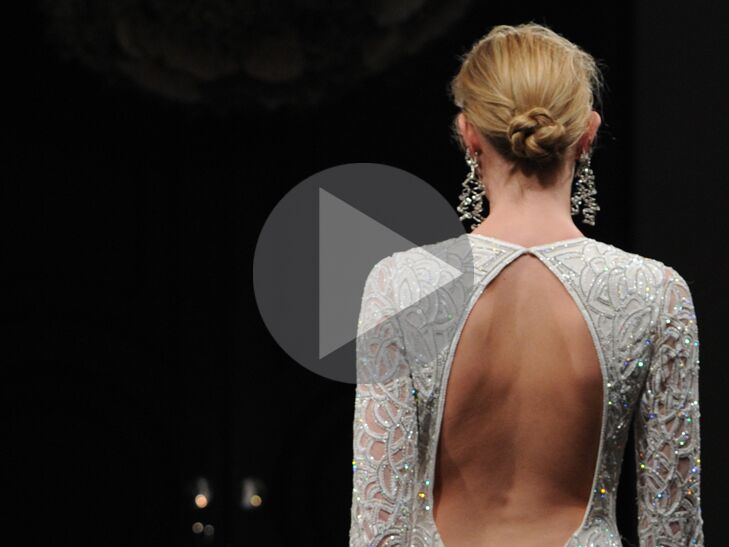 Casual but still so chic, "windswept" chignons are the new standard in wedding hair. Whether you're rocking a classic lace wedding dress or one with a more fashion-forward vibe, an undone updo is versatile enough to work for any wedding style—it even works with or without a veil. Joseph Dimaggio for Davines Haircare gave us the exclusive on how to master his version of a loose chignon (what he calls a "windswept flower bun") backstage at Naeem Khan's Spring 2016 bridal runway show. "It's a very soft, very romantic look," Dimaggio says. "It's about letting go and feeling beautiful. Your hair being easy, your makeup being light and fresh and your dress being absolutely amazing should set you up for an amazing day."
Watch the step-by-step video below!
How to Create a Windswept Chignon:

1. Comb hair back into low ponytail with a wide tooth comb, making sure it looks textured and not too polished.
2. Secure with thin elastic cord or hair bungee.
3. Split ponytail into two sections, and twist each individual section clockwise (at the end you should have two separate 'ropes').
4. Twist your two 'ropes' together counterclockwise to form one rope braid. Twisting them counterclockwise will ensure the braid locks into place and doesn't come undone.
5. Secure rope braid with a thin hair elastic. You want it to be symmetrical, but not too perfect.
6. Roll rope braid into a low bun, and secure with U-pins.
7. Brush out the top of your hair to create some soft fly-aways (yes, you want fly-aways!) to frame your face.

8. Spritz the front of your hair with hairspray and rake your fingers back towards your bun to add the final bit of texture to your windswept look.
Looking for more wedding updo inspiration? Find it here!