25 DIY Wedding Favors for Any Budget
Get yourself some paint and a bottle of wine—you'll probably need them both.
We have included third party products to help you navigate and enjoy life's biggest moments. Purchases made through links on this page may earn us a commission.
We love the idea of adding a personal touch to your wedding favors. After all, your guests probably put a bit of effort into attending your wedding (think: requesting off work or splurging on plane tickets) and you want to show your thanks in the most genuine way possible.
Now, DIY doesn't have to mean you're making the entire favor from scratch. It could be as simple as ordering succulents en masse and potting them into hand-painted pots, or making a big batch of cookies and packaging them into cute hand-stamped paper bags. Here are some of our favorite DIY wedding favors to inspire your own, plus product recommendations (many of which are conveniently sold in bulk) based on each photo and idea. Of course, these are just suggestions—calculate the specific quantities you'll need based on your guest list size and feel free to get creative.
1. Limoncello Favors
A refreshing lemon liquor won't be left behind by a single guest. Find out how to make your own limoncello favors.
Shop the idea:
From: An Art Deco, Formal Wedding at Oviatt Penthouse in Los Angeles, California
2. Handmade Coaster Favors
Handmade coasters are functional for both the wedding reception (you don't want the cocktails sweating all over those tablecloths, do you?) and at home. Not up for making them entirely yourself? Decorate pre-cut tiles instead.
Shop the idea:
From: A Preppy Kentucky Derby Wedding at Ayr Mount in Hillsborough, North Carolina
3. Apple Butter Favors
Having a festive fall wedding? Apple butter is the new caramel apple. Whip up a batch and spoon it into individual jars for a tasty take-home treat.
Shop the idea:
From: A DIY Country Wedding at Ya Ya Farm & Orchard in Longmont, Colorado
4. Homemade Cooking Salt Favors
Especially fitting for a couple who loves to cook, a jar of seasoned salt or barbecue rub will be a hit, and it represents the couple's interests.
Shop the idea:
From: A Chic, Nautical Wedding at the Stateroom Long Beach Island in Ship Bottom, New Jersey
5. Small Painted Canvas Favors
Channel your creative juices to create something truly unique for your guests. Pen a poetic thank-you note (haiku, anyone?) or paint a mini canvas. Each guest will walk away with a truly heartfelt and handmade thank-you gift.
Shop the idea:
From: A Quirky Art and Book Themed DIY Wedding at Pearl at the Webb in Buffalo, New York
6. Hot Cocoa Favors
Is there anything more appropriate for a winter wedding? A premade mix can be enjoyed right on the spot or saved for later. You could even tie different types of mix-ins to the jar for the adults, like mini Baileys, Kahlua, whiskey or Fireball.
Shop the idea:
From: A Christmas-Themed Wedding at Gaylord National Resort in National Harbor, Maryland
7. Wedding Survival Kit Favors
A cute DIY tote, a pair of sunnies, a couple packs of Advil and a few snacks and you've got yourself a wedding weekend welcome bag—and it doubles as a favor.
Shop the idea:
From: An Adventurous Destination Wedding at Casa de los Suenos in Yelapa, Mexico
8. Potted Succulent Favors
Succulents are a hot wedding favor, and for good reason. The hardy little plants can be bought in bulk and then replanted in bowls or pots that match your theme. Add a name tag and table number to each plant and you've got an escort card display and favor in one.
Shop the idea:
From: A Vintage, Springtime Outdoor Wedding at Mercury Hall in Austin, Texas
9. Customized Candy Favors
Maybe this one's a little obvious, but it has to be said. Buy a slew of containers along with a few king-size bags of your favorite candy and fill them to your heart's content. You could even visit specific candy sites and explore custom printing options (like monogramming M&M's).
Shop the idea:
From: An Elegant Estate Wedding at The Bradley Estate in Canton, Massachusetts
10. Cookies and Milk Favors
How cute (and practical) is this? Just one custom stamp gets you a totally personalized favor. Arrange a dessert stand with assorted cookies, display plenty of stamped to-go bags and you're done.
Shop the idea:
From: A DIY Shabby-Chic Wedding at a Private Residence in DeLand, Florida
11. Treats for the Pups
You can't forget man's best friend. If a lot of the wedding guests are leaving their furry friends at home, a doggie bag for them with a couple bones would be appreciated too.
Shop the idea:
From: An Ivory, Blush and Navy Wedding at Hyatt Regency Coconut Point Resort and Spa in Bonita Springs, Florida
12. Tree Seedling Favors
Buy tree seedlings in bulk, then pack them into individual burlap bags with a little bit of soil inside. Just make sure your guests can (and know how to) plant them to keep things eco-friendly.
Shop the idea:
From: A Simply Natural Wedding at La Scala Italian Bistro in Dublin, Ohio
13. Seed Paper Favors
Plantable flower seed paper attached to a thank-you card means twice the sentiment in one package.
Shop the idea:
From: A Rustic, Vintage Wedding at Mountain Laurel Farms in Cleveland, Georgia
14. S'mores Favors
How perfect is this for a camp wedding? Put a few s'more fixings into individual packaging for the perfect take-home treat.
Shop the idea:
From: A Chic Garden-Style Wedding at Knowlton Mansion in Philadelphia, Pennsylvania
15. Wildflower Seed Favors
Contribute to your guests' gardens with a package of wildflower seeds.
Shop the idea:
From: An Outdoorsy Lakefront Wedding at Grand Ely Lodge in Ely, Minnesota
16. Perler Decorated Candy Favors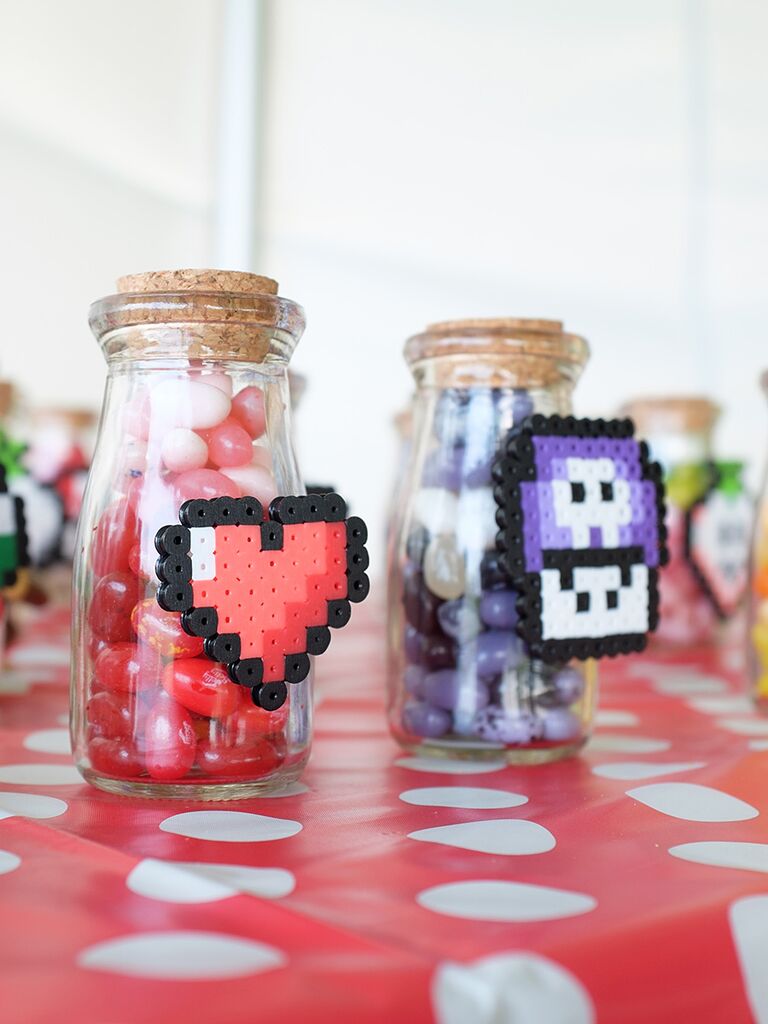 Not only will your guests love the blast-from-the-past Perler detail, but who wouldn't want an extra treat to take home?
Shop the idea:
From: A Geeky DIY Wedding at Odiorne State Park in Rye, New Hampshire
17. Bath Salt Favors
After spending the night getting down on the dance floor, a relaxing bath will be a welcomed gift.
Shop the idea:
From: An Elegant and Rustic Wedding at the Swan Club in Roslyn, New York
18. Chocolate-Covered Pretzel Favors
Dipping pretzels in chocolate for an easy DIY treat? Yes, please. And you can snack on a few yourself while you're making them.
Shop the idea:
From: A Deerwood Country Club Wedding in Jacksonville, Florida
19. Homemade Jam Favors
Look to your wedding location for seasonal specialties that could be turned into favors, like locally made honey or jam.
Shop the idea:
From: An English Garden Meets Southern Grace-Inspired Wedding at Timber Creek Camp in Pulaski, Mississippi
20. Cocktail Glass and Coaster Favors
A favor like this can be put to good use both at the reception and at your guests' homes after the wedding is over.
Shop the idea:
From: A Rustic Outdoor Wedding at Snow Mountain Ranch in Granby, Colorado
21. Mini Gumball Machine Favors
Everyone loves a childhood throwback. Fill mini dispensers with gum or another treat, then personalize them with custom labels.

Shop the idea:
From: A Playful, Polka-Dot-Themed Wedding at The Rockbridge Club in Columbia, South Carolina
22. Flavored Popcorn Favors
Flavored popcorn is a breeze to make. Consider a well-loved flavor, like caramel, or experiment with other seasonings (taco seasoning, anyone?).
Shop the idea:
From: A Rustic Whimsy Wedding in Cleveland, Georgia
23. Homemade Pickle Favors
Now's the time to show off your secret talent: pickling. Just remember, the possibilities don't end at cucumbers—everything from carrots to peppers are fair game.

Shop the idea:
From: A Vibrant Summer Wedding at 501 Union in Brooklyn, New York
24. Customized Scarf Favors
Worried about a chill at your outdoor wedding? Roll up scarves—or even blankets—into cute and practical favors.
Shop the idea:
From: A Glamorous Fall Wedding at The Barn at Mountain Park in Marietta, South Carolina
25. Mini Champagne Bottle Favors
Up the glam factor by coating individual-sized bottles of bubbly in glitter. Personalized tags are the icing on the cake.

Shop the idea:
From: A Glam, Classic Wedding at The Country House in East Haven, Connecticut
Andrea Fowler contributed to the reporting of this article.