Stop Everything—Domino's Now Has a Pizza Wedding Registry
Thanks to Domino's Wedding Registry, pizza-loving couples now have the option to receive their favorite Domino's menu items as a wedding gift.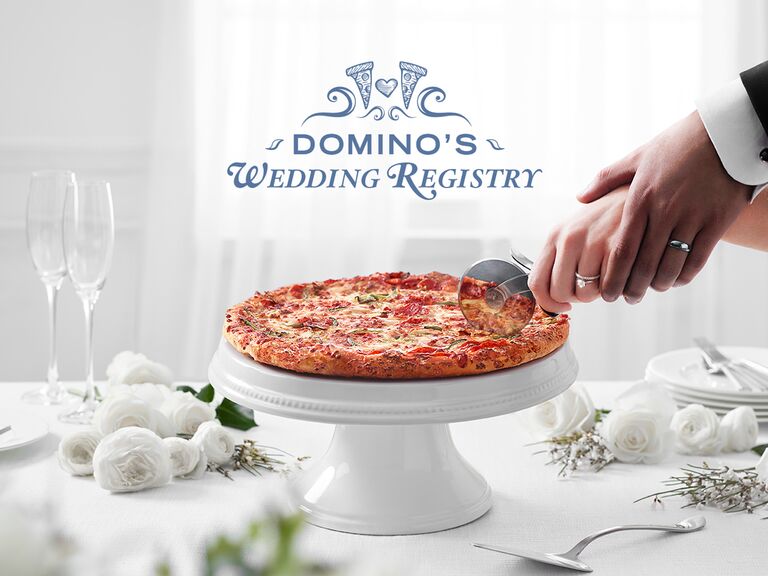 Domino's
Whatever your wildest wedding dreams are, we bet they include a Domino's Pizza wedding registry, right? Well, get ready to freak out, because starting tomorrow, February 8, the recognized world leader in pizza delivery is rolling out the aisle runner for its very own wedding registry at DominosWeddingRegistry.com.
"Valentine's Day is right around the corner, so we wanted to give recently engaged couples that are passionate about pizza the chance to register for something they both truly love as much as their partner," Jenny Fouracre, Domino's spokeswoman, tells The Knot exclusively. "Choosing wedding gifts can be a daunting process, especially if couples can't agree on what to register for. Our registry aims to bring couples together over their shared love of pizza."
Domino's loyal fan base had a hand in making a wedding registry happen, especially since so many couples include the cheesy goodness in their wedding day.
"Our customers constantly tell and show us on social media how pizza plays a role in their wedding, whether it's for the bridal party, a late-night treat for the reception and other day-of experiences," says Kate Trumbull, Domino's digital marketing director. "We wanted to make it easier for people to request something fun they'll get excited about. Who doesn't love pizza? From our perspective, you can give and receive a wide range of really fun, unique packages that tailor to the couple, like the 'Thank You Card-a-thon' package for when you're cranking through those thank-you notes after the honeymoon."
So how do you create a registry? It's super simple. Just add in your information and select the photo, message and items you want, and then you can share your wish list with family and friends on social media or just pop it on your wedding registry with a unique URL. Wedding guests can also search for a registry by using your names and wedding date.
But creating and customizing your registry is the most fun part—you can choose from a variety of featured gifts to enjoy before, during and after the wedding (prices start at $15). For those who aren't sure what to serve at prewedding festivities like bachelor parties, Domino's has it covered with "2 a.m. Bachelor Party Feast." After you settle into newlywed life together, you can enjoy a "Low-Key Date Night" or take advantage of "An Excuse Not to Cook." All gifts will be delivered to the lucky recipient's email as Domino's eGift cards to use on Dominos.com for whatever items they want. If one of your guests prefers to give a physical gift, they'll receive a printable confirmation email perfect for putting inside a card. (The couple will get the eGift card as well.)
To celebrate the launch of Domino's Wedding Registry, wedding-inspired pins have also been added to the official Domino's Pinterest page to make all your pizza pinning dreams come true. And even if you know a pizza-loving couple who isn't registered yet, it's still a great gift to give for Valentine's Day or their engagement party—or no occasion at all. Who needs an occasion for Domino's?