5 Lessons Drake Can Teach You About Writing Your Vows
Is Drake a love warrior poet?
by Andrea Fowler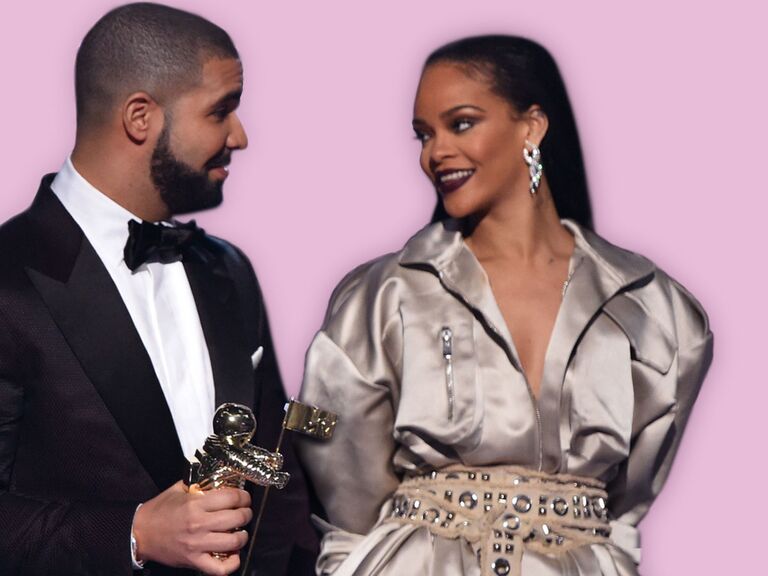 If you've got some writer's block on the vow front, we may have just the thing to unleash your inner Nicholas Sparks. The answer starts with "D" and ends with "rake." That's right, Aubrey "Drake" Graham.
Last night Drake presented Rihanna with the Vanguard Award during the 2016 VMAs and you could just feel the love. Which got us thinking, there's a few vow-writing lessons in there.
Even if you're an hour away from walking down the aisle and still looking at a blank sheet of paper, here are five Drizzy-inspired tips to wrap up those nuptial promises and get the whole crowd laughing and crying.
1. Reference your history together, accomplishments you've shared and what your goals are for the future.

"The first time I met Robyn Fenty was 2005. She was shooting a music video at a restaurant called Avocado in Toronto called "Pon De Replay" and the director of the video was lil x. I was introduced to her as a kid who played background music at a restaurant as people ate pasta. It's hard to believe that 11 years later, that all three of us would come together to create visuals for a song called 'Work'."
2. Poke fun. You don't need us to tell you that marriage can be hard. It's important to laugh at yourselves and crack a few jokes now and then. Start the marriage off with that great sense of humor of yours.

"And when it comes to fashion and style, she makes it seem so effortless. Until you try to do it yourself, then it gets a little awkward."
3. There's no such thing as too many compliments. Shower your husband- or bride-to-be with flattery.

"When it comes to music she relentlessly takes over the charts with every release. When it comes to performances, they swarm in masses just to be in her presence, obviously."
4. Pick out that one special reason why you fell in love with your partner.

"What's most impressive isn't the endlessness of stats, awards, and accomplishments. What's most impressive is the person. Some artists need to play a character to achieve success; some need to downplay their own natural instincts to blend in. She succeeds by doing something no one in this industry does, which is being herself."
5. Drop the mic. (Figuratively, of course.)

"She's someone...she's someone I've been in love with since I was 22 years old, she's one of my best friends in the world."
Watch the whole speech here.