Hayley Paige Is Engaged (and Told Us All About Her Fun and Fashion-Forward Wedding Plans!)
by Ivy Jacobson
photo by
Courtesy of Hayley Paige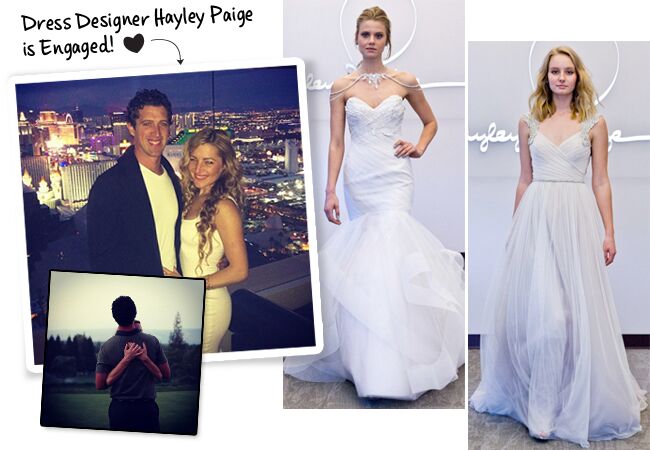 We've always been obsessed with wedding dress designer Hayley Paige's amazingly feminine and fresh gowns, which is why The Knot is so excited that she's engaged and planning an equally incredible wedding!
Even though Hayley is based in New York City and her fiance, insurance broker Danny Wallis, is based in California, she has the best of both worlds: being a mix of a self-proclaimed "bridechilla" on the West Coast and getting down to business with a few bridezilla tendencies on the East Coast.
We got to chat with the designer (of her eponymous line and Blush by Hayley Paige Bridal for JLM Couture) about her upcoming nuptials and told us all about the wedding cake of her dreams, her "sparkle bomb" of an engagement ring, and of course, all of the wedding dresses she wants to wear at her Lake Tahoe wedding. You didn't expect her to choose just one, did you?
TK: How long did you date Danny before he proposed?
HP: My favorite question! We started dating in March — of this year. We almost eloped at month one and again at month two, but settled on a whirlwind engagement at month three. "Judgy McJudgersons" might not get it, but when you know, you know. I swear that when we met, there was this sigh of relief, like: "Oh there you are, I've been looking for you." Timing was everything and I'm grateful I met him when I did.
TK: How did he propose?
HP: Danny did it the day after his birthday, which proves how selfless he is. It was a moment that overcame him at dinner with both of our families, including the family friend that set us up. We'd just wrapped up a golf scramble (my first time on a golf course, and Danny's millionth — he's a serious golfer), and he just so happened to have the ring in his car.
The best part was that he was planning to do some overly romantic gesture and fly back to New York after me or do it over the New Year's holiday. But when he got the ring, he was just too excited. He's adorably bad at keeping surprises and that's one of my favorite things about him. When he has something he wants to give you or say to you, he just does it. There are no games and no conforming to what everyone else says is the "etiquette" or the proper amount of time to wait before proposing. We might be against the grain to some people, but we're moving in the same direction and at wonderful warp speed.
TK: Describe your engagement ring.
HP: It is a complete sparkle bomb. It's crazy because I never thought I would have a big diamond, but this thing is a total rock and I'm not mad about it! Considering the industry I am in, I love that Danny didn't shy away from the sparkle. He just embraced it and went for something totally over-the-top. I love looking at it and knowing the rarest commodity about this ring is gentleman that gave it to me.
TK: What keeps you busier: designing wedding gowns as a bride-to-be or planning your wedding?
HP: Designing wedding gowns by a long shot! I've barely even thought about the wedding details. I never thought I would be the type of bride to elope, but I know I just want Danny for a husband no matter how it's done. I also happen to have a producer for a sister and she planned her own wedding in one week, so I don't feel that sense of urgency just yet. Right now, my main focus is producing some beautiful collections for the big and fabulous Bridal Market coming up. That and making my fiance happy from 3,000 miles away.
TK: You're known for your romantic and fun designs. Will that be displayed in your own wedding elements?
HP: Absolutely. The only thing I can say is that it will be over-the-top. I am an "of the moment bride" so it'll definitely be on-trend. The biggest challenge is that I change my mind and move on from styles rather quickly. I might have to make five or six dresses for our wedding day!
TK: Can you give us some details on your wedding location and decor choices?
HP: We're doing Lake Tahoe next July 11 at the Hyatt Regency! This location (where California and Nevada meet) is very near and dear to both of our families. The fact that we grew up in the same hometown in California with lots of mutual friends, but never knowing each other, makes our wedding feel like our star-crossed paths have come full circle. And Tahoe makes for one seriously starry night. As for decor, we're not that far along yet. I just know it's going to be wild and wonderful. I've been referring to it as "whiskey-in-a-tea-cup-chic." My taste is girly, to say the least, but I also want to channel Danny's humor and masculine charm.
And since it'll be a summer wedding, I envision lots of yummy colors and twinkling lights. Lake Tahoe makes for a very magical backdrop, so I'm really inspired to do something unique and fun. Our wedding date is also 7/11, so we have to have Slurpees too!
TK: Is your fiance involved in wedding planning?
HP: Danny is a "whatever you want, my love" kind of man. But as much as I could take this wedding and turn it into a fairy sparkle princess party complete with unicorns and bunny rabbits, I want it to be about us! So, I have some tricks up my sleeve and will definitely surprise him. And he loves margaritas, so I'd like to incorporate that somehow.
TK: What has designing wedding gowns taught you about your personal taste as a bride-to-be?
HP: Everything. It's not only helped me appreciate and embrace my body type, since there's definitely a gown for every shape, but it's also taught me a lot about not getting too caught up in the details. I want a marriage more beautiful than my wedding.
TK: You have a long and impressive background in fashion. Have you always had a clear vision for your wedding dress?
HP: I suppose it's something I have thought about from time to time. I occasionally have those moments on the subway where I think of a fabulous gown for the new collection and say to myself, "That will be my wedding dress." But then it changes every season! This is why I'll probably resort to major wardrobe changes.
TK: Can you tell us what your wedding dresses will look like?
HP: We're doing two ceremonies, one in a Catholic church and non-denominational one outside. I may or may not have done this just so that I could wear two different ceremony dresses. Sorry I'm not sorry! I have to keep people on their toes.
TK: What's something you definitely don't want to include in your wedding or wedding dress?
HP: We almost got married at the Little White Chapel in Las Vegas with Elvis. So I can't comfortably say that anything is off limits at this point.
TK: What's your personal favorite wedding dress trend right now?
HP: Dazzling neckline pieces! The beaded boleros that I paired with our Paloma and Kadence gowns are so statement-worthy and add that unique element of versatility.
TK: Which celebrity had the best bridal look in 2014?
HP: Poppy Delevingne.
TK: Do you have a wedding cake preference?
HP: I love banana cake (shout out to Billy's Bakery in New York City!). And Danny loves chocolate chip cookies. So the cake will have to be some crazy banana Cookie Monster cake.
TK: What can you tell us about your Spring 2015 bridal line?
HP: I plan to knock you off your feet! This season, it's personal.
Want more? Right here!
> Angelina Jolie's wedding dress and veil features pictures drawn by her children!
> 9 unique save-the-date ideas