These 4 Epic Groomsmen Toasts Will Get You Right in the Feels
There's nothing quite like a solid best man speech—watch and learn from these four heartfelt toasts from Love Stories TV.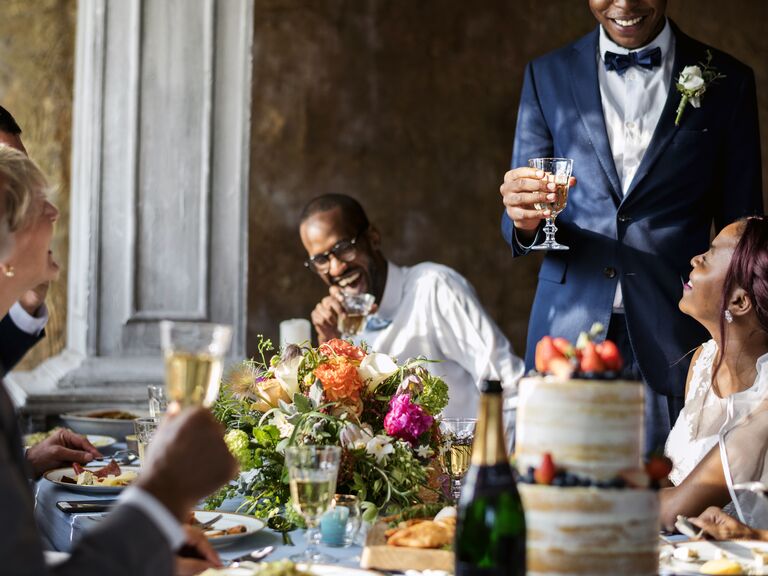 shutterstock
Grab the tissues! These groomsmen are about to either melt your heart or have you in tears of laugher—or both. All four groomsmen in these weddings from Love Stories TV, the place to watch wedding videos, put their own clever twist on the always anticipated wedding toast to deliver some unforgettable lines. Prepare yourself for all the emotions.
1. The Best Man Who Throws It Back to the Night You Met
Video by: NST Pictures
When the best man is present on the night the couple meets, this is the kind of hilarious speech material you can expect him to bring to the wedding. We're convinced there wasn't a dry eye in the crowd—everyone was in tears of laughter.
Watch the full wedding video here.
2. The Best Man Who Impresses the Crowd With His Tech Skills
Video by: Dave and a Camera
We can't get over this groomsman's moving toast—the story itself is amazing, but the iPhone tie-in takes it to another level. This clearly took some thoughtful planning, and it was worth all the time and effort.
Watch the full wedding video here.
3. The Groomsman Who Breaks Into Song
Video by: Agave Creative
Knowing his brother always dreamed of finding his princess, this groomsman decided to rewrite a famous Disney song as his toast. Let's just say this opened our eyes to a "whole new world" of wedding speeches.
4. The Groomsman Who Learns a Lesson About Destiny
Video by: Something New Media
This groomsman admits he and the groom put a lot of effort into playing it cool in front of the bride at the start of the relationship. But he quickly realized with a couple so perfect for each other, "You have to try a lot harder to keep them apart than you do to bring them together." How sweet is that?
Browse the curated and categorized library of real wedding films on Love Stories TV—the place to watch and share wedding videos—to get ideas and inspiration for your day. Share your wedding video on Love Stories TV to inspire others.