The 21 Best Engagement Gifts From Parents Who Want to Express Their Excitement
Congratulate your child and their fiancé with one of these thoughtful presents.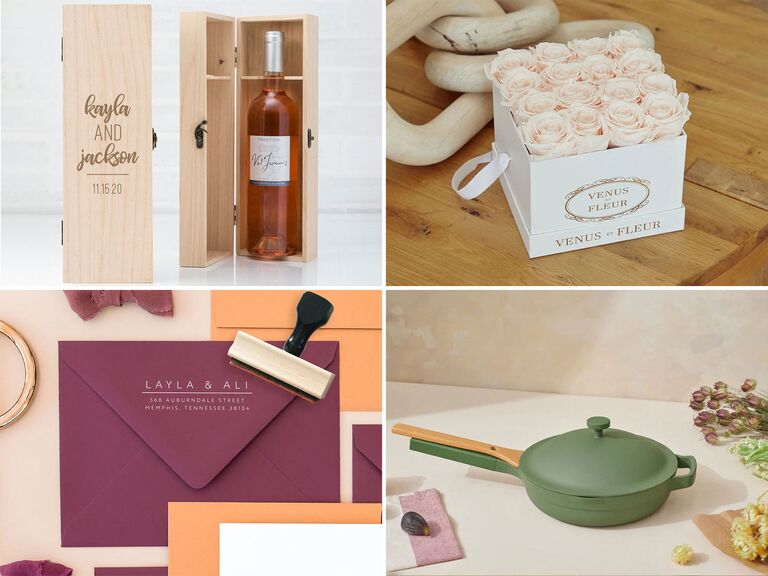 We have included third party products to help you navigate and enjoy life's biggest moments. Purchases made through links on this page may earn us a commission.
Your baby is all grown up and engaged—congratulations! Show your love and support for this new chapter in their life with a thoughtful present. Engagement gifts from parents don't have to be big (or expensive) to be meaningful. Something personalized to decorate their shared home or practical to help with wedding planning will show the couple you can't wait to celebrate with them. Of course, we understand if you feel pressure to come up with the perfect engagement gift for your daughter or son—after all, they probably haven't set up their wedding registry yet. That's why we've rounded up the best gift ideas for a daughter or son's engagement. Whether you're shopping for your own kid, your future child-in-law or both, there's something on this list for anyone and any couple.
In this article:
Do Parents Buy Engagement Gifts for Their Children?
An engagement gift is a special way to show your enthusiasm for your son or daughter and their fiancé. While engagement gifts from parents aren't required, they're certainly welcome and appreciated, especially if the couple is having an engagement party. But, since it's just the first of many celebrations, there's no need to go overboard. A thoughtful card is an appropriate gesture and anything else is extra. You might choose to give a sentimental keepsake, something practical for the wedding day or—a tried-and-true idea—an edible engagement gift. If you're still stumped, don't worry. Below, we've curated a list of some great engagement gift ideas for parents shopping for their children.
The Best Engagement Gifts for Your Daughter or Son and Their Fiancé
A thoughtful engagement gift for your son or daughter and future daughter- or son-in-law is a great way to offer best wishes before the wedding planning begins. From classic ring dishes to personalized artwork, these are the best ideas for engagement gifts from parents.
1. Custom Wooden Gift Box for Wine
Champagne or other wine is a simple and classic engagement gift idea made even better when presented in a personalized gift box. This wooden box perfectly fits a celebratory bottle (with a secure bottle neck rest so it doesn't roll around) and is custom engraved with the couple's names and proposal date. Unlike a bow, they're likely to keep this packaging for years to come.
2. Personalized Print for Their Shared Home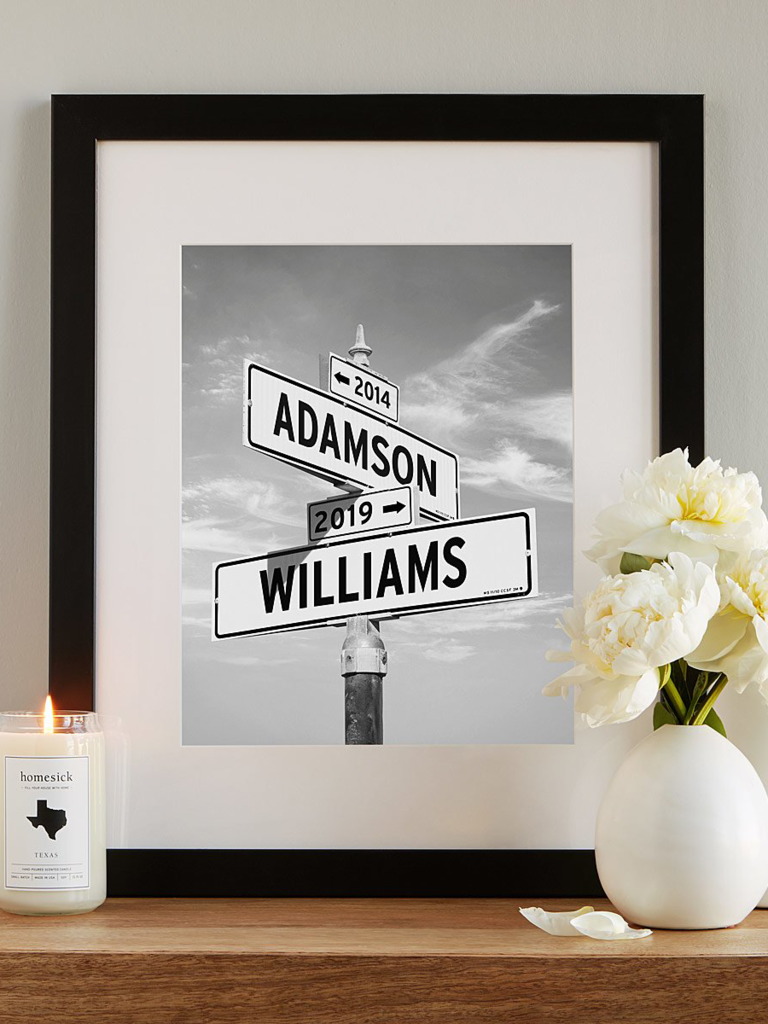 If you're looking for a unique engagement gift for your daughter or son and their fiancé, this personalized photo print tops the list. Fittingly titled "Intersection of Love," it features crossed street signs displaying the couple's names, meeting date and engagement year. You can order an unframed print or add a wooden frame for a display-ready gift.
3. Trinket Dish for Engagement and Wedding Rings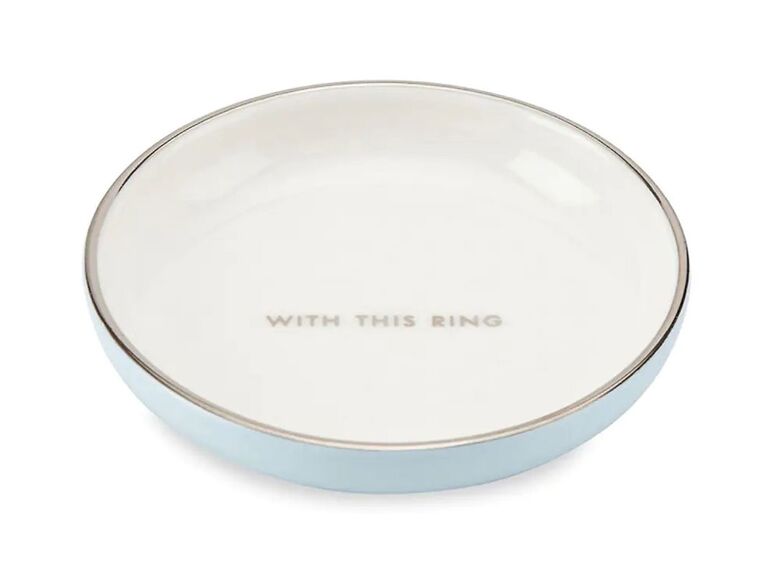 How about an engagement gift that's as sentimental as it is practical? A stylish ring dish is a sweet nod to their newly minted status as an engaged couple—and ensures they have a place to store their important jewelry. This shallow porcelain bowl by Kate Spade is painted a pretty shade of blue and reads "with this ring" on the inside.
4. Long-Lasting Roses to Celebrate Forever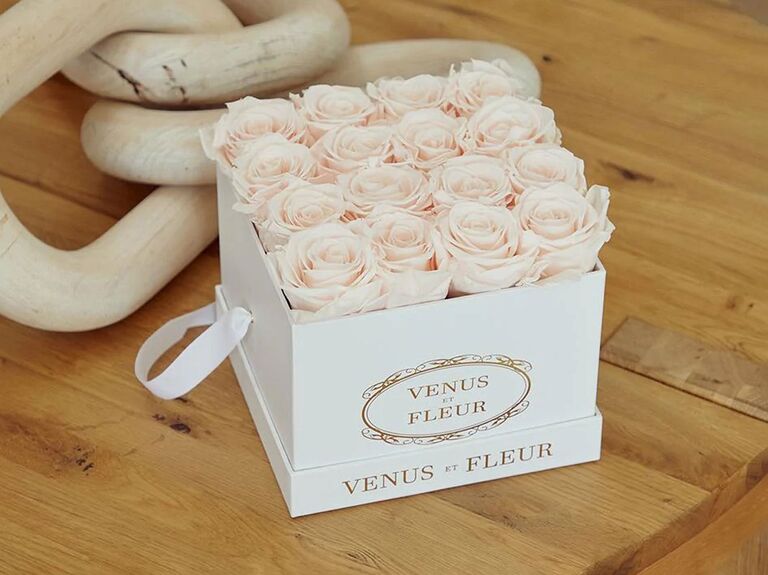 You just got the call, your child is getting married (yay!) and now you want to send a gift in celebration. Venus ET Fleur will ship beautiful Eternity Roses to the couple to mark their engagement. Select the number of flowers you want to send (the 16-piece square bouquet looks incredibly luxurious), then choose the petal color. To complete your order, add a personalized card. The blooms look fresh for a year, so they might even make it to the wedding.
5. Wedding Keepsake Library for Organization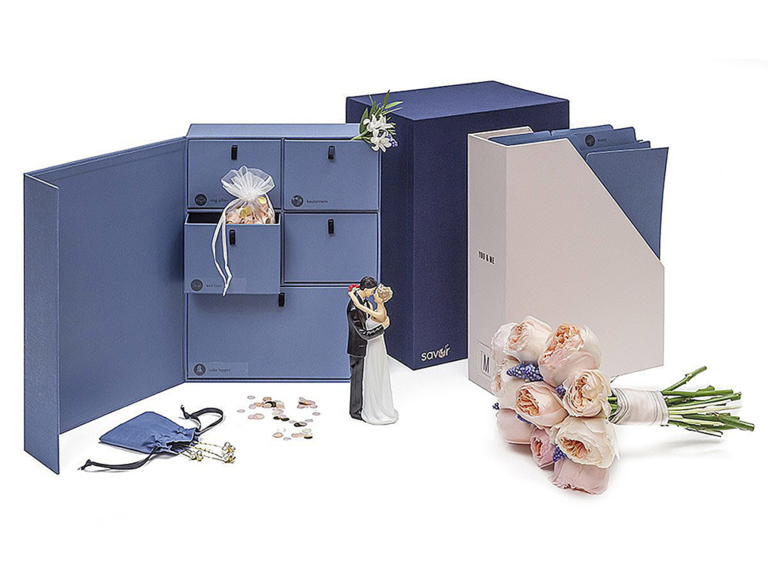 Help your daughter or son and their fiancé keep all their wedding mementos secure with this library-style organizer. It has illustrated labels, acid-free drawers, vertical files and small fabric bags to ensure their big-day keepsakes are never damaged or lost. With a system this immaculate, they'll never scramble to find their USB drive full of photos or wonder what happened to their dried boutonniere.
6. Champagne-Scented Candle to Spark Joy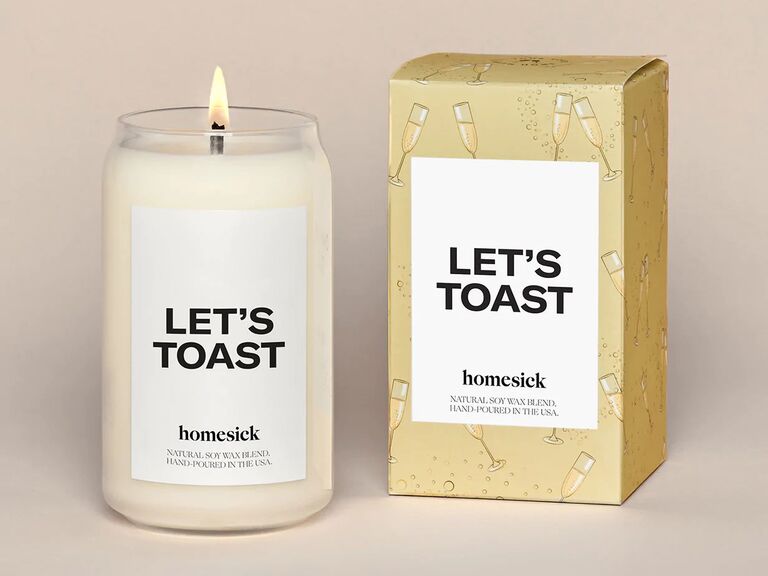 Candles are a great engagement gift idea for anyone not sure what to give their favorite couple, parents included. This isn't just any candle though, it's champagne-scented for a toast-worthy flame. Oh, and you can personalize the packaging with a handwritten note for extra brownie points.
7. Wooden Scrabble Board With Personalized Name Plate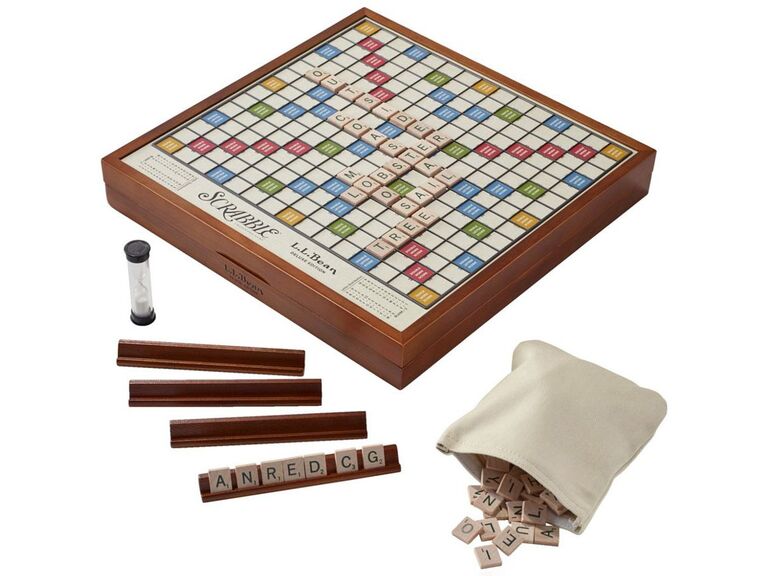 Start their collection of shared goods with a sturdy Scrabble board they'll love to show off at game night. Crafted from wood, it has a raised grid and plastic playing surface to keep the tiles in place, a Lazy Susan so it spins with each player's turn, and storage for easy cleanup and safekeeping. Best of all, it can be personalized with a nameplate.
8. Elegant Frame to Show Off Engagement Photos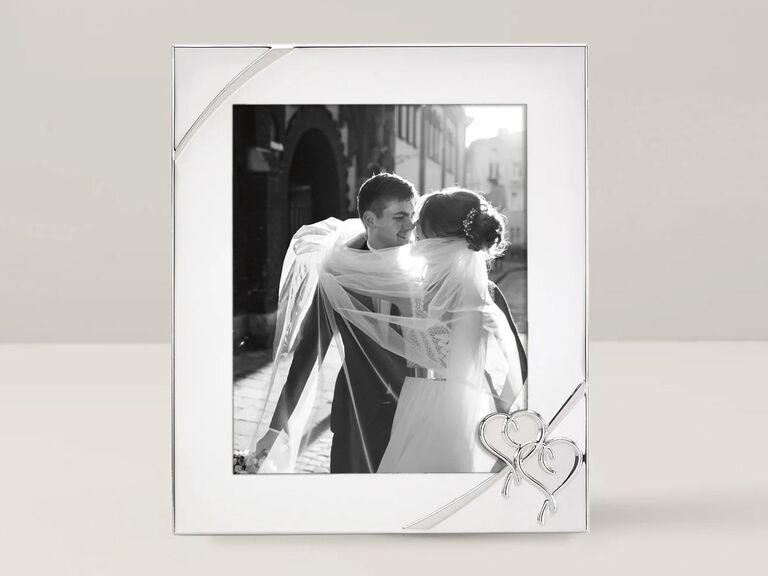 Is the happy couple planning an engagement photo session? Help them display their favorite portraits from the shoot with this sophisticated silver-plated photo frame by Lenox. It's embellished with a double-heart motif that elegantly symbolizes true love.
9. Matching Mugs for Their Morning Coffee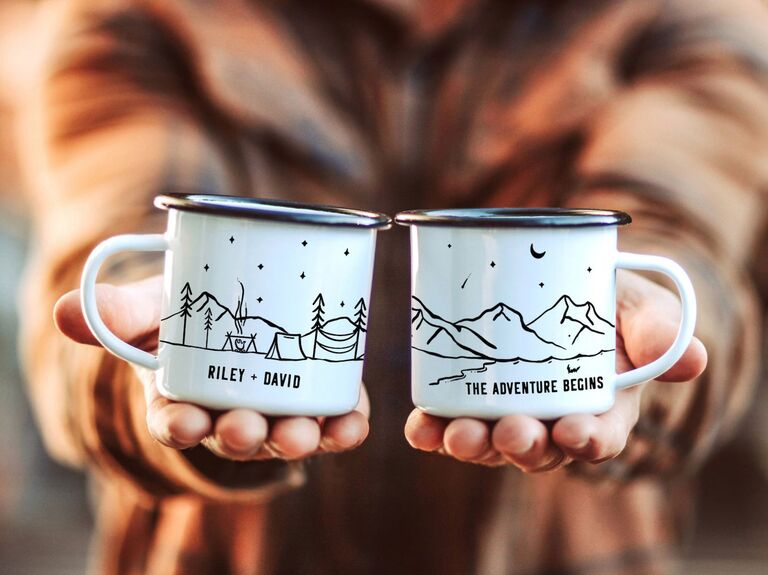 Wedding planning must-have: coffee—and adorable mugs for sipping. If you need a small engagement gift for your daughter or son and their S.O., a set of campfire mugs will get plenty of use. These double-sided cups feature a cartoon nature scene and say "the adventure begins" along with the couples names.
10. Honeymoon Hotel-Worthy Robes for Relaxing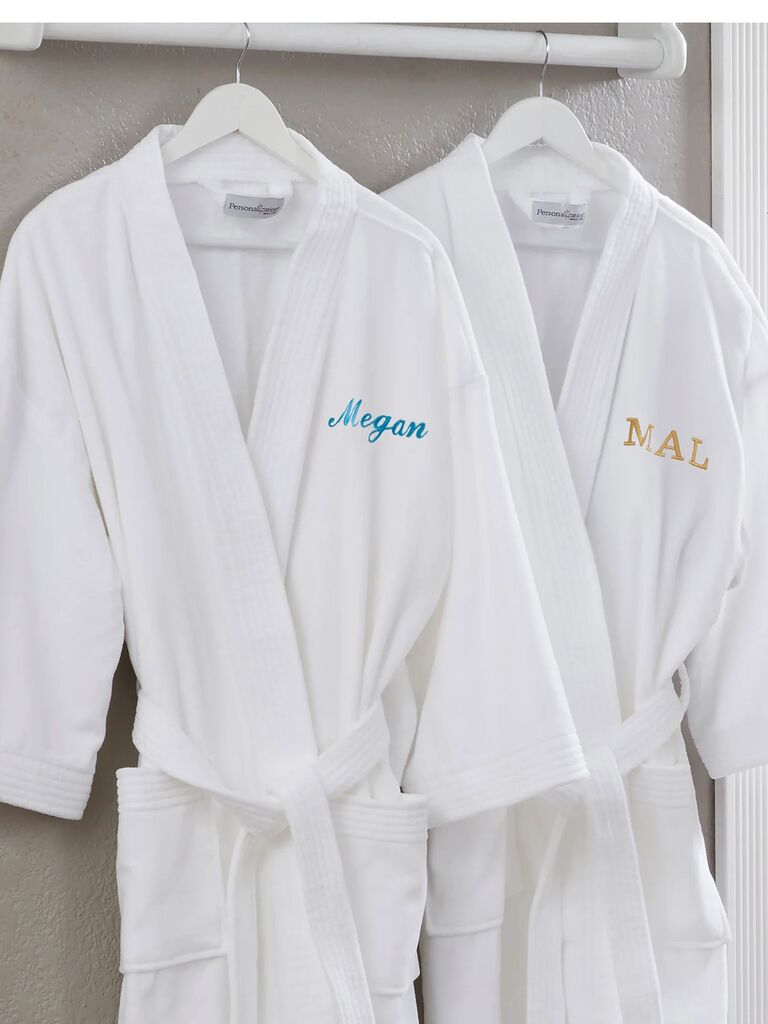 Speaking of wedding must-haves, personalized bathrobes make great gifts for a newly engaged couple. They can throw them on for cozy late-night wedding planning, use them to unwind after a busy day of errands, or even save them for getting ready on the big day. These ones are made from soft terry fabric, have a detachable belt and pockets, and can be embroidered with each of their names. They'll feel like they're already at the spa on their honeymoon!
11. Countdown Calendar to Build Excitement
You and your child have been dreaming about this day for a long time. Help them build even more anticipation and excitement with a countdown calendar. This wooden sign reads "days until I do" and comes personalized with the couple's names. It's also a great reminder for them to cherish this unique period of their relationship—before they know it, the wedding will be upon them.
12. Gourmet Candy for Their Shared Sweet Tooth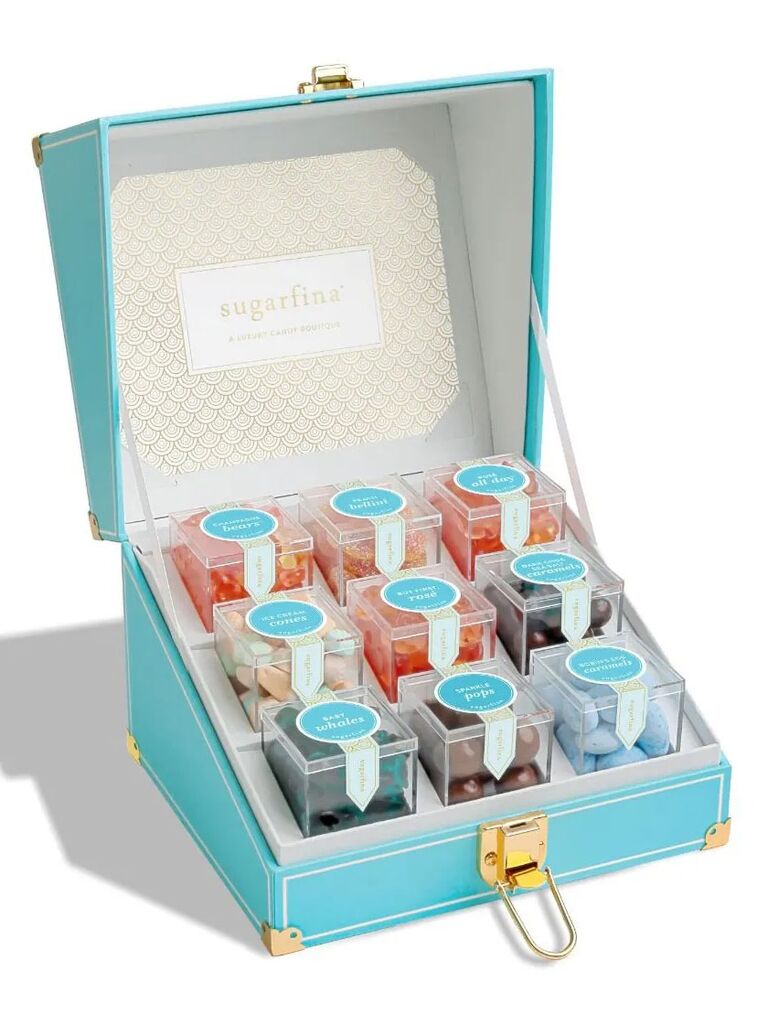 Here's a sweet engagement gift for your son or daughter and their fiancé. Surprise them with an assortment of gourmet candy from Sugarfina. This set has some of the shop's top offerings, including Peach Bellini gummies, Dark Chocolate Sea Salt Caramels and the brand's signature Champagne Bears. And in true wedding spirit, they all come packed into a something blue-colored trunk.
13. Heart-Shaped Serving Board for the Engagement Party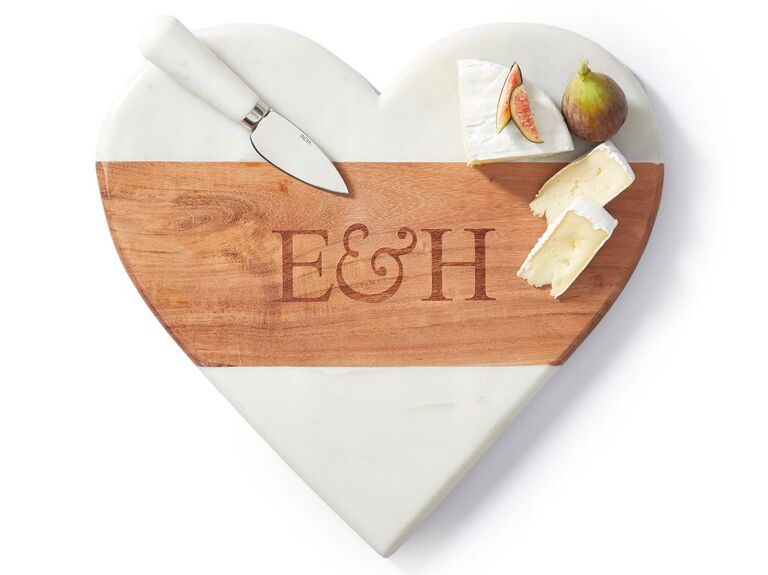 Tasked with hosting the engagement party? Serve the couple's favorite charcuterie spread on this chic cheese board. It's made from wood and marble and fittingly shaped like a heart. For a personal touch, have it engraved with their initials connected by an ampersand. Once the party is over, they can proudly display the present in their kitchen—we love a good dual-purpose engagement gift from parents. You might even see it again at their wedding shower.
14. Cocktail Recipe Book to Inspire Their Signature Drinks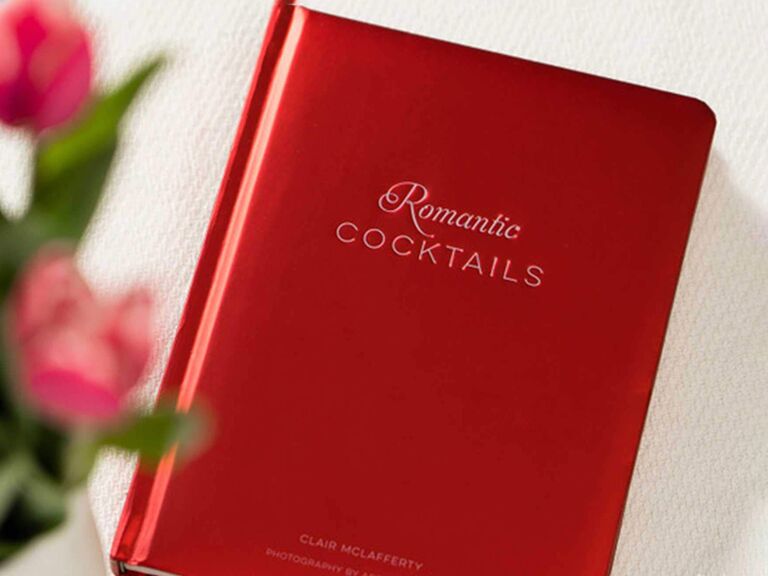 Shopping for a pair of mixologists? A craft cocktail recipe book is a great way to honor their shared hobby and help them find a signature drink (or two) for the wedding. Romantic Cocktails by Clair McLafferty has over 100 recipes centered around love, like The Afternoon Delight and The Goodnight Kiss. Too cute!
15. Commemorative Ornament to Remember the Season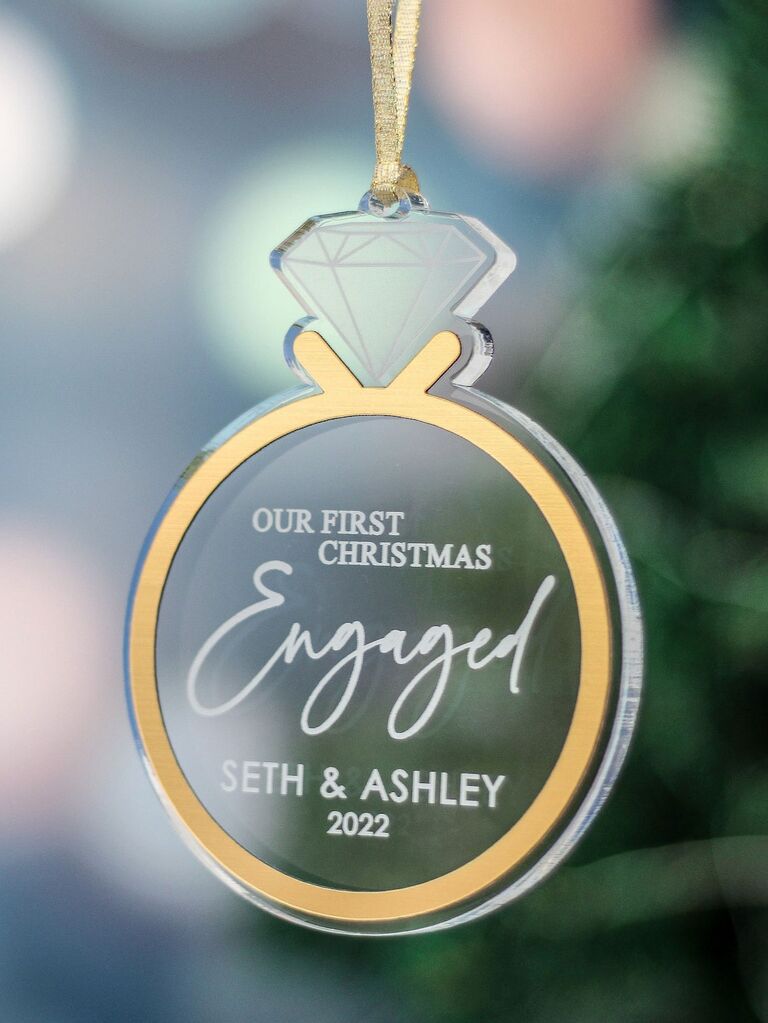 Did they get engaged around the holidays? Add this ornament to their tree so they always remember this special time in their lives. The acrylic ornament is shaped like a diamond ring and says "our first Christmas engaged." It's customized with the couple's name and the year the question was popped. We love how you can change the color of the band to match the proposal ring.
16. Personalized Champagne Flutes for All the Toasts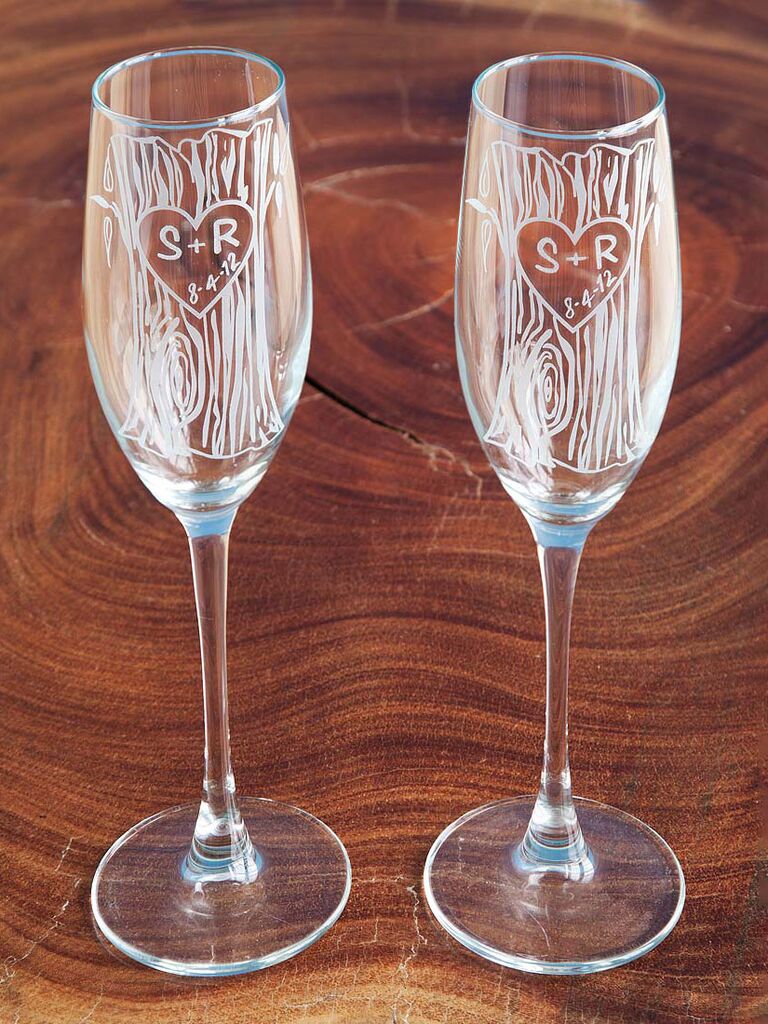 Let the speeches—and thus all the cheers—begin! If you want to get the lovebirds special toasting glasses, this arboreal set is one of our favorites. Each glass is etched with an intricate tree pattern and the couple's initials and engagement or wedding date. They're an especially great engagement party gift from parents since they'll get used right way.
17. Multi-Purpose Pan From Their Registry Wish List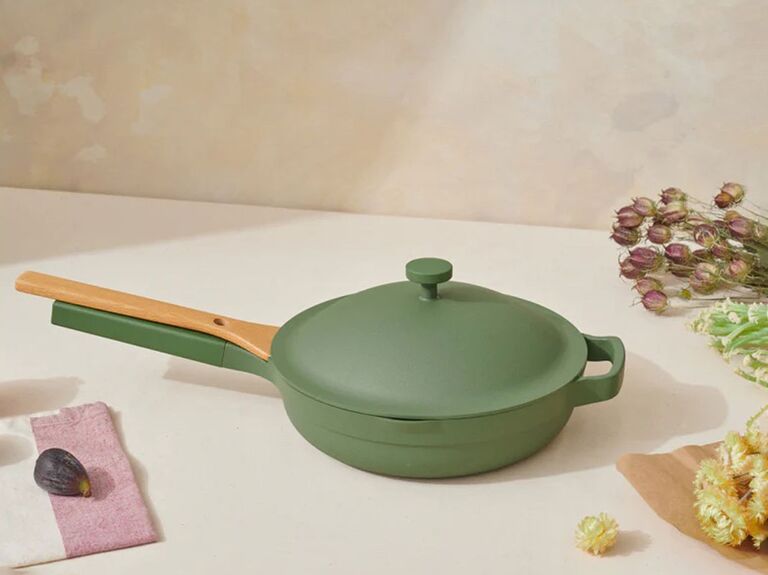 Another engagement gift idea from parents? Anything you know will be on their wedding registry. As a parent, you have the inside scoop on what your child and their fiancé will be asking for. If you know they need (or just really want) some new kitchenware, the Always Pan from Our Place will likely be high on their wish list. This 10-inch multi-purpose non-stick pan comes with a beechwood spatula (with an integrated spoon rest) and a stainless steel steamer basket so it can fulfill the role of eight different cookwares in one. Basically, it'll become their second true love.
18. Instant Camera to Document Their Engagement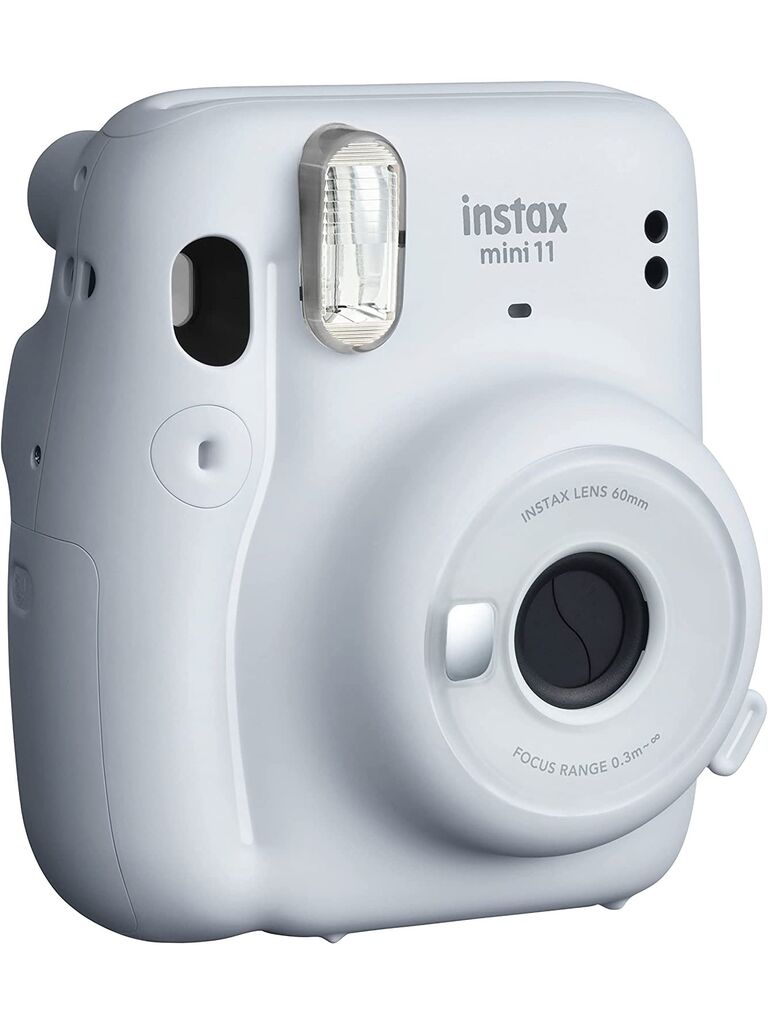 Here's a cute gift for your engaged daughter or son. Help them remember this unique time in their relationship with an instant camera. They'll capture meaningful snapshots of their engagement party, couple's shower, bach parties and even the little moments of wedding planning in between. Aww! (Don't forget to include film.)
19. Jewelry First-Aid Kit for Their New Bling
If there's a new sparkly ring in the family, look no further than a jewelry first-aid kit. This gift set includes a cleaning brush, a purifying cleanser and a gentle drying cloth—aka everything needed to clean an engagement ring at home. Now the special jewelry will keep its shine through the wedding day and years after.
20. Custom Return Stamp for Addressing Invites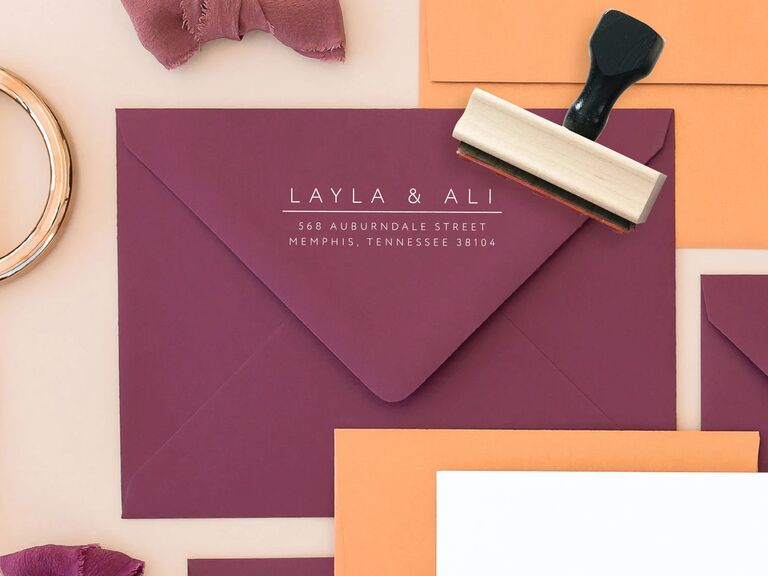 One thing your son or daughter and future in-law need before the wedding—and even before the shower—is a return address stamp. It'll make their invites look extra luxe and save them from writing it all out themselves (no more hand cramps!). This one is even self-inking, meaning it can make thousands of impressions before needing to be refilled.
21. Funny Tote Bag to Announce Their Relationship Status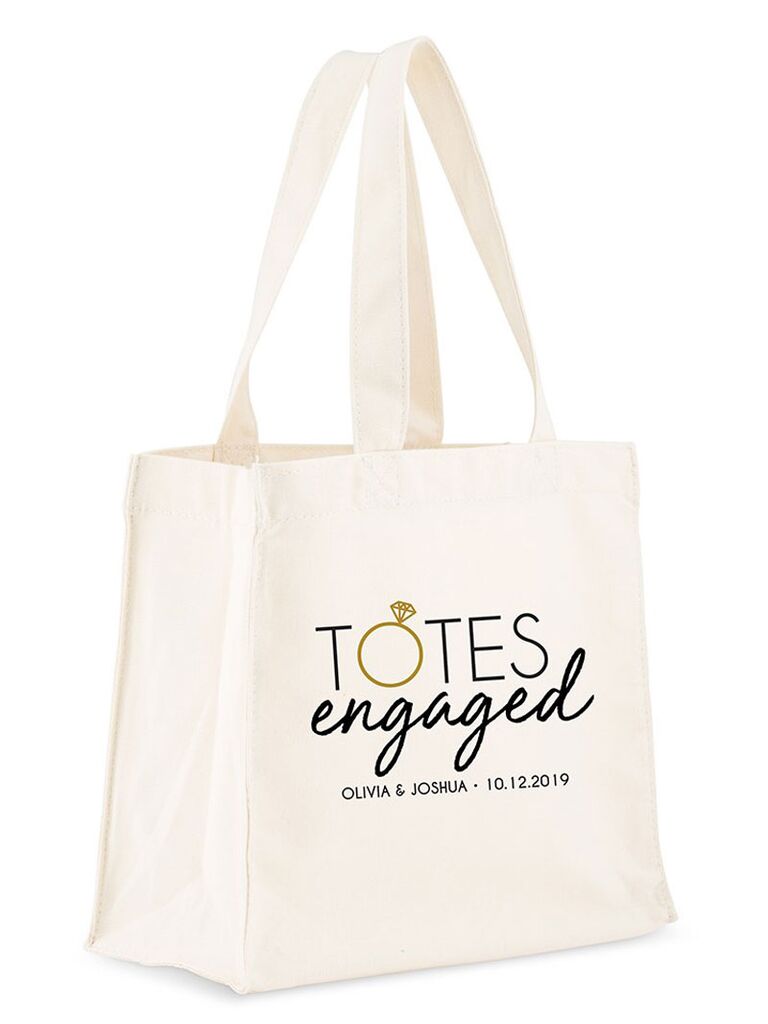 If your son or daughter couldn't be happier to announce their engagement, this reusable canvas bag will help them shout their status to the world—or at least to the grocery store. It reads "totes engaged" with a ring motif in black and gold and can be personalized with their name, their fiancé's name and the day they said "yes." Choose between a small or large size or grab both for the days they go shopping together.