30 Engagement Ring Selfie Ideas That Are Perfect for Instagram
Your engagement is a big deal—selfie accordingly.
It doesn't matter whether you've been engaged for one minute or one year—engagement ring selfies are always a good idea. Getting proposed to is a huge deal, and it's a moment you've likely thought about for quite some time. And in the age of Instagram and TikTok, there's a good chance you've thought about how you'd like to make the news social media official after it happens. Of course, we always recommend telling your friends and family about the proposal first before spreading the word online. (It is proper engagement etiquette, after all.) But once your loved ones are in the loop, we're all about snapping an engagement ring selfie to show off your new bling. And if you happen to need a few engagement ring photo ideas, we've got you covered. Here, we've rounded up 30 fun and creative ring selfie for Insta. (Psst: We also have plenty of cute engagement caption ideas if you need those too.) Screenshot your favorite snaps below and recreate them on your own feed—and don't forget to tag and follow @TheKnot so we can see your best pics!
With a Fresh Mani
When it comes to engagement ring photo ideas, it doesn't get more classic than a selfie showing off a fresh manicure. Your hands will get plenty of attention once you're engaged, after all, so treat yourself to a great manicure to flaunt while showing off your new bling. (Pro tip: This is also a great chance to test out potential wedding day nail styles too.)
With Your S.O.
It takes two to get engaged, so we love this couple engagement ring selfie idea. Once your sparkler is securely on your finger, throw your hand up in front of your S.O. and snap a pic—it's simply perfect for the 'gram.
Showing Off Your Pet
Who says your beloved pet can't get in on the action? We have a feeling that an engagement ring selfie featuring your dog or cat in the background will get all the likes.
During Golden Hour
Golden hour is a stunning opportunity to snap a dazzling ring selfie. Regardless of where you are in the world, throw your hand up once the sun starts to set for a downright stunning photo opp.
At Dinner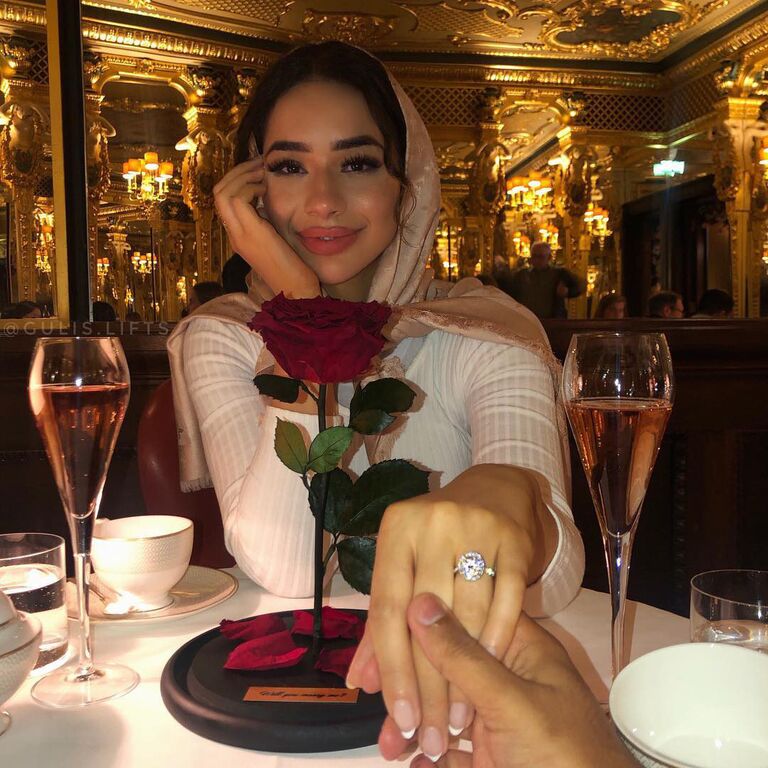 You don't have to get engaged over dinner to take this super cute ring selfie. (But if you do, make sure you get a photo like this!) Once you're seated, hold out your hand with your ring on full display and have your partner take the photo from their point of view.
Grabbing Pizza
Pizza and diamonds? That's amore. If you're celebrating your proposal with a pie, ask your partner to snap of a pic of your sparkly hand grabbing a slice for an iconic ring selfie.
On the Water
Rivers, oceans, lakes—all bodies of water make for pretty ring selfie backdrops. If you find yourself at a particularly scenic locale, grab a picture showing off your ring to level up your IG feed.
Ring Fingers Up
We love this ring selfie idea for your wedding day—throw those ring fingers in the air to document your *just married* status.
In Front of a Letter Board
Those who are dedicated to updating their letter boards will appreciate this engagement ring photo idea. After you say yes to your S.O., update your sign to reflect your "just said yes" status—it'll make for an epic engagement announcement. (Need a letter board idea? Try one of these cute wedding countdown quotes.)
With Your Friends & Fam
Perfect for couples getting engaged in the presence of loved ones, this heartfelt engagement ring selfie pose will tug at everyone's heartstrings.
In Front of Your Proposal Spot
If your partner pulled out all the stops for the proposal, don't forget to grab a ring selfie of the setup—it's one photo you'll definitely want to take amid all the excitement.
In the Snow
What's icier, your ring or this frosty backdrop? Snow bunnies will love this fun engagement ring photo idea for when the weather cools down.
With a Disco Ball
Mark our words: This groovy ring selfie will seriously amp up the sparkle of your rock. Pose for a ring selfie next to a disco ball—bonus points if you're near a window or a direct light source to maximize its shine potential.
Jumping for Joy
We have a feeling your S.O. will *literally* be jumping for joy after you accept their proposal, which is why we're obsessed with this couple engagement ring selfie.
Framed by Flowers
If you're looking for an aesthetically pleasing ring selfie idea to complement your IG feed, consider this. Find a colorful display of fresh flowers and snap away.
In a Tropical Hideaway
If you'll be jetting off on a tropical engagement-moon to celebrate your happy news, be sure to snap a ring selfie like this while soaking up the sun.
Above Your Doormat
Perhaps you have a cheeky doormat that alludes to your engaged status. If you do, it'll serve as a fun backdrop for a creative engagement ring selfie.
Sealed With a Kiss
If you don't mind a little PDA on your Insta feed, this couple engagement ring selfie idea is simply perfect for lovebirds.
Holding Hands
Next time your hand is wrapped up in your partner's, take this cute engagement ring selfie—it's an easy, no-fuss pose that'll look so cute on the 'gram.
In Your Car
While you should never selfie and drive, we do love a *parked* car ring selfie. Next time you go for a ride, take a photo of your sparkler against your steering while for a fun ring selfie moment.
At Your Desk
Whether you're working from home or an office, it's probably hard to concentrate when a rock is staring back up at you. Next time you find yourself distracted by your bling, snap a ring selfie. We won't tell your boss.
At Magic Kingdom
Disney lovers, this one's for you. If you have a soft spot for magic and fairy tales, it only makes sense that you need to take your sparkler to Magic Kingdom for a romantic photo opp.
In Front of a Landmark
World travelers and history buffs alike will appreciate this engagement ring photo idea. Next time you find yourself in front of a historical landmark, throw your hand in the air for a ring selfie set against a memorable background.
With a Ring Stack
Your engagement ring doesn't have to be the only bauble in your selfie. If you love curating eclectic ring stacks, throw on your favorite bands to accent the star of the show.
Above Autumn Leaves
Cue the Gilmore Girls theme song. Autumn is a prime time for Instagram photos, so once the leaves start changing colors be sure to snap an engagement ring selfie in front of your favorite landscapes.
In Front of Holiday Decor
Did you know that nearly 40% of couples get engaged between November and February? It's true—and it's why we've dubbed this time of year "proposal season." If you happen to get engaged while your holiday decor is out, trust us when we say you should definitely snap a pic or two showing off your sparkler in front of a Christmas tree or a festive lights display.
By the Pool
There's no better place to be in the summertime than poolside. Next time you're lounging in the sun, grab an engagement ring selfie by the water.
Under the Covers
Consider this one of our engagement ring photo ideas. Ask your fiancé to snap a photo of you showing off your bling from the comfort of your bed underneath the covers. (Bonus points if you add rose petals!)
With a Cup of Coffee
If you can't start your day without a cup of coffee, this cute engagement ring selfie definitely deserves a spot on your IG feed.
Resting on Your Wedding Planner
Just engaged and ready to start wedding planning? We don't blame you. Take a photo of your engagement ring resting on your planner. And after you post the 'gram, you might as well make an account on The Knot to make your wedding planning process a breeze. (Thank us later.)