Don't Want to Mess Up Your Engagement Ring? Wrap It With A Rubber
by Anja Winikka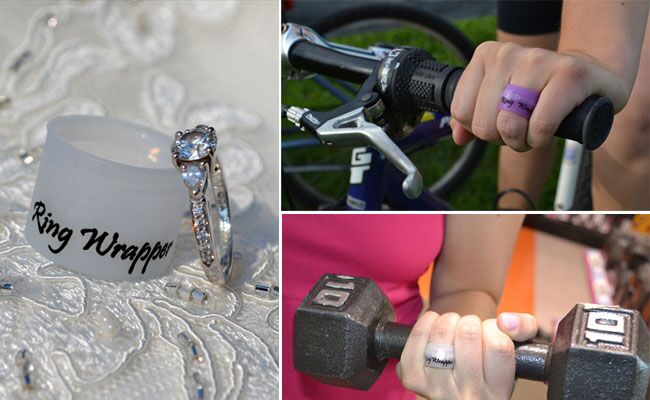 To say that I get a lot of email pitches from wedding companies would be a massive understatement (from hotel openings on exotic islands to strange wedding favors I can't imagine anyone would ever want).
But today a rather innocuous email subject line — "Ring Protector" — gave me pause, and I clicked on it. (Full disclosure: A quick search and I realized the company RingWrapper.com is an advertiser with us.)
Anyway! When I saw what the pitch was for (little silicone bands that come in all sorts of colors and sell for $4.95 a piece), I laughed. Who in the world would wear that?
But then I remembered the way I felt when I first got engaged.
I spent a good amount of time staring at my engagement ring, and frankly, feeling paranoid that something would happen to it. What if it fell down the drain when I washed my hands? What if somehow it flew off my hand while walking along the subway platform? And when we would go upstate with friends, I would wonder whether I should really be wearing my ring while roasting marshmallows over the fire. And when I would go out for a run, was it okay to wear my ring?
Well, I've slowly come to realize that worrying about it doesn't do any good. I decided that my engagement ring is a signifier that I'm taken; my engagement ring communicates to others that I'm apart of the crazy-awesome-I'm-planning-a-wedding club; and (best of all), it's a sweet and constant reminder that I am getting married to the most fantastic person I have ever known.
So bring it on little silicone bands — I'm not taking my ring off — but I'd totally wrap it up.
> Engagement ring insurance 101
> Should you wear your ring to an interview?