26 Magical Ideas to Bring Your Fairytale Wedding Theme to Life
For your own happily ever after.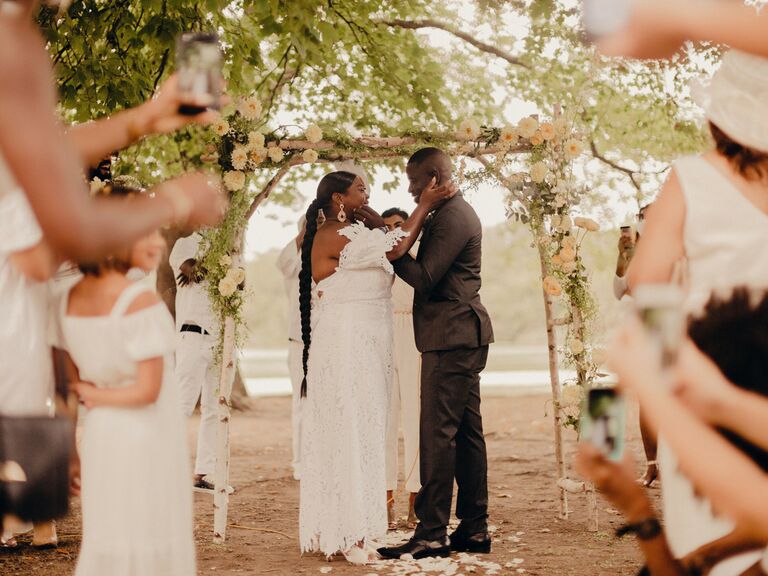 BRIDGET BADORE
Once upon a time, you got engaged. Now, it's time to plan your nuptials. If you've been dreaming of a fairytale wedding, we're here to help. We rounded up 26 ideas to help you achieve a fairytale wedding theme. Whether you want to create a totally magical atmosphere or simply add a few sweet touches, we have ideas for every kind of celebration.
As with any themed wedding, details are key. Pull off a fairytale wedding theme by leaning into the venue and flowers. Choosing a dreamy wedding venue will set the scene. Go for a forest or a garden. If you're hosting an indoors fairytale wedding, you can still achieve a similar effect. Book a ballroom, castle or greenhouse. Whatever space you choose, fill it with lush flowers, string lights and other romantic wedding decorations. If you have a specific fairytale in mind, check out our roundup of Disney wedding ideas for extra inspiration. Work with your wedding planner to bring your fairytale vision to life. Your guests will feel like they've been transported to their favorite storybook as they celebrate your happily ever after.
What is a fairytale wedding theme?
A fairytale wedding theme is based on your favorite childhood tales. To achieve this kind of wedding, you'll want to create a magical, romantic atmosphere. Pick a setting that will set the mood immediately. Going for a moody, bohemian wedding? An enchanted forest is perfect. Dreaming of a whimsical, romantic ceremony? Exchange vows in a secret garden. Fill the space greens and colorful flowers for a magical touch. Invite your guests to the celebration with a pretty wedding invitation complete with calligraphy. Then, incorporate pretty decor details like floral cakes, string lights, and metallic table settings. Don't forget to gift everyone a magical wedding favor, like a sparkler, journal or a crown-shaped bottle opener.
How to Pull Off an Indoor Fairytale Wedding Theme
While a fairytale wedding theme might bring to mind outdoor wedding venues, you can still host a magical indoor celebration. Get creative with your venue and pull inspiration from your favorite stories. Get married in a castle or ballroom for a regal feel. Or, exchange vows in a greenhouse for a secret garden effect. Follow the same idea above, and decorate the space with dreamy decor (think: pastel colors and string lights). Your wedding day will feel absolutely magical.
Fairytale Wedding Theme Ideas
Ready to see some serious wedding inspiration? See our favorite fairytale wedding ideas, below.
Enchanted Forest Venue
Invite your guests to an enchanted forest for your big day. It'll set the tone of the celebration instantly.
Greenhouse Wedding Venue
Plan an escape from real life. By booking a greenhouse for your wedding ceremony, you'll transport everyone to a secret garden.
Pastel-Colored Flowers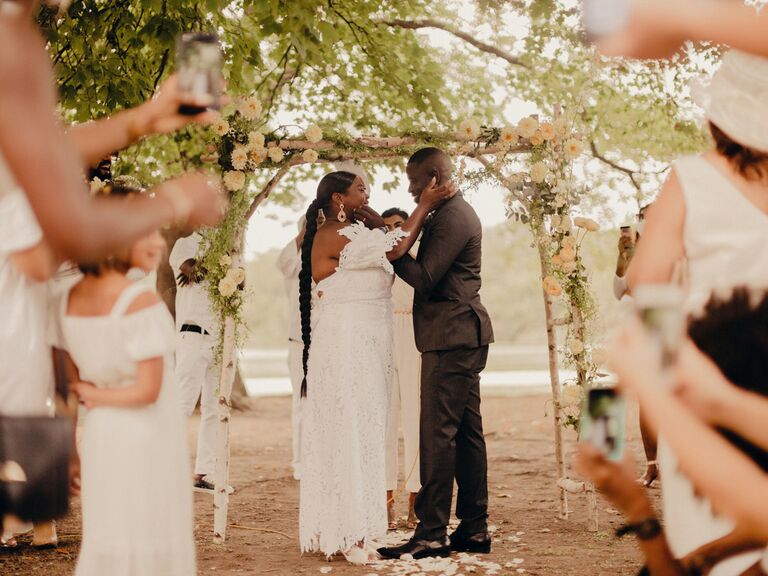 Create a dreamy ambience with pastel-colored flowers. Paired with white decor, outfits and sunshine, your wedding will be absolutely magical.
Garden-Inspired Wedding Cake
If your wedding venue is extravagantly decorated, keep your fairytale wedding cake simple. Use white frosting and garnish with a few flowers. Add a sparkly wedding cake topper for a finishing touch.
Mismatched Wedding Seating
We love this idea because it's a simple way to bring your fairytale wedding theme to life. Set up mismatched chairs (wooden, painted, and fabric) for a magical feel.
Villain-Inspired Wedding Decor
Not all fairytale weddings have to be soft and sweet. Pull color inspiration from the stories' villains and use a dark, moody palette. For a more bohemian look, add a deep-colored carpet aisle runner.
Colorful Flowers
Sprinkle colorful flowers throughout your venue for a romantic touch. (We especially love the rustic wooden doors as an accent—feel straight out of a storybook.)
Lush Flower Arch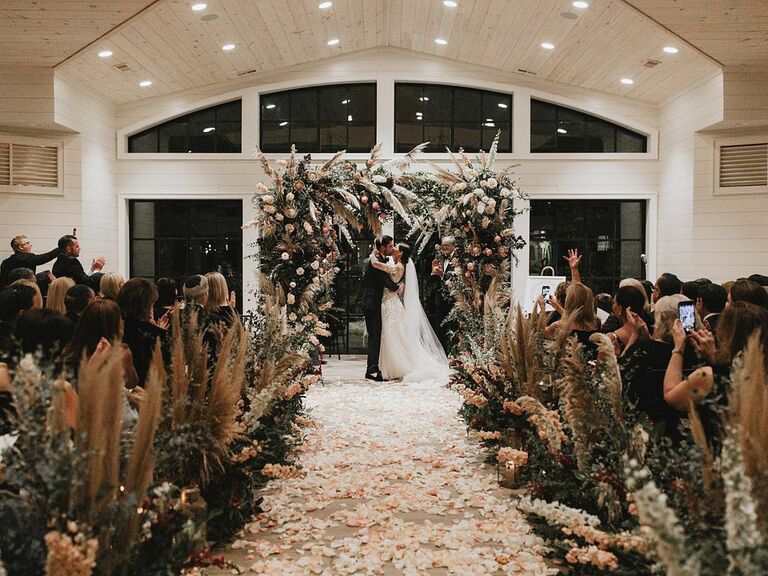 Create your own secret garden within your wedding venue with an oversize wedding arch filled with greens and flowers.
Rustic Wedding Arch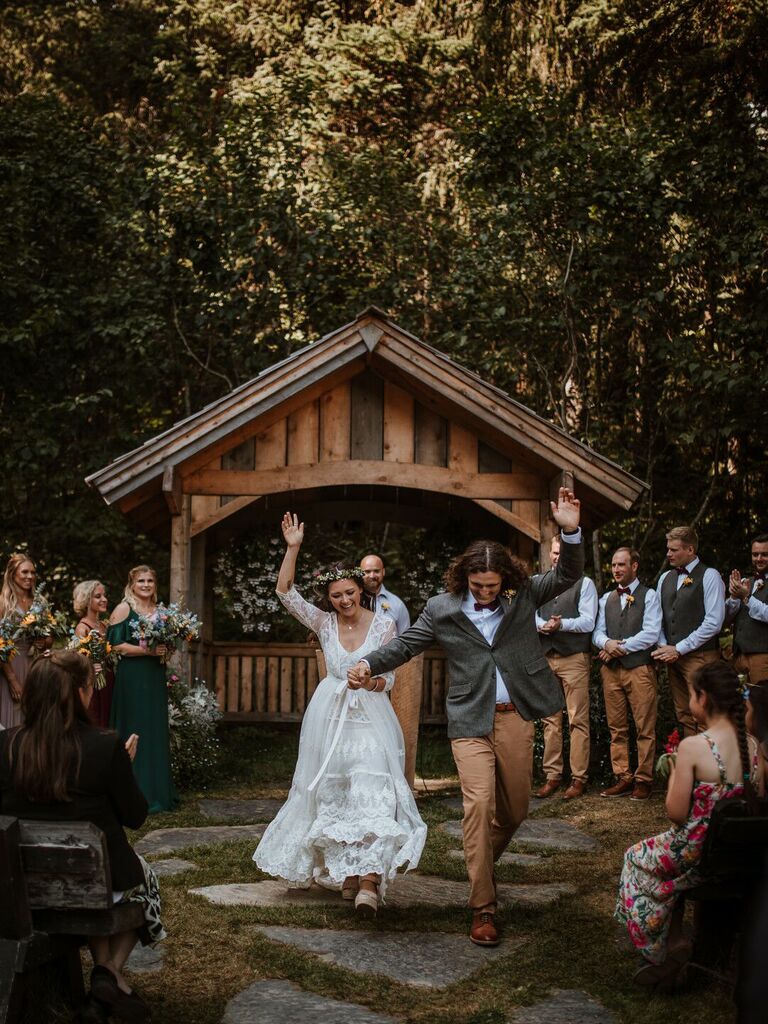 Or, lean into the enchanted forest vibe with a rustic wooden arch. It looks like the home of some very friendly magical creatures.
Magical Loft Venue
You can still make a loft venue feel magical. Decorate it with greens and string lights for a fairytale effect.
Tree Aisle
Look for a wedding venue with built-in magic. A tree-lined aisle (complete with pretty pastel flowers) looks like a hidden garden.
Natural Wedding Arch
If you want an enchanted forest feel but don't want an actual forest wedding, look for a venue with an oversized tree as the natural arch. It'll add a special touch to your fairytale wedding.
Fairytale Wedding Decor
Dress up any indoor space with greens and pretty chandeliers. It's a creative way to incorporate your fairytale wedding theme.
Castle Wedding Venue
Nothing screams fairytale wedding like a castle wedding venue. Your guests will appreciate your creativity and thoughtfulness.
Winter Fairytale Wedding
Some of our favorite love stories happen in the winter. Pull inspiration from them and exchange vows in a romantic, snowy celebration. As an added bonus, the snowflakes will look just like confetti.
Airy Wedding Party Outfits
Ask your wedding party to rock flowy outfits (made of chiffon, silk or tulle) for a whimsical, romantic aesthetic. We love the idea of accessorizing with flower crowns too. (Psst: Asking your flower girls to wear this look will make them look just like little fairies.)
Dramatic Floral Wedding Aisle
We love this idea because it looks straight our of a romance novel. Only someone with magical powder (read: your florist) could put together something so beautiful.
String Lights
String lights create instant magic to any wedding ceremony. They add a warm glow to the venue, and they're reminiscent of sparkling stars.
Ballroom Wedding Venue
Is there anything more classic than a ballroom wedding venue? It will instantly remind your guests of classic love stories (think: Cinderella and Beauty and the Beast).
Rustic Wedding Cake
Inspired by the enchanted forest aesthetic? Ask your baker or caterer for a rustic wedding cake with flowers for decoration.
Secret Garden-Inspired Installation
Transport your guests to a magical garden by hanging greens over each table.
Wildflower Wedding Bouquet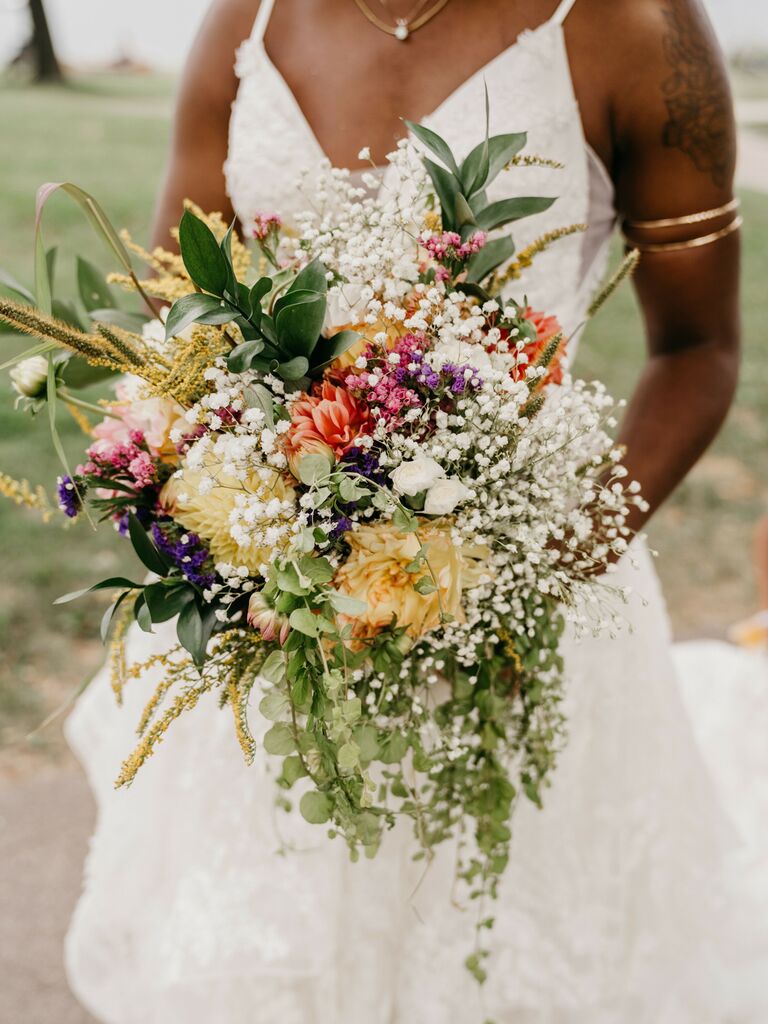 Channel the magic of an enchanted forest with a wedding bouquet filled wiht colorful wildflowers.
Garden-Inspired Decor
Transform any regular piece of furniture in your wedding venue into a piece of fairytale-inspired decor by adding greens. (Psst: This is an easy DIY project.)
Rose Gold Flatware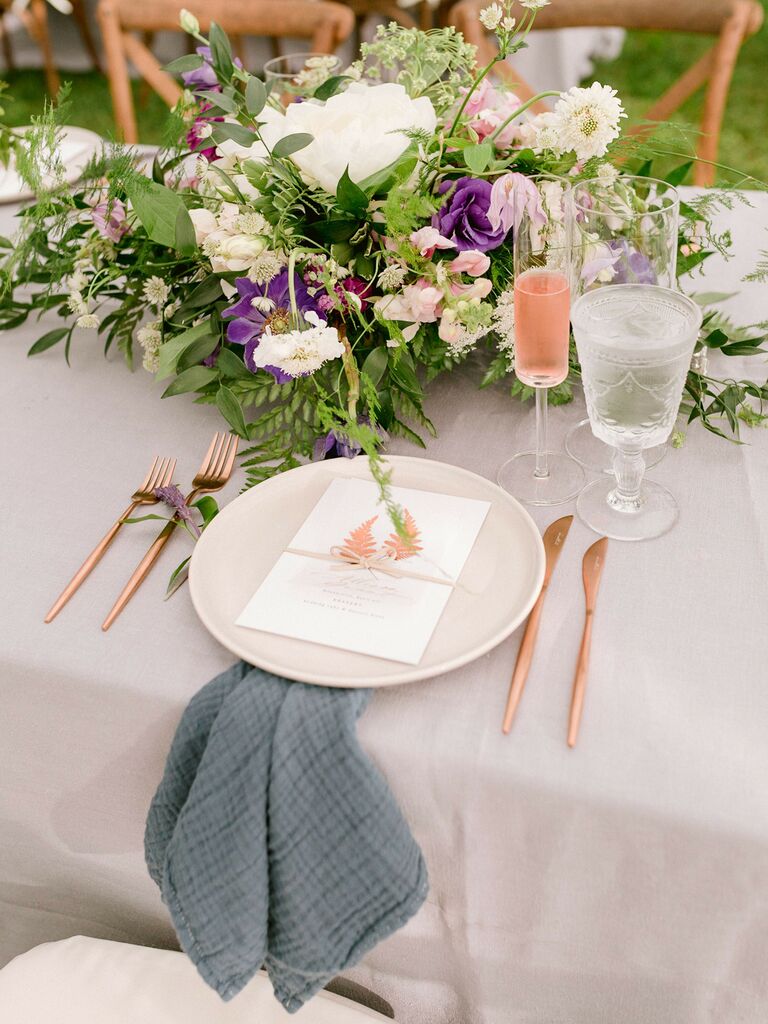 Nothing feels more magical than rose gold flatware.
Enchanted Garden-Inspired Wedding Centerpiece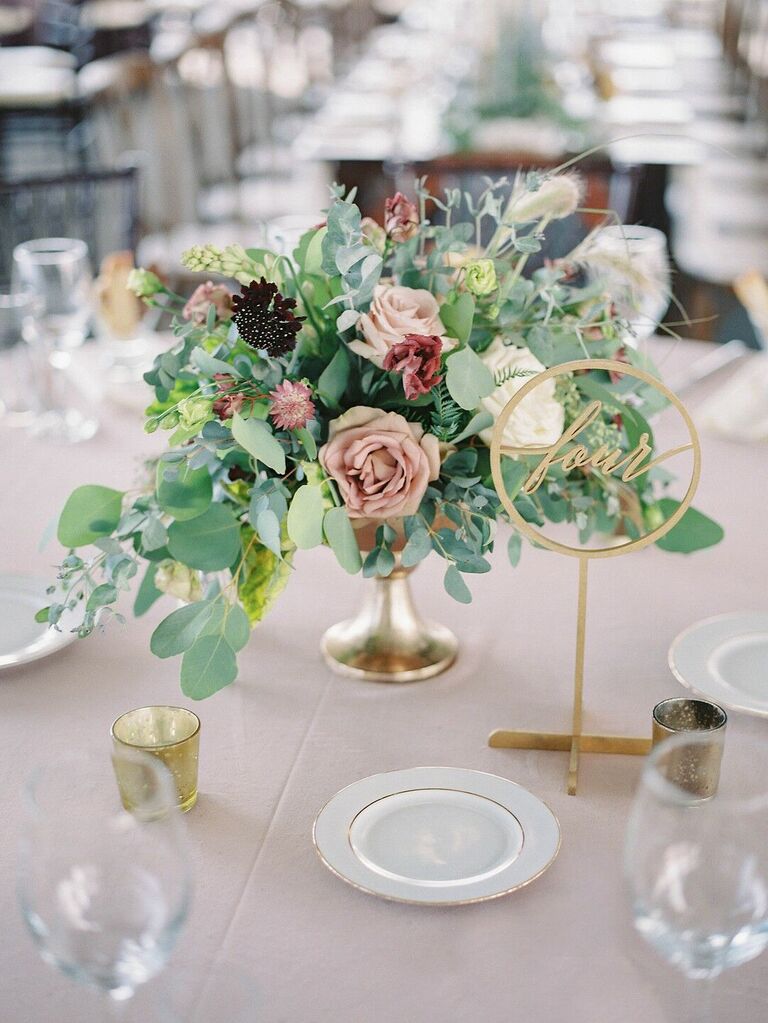 If you want a fairytale wedding-themed centerpiece, it doesn't have to be elaborate. Simply group together pretty pastel florals and place them in a metallic vase.
Enchanted Forest-Inspired Table Settings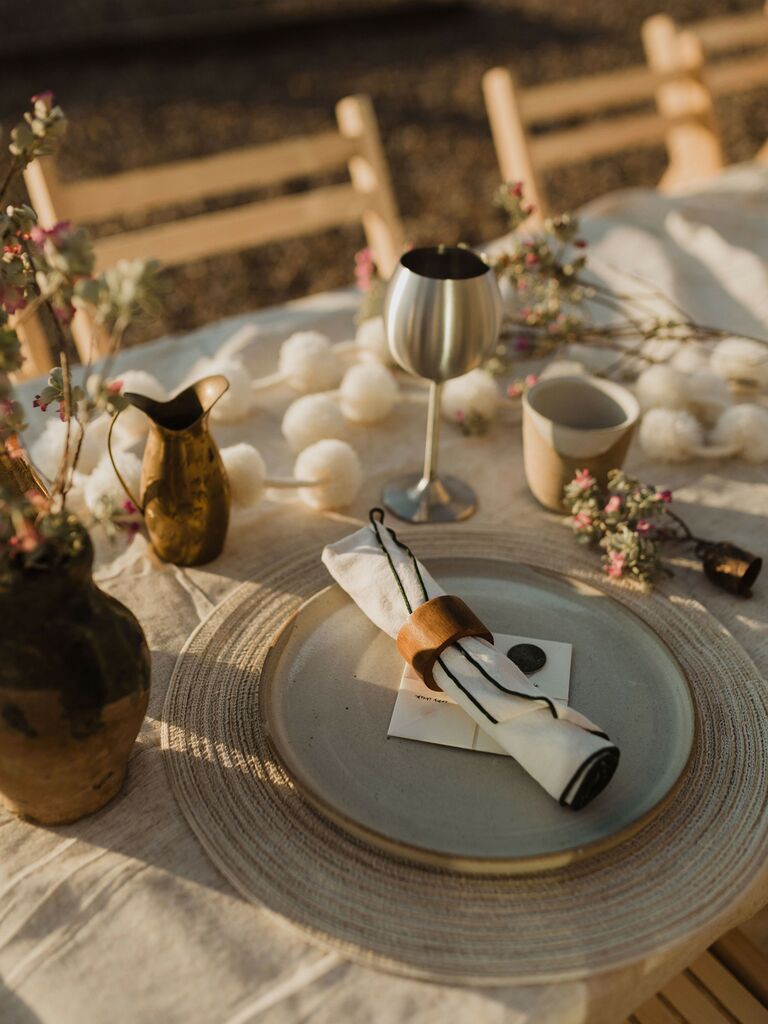 Transport your guests to an enchanted forest with this boho table setting that looks straight out of your favorite fairytale.