My Mountaintop Proposal Story (Fashionista Bride)
by Molly Wilson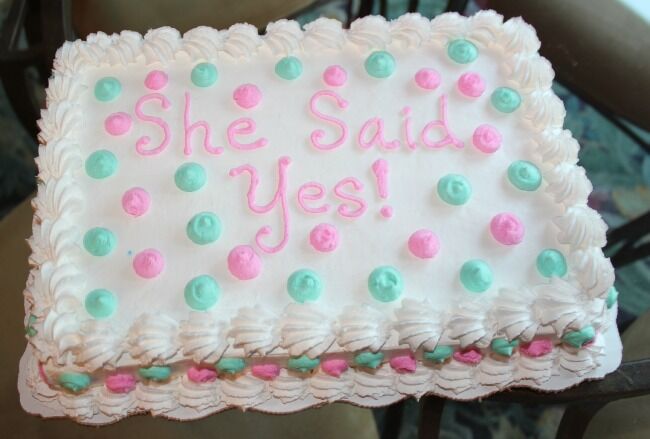 It all started on Thursday when I was at work my boss came into my office and told me he had a crazy idea for one of our donor functions (I am a fundraiser and we are always thinking of creative things we can do for our donors).
He told me that he had set up an appointment for me the following afternoon at The Swag. Now for those of you who don't know, it's an incredible, beautiful, exclusive resort located in the mountains of Western North Carolina. I was thrilled at this idea because I had always wanted to go to The Swag, but you can't even get on the property without an appointment.
The next morning my Mom and Sister helped me pick out a nice outfit for my meeting. I left the office around 3:00 and made my way up the curvy two and half mile road that led straight to the top of a mountain where The Swag is located.
The whole way up it was pouring rain and I was not excited about being drenched for my meeting. When I finally got to the top the clouds opened up and there was nothing but beautiful sunshine (definitely a God thing:)). I entered the main lodge and greeted the woman who was supposedly going to be talking business with.
She proceeded to show me the various facilities and different options for hosting events at The Swag. After that she told me she wanted to take me to their famous view. I was thrilled but couldn't imagine a view more beautiful that what I had already seen. We hopped in the resort's old Land Rover and headed up to Gooseberry Knob. When I got out of the truck I couldn't believe what I saw. It was the most beautiful pristine view of the great Smokey Mountains. You could see miles and miles of beautiful mountain backdrop; it was truly breathtaking. After taking it all in, the woman I was meeting with told me there was a small overlook she wanted to bring me to.
I then proceeded to walk up this small wooden bridge not knowing the surprise that awaited me around the corner. When I turned the corner I couldn't believe my eyes, Ben (the man of my dreams!!!) was sitting in a chair amongst one of the most beautiful views in the whole world. I knew this was the moment I had been waiting for for so long. He rushed over and enveloped me in a huge hug. I honestly can't remember exactly what he said to me (still in complete shock) but I know it was beautiful and perfect. He then got down on his knee and pulled out the most incredible ring, my DREAM ring and asked me to marry him. I didn't even wait one second before I screamed "Of course I will marry you."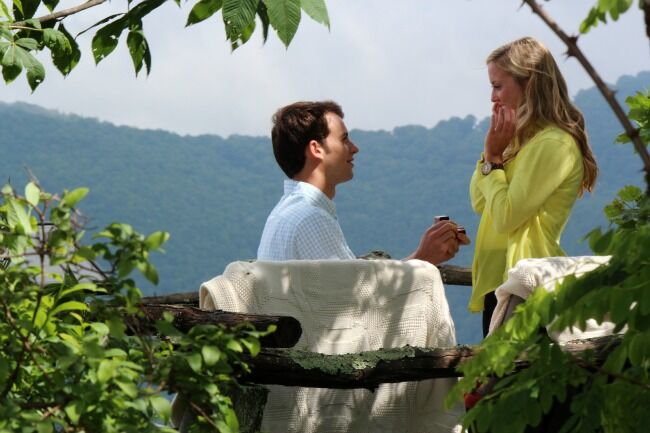 At that moment, I was the happiest girl in the whole entire world. The day just got more perfect when I saw my precious sister hiding out in the woods snapping pictures and memories of this special time. We then spent the next couple ours reveling in our happiness and enjoying each other's company. Afterwards we had a party at my house celebrating this happy time with our family.
I couldn't have dreamed of a more perfect proposal. To this day, I am still in shock that he pulled the whole thing off without me having a clue. Just another one of the many reasons i'm lucky to be marrying the man of my dreams.