11 Unforgettable Groom Moments in Pop Culture
These stand-up guys won our hearts with their loveable and laughable wedding day antics.
by Kate Traverson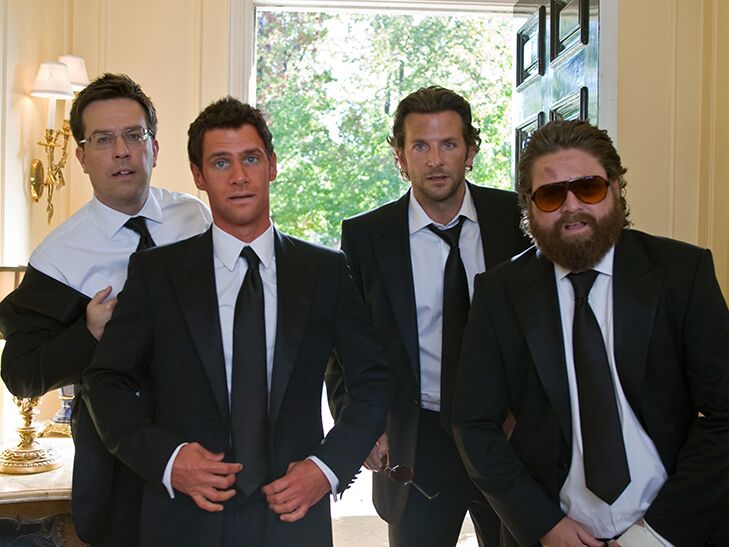 photo by
Everett Collection
Long gone are the days when a groom's only role was to pop the question—and then show up at the end of the aisle. Modern men are all about getting involved in the planning process and reflecting their personality in cool and unique ways, from arranging a special surprise for their partner to customizing their wedding day look. To give the guys a little recognition for their hard-earned efforts, we put together this list of funny, touching and all-around awesome groom moments from our favorite movies and TV shows. Share them with your own leading man to show your appreciation.
Jim's Romantic Plan B on The Office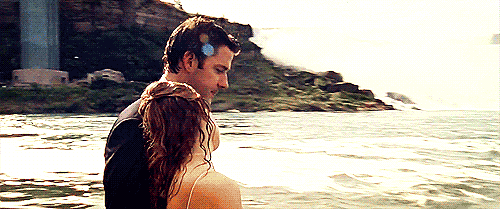 We love a groom who thinks ahead. Knowing their crazy coworkers would stage an embarrassing stunt, Jim saves the day with a backup (yet still totally romantic) elopement aboard a boat in front of Niagara Falls. The bride and groom are soaking wet and officially married before they even get to the church. Not even Michael Scott's terrible dance moves can bring them down.

Ian's Saintlike Patience in My Big Fat Greek Wedding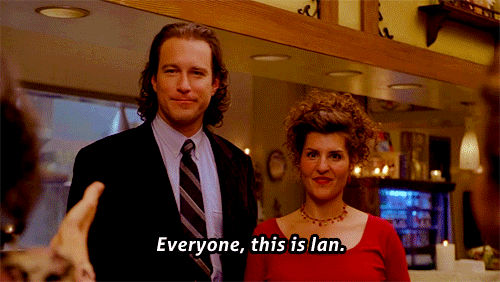 Plenty of people have crazy in-laws, but Ian's new family takes the (wedding) cake. We give him major credit for putting up with group hugs, death threats, and getting slathered with oil in the middle of a church. And hey, at least his new family will make sure he'll never go hungry.
Schmidt's Last-Minute Flight on New Girl

Only Schmidt would be crazy enough to hop on a plane to Portland the morning of his wedding. But it's all for a good cause—convincing Cece's reluctant mom to attend. Of course, his flight is delayed and the unlucky groom is left to experience his reception via video chat. But it all works out when his friends surprise him with a touching late-night ceremony at home in the loft.
Chandler's Dorky Dance Moves on Friends
Chandler's cold feet turn into two left feet when his slippery new shoes cause him to slide around the floor, rendering his pre-wedding dance lessons basically useless. He soldiers on, though, relegating his dancing to some very unsmooth above-the-waist moves. Monica didn't seem to mind, and neither do we.
Michael's High-Speed Chase in My Best Friend's Wedding

What do you do when your best friend/ex kisses you in front of your fiancée on your wedding day? You chase after the bride and fight to win her back. Not even Jules' sneaky sabotage could derail the marriage of Michael and Kimmy. In the end, the look on his face when Kimmy's finally walking down that aisle is enough to convince even Jules that this couple is meant to be.
Matthew's Grand Gesture on Downton Abbey

After a dramatic fight over the future of Downton and their financial troubles, Mary accuses Matthew of not truly supporting her family's best interest. But when Matthew asks Tom, the black sheep of the Crawley clan, to stand by his side on the wedding day, the future Earl of Grantham proves he's got the family's back in these trying times. Tom repays the kind gesture by reminding Matthew that he and Mary could never be happy marrying anyone else, which gives Matthew the confidence to go and win her back.

Mitchell and Cameron's Walk Down the Aisle on Modern Family

It may have taken them four tries, including dodging a wildfire and having their officiant go into labor, but the couple finally gets the wedding of their dreams when Mitchell's dad comes through with the perfect ceremony venue. Cue the waterworks when both of their parents jump at the chance to walk them down the aisle.
Jeremy's Upstaging at the Altar in Wedding Crashers

He might not have expected to marry a "stage five clinger," but Jeremy is a class act at his wedding to Gloria—even when his best friend John steals the spotlight in the middle of the ceremony by declaring his love for the maid of honor. This groom brings new meaning to rule #76: No excuses, play like a champion.
Turk's Church Mix-Up on Scrubs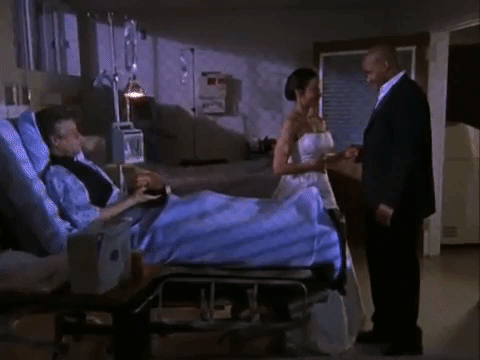 So Turk may have missed his own ceremony because he got the churches confused, but at least his intentions were sweet: working the morning of the wedding so he could have more days on his honeymoon. Once Carla is ready to forgive him, the couple end up making the best of their wedding in reverse—reception first, wedding vows second. Thank goodness one of his emergency surgery patients is a priest. At the end of the day, Turk and Carla officially tie the knot in the hospital, and we couldn't imagine it any other way.
Marshall's Bad Hair Day on How I Met Your Mother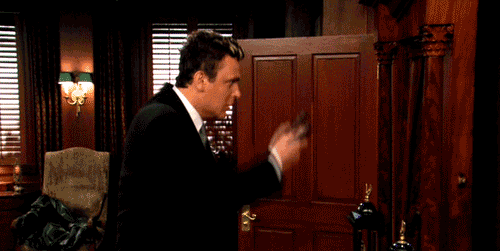 After the flowers go missing, the harp player goes into labor and Lily's ex shows up to try to win her back, we can't blame Marshall for losing his cool on his wedding day. But it's the awful highlights in his hair that send him over the edge. After shaving his head in a panic, he somehow doesn't even think of the idea of wearing a hat to cover it up. Luckily, Lily comes to the rescue with a borrowed fedora, proving this duo would be lost without each other.
Doug's Disappearance in The Hangover

Pay attention grooms everywhere, Doug's bachelor party is a cautionary tale. (Pro tip: Don't go to Vegas right before your wedding.) But even after that incredibly raucous night, he miraculously makes it to the altar in time—with the help of his groom squad, of course. All the more reason to choose your wedding party carefully, gents.