Inside the "New Wave" of Flash & Film Wedding Photography You're Seeing Everywhere
We have TikTok to thank for it.
When you think of traditional wedding photography, you probably envision light colors, bright backgrounds, and airy textures. There's no denying this style is beautiful—but it's not your only option for the big day. Just like your wedding itself should be custom-designed to reflect your personality, the same is true of your photography style too. And if you have a preference for photos that are trendy, artsy and downright fun, you're going to love the "new wave" of wedding photography that's about to take over.
Now, there's a renewed focus on both direct flash and film wedding photography. These styles—while technically different—blur the lines between modern times and vintage nostalgia. Plus, direct flash and film photos allow couples to show off their personalities in a fresh way, which is why you're going to see them everywhere. (Read: If your TikTok feed isn't already filled with flash and film wedding photos, it will be soon.)
To shed more light on these trending photography styles, we tapped two wedding pros who specialize in both. Here, we break down everything you need to know about direct flash and film wedding photography, as well as how you can incorporate them into your own wedding.
In this article:
What is Film Wedding Photography?
When it comes to photography styles, film is one of the most unique—and it's the oldest. "In many ways, the film aesthetic is one of the most traditional styles of photography," says photographer Theo Nash. "Film was the main medium for all photography before the popularity of digital cameras in the 1990s. But today, with most photographers relying on highly advanced cameras, our photos are sharper, clearer, more technically perfect than ever."
While this sharp, clean aesthetic has become mainstream for wedding photos, you certainly don't have to settle for that if you like the soft, grainy feel of film. "Film is more imperfect," Nash explains, noting that this style requires a specific camera that has a limited amount of frames. "It has flaws, and it's often not as sharp a focus. It's soft, nostalgic, and with the limited number of frames per roll, the intentionality that film forces is really special."
So, why is film wedding photography having a moment right now? It doesn't hurt that photo editing apps like VSCO and Huji, which allow users to add vintage effects like light leaks, blurred edges and graininess to digital snaps, have skyrocketed in popularity. But beyond that, pop culture has a major impact on trending photo styles too. "I think the generation raised with readily accessible FaceTune to alter their own images and the overly perfect Instagram influencer feed is craving some authenticity," Nash explains. "Plus, celebrities like Kendall Jenner are using film point and shoot cameras to document their everyday life. There are also TV shows like Season 2 of Euphoria that was filmed on a previously discontinued film stock Kodak Ektachrome. This craving for authenticity and seeing celebrities use film is making it a popular choice for couples getting married."
Plus, for couples who don't want their big day to feel dated by trends, film wedding photos have an effortlessly classic look. "Film has been around for so long that the colors and the images feel timeless," Nash says. "While we can't exactly predict what the popular aesthetics will look like in the future, a film aesthetic has already stood the test of time. It's a good bet that film will still look classically beautiful in 50, 100, even 200 years."
What is Direct Flash Wedding Photography?
Unlike film photos, you don't necessarily need a specific kind of camera for direct flash wedding photography, unless you want direct flash and film at the same time. "The technical difference is that direct flash photography could entail film, or it could not," explains New York City-based photographer Ruby Olivia Simmons. "Direct flash photography just means that you have a flash directly pointed at your subject."
When compared to film photos, direct flash wedding photography may appear crisper or more modern, especially considering it won't have the same fuzzy or grainy effect (unless added during the editing process.) And if you've always wanted to feel like a celebrity, this could be the perfect photography style for your wedding day. "Direct flash kind of feels like paparazzi, so I always joke with my clients that this is their day to get papped," Simmons adds. "The photos feel very candid, cool and effortless."
In keeping with the idea of feeling like an A-lister, Simmons says that photos taken with direct flash often feel less structured, giving off an ultra-cool, spontaneous vibe. "This new wave of photography is focused on documentary-style photography with a creative twist as opposed to traditional wedding poses." And, as Nash noted, direct flash photography also has an element of timelessness to it. "To me, direct flash is the most timeless wedding photography trend," Simmons says. "You can look back at photos from years ago and there's always been a flash."
How to Incorporate Flash or Film Photography on Your Wedding Day
Now that more couples are willing to revamp wedding traditions, flash and film photos certainly aren't going away any time soon. In fact, it's fair to predict this trend resurgence is only just beginning. If you're obsessed with these aesthetics, here are four things to know when planning to have direct flash or film wedding photography.
Hire the Right Pro
To get the photos you want, you'll need to hire a pro who can deliver your vision. We always recommend starting your search for vendors with a tool like The Knot Marketplace to discover pros in your area. Beyond that, the internet can be a powerful resource to find the perfect vendor. "Social media and websites are good tools to find what you're looking for," Simmons says. "You can know pretty quickly if you're going to be on-board with a photographer's style by looking at their wedding website and their galleries."
If you'd like to use specialty styles on your wedding day, like film, you'll need to find a vendor who offers that service. After all, not all photographers shoot authentic film photos. "While there are some photographers who shoot on 100% film, the majority of photographers who shoot film will photograph weddings with maybe 90% digital and a few rolls of film throughout your day," Nash says. "It's the best of both worlds and can be a great way to get the film nostalgia while keeping the conveniences and quality of digital photography."
Ultimately, you can't go wrong by reaching out to a potential vendor to see if their services align with your vision. "I always have a conversation with my couples before booking so we can make sure our personalities fit and that the way I shoot weddings is the way they want their wedding shot," Simmons adds.
Create a Mood Board of Inspiration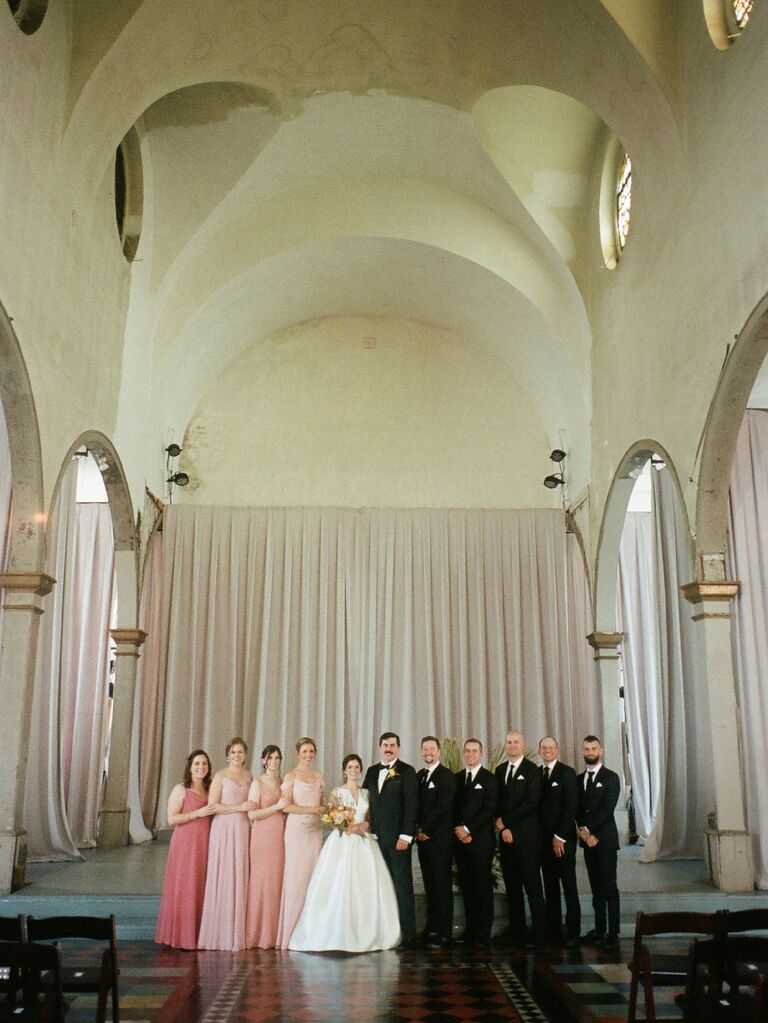 Making inspiration boards can be a major creative outlet during the planning process. But in addition to curating your wedding Pinterest page, consider doing a deep dive on other social media sites to share your favorite ideas with your pro.
Apps like Instagram and TikTok are partially responsible for the surge in popularity of flash and film wedding photography, so they're undoubtedly filled with nuggets of inpso you might not have thought of. "Social media sites can offer inspiration for how to make your wedding feel more true to yourself, rather than adhering to traditions you think you have to follow," Simmons says. "These platforms give people more of an idea of what things could look like outside of weddings they've seen. There's so much more out there and now pros are able to promote their work in a more tangible way."
Be Mindful of Your Setting
Settings can impact any photography style, but especially direct flash. Before your wedding day, work with your photographer to scope out your venue for the best locations for flash photography. They'll be able to capture great images in just about any setting, but it'll be helpful to know what they're working with ahead of time. "The space and the lighting has such a direct impact on flash photography," Simmons explains. "Direct flash does its best work in a really dark space. Looking up photos for your venue or your hotel is a great way to keep in mind how much natural light will come into the space."
The opposite is true for film photos. "Film has the most consistent results in daylight and in bright spaces," Nash says. "The photographer will need to have more skill to work with film as a space gets darker. For example, a candlelit nighttime ceremony would be a challenge to capture on film without adding extra light with flashes or LEDs. If you want to preserve the glowy candlelit atmosphere while having a crisp, in-focus photo, a modern digital camera would likely do the best job."
With this in mind, it may be possible to have your pro swap between these styles on your wedding day—just communicate your ideal vision well before the big day to understand all that they can offer you, especially if you want a specialty style like film.
Create Your Photo Timeline Accordingly
Timing plays a huge role in capturing both direct flash and film photos, though for different reasons. When it comes to direct flash wedding photos, as Simmons noted above, consider allotting time to take photos at the end of the party, when it's dark out. While your pro can snap direct flash photos at any time of the day, this aesthetic truly thrives at night. (Just imagine how epic your grand exit will be when captured with a stark, bright flash!)
If you're planning to incorporate film wedding photos, you'll need enough time in your wedding day schedule to get all the shots on your list. "Taking portraits on film requires more time and intentionality when compared to digital photography, so you'll need to build this into your timeline," Nash recommends.
The saying "good things come to those who wait" is exceptionally true when it comes to film wedding photos, as you'll have to wait a little longer to receive the final results from your pro. "You should expect your film photographs to take a bit longer and cost a little extra," Nash adds. "It's well worth the wait and expense because the feeling film photos bring cannot be beat."