Finding Your Perfect Honeymoon Destination
by the knot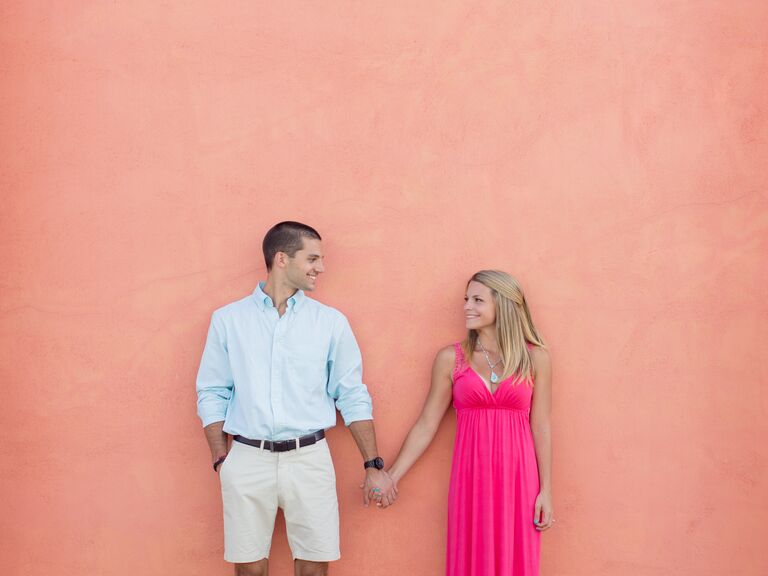 photo by
Kiwi Photography
Too often for couples, honeymoons are an afterthought to wedding planning. Renee Duane of Unforgettable Honeymoons says approaching your getaway in this manner is a mistake. "A honeymoon is an investment in memories for the rest of your life," she says. "Don't take chances with it." Instead, she recommends starting with a conversation. "Sit down and talk about the level of luxury and privacy you want, what you want to do every day, and the type of nightlife you desire," says Duane. But don't despair if you reach an impasse. We've put together several profiles to help you find the perfect escape to fit your personalities.
Tan Fans
Those partial to surf and turf need to get on the same wavelength when choosing where to share a beach blanket. Social creatures who thrive on team sports might prefer the communal atmosphere of an all-inclusive beach resort. There you can mingle with other newlyweds over a sand-castle building contest, get competitive with a game of beach volleyball, or forge new friendships while swimming with dolphins. Those who prefer their own place in the sun should head to an island retreat with private white-sand beaches: You can unwind to the soft sound of lapping waves, arrange a romantic picnic on a remote beach, or get certified in scuba diving and explore tropical coral reefs with your sweetie.
Survivors, Honeymoon Style
If khaki is the predominant color in your wardrobe, if you considered forgoing the veil for a pith helmet at your wedding, or if the words "Me, Tarzan, you, Jane" sound like sweet nothings to your ears, a honeymoon on the wild side might be in order. If the rumble of the jungle makes you roar, choose an eco-adventure in the wilds of a rain forest to bring out the animal in you. Canoe down the Amazon and spot toucans, lemurs, and spider monkeys in the trees. Get down and dirty on an archaeological dig in Egypt (don't forget to explore the pyramids and the Sphinx). Or search out wildebeest on a Serengeti safari, and share a kiss overlooking Africa's Victoria Falls.
Fast-Lane Fanatics
If you must start the day with your favorite coffee and The Wall Street Journal; if you live on the cutting edge and don't want to miss a beat; or if you thirst for the knowledge found within museums, enjoy live theater, and prefer dining at five-star restaurants, a honeymoon in a city should fit the bill. Cities teeming with culture can be found in the U.S. and abroad. Bone up on a city's history by staying in accommodations such as a castle or a popular spot on the National Register of Historic Places. Savor the city's architecture and landscape, discover local artists, check out the latest fashion trends with some upscale shopping, scout out intimate boutiques, and linger over a renowned chef's cuisine accompanied by wine from a nearby vineyard. Nightlife in a bustling metropolis is also not to be missed. Whether you prefer a techno-funk club or a trip to the opera, the city awaits you.
Fit to Be Pampered
If pleasurable pursuits are close to your heart, and you think a pedicure followed by a paraffin wax should be a national mandate; if you're health conscious and like working out the kinks with a Reebok Core Training class followed by a Shirodhara massage; or if you'd like to work off those last lingering five pounds before returning to civilization, a spa honeymoon should be on your menu. Begin your days hiking through local mountains and getting focused in a yoga class. Wind down by being pummeled into putty and dining on fresh organic cuisine. Starting a new health regime as you embark on your life together is a recommended prescription for even the most incurable romantics.
Day Trippers
Admirers of Lewis and Clark don't need a map to find a good time. If you like diversity in your day and immersing yourselves in new territories, explore this country or another by road or by rail. A honeymoon by train can give you romance aplenty in a luxurious suite with a moving view. Stops are often scheduled along the way, and you can linger and explore, then catch a later train. If delving into local stories of small towns and greasy spoons appeals to you, take your time as you traverse through destinations such as the Louisiana bayous, Grand Canyon, Redwood Forest, or Alaskan tundra. Pitch a tent or bunk at a bed-and-breakfast; accommodations are secondary to savoring local flavor. When it comes to honeymooning on the road, love knows no direction.
Shipboard Romantics
If crashing waves, the wind in your hair, and salt in the air appeal to your free spirits, setting sail on a cruise ship and exploring new worlds might be your ticket to paradise. Cruise ships are no longer just floating buffets with some gambling and Vegas-style entertainment thrown in. Of course, there's plenty of time to lounge on the lido deck and sip pina coladas, but it's hard not to be enticed by what cruises have to offer. These mobile luxury hotel-and-spas can transport you to such exotic locations as Sri Lanka, the Galapagos, or Antarctica. As with ports of call, onboard activities are boundless. Partake in workouts from yoga to tai chi. The more adventurous can challenge rock-climbing walls, parasail, or kayak. If your inner swashbuckler still isn't satisfied, consider stowing your gear on a clipper ship that allows guests to take on crew duties.
Love Nesters
A mere "Do Not Disturb" sign just doesn't cut it, and getting snowbound in a mountain cabin with no phone, fax machine, or television sounds like bliss. For you, finding tranquility means privacy -- particularly since you feel the need to get reacquainted after the chaos of planning a wedding. Escape the madding crowds and spend some one-on-one time in romantic seclusion. Whether it's a trip to the Poconos, an escape to your parents' beach house, or a stack of videos with popcorn and champagne in your own home, your favorite kind of getaway is laid-back and low-key. After all, as they say, home is where the heart is.
-- Bekah Wright