Firefighter's Proposal to Teacher Girlfriend at a Fire Drill Included Ring Pops! (Watch)
by Ivy Jacobson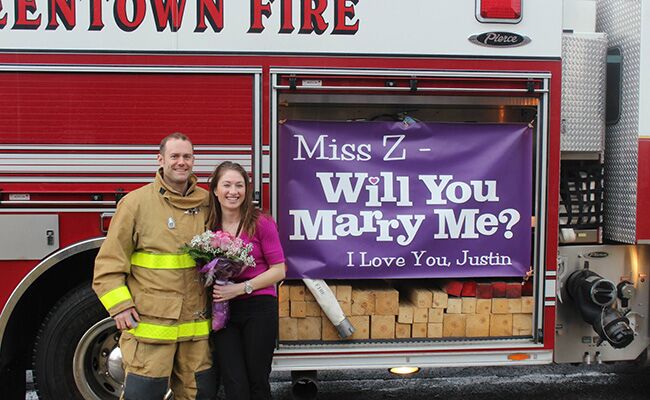 What's cuter than a proposal video that involves a firefighter, a teacher and kids with Ring Pops? Not much, really! Greentown, Ohio, firefighter Justin Deierling decided to propose six months to the day after he met his teacher girlfriend, Megan Zahorec, at her school's walk-a-thon where he was passing out water.
"I knew how much she loves her job and the kids at Greentown and wanted to include them as well as the place we met. I thought what better way to do this than a fire drill," Justin wrote on his Facebook page.
Since Justin knew when Megan's school was having a fire drill, he had a huge sign made that said, "Miss Z — Will you marry me? I love you, Justin," on the side of the fire truck. After he approached her at the front of her school with the engagement ring and all of the students outside, Justin got down on one knee and Megan happily said yes — and all of the kids got Ring Pops.
Ahh — the perfect combination of sparks (all love, no fire, thankfully) and a sweet surprise! Watch below:
Want more? Right here!
> This proposal video inspired a high school bully to apologize
> 5 bow ties you've never seen before
> Kaley Cuoco and Ryan Sweeting got tattoos for their wedding like these 5 celebrity couples