Five Days of Giveaways — Enter For A Chance To Win!
by Jamie Miles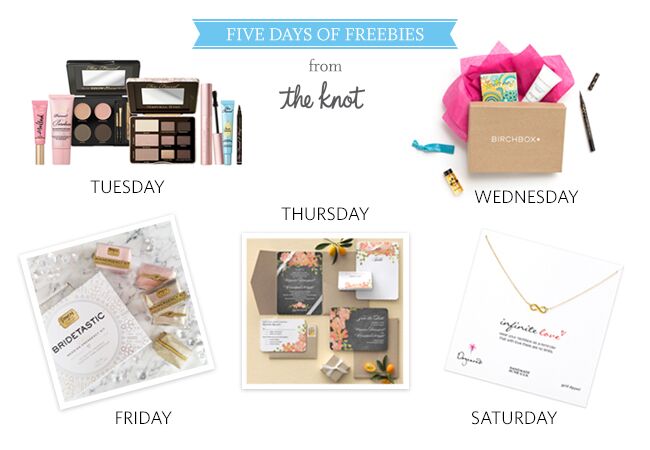 It's almost June — the most popular month to marry — so we're celebrating with five days of wedding giveaways! From Too Faced cosmetics to Dogeared jewelry and even a Wedding Paper Divas gift card, you can win any of the gifts below just by leaving a comment on our message board.
To Enter –> Comment right here on our Giveaways message board. (Check back every day to comment and be entered to win!)
The five days of giveaways are…
TUESDAY
Too Faced Cosmetics Gift Set including: "better than sex" mascara, brow envy kit, shadow insurance eye primer, Melted Liquified Long Wear Lipstick and more! ( TooFaced.com)
WEDNESDAY
1-Year Birchbox subscription and a $50 Birchbox.com gift card ( BirchBox.com)
THURSDAY
$150 Wedding Paper Diva gift card to use towards your invites or save-the-dates! ( WeddingPaperDivas.com)
FRIDAY
Pinch Provisions Bridal Bundle including emergency kit essentials for the bride, groom, bridesmaids and the rest of the wedding party! ( PinchProvisions.com)
SATURDAY
Dogeared Jewelry Set with pearl stud earrings, "Infinite Love" necklace and "Pearls of Happiness" white pearl earrings ( Dogeared.com)
Want More? Of Course You Do!
> 6 ways to celebrate your engagement
> Awkward reactions to announcing "I'm Engaged!"
> 15 stages every bride goes through