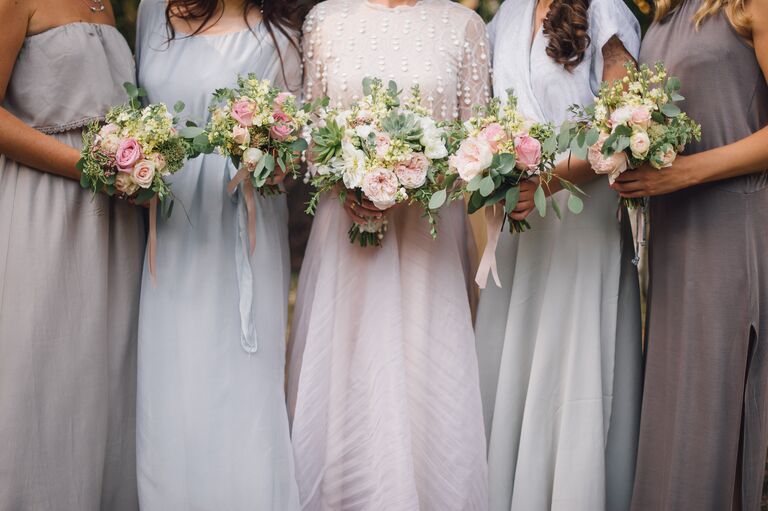 You already know your bridesmaids are beautiful on the inside. (Duh, that's why they're your best friends.) Now that you've asked them to stand beside you at your wedding, here's how to make sure they feel amazing on the outside too.
1. Let Them Pick Their Own Dresses
No two of them are alike, and you wouldn't have it any other way. So why not let them shop for their own dresses rather than making them wear the same one? That way they can pick the style that works best on them and makes them feel their most confident. Of course it helps to lay out some basic guidelines to be sure you'll be happy with the overall look. You have a few options. If you want the most oversight, put together a Pinterest board of bride-approved dresses. Include a variety of silhouettes and let each attendant pick the one she likes. Or if you want them all to wear a certain color but leave the style up to them, just give them a swatch of the shade and your preferences for length or fabric type. If you're willing to play with a mixed color palette, create a mood board of dusty pastels, jewel tones, or whatever you dream up—and share it with your bridal party to guide their choices. And if you want final approval, just ask your bridesmaids to send you a photo of the dress before buying to make sure it fits what you had in mind. Or better yet, make a day of it and go shopping together.
2. Treat Them to a Finishing Touch
Now your girls have the dress—but they'll also need accessories to pull the look together. A nice piece of jewelry they can wear at the wedding makes a seriously nice thank-you present. Maybe it's a bracelet that pairs with almost any silhouette, a pretty jeweled comb for their hair, or a simple pendant or pair of earrings. And keep in mind, the gifts don't need to be identical. Go for a more personal touch, like something that features her birthstone or matches her dress while still coordinating with the group. If you have the budget for an even bigger splurge, you might even gift the shoes or a cute clutch they can wear the day-of—and in the future. (Just be sure any heel heights are comfortable for all involved.)
3. Help Them Get to Know Each Other
You're working hard to make your bridesmaids look like a group. But do they feel like one? If you all grew up together, that may be a no-brainer—but if your nearest and dearest come from different phases of your life, they may never have met before. And if they don't feel comfortable together, that's likely to come across in your wedding photos. If you can, try not to make your wedding celebration one of the first occasions where they spend quality time together. There are a few simple things you can do to break the ice and help them start to bond. After your bridesmaids have all said yes, start a group email or text chain, introducing them with a short and sweet note, and keep it going as exciting moments in your planning process unfold. You can also play matchmaker, pairing off buddies you want to get to know each other better to work on needed tasks. And if budget and schedule allows, a girls-only getaway or bachelorette party weekend is the most foolproof way to get everyone feeling like besties. But if you all live relatively close by, even a group spa day or a casual brunch can do the trick.
4. Put Together a Bridesmaid Beauty Kit
Needle and thread? Check. Safety pins? Check. Stain remover pen? Check. It sounds like you're on your way to assembling a bridesmaid survival kit stocked full of all those make-it-work-in-a-pinch essentials. While you're at it, add in a few beauty boosters. Start with a long-wear foundation, such as Estée Lauder Double Wear Stay-in-Place Makeup, which is formulated to stay put for 15 hours—long enough to last through the I do's, dinner, dancing and, of course, the after party. Then add in a fun nail polish color, a luxe lipstick (pick a flattering shade that could work for everyone), a travel-sized perfume and any other pampering favorites. For an extra-thoughtful touch, gift all these essentials in a makeup bag personalized with each bridesmaid's initials. And don't forget to treat yourself to one too!
5. Have Them Choose Their Hairstyle
Here's one last tip for helping your bridesmaids look absolutely flawless from head to toe: let them decide how they want to style their own hair. For many women, how their hair looks is directly tied to how gorgeous they feel. If you're going the DIY route, you can create a Pinterest board featuring a variety of options that you like, including updos, half-up and loose styles (keeping in mind each bridesmaid's hair texture and length) to give them some inspiration. If you're working with a beauty pro, have the stylist consult with each bridesmaid beforehand and get his or her suggestions on how to vary your 'dos while still looking cohesive.
The Knot and Estée Lauder present Stay Flawless, a sponsored series full of pro beauty tips and inspiration to help you look your best for every wedding event. Visit EsteeLauder.com to find your Estée Lauder Double Wear foundation match.