This Adorable Flower Girl Completely Stole the Show at Her Mom's Wedding
Four-year-old flower girl Anderson photobombed this wedding party photo in the absolute best way possible.
by Julia Naftulin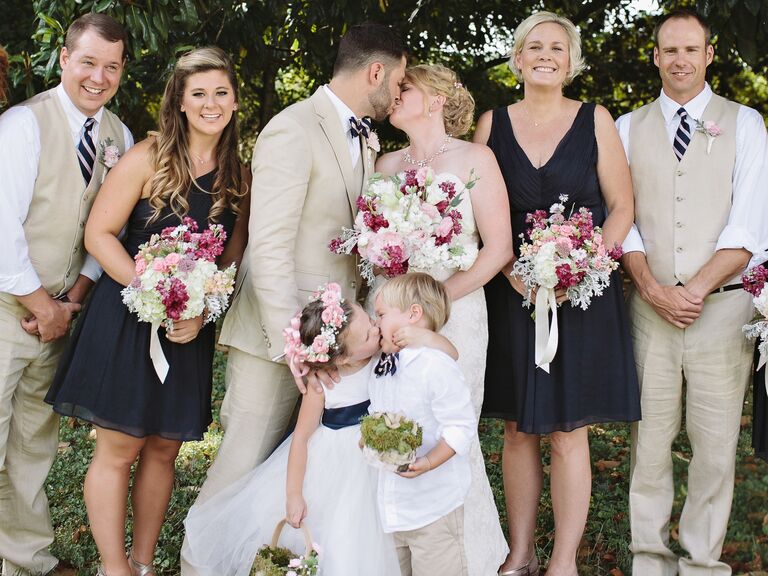 The saying "like mother, like daughter" couldn't have been more true than at Michelle Hall and Anthony Palmer's recent wedding in Knoxville, Tennessee. Hall's daughter, Anderson, was the flower girl and wanted to be just like her mom, even dubbing herself "the bride" for the day. And since a bride isn't a bride without a picture-perfect lip lock with her new husband, Anderson was on a mission to get her own true love's kiss. The result? The most adorably comical photobomb we've ever seen.

When their wedding photographer Leah Bullard of Leah Bullard Photography asked the bride and groom to kiss, Anderson took it as a chance for her own photo op and planted a big smooch on the unsuspecting ring bearer, Ike. But for Anderson, the kiss was like a potato chip: she couldn't have just one.

"I said...'Okay, let's try that again, one more time bride and groom kiss...' and she really went for it that time, and it was hilarious!" Bullard tells WBIR.com.

The big question is where Anderson and Ike's budding romance will go next. Only time will tell, but we think they're off to a great start.
"He was the best ringbearer ever! And he thought I was the best flower girl ever! We're best friends," Anderson says.

Well, there we have it. Love knows no bounds.
Check out the insanely adorable picture below and see more of our favorite flower girls and ringbearers here.