Food Blogger Unveils Favor-Friendly Cookbook (Recipe Inside!)
by Hannah Soo Park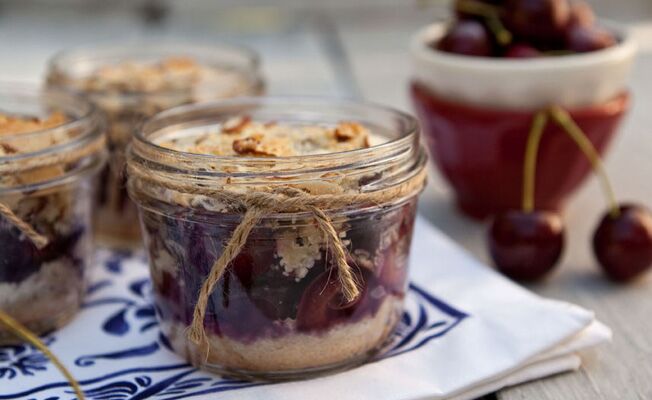 With her first foray into cookbooks, Shaina Olmanson of FoodForMyFamily.com picks up on one of the latest (and possibly cutest) sweets trends to hit the wedding scene.
Desserts In Jars: 50 Sweet Treats That Shine covers classic-comfort recipes (think: banana splits, pear crisps and neapolitan cakes)—all tweaked to sit pretty in a mason jar. And to go along with each how-to, Olmanson offers display and decorating tips to wow guests before they even get a taste.
The book isn't set to go on sale until June 12, but lucky for you, we've got a sneak-peek recipe to tame your tastebuds:
Cherry-Almond Crumble (pictured above)
For the crumble
1 1⁄2 cups all-purpose flour 1⁄2 cup sugar 1⁄2 teaspoon baking powder 1⁄8 teaspoon salt
1 large egg 4 ounces almond paste 1⁄2 teaspoon almond extract
8 tablespoons (1 stick) cold unsalted butter, cut into pieces
1⁄2 cup sliced almonds
For the filling
5 cups sweet cherries, pitted and halved
1⁄4 cup sugar 2 teaspoons cornstarch
Makes 9 individual crumbles
1. Make the crumble: Preheat the oven to 350oF. In a food processor or in a bowl using a pastry cutter, mix together the flour, sugar, baking powder, salt, egg, almond paste, and almond extract. Add the butter pieces and pulse or use a fork to mix until the mixture is crumbly. Press 3 rounded tablespoons of the mixture into the bottoms of 9 wide-mouth 8-ounce jars.
2. Make the filling: In a separate bowl, mix together the cher- ries, sugar, and cornstarch. Divide the cherry mixture among the jars, filling each jar to just below the lip. Mix the sliced almonds with the remaining crumble and add 3 rounded tablespoons of crumble to each jar to cover the cherries. Pack the crumble mix- ture down lightly to keep it in place.
3. Place the jars 2 inches apart on a large baking sheet. Bake for 25 minutes, or until the tops of the crumbles start to turn golden brown. Remove from the oven and let cool on the baking sheet. Serve warm or cold.
Photo: Harvard Common Press
> Plus, read our take on the cake push pop favor trend
> We're obsessed with this one-stop-shop for party favor packaging