Sangria Cupcakes Plus 3 More Boozy Bachelorette Party Treats!
by Libby MacCarthy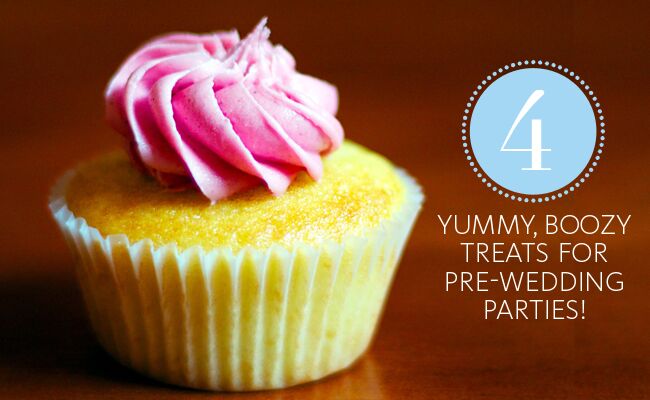 photo by
Prohibition Bakery
Take your bachelorette party or bridal shower to the next level with sweet treats that pack a punch. We rounded up some of our favorite dessert ideas that pair perfectly with a bit of booze and then talked with some of our favorite bakers and bloggers to find out how to make each. Keep reading to see each and every deliciously intoxicating recipe.
Strawberry Margarita Jello Bites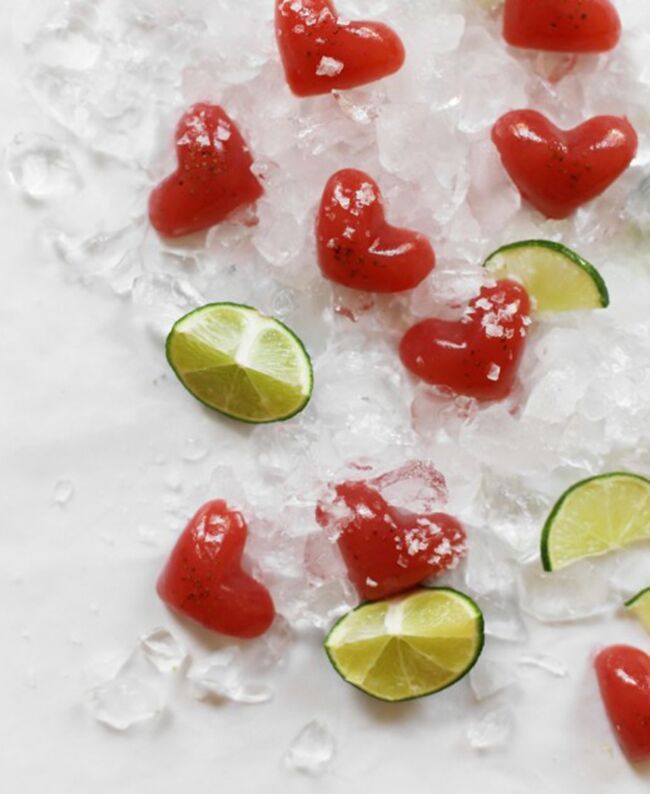 Leave it to Joy the Baker to redefine the jello-shot. These jello-bites pack a major punch, but they're tastier than your average jello-shot (they're made with fresh juice…not koolaid) — and they're pretty too! See the recipe below!
Strawberry Margarita Shot Bite Recipe
1 heaping cup coarsely chopped fresh strawberries (about 8)
1/4 cup water
1 tablespoon granulated sugar
1/4 cup fresh lime juice
2 envelopes (5 1/2 teaspoons) unflavored gelatin
3/4 cup tequila
limes and sea salt for serving

1. Lightly spray an ice cube tray with non-stick cooking spray. Wipe any excess collected spray from the ice cube tray.
2. Place strawberry chunks, water and sugar in a blender and blend until smooth. Measure out 1 cup of strawberry puree and stir in lime juice.
3. Place puree in a small saucepan. Sprinkle gelatin over the puree mixture and allow to sit for 5 minutes. The puree will wrinkle and wave but still be loose. Heat over low heat for about 3 minutes until the gelatin is completely dissolved. Whisk to combine. Don't allow the gelatin to boil. Remove from heat, stir in the tequila. Pour mixture into the prepared ice cube tray.
4. Place in the refrigerator and allow to rest until set (4 hours) or better yet, overnight.
5. To remove the cubes, invert the ice cube tray and run over warm water. You can also use a thin knife to slice around the edges and press out of the ice cube tray. This may not be entirely necessary if using a shallow heart-shaped ice mold…they come out more easily. Allow to rest in the refrigerator until ready to serve.
Watermelon-Mint Tequila Popsicles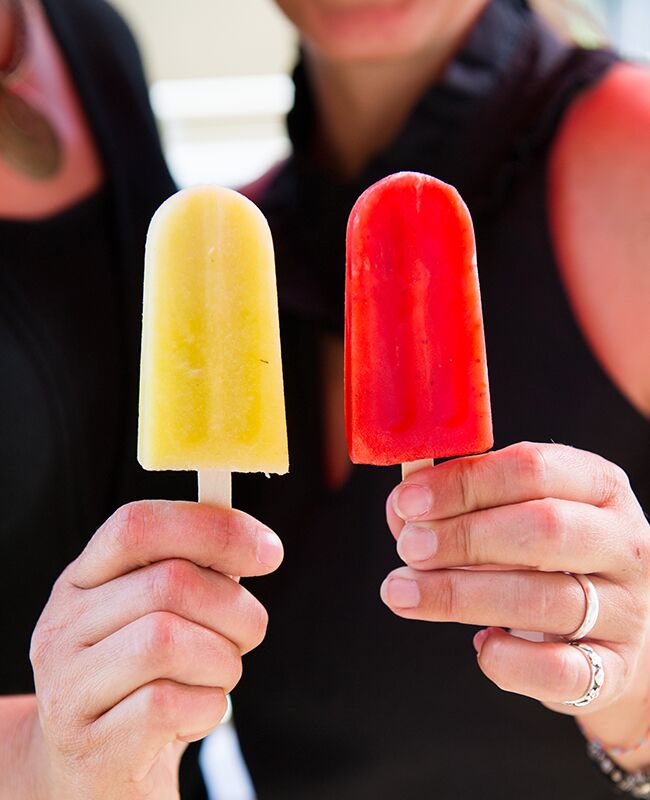 Try these tasty Watermelon-Mint Tequila Popsicles from Hungry Girl Por Vida — they're the perfect cool treat to spice up your celebration!
Watermelon-Mint Tequila Popsicle Recipe

1/4 cup water
1/4 cup sugar
1/3 cup fresh mint, torn coarsely
4 cups watermelon, cubed
juice of 2 limes
1/3 cup tequila

These pops have to freeze for quite a while (the alcohol takes its time), so let these freeze for 18 hours. Make them one day ahead of when you'd like them to be ready, and they'll be good to go by cocktail hour!
1. In a small saucepan combine water, sugar and mint. Bring to a boil, to dissolve sugar, and boil for 60 seconds. Remove from heat and let steep for 30 minutes. Strain through a fine mesh sieve and set syrup aside.
2. With a stick blender, regular blender or food processor, puree the watermelon with the lime juice. Strain through a fine mesh sieve to remove any seeds and bits. Stir in tequila and mint syrup. Dive the mixture between popsicle molds, freeze for 30 minutes before adding sticks — continue to freeze until solid, between 12-24 hours.
Hazelnut Macarons with Chocolate Frangelico Ganache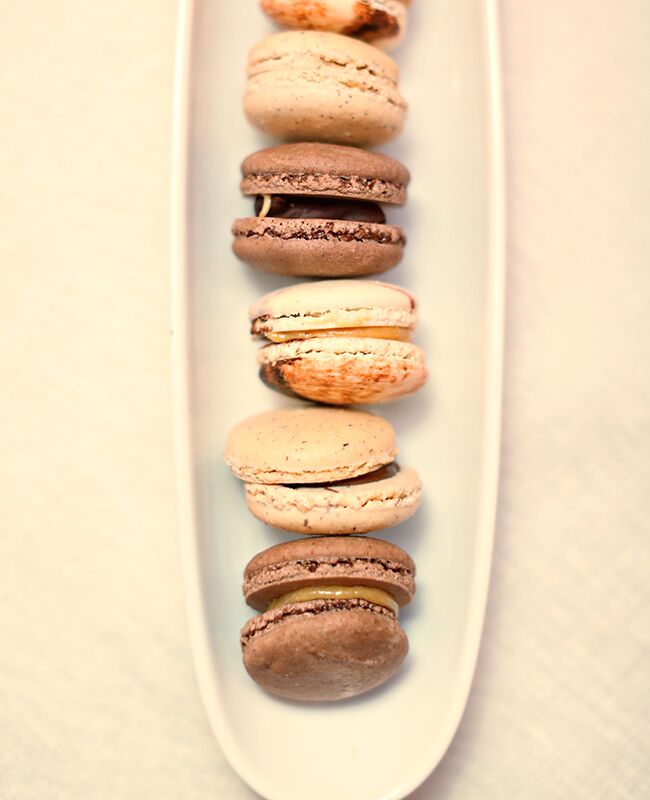 photo by
Alison Conklin Photography
The Baker Chick shared her recipe with us for classic French macarons with a boozy kick. (Chocolate, Frangelico and well macarons — how can you say no?!) Check out the recipe below:
Hazelnut Macarons with Chocolate Frangelico Ganache Recipe

For the shells:
150 grams almond meal (or ground blanched almonds), sifted
150 grams ground blanched hazelnuts, sifted
300 grams powdered sugar, sifted
110 grams egg whites
300 grams white sugar
75 grams water
Additional 110 grams of egg whites
Piping bags
For the ganache:
8 oz high quality milk or dark chocolate, chopped
1 cup heavy cream
3 tablespoons Frangelico Hazelnut Liqueur

1. In a large bowl, whisk together the sifted almond meal, hazelnut meal and powdered sugar, breaking up any lumps or large bits.
2. Make a well in the center of the bowl and pour 110 grams of egg whites in. Fold them in gently until the mixture is well combined, thick and paste-like.
3. Place the other 11- grams of egg whites into a stand mixer fitted with a whisk attachment. Leave it be while you make the sugar syrup.
4. In a small saucepan, combine the sugar and water and stir together until dissolved. Clip a candy thermometer to the side of the pan. When the syrup reaches 225 degrees F — turn the stand mixer on high and start whisking the egg whites. You want them to make soft peaks, so as soon as they are at this stage, turn the speed to low. The egg whites can wait for the syrup, but once the syrup is ready, it can't wait.
5. When the syrup hits 239 degrees F, carefully pour it into the side of the bowl while the mixer is running. You don't want the syrup to run down the bowl, or it will cool, so aim to pour it right at the spot where the egg whites meet the side of the bowl.
6. Whip on high for about 1 minutes, then reduce the speed to low and continue beating until the bowl has cooled slightly and glossy peaks have formed.
7. Add 1/2 of the meringue to the almond mixture and gently fold it in until combined and smooth. Gradually add the rest of the meringue until batter is smooth and it ribbons off the spoon.
8. Fill piping bags with a round tip and preheat oven to 300F.
9. Prepare baking sheets with parchment paper. If your oven has a strong fan, you may want to pipe dots of batter onto the corners to stick the parchment down. Or, you can weigh it down with butter knives along the edges.
10. Pipe small rounds with the bag perpendicular to the baking sheet. You'll need to develop a rhythm that works for you so that your macarons are similar in size.
11. Let the piped macs sit out until a trace of a shell is formed, 20-30 minutes will do, maybe less. This helps keep their shape while baking.
12. Bake for about 12 minutes. To test if done, open the oven and wiggle the top of a shell back and forth. If it's super "wiggly," they need more time. Perfect macs will be just a little wiggly, but overall firm.
13. When done, remove parchment from the sheet and let cool for 5 minutes on the counter top. Gently peel parchment paper off and cool completely before filling.
14. Macarons taste best when "ripened" in the fridge for 24-48 hours, and can last in the fridge for up to a week.
For the ganache:
15. Place the chopped chocolate in a large, heat-safe bowl. Warn the cream in a sauce pan until bubbly, and stir in the Frangelico. Pour cream mixture over the chocolate, and stir gently until the chocolate has melted and the ganache is smooth and shiny.
16. As the ganache cools it will become thick and perfectly pipeable for your macarons!
Sangria Cupcakes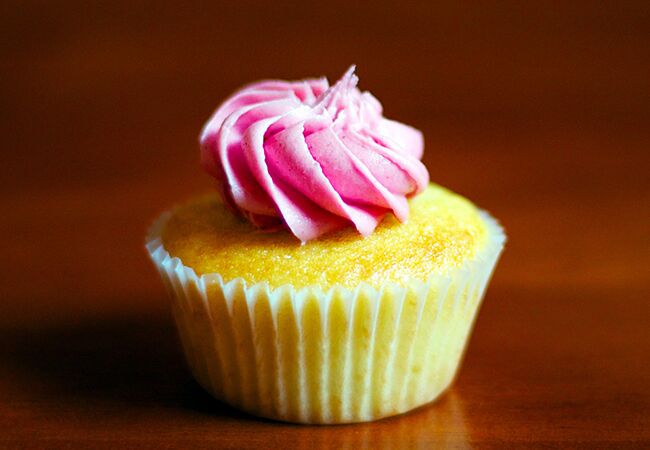 The team at Prohibition Bakery in New York City is known for their to-die-for booze-infused concoctions. They shared their recipe for Sangria Cupcakes with us — see the recipe below:
Sangria Cupcake Recipe

For the cake:
1 cup plain yogurt, 2%
1/3 cup olive oil
1/4 cup orange juice
1 cup sugar2 eggs
1 1/2 cup flour
1 1/2 tsp baking powder
1/2 tsp baking soda
1/4 tsp salt
2 Tbs orange zest
For the filling:
1 3/4 cup white or red wine
2 Tbs orange juice
2 Tbs lemon juice
2 cups sugar
2 oz powdered pectin (1 pouch)
additional wine, as needed
For frosting:
1/2 lb unsalted butter or shortening, room temperature
1 lb powdered sugar
1/8 cup red or white wine
1/8 cup pear brandy

Makes 48 Mini Cupcakes:
For the cake:
1. Preheat the over to 325 degrees F
2. Prepare mini cupcake tins with liners and set aside.
3. Place flour, baking powder, baking soda and salt into a small bowl or container and set aside.
4. In a bowl with a stand mixer fitted with a paddle or a whisk, combine sugar, olive oil, orange juice, zest and yogurt, mixing until well combined. Add eggs 1 at a time and whisk well. Then slowly add dry ingredients while whisking and mix until few lumps remain, taking care not to over beat.
6. Fill cupcake tins 2/3 of the way full and bake for 10 minutes.
8. Let cupcakes cool completely before filling or frosting.
Make the filling the day before you want to serve/bake the cupcakes:
1. Combine wine, pectin, lemon juice, and orange juice into a saucepan. Bring to a boil, stirring frequently. Add sugar and stir until dissolved.
2. Bring the mixture to a hard boil and boil for 1 minute, stirring constantly.
3. Remove from heat and skim off any foam, if necessary. Transfer to a clean, heat proof container and let set in the refrigerator overnight.
4. Whisk jam until smooth. Consistency should be like a thick syrup. Slowly whisk in white wine by the tablespoon until desired consistency is reached.
5. Transfer boozy mixture to a squeeze bottle.
For the frosting:
1. With a stand mixer fitted with a paddle or electric mixer, beat butter until incorporated.
2. Add powdered sugar and beat. Frosting may be crumbly or very thick at this point.
3. While mixer is running, stream in white wine and pear brandy. For firm pipable frosting, add wine/pear brandy. For a thinner, homestyle frosting, add more wine or pear brandy.
When cupcakes are cool, core out each cupcake with a small pastry tip or a narrow knife (like a steak knife). Fill the cavity with the wine jam, taking care not to let it overflow. Then frost cupcakes to your liking.
Want more? Right here!
> 3 Tea Party Bridal Shower Recipes We Can't Resist