19 'Friends' GIFs That Perfectly Describe Wedding Planning
"Look, if you want to borrow money, it's kind of a bad time. I'm buying dinner for 128 people tomorrow night."
by Ivy Jacobson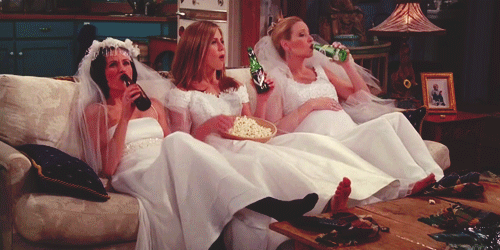 If you're a Friends fanatic, you know there's really no bad time to watch the best show ever, whether it's a late-night rerun or watching your favorite episodes on Netflix just because. But an especially great time to watch Friends is when you're in the midst of wedding planning and may be a little stressed out. Who wouldn't let their cake baker's judgy comments about gluten-free wedding cakes roll right off their back once they see Monica try to seduce Chandler with carrots and a knife? How can you not forget about your charter bus transportation contract being a mess when Joey and Chandler leave Ben on the bus? And as for any worries about family and friends being late to your wedding, just watch "The One Where No One's Ready"—that'll make all your issues seem miniscule. There's likely zero chance someone will steal your cousin's chair cushion 30 minutes before the ceremony. If you find yourself feeling less than zen, scroll through 19 Friends GIFs below that describe wedding planning to a T.

Telling your best friends you got engaged.
Diving into planning and refusing to listen to the fact that you have a budget.
You've found the venue of your dreams...
...and it's available on the date you want...
...but then you find out it's about $20,000 more than you can spend.
Slightly disagreeing with your partner about second cousins making the cut on your guest list. 
Peonies are how much?
Asking your partner what they want on the rehearsal dinner menu.
Cracking a celebratory beer open after an amazing day of wedding dress shopping with your squad.

Not being totally thrilled with the results of your makeup trial.
When you ask your bridesmaids to come over and DIY 250 favors on a Saturday night.
That feeling when your mother-in-law tells you she just bought a sequined neon-green dress for the wedding.  
Telling your partner you overspent on your custom wedding shoes. 
Opening super-sexy lingerie in front of your grandmother and future mother-in-law at your bridal shower.
Being told a distant relative brought their children when the wedding is strictly adults only.

Acknowledging your maid of honor's rockstar qualities for steaming your veil, finding the tip envelopes you lost and buttoning all 150 buttons on your wedding dress in record time.
Having a freak-out five minutes before you walk down the aisle because it's all about to happen!
Showing off your moves with your new spouse on the dance floor.
And 10 years down the road, you'll be saying this.