18 Funny Wedding Invitations to Make Your Guests Laugh
Show off your sense of humor and brighten your guests' days with a funny card.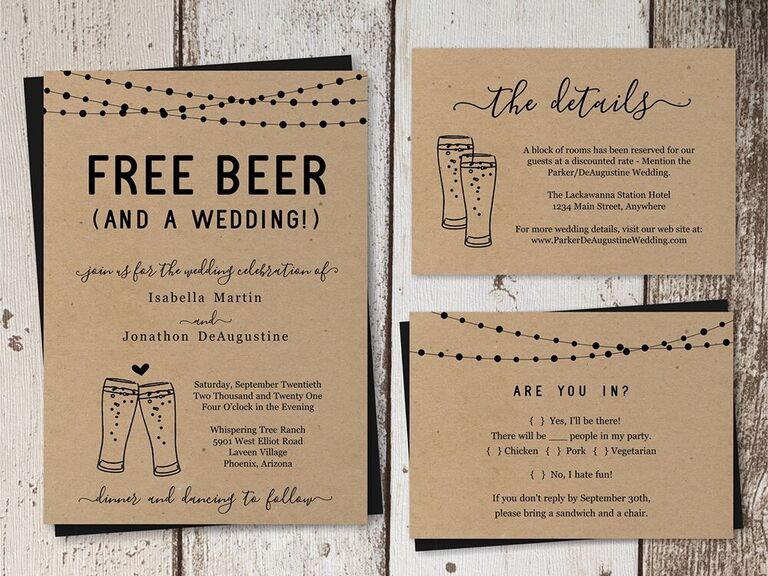 We have included third party products to help you navigate and enjoy life's biggest moments. Purchases made through links on this page may earn us a commission.
Wedding planning brings a lot of stress. You and your spouse-to-be deserve to take any chance to let loose and have fun with the planning process. Funny wedding invitations offer a way to do just that. Whether you're hosting a formal affair, a barn-chic rustic wedding or an elopement with a casual wedding reception, you can show off your personality and sense of humor. Guests will love opening these fun invitations in the mail, which will only increase their excitement to watch you say "I do." Read on for some of our favorite unique wedding invitations, and browse The Knot for more wedding ideas and invitation inspo.
Designs by Paris Flowchart Wedding Invitation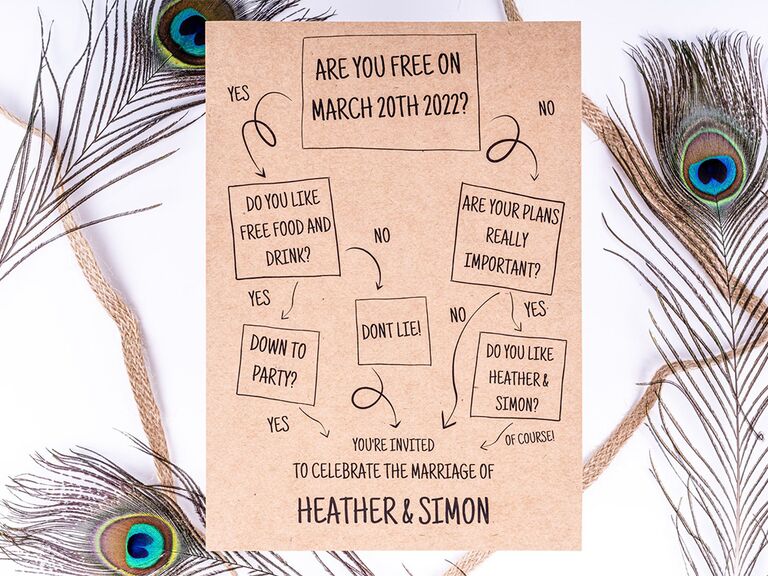 Remember taking those magazine quizzes that took you through different questions until you reached the end, which may have told you which Gilmore Girls character you are or if your crush liked you back? This wedding invitation is like that, with questions like "are you free on this date?" and "do you like free food and drink?" Of course, all answers lead to yes, you should attend this wedding.
Unmeasured Event The One Where We Get Married Wedding Invitation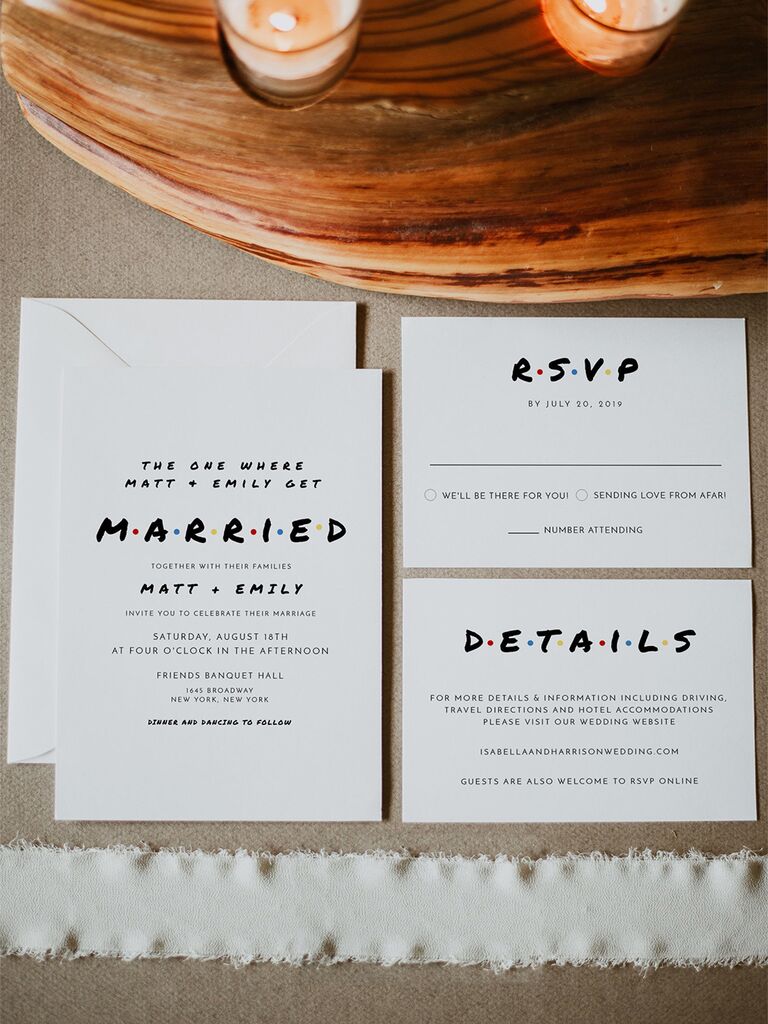 Fans of Friends will be delighted to discover an invite that brings the show's look and feel to a funny wedding invitation. This invitation features the show's classic episode title format ("The one where...") and iconic font.
Savvy Wedding Invitations All-in-One There Will Be a Party Wedding Invitation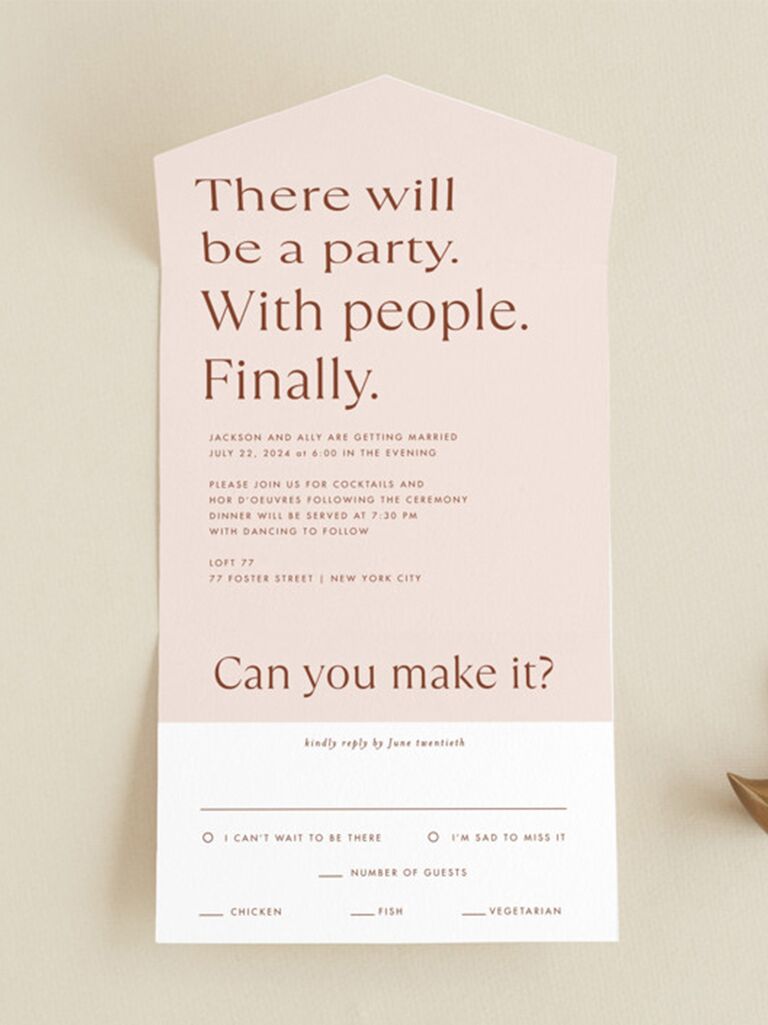 If your initial wedding date had to be delayed, an invitation that celebrates the ability to finally gather together is a playful way to set the tone for your event. This all-in-one wedding invitation card features the invitation, details and RSVP on one long piece of cardstock. It folds up into its own envelope as well, making this a clever and cost-effective option.
Instant Invitation Free Beer Wedding Invitation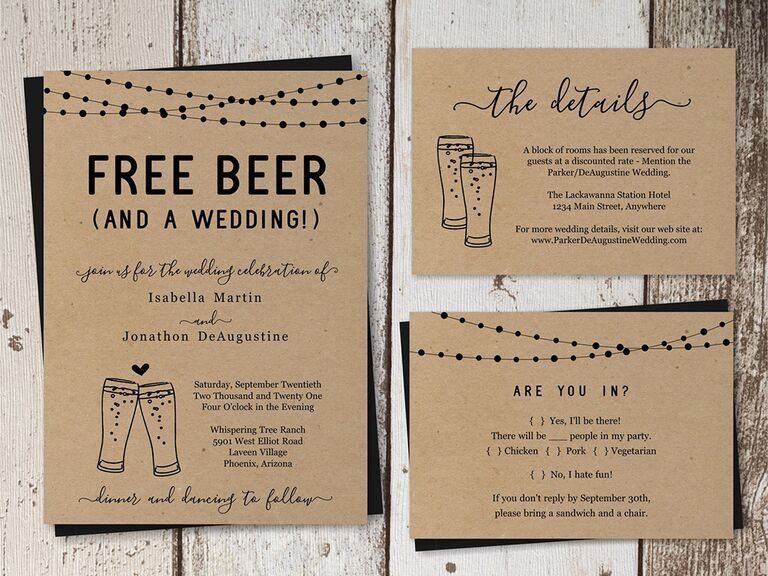 For a backyard wedding, it's hard to beat a kraft paper invitation that emphasizes the free drinks. The quirky invite lets guests know to expect a laid-back affair. Couples who enjoy trying new beers together or are saying "I do" at a brewery, will also love this option.
Caitlin Considine Party Accordingly Wedding Invitation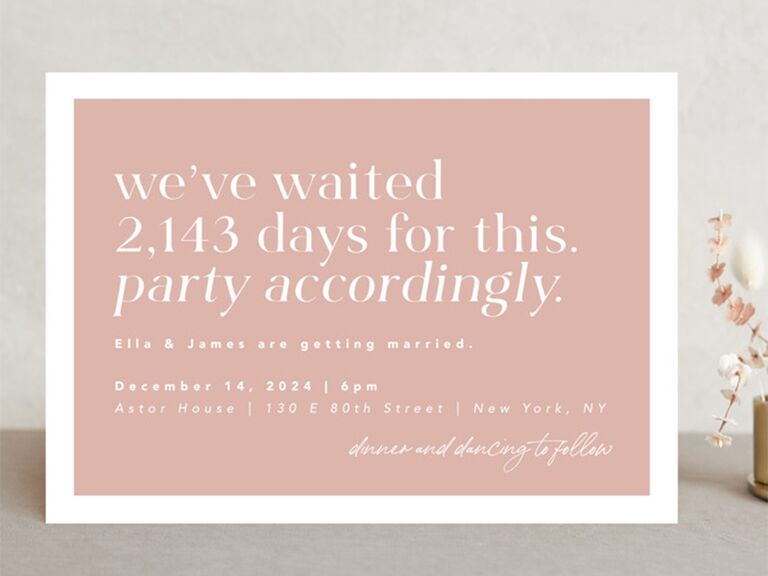 Have you and your spouse-to-be waited a long time for your wedding day? If you have many guests saying "finally" about your upcoming nuptials, this tongue-in-cheek wedding invitation can be customized to feature the exact number of days it's been since you said "yes" to a proposal or started dating.
The Knot Invitations Vintage Boarding Pass Wedding Invitations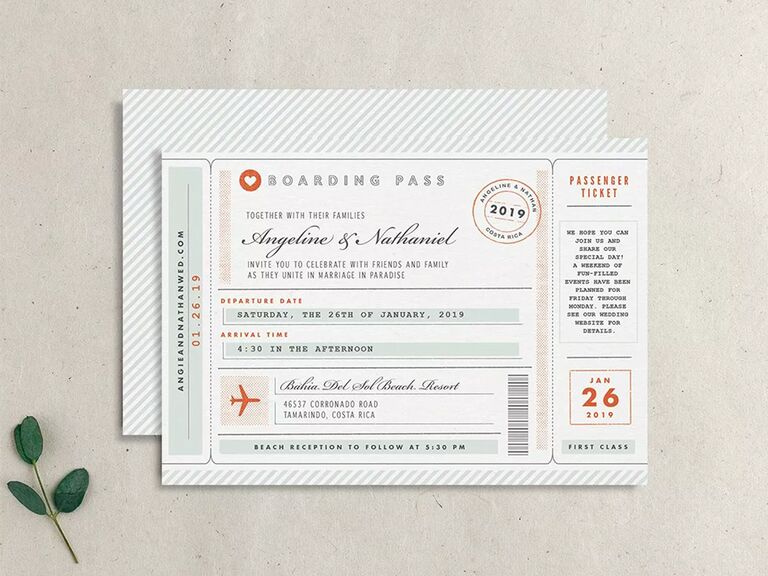 Send invitees to your destination wedding a one-way ticket to fun. Their "boarding pass" includes all the details for your nuptials with room to add your wedding website for additional information about the weekend. Even the RSVP card is on theme: Guests send back their passenger names and arrival dates.
Amore Di Carta Studio Cake and Booze Printable Wedding Invitations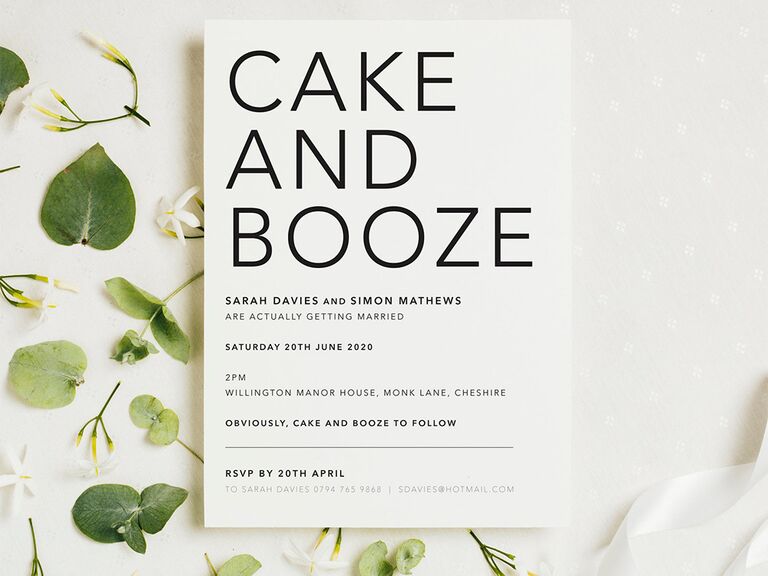 Another invite that contrasts a formal look with a quirky tone, it alerts guests to get excited for two must-haves at many weddings: cake and an open bar. The invite has a matching save-the-date for complete wedding stationery cohesion.
Puff Paper Co. Funny Wedding Invitation Infographic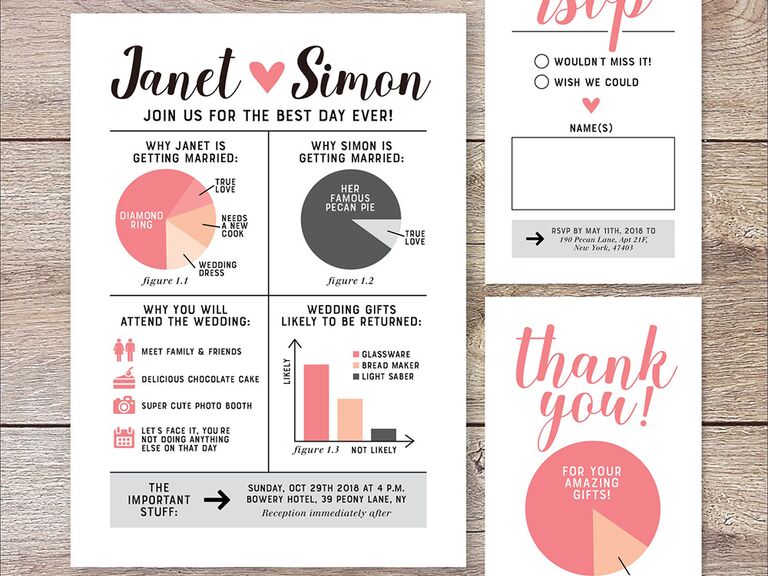 This invitation features fun infographics about you and your spouse-to-be. You can personalize all the charts and graphs, including a pie graph on why you're getting married, wedding gifts most likely to be returned and reasons why guests should attend. The colors on this invitation are also editable.
Greenvelope Ready for Cake Invitation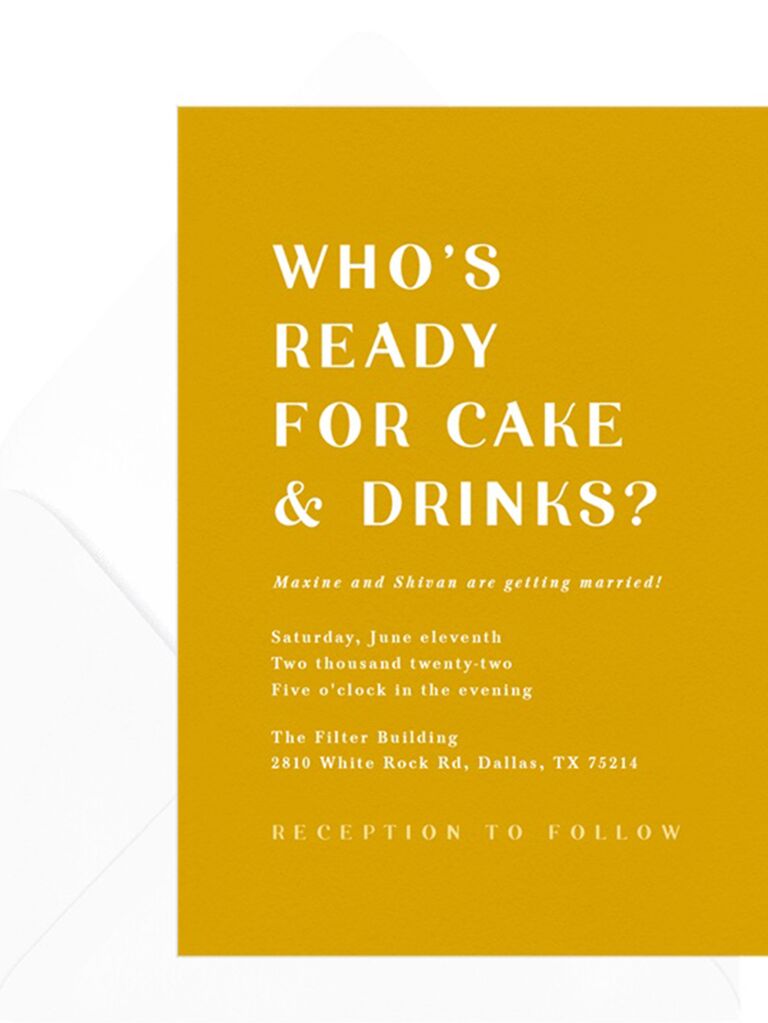 Let guests know they can let loose at your wedding (and enjoy some cake) with this unconventional wedding invite. Choose from five colors for the background or work with Greenvelope's team for a custom option.
Be Our Guest Designs Dwight Wedding Invitations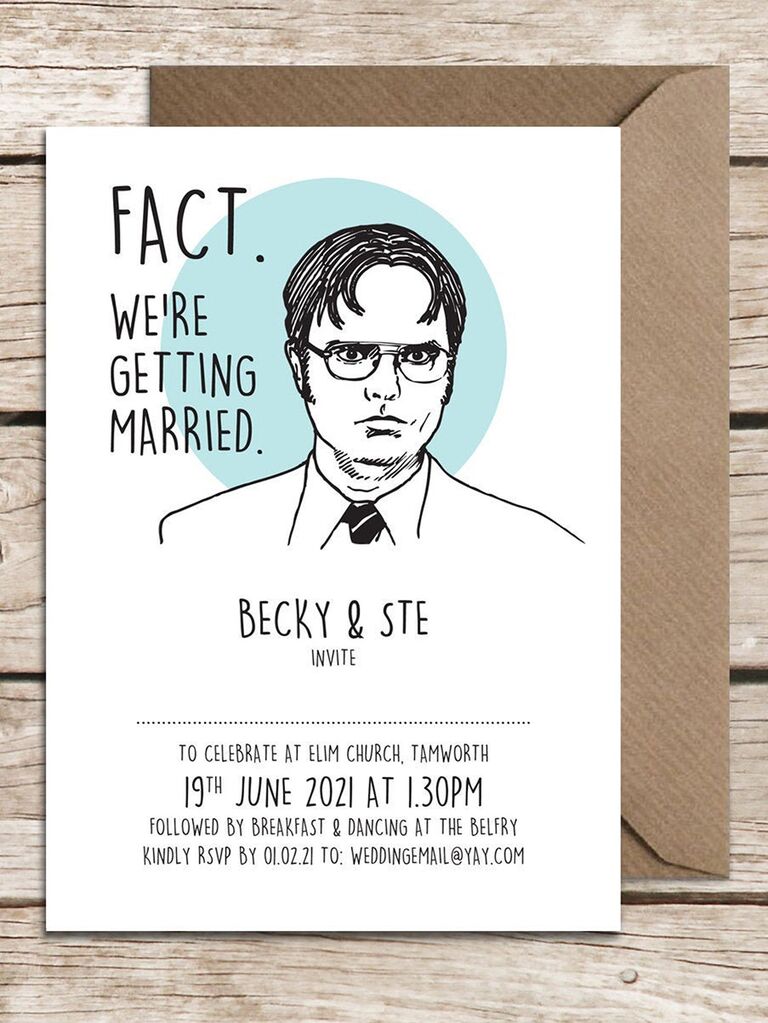 The Office fans, unite. This invitation features a sketch of Dwight and a play on his infamous tagline. Any fan of the show would chuckle at this unique wedding invitation. You can also personalize it for a Dunder Mifflin-themed wedding or bridal shower.
The Hello Bureau Printable Wedding Invitation Template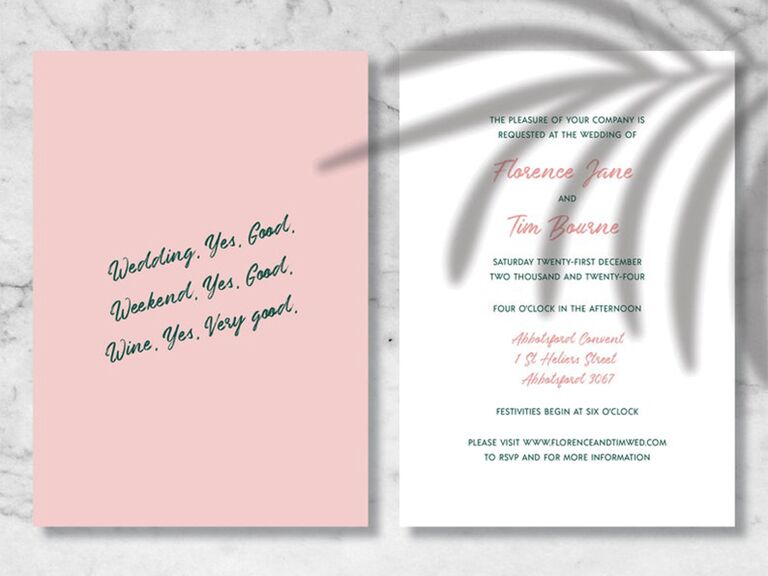 For those seeking something more subtle, this invitation features a simple front and a funny phrase on the back. The retro design highlights the combination of weddings, weekends and wine. If your special day is on a weekday, doesn't feature wine or you have another idea for what to include in the back, all the text on this printable template is editable.
The Knot Invitations Vintage Library Wedding Invitations
Book worms and vintage fans alike will love this take on old-school library book inserts. If you're feeling creative, you can change the "title" of the book, play around with the due date column and have fun with other small details. This also works well for a library wedding or rescheduled nuptials that may feel "overdue."
Mint & Merlot Paper Co. Vintage Newspaper Wedding Invitation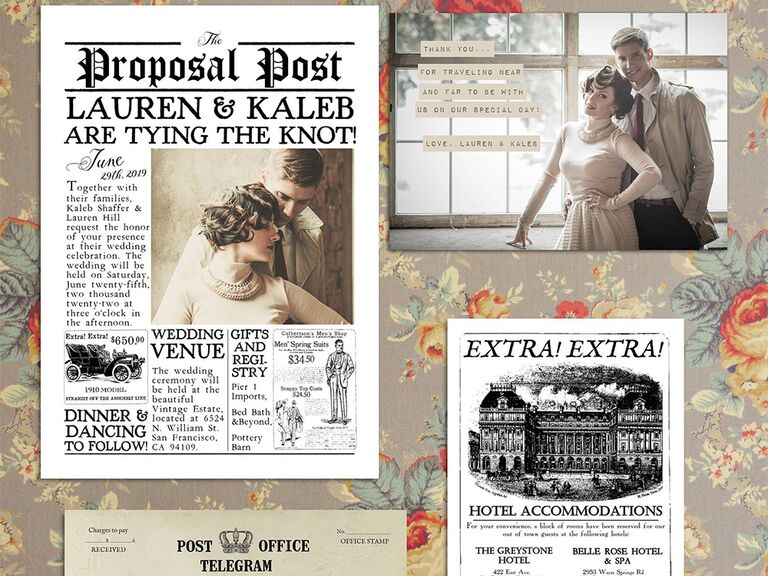 Make your big day front-page news with this newspaper wedding invitation. The printable digital design features typewriter fonts, vintage illustrations and telegram-style RSVP card, making it the perfect invitation suite for an offbeat bride or groom.
The Knot Invitations Minimal Accent Wedding Invitation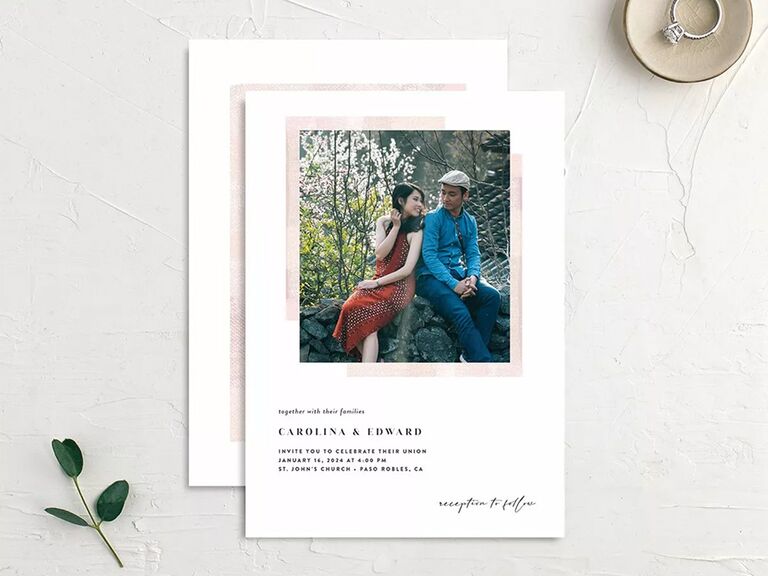 This simple invitation includes a spot to upload a photo of you and your spouse-to-be. While the text and design of this invitation are traditional, the photo you choose of you and your fiancé can be as funny as you wish, making this the perfect option to show off your personalities.
Be Our Guest Designs Dinosaur Wedding Invitation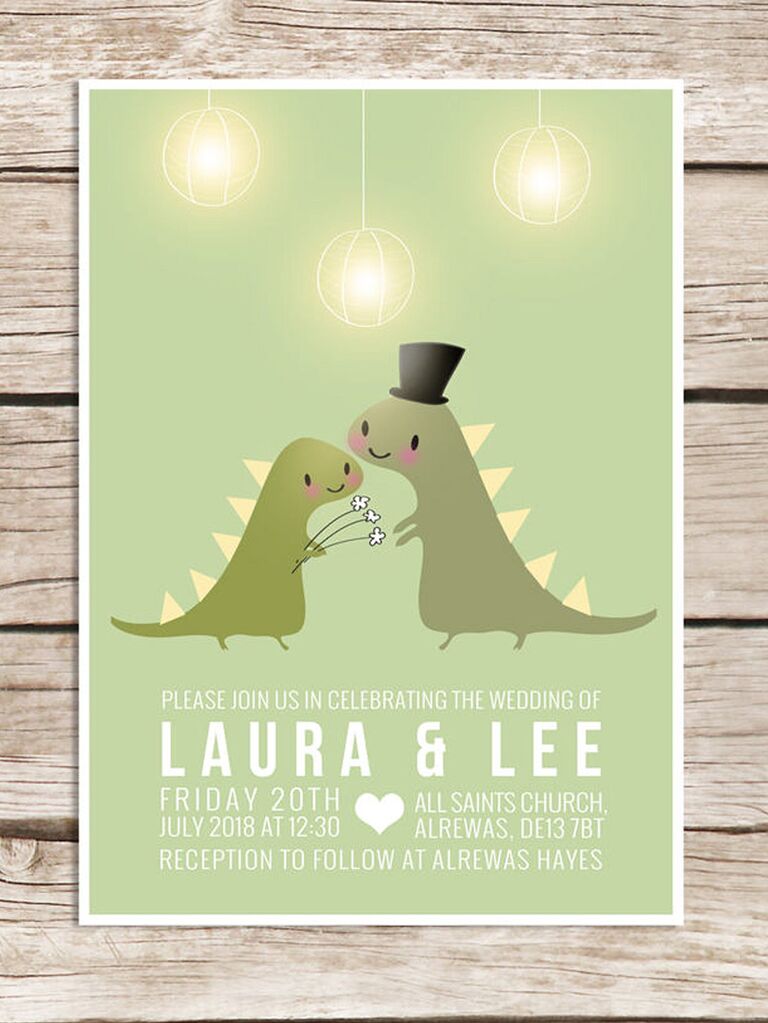 Dinosaur illustrations will never not be funny. This green wedding invitation features a bride and groom dinosaur dancing below paper lanterns. Adorable, geeky and fun, this invitation will put a smile on your wedding guests' faces.
GwenMarie Designs Nothing Fancy Just Love Invitation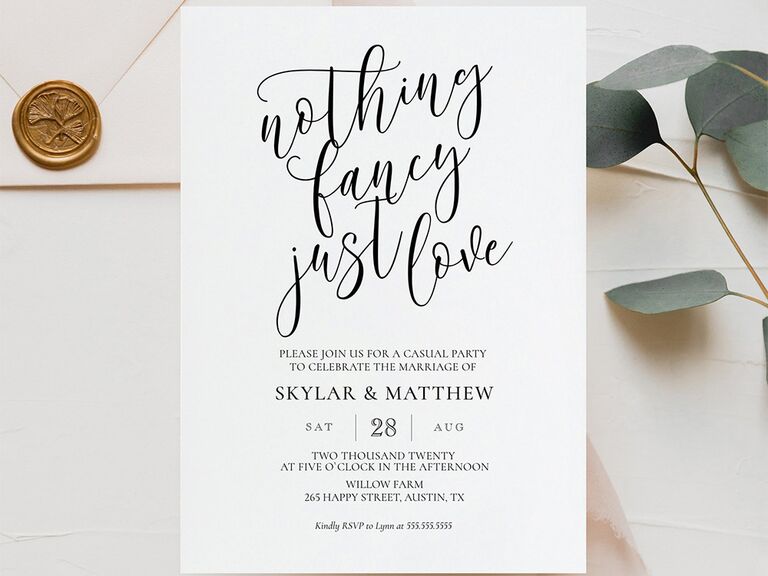 Hosting a laidback affair? This black and white invitation features the phrase "nothing fancy, just love" in beautiful calligraphy. A detachable RSVP card adds to the fun. Guests will come to your wedding relaxed and excited.
Geek Designs Star Trek Wedding Set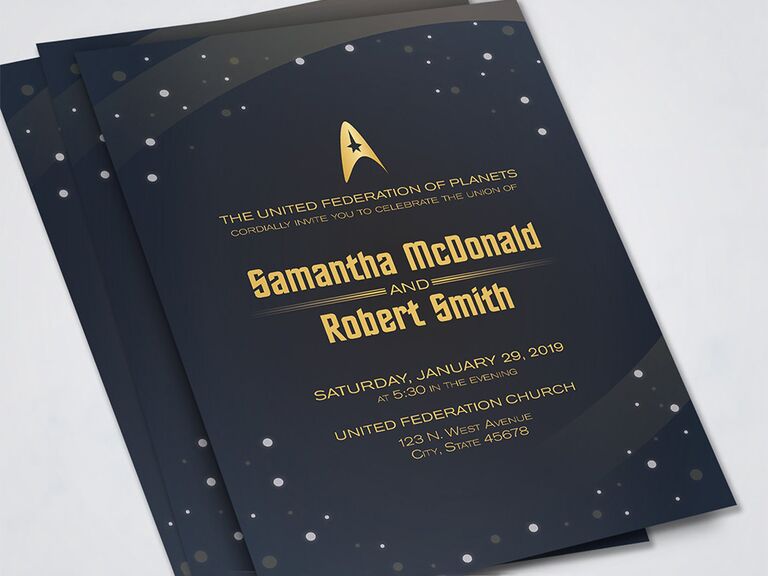 Trekkies, unite. Celebrate your love for Star Trek with this intergalactic wedding invitation suite featuring the Star Trek symbol, bold gold font and starry illustrations. Guests who also love Star Trek will be sure to laugh at this offbeat invitation, and thanks to the minimal design, even non-Star Trek guests will appreciate it.
Dizzy Design Studio Old School Nintendo Inspired Wedding Invitation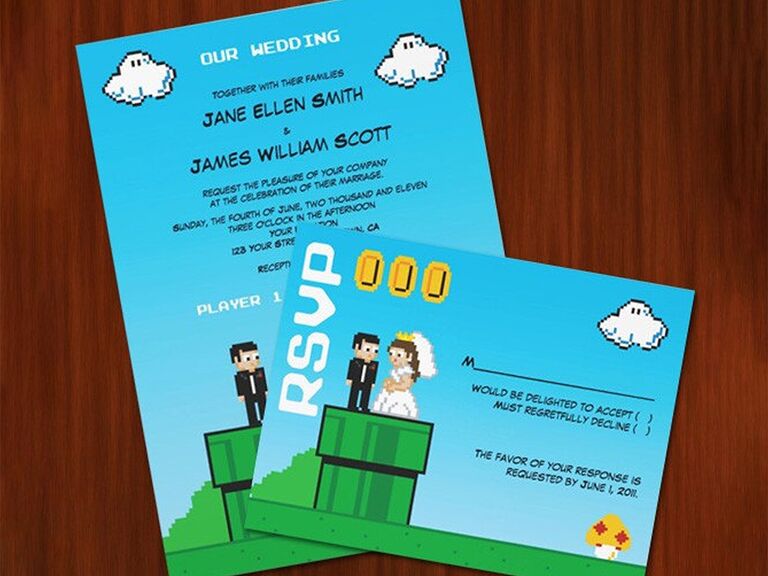 Many couples bond over video games. Some couples even met through online gaming. If your love story involves gaming, celebrate what brought you together with this nostalgic, nerdy invite.