George Clooney and Amal Alamuddin's Wedding Weekend: Everything You Need to Know!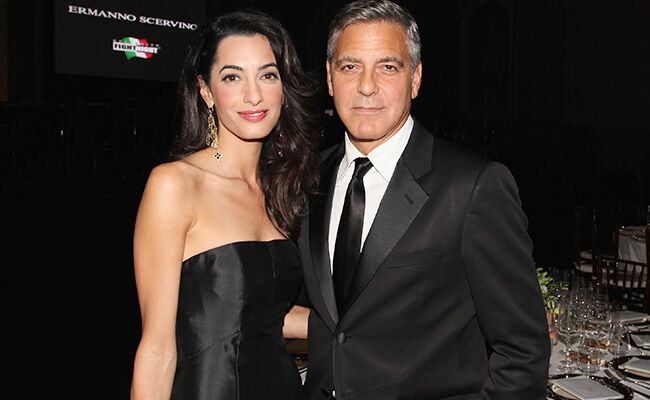 Getty Images
So, we all know that our favorite eligible bachelor is set to collectively break our hearts this weekend, but we're really excited for his wedding anyway! George Clooney and Amal Alamuddin will get married on Saturday, September 27, in Venice, Italy, in what we're sure is going to be the most beautiful and iconic ceremony since Kate Middleton and Prince William got married. (Sorry, Kim and Kanye.)
So, here's what's going on now and what you can expect during their glamorous wedding weekend:
1. A welcome party
The couple arrived at the famously luxurious Belmond Hotel Cipriani on September 26 via water taxi, reports People. They started their wedding weekend festivities right away with a welcome celebration at one of the hotel's bars for their guests who include…
2. Lots of A-list celebs
Bono, Richard Kind, Ellen Barkin, Miguel Ferrer, Cindy Crawford, Rande Gerber, Matt Damon and Luciana Barroso are just some of the major celebrities already in Venice. Do you think George's other pals Brad Pitt and Julia Roberts will attend?
3. A civil ceremony
People also reports that Venice's government announced the closure of streets near town hall, Ca'Farsetti, on Monday, September 29, between 12 p.m. and 2 p.m for a civil ceremony.
4. Designer wedding attire
George will be looking striking and spiffy (when does he not?) in a custom Giorgio Armani suit — and the news was confirmed by the designer himself during his Milan Fashion week fashion show on September 18. "George has chosen and been fitted for an Armani suit for his wedding," Armani told reporters. Amal is reportedly pulling a Kate and wearing an Alexander McQueen wedding dress!
5. A close friend will officiate
Walter Veltroni is one of George's close friends (who also happens to be an Italian journalist and the mayor of Rome from 2001 to 2008) and will officiate the ceremony, according to People.
5. Seriously sparkly decor
Us Weekly reports that crystal chandeliers and "lavish" place settings are being set up at Hotel Cipriani for all of George and Amal's wedding festivities.
6. A fun (but packed) schedule
The couple's rehearsal dinner will happen tonight at hotel, and then tomorrow, guests will travel by boat to the Aman Canal Grande hotel for the ceremony. Their reception will feature a five-course dinner by famed chef Riccardo de Pra, and drinks and fireworks will happen at Cipriani later on! Another dinner will happen at the hotel on Sunday, just before the civil ceremony on Monday. So that guarantees us at least two wedding dresses to obsess over.
We can't wait to see photos! Happy wedding weekend, George and Amal!
Want more? Right here!
> George Clooney and Amal Alamuddin got their marriage license in London!
> How to pick the perfect wedding date