You'll Now Be Able to Get Married at Taco Bell
Love mas.
by Catherine Jessee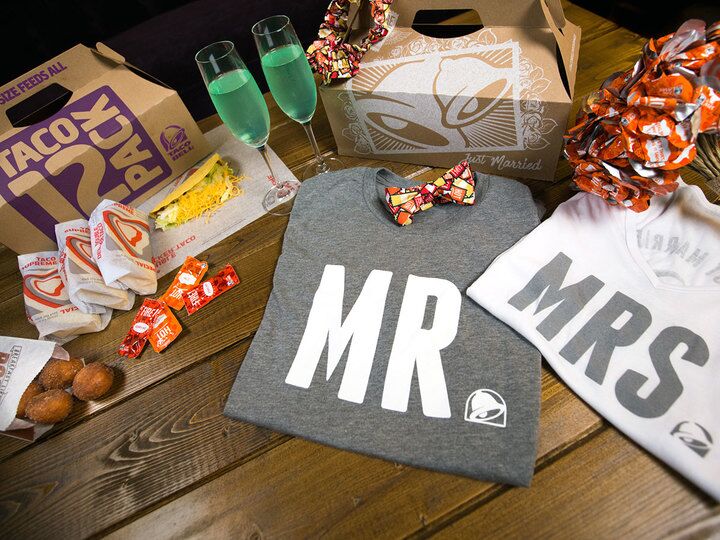 Who says you have to choose between Taco Bell and wedding bells? As of summer 2017, Taco Bell–loving couples can have both. The flagship Las Vegas Cantina restaurant located on the famous Las Vegas Strip will add weddings to its menu. For $600 dollars, couples will be able to order an all-inclusive wedding package, complete with a Taco Bell garter, bow tie and an elaborate sauce packet wedding bouquet. The package guarantees a full ceremony and officiant, and also offers fun flourishes like Taco Bell champagne flutes and—the best part—a Cinnabon Delights wedding cake.
"From sauce packet proposals to couples catering their wedding parties and after-parties with Taco Bell, we have known for years that some of our most creative fans have been incorporating Taco Bell into this momentous occasion," says Marisa Thalberg, chief marketing officer of Taco Bell. "Now… couples can come right in and order a wedding off of our menu."
Wedding services at this location will officially open to the public this summer, but as of today—Valentine's Day—fans all over the country have the chance to enter to be the first couple to tie the knot in the flagship's custom wedding chapel. To enter, share your Taco Bell love story using the hashtag #LoveAndTacosContest by February 26. Fans will have the chance to vote and the winning couple will be announced on March 16.