Get Whisked Away By These 8 KitchenAid Accessories! (Scan It Saturdays)
by Jamie Miles
The top item to register for is hands down a KitchenAid. But when you're registering for this in-demand appliance don't forget the extra accessories that will make your life even easier!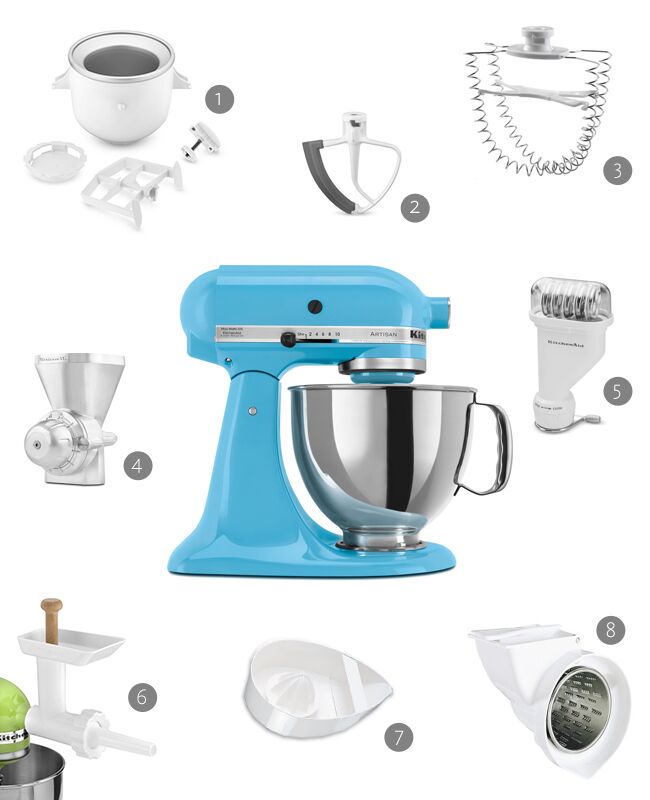 1- Ice Cream Maker
This calls for an ice cream social! This attachment makes it a breeze to make your own ice cream. In 20-30 minutes you'll have a frozen treat.
$100, Williams-Sonoma.com
2- Bowl Scraper
This may seem very basic but this scraper will probably be the device you use the most! Clean the sides of the bowl so you don't miss out on any batter.
$30, Williams-Sonoma.com
3- Whisk-a-Bowl Blade by Pourfect
Your KitchenAid comes with a basic whisk but this one is 3x faster and is used especially for mixing egg whites, whip cream and meringue or icing.
$49, Amazon.com
4- Grain Mill
If you're a baker, this one's for you. Grinding your own wheat, oats, and other non-oily grains can enhance the flavor of your baked goods. An adjustable knob lets you determine the fineness of the grind.
$150, Williams-Sonoma.com
5- Pasta Press
Save time and energy by putting your mixer to work to make macaroni, bucatini, fusilli and any other noodle you can dream up! Just snap on this attachment and push a button. It's not like the other pasta makers you have to manually roll. It's quicker and easier.
$200, Williams-Sonoma.com
6- Sausage Stuffer Kit
Fill anything from breakfast sausage to kielbasa or bratwurst. This attachment comes with a small and large tube so you're equipped for anything.
$15, Williams-Sonoma.com
7- Juicer
Fresh orange juice has never tasted so good. This snap on attachment let's you juice citrus fast and it even has a built in strainer to catch any unwanted seeds.
$35, Macys.com
8- Slicer/Shredder
Comes with 4 stainless steel interchangeable cones, 2 for slicing and 2 for shredding – to grind fresh ingredients to their finest depending on the recipe.
$50, Target.com
> Find Out the Evolution of the KitchenAid Mixer
> 7 Outrageous Things People Have Actually Registered For!