33 Gifts for Your In-Laws That'll Make Them Extra Glad You Joined the Family
These presents are your one-way ticket to becoming the golden child (in-law).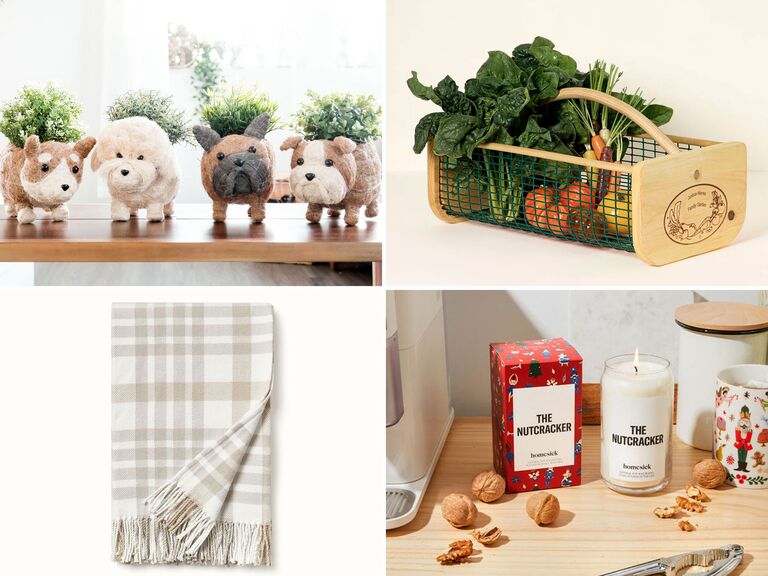 We have included third party products to help you navigate and enjoy life's biggest moments. Purchases made through links on this page may earn us a commission.
Whether you're a freshly minted member of the family or you've been celebrating holidays together for years, the pressure to find the perfect gift for your in-laws can get intense. But before you give in to that little voice in your head that says there's nothing wrong with gas station wine, let us give you a few pointers. When it comes to buying a gift for your parents-in-law, there are a few different routes you can take (and don't worry, they all lead to really great presents).
First things first, consider opting for something practical that fulfills a need (think: a fancy Dutch oven or seasonal serving tray). Every time your in-laws use it, they'll feel grateful for you. Personalized gifts are also a strong contender—who wouldn't feel special receiving a beautiful throw pillow embroidered with their family name? Finally, if you're feeling extra brave, you can go down the "hobbies and interests" route. Show your in-laws how well you know them with a gift that reflects their favorite things.
Still not sure where to begin? That's where we come in! We've rounded up 33 of our favorite gift ideas for in-laws that might just make you their new favorite child. Shopping for the rest of the family too? We've got gift guides for everyone, including brothers- and sisters-in-law, and sons- and daughters-in-law. For the top gifts to give your parents-in-law, keep reading.
An Extra-Fancy Cheese Board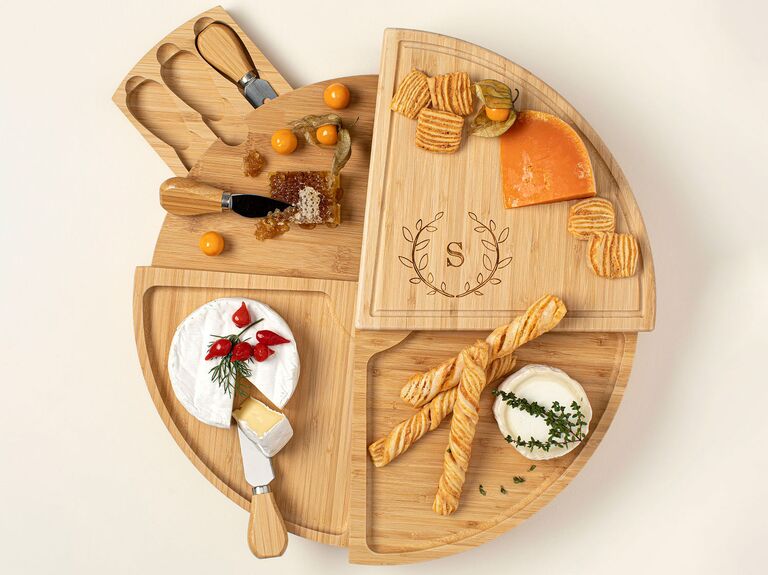 Have you ever seen such a nice cheese board? This swiveling beauty is a good gift for in-laws who make a mean charcuterie spread. It's made from high-quality bamboo and stainless steel, plus it folds back into a wedge shape for easy storage. Seal the deal by having it engraved with your parents-in-law's monogram and a meaningful year.
A Well-Deserved Mini Break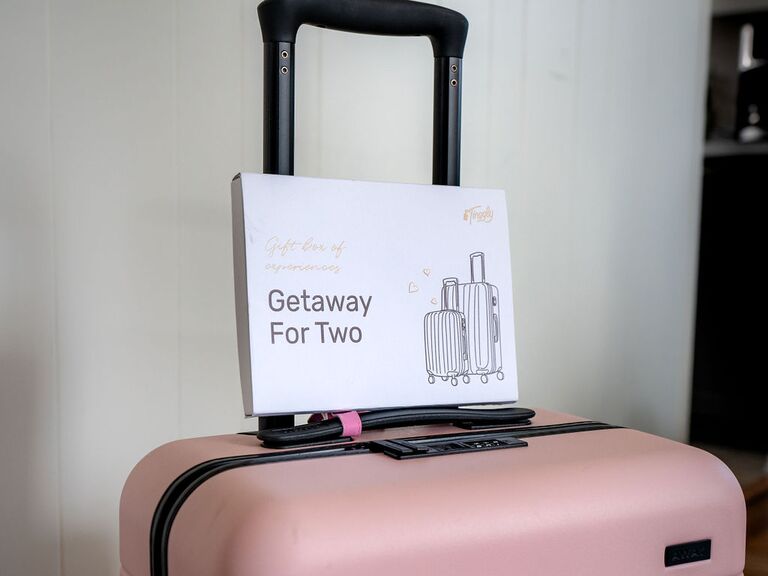 Prepare to be handed the metaphorical title of Best Gift Giver when you hand over this unexpected present. Tinggly's "Getaway for Two" gift box covers the cost of a mini-break for your parents-in-law. They get to choose the location and timing of their trip (out of over 100,000 different hotels). They'll be itching to pack their bags when they receive this prize.
The Key to a Successful Dinner Party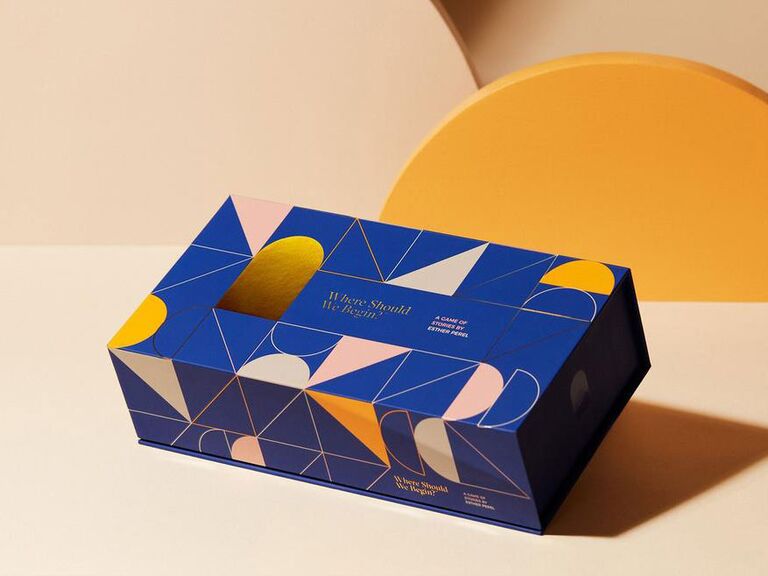 If your in-laws are hosting over the holidays (or at any time of the year), why not choose a gift they can put to use immediately? This engaging game is designed to help build relationships with friends, family and anyone else sitting around their table. The aim is to connect through storytelling, with plenty of prompts to help get the ball rolling. It's also a great way for a couple to strengthen their relationship, so your parents-in-law can play it on their own too. This small, casual gift is especially fitting for new or future in-laws.
A Symbol of Your Family Ties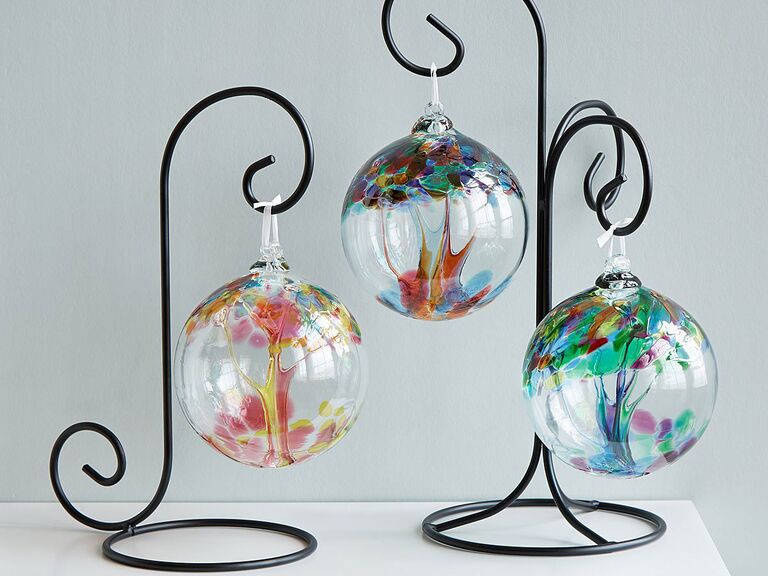 Looking for something sentimental? These colorful globes are made from recycled glass and each one symbolizes a special relationship. There's an ornament to honor motherhood, fatherhood, their role as grandparents or family in general. It's a stunning piece they can display all year round, meaning it's not just a great Christmas gift for your in-laws. Add the wrought iron stand to your cart before checkout for a display-ready gift.
A Christmas Candle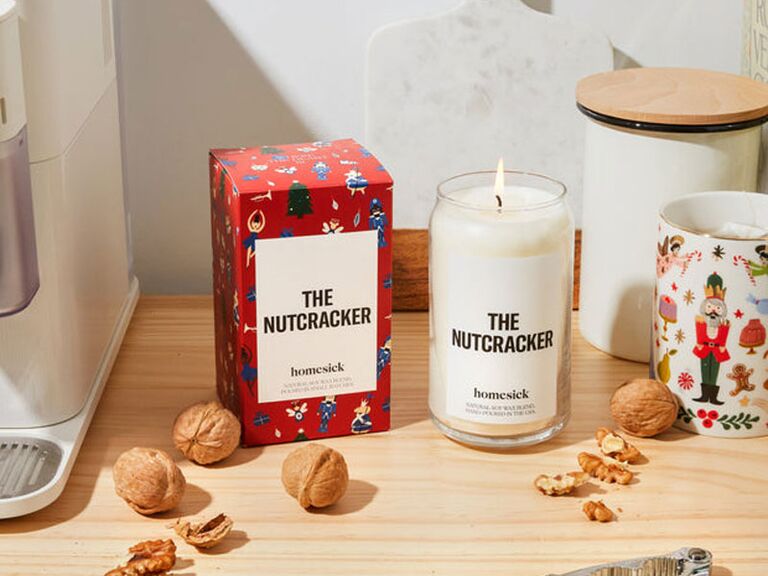 Give your in-laws this unique gift for the holidays so they can fully immerse themselves in festive vibes. Notes of cinnamon and mint layer beautifully alongside sandalwood and musk. The result is a delightfully warm, wintery scent that'll fragrance their home for up to 80 hours (yes, really). Just don't be too surprised if they ask for another one next year.
A Subscription for Wine Lovers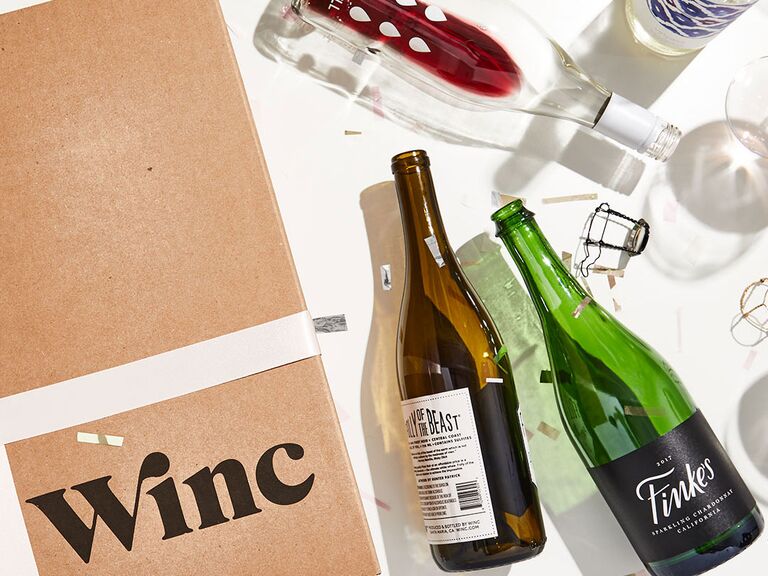 While gas station wine might not be the most thoughtful last-minute gift for your in-laws, that's not to say you can't give them wine at all. Up the ante by opting for a Winc gift card instead. Once they receive the gift card, your parents-in-law will be invited to take a quiz that allows the in-house experts at Winc to curate each delivery to their tastes. Imagine their delight when they open the door to discover all their favorite wine.
The Gift of Healthy Home Cooking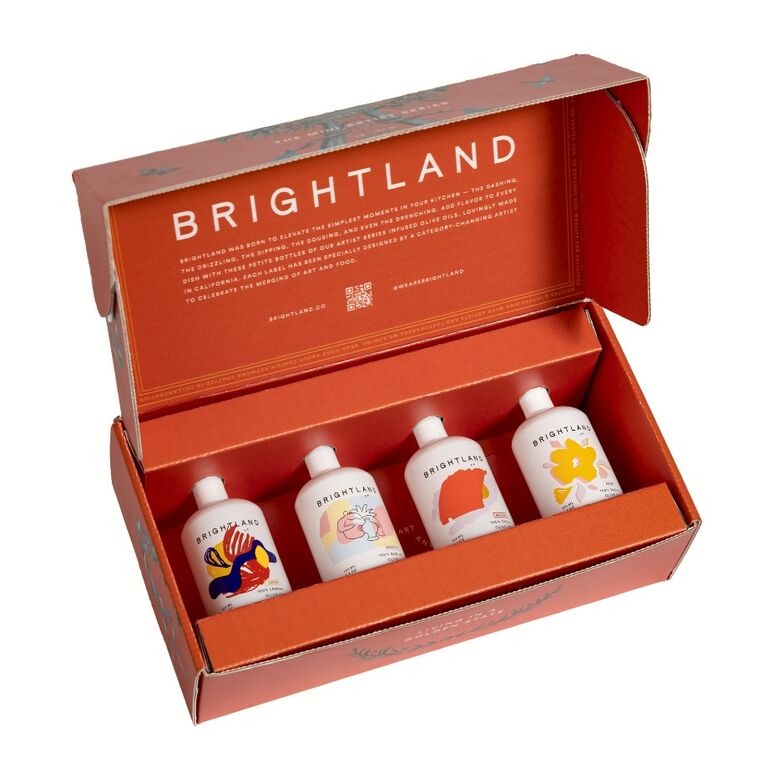 End your in-laws' search for the best-ever olive oil with this gift set from Brightland. It includes four mini bottles of infused olive oil, featuring flavors like garlic, basil, lemon and chili. Each unique blend is made from olives grown on family farms in the US. From there, the olives are expertly cold-pressed by a master miller for optimum tastiness. These oils make great additions to all sorts of meals, from breakfast pancakes to light lunchtime salads and hearty pasta dishes.
A Really Cool Gardening Accessory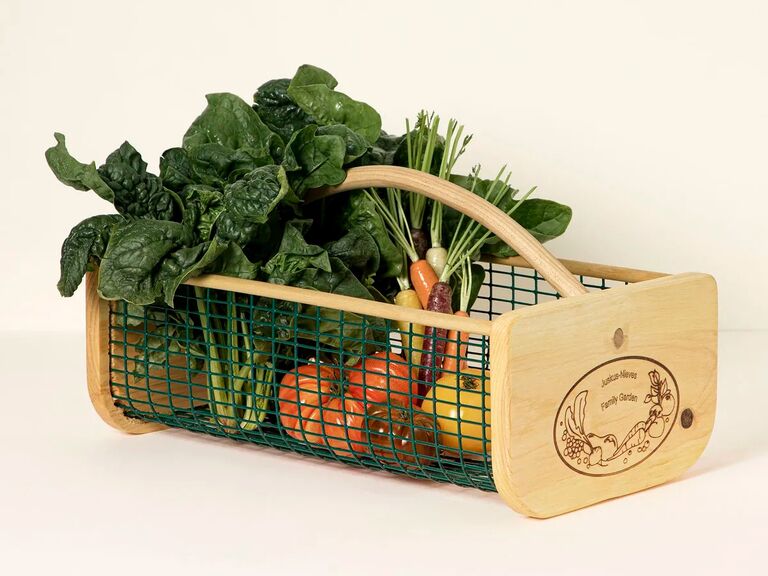 Get ready for one of the best gifts for your in-laws, period. Whether they spend lots of time nurturing their own garden or just enjoy a trip to the farmers market, this harvest basket is a valuable tool. It has plenty of space for collecting produce and it's cleverly designed to wash fruit and vegetables without making a mess at the kitchen sink. Just hose everything down outside and it's ready to prep and eat. The best part of all? This practical present can be personalized too.
Beautiful Wine Glasses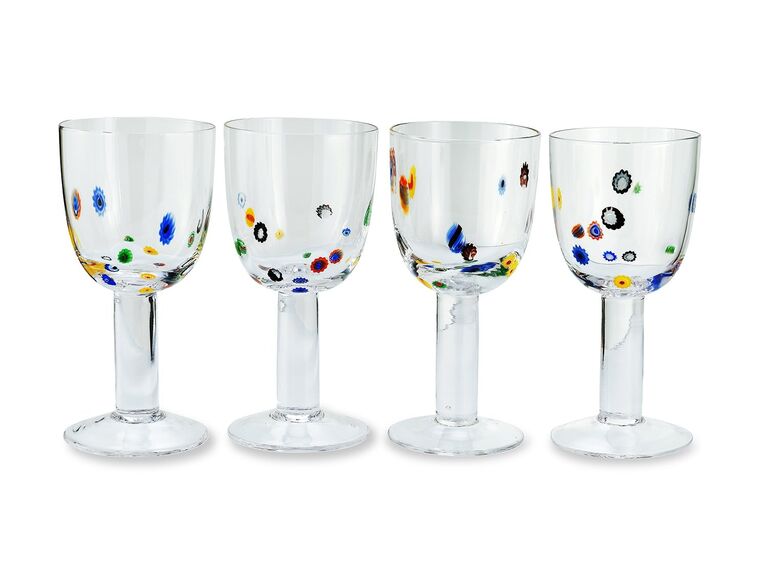 These stunning vessels are inspired by world-famous Murano glassware (without the hefty price tag). A colorful millefiori motif decorates each glass, which can be used for sipping wine, water or really any cold beverage. The set will add a whimsical touch to their dining table on special occasions or just every day.
The Best Charcuterie Board They've Ever Made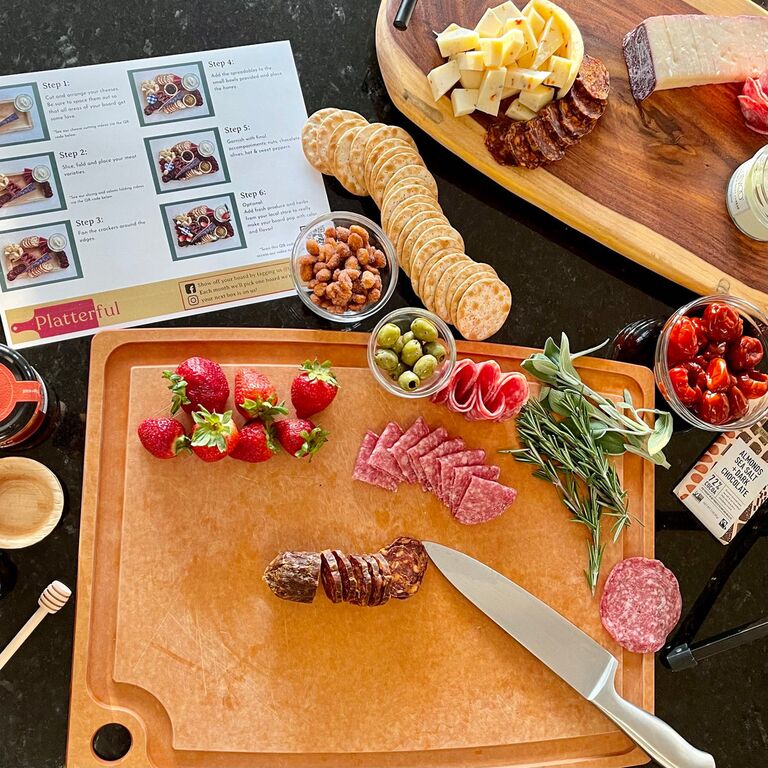 Are you obsessed with your mother-in-law or father-in-law's charcuterie spreads? Encourage them to take their skills to the next level with this unique subscription service. Each month they'll receive new meats, cheeses and accompaniments for building a flavorful grazing board. To help hone their skills, your in-laws will also have access to an instructional sheet and video tutorial. Before you know it, they might just have an exciting new side hustle.
Seasonal Serveware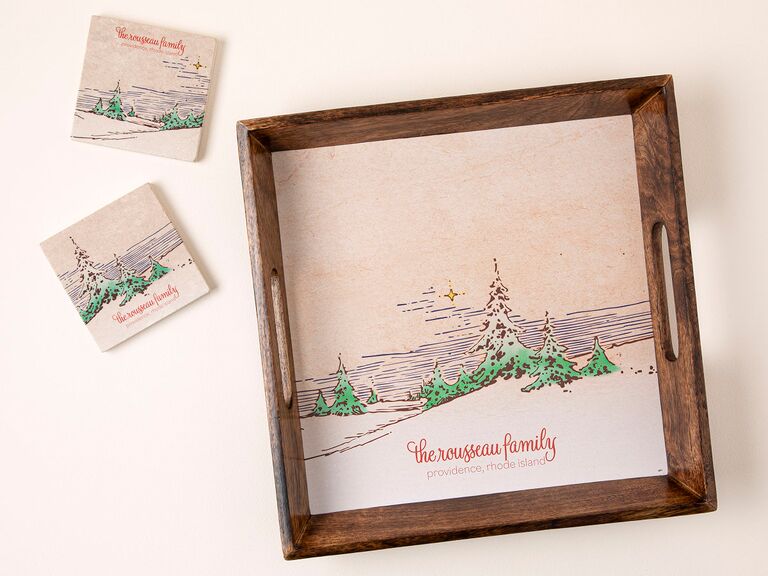 Need a gift for the in-laws who have everything? Even if they already have a matching coaster and serving tray set, we doubt they have one especially for the holidays. The snowy scene on this eye-catching set feels delightfully nostalgic. It includes two coasters and a serving tray personalized with your parents-in-law's family name.
A Gift for the Wellness Warriors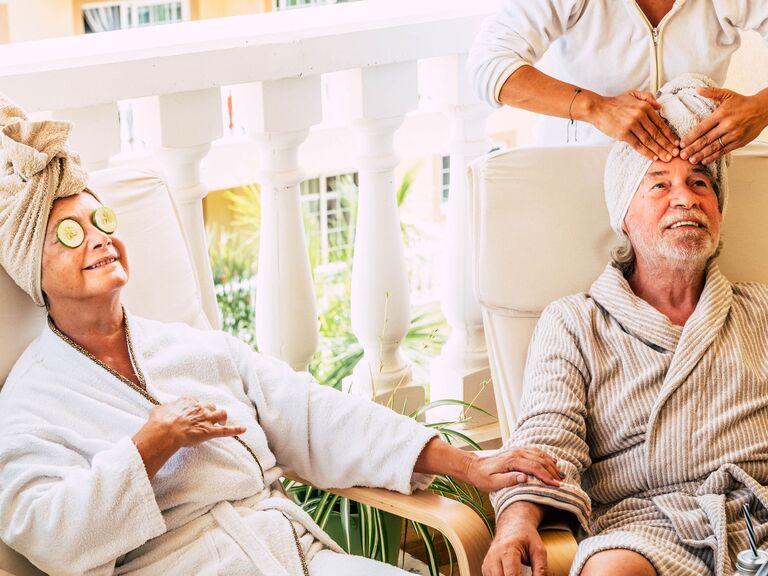 With a Spafinder gift card your in-laws can plan a relaxing treat whenever they need it most. You can mail your gift directly to their home (great for long-distance gift giving), or if it's a bit of a last-minute rush, print the gift card at home or email it right to their inbox. One couples massage coming up!
A Personalized Throw Pillow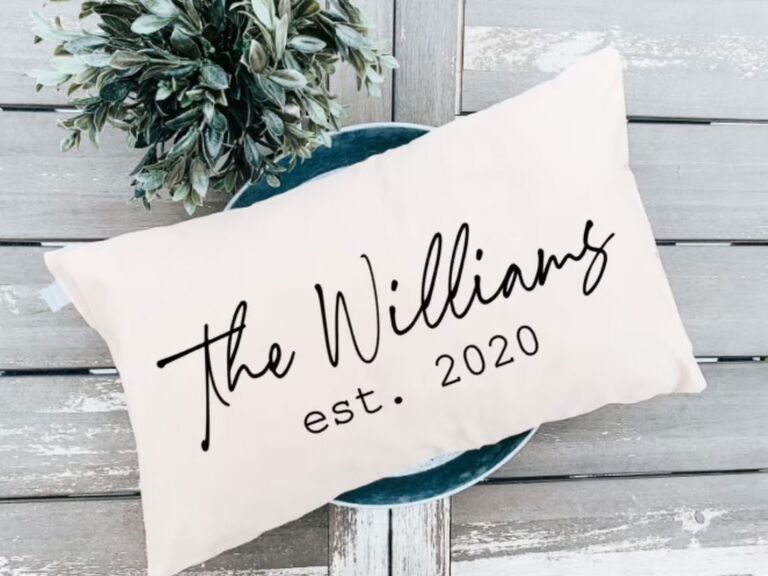 Delivering a gift is always a nice gesture, but handing over something with their name on it shows you really went the extra mile. This decorative pillow will be a welcome addition to their living room sofa. Thanks to the established date, it tells the story of when their marriage first began, making it a wonderful gift idea for your in-laws' anniversary.
A Virtual Experience That's Actually Fun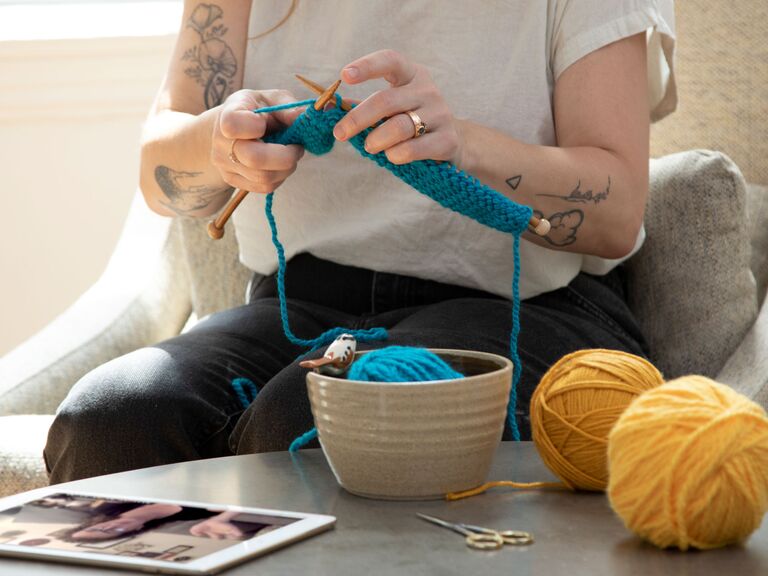 Virtual gifts are still proving popular this year, and it's no surprise when there are so many fun and creative options out there. Uncommon Experiences has a variety of activities to choose from, and most of them will make relatively inexpensive gifts for your in-laws. From flower-arranging classes to mixology and tarot reading, there really is something for everyone. Bonus: Most of these online experiences come with a physical gift set to make taking part a breeze.
Mugs That'll Brighten Up Every Morning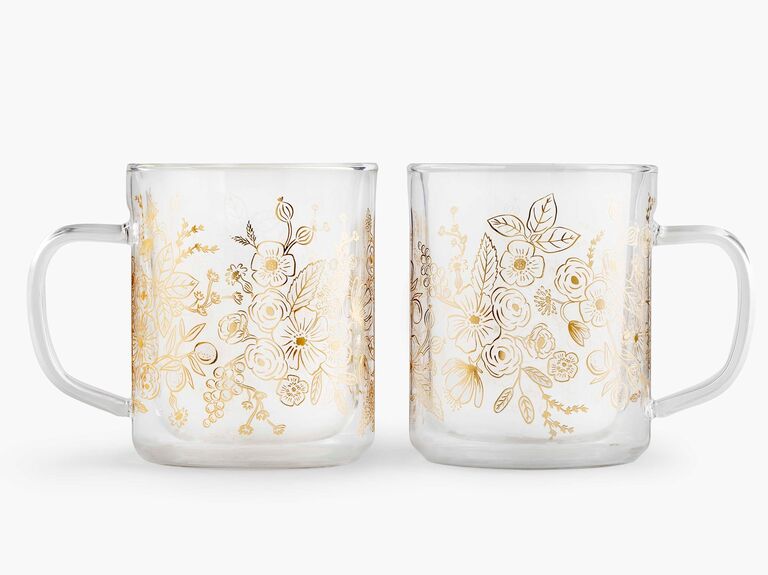 Sometimes the best Christmas gift for your parents-in-law is something they can appreciate all year round. A set of matching coffee mugs is exactly the kind of practical present they'll use all the time. These beautiful floral glass mugs from Rifle Paper Co. x Corkcicle are pretty easy on the eyes too.
A Gift Card for Home Cooks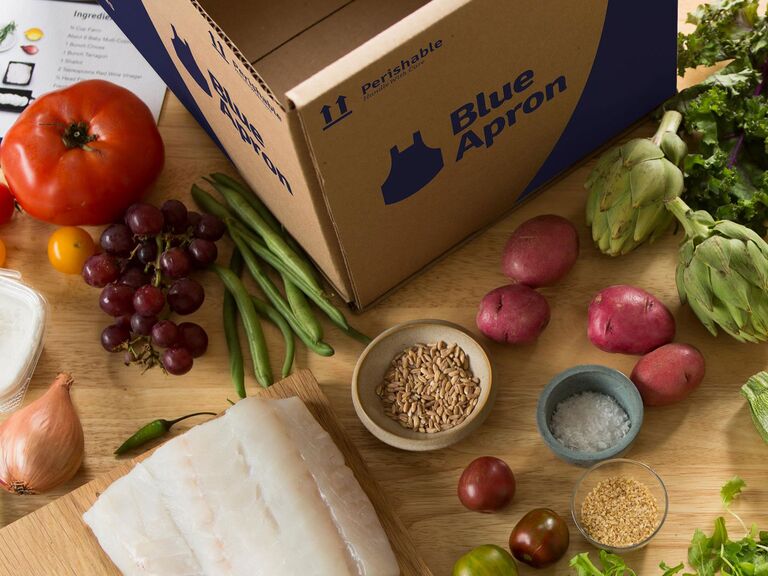 Coming up with different meal ideas can get challenging as the years go by. This thoughtful gift for your in-laws is a good way to inspire creativity in the kitchen. They can use the gift card to sign up for a delivery service that provides fresh ingredients and instructions to cook a new and exciting meal up to four times a week.
Tea From Around the World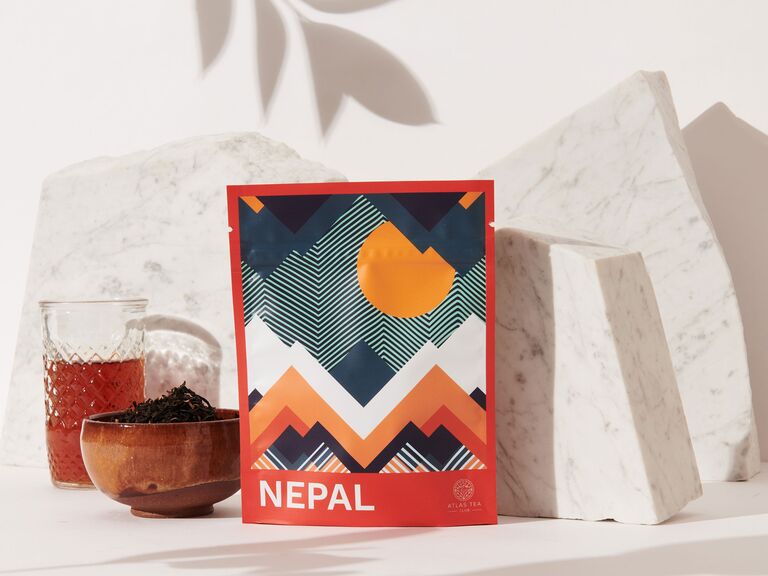 A hot cup of tea is essential in the colder months of the year, making this cool subscription service an excellent holiday gift for your parents-in-law. Each month they'll receive tasty loose-leaf tea from different countries (we're talking Indonesia, Nepal, Kenya and beyond). Shopping for coffee drinkers? There's a subscription for that too.
A Throw They'll Never Throw Away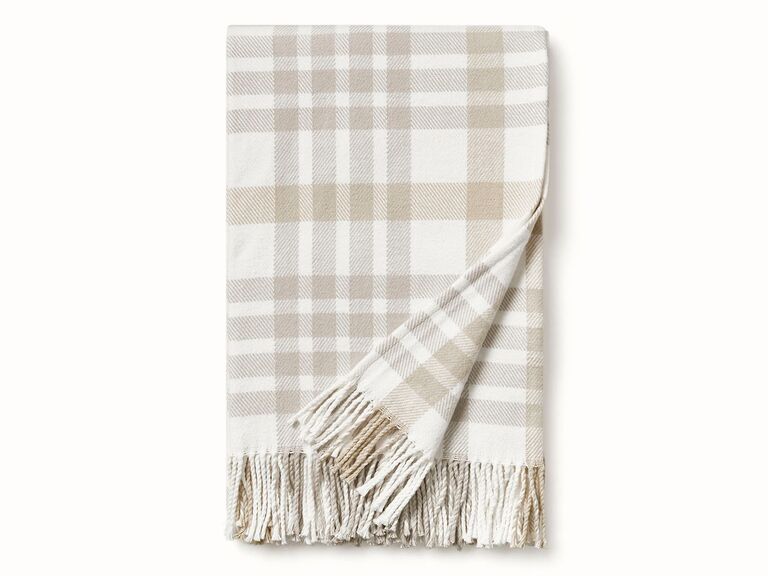 Wondering what to get your in-laws for Christmas? Elevate their home and cozy winter nights with this pretty plaid blanket. It's made from 100% organic cotton, brushed for an extra-soft feel. Creamy hues are right on theme for the holidays, reminiscent of cool winter light on snow-dusted rooftops. It's a great gift idea for any couple you're shopping for this season. Score 15% off purchases of $250 or more with our exclusive code 15KNOT.
Seasonal Decor Delivered to Their Door
Why give your in-laws a one-off present when you can delight them with gift boxes four times a year? This genius subscription will make decorating their home easier than ever. Each box includes six to eight seasonal pieces of decor that'll help create just the right atmosphere in every room.
A Fun (And Delicious) Activity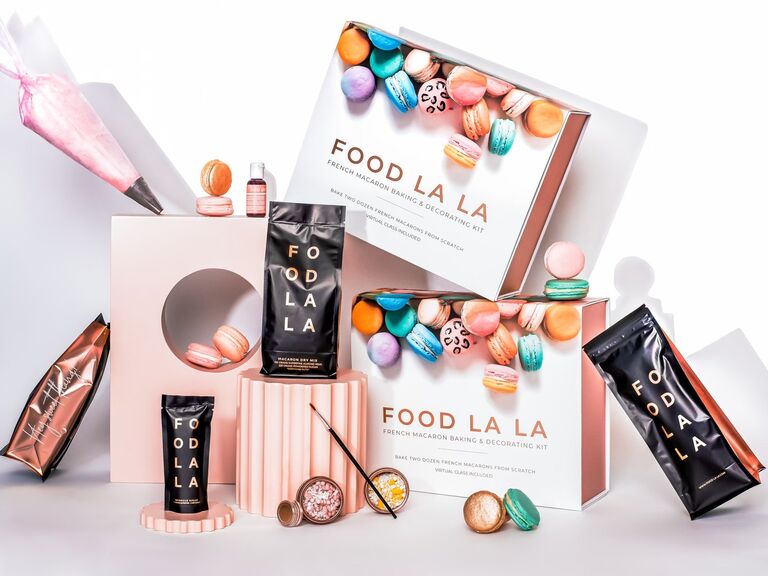 Here's another great gift for your in-laws, whether you're shopping for the holidays, a housewarming gift or a retirement celebration. Something that can be experienced and enjoyed will always be a hit, especially if you're shopping for in-laws who have everything they need already. Food La La's macaron kit comes with all the necessary ingredients (pre-measured, might we add) except for the fresh stuff (eggs, butter and cream). Your parents-in-law also get baking and decorating supplies and access to a macaron-making masterclass.
The Perfect Puzzle for the Holidays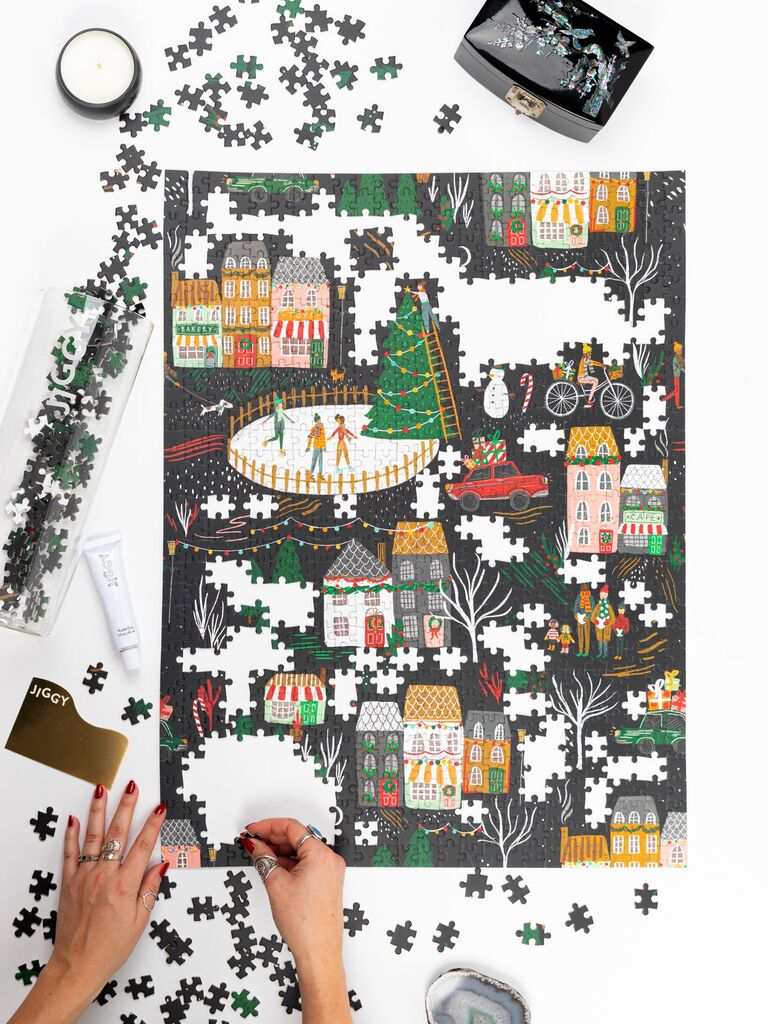 Do your partner's parents go all out on Christmas? Help nurture their holiday spirit with a fun puzzle that'll keep the festivities going after they unwrap it on Christmas morning. This beautiful scene was illustrated by artist Heather McLaughlin and depicts a vibrant town full of Christmas cheer. The puzzle has 800 pieces in total, so make sure they're up for a challenge.
A Craft Sake Sampler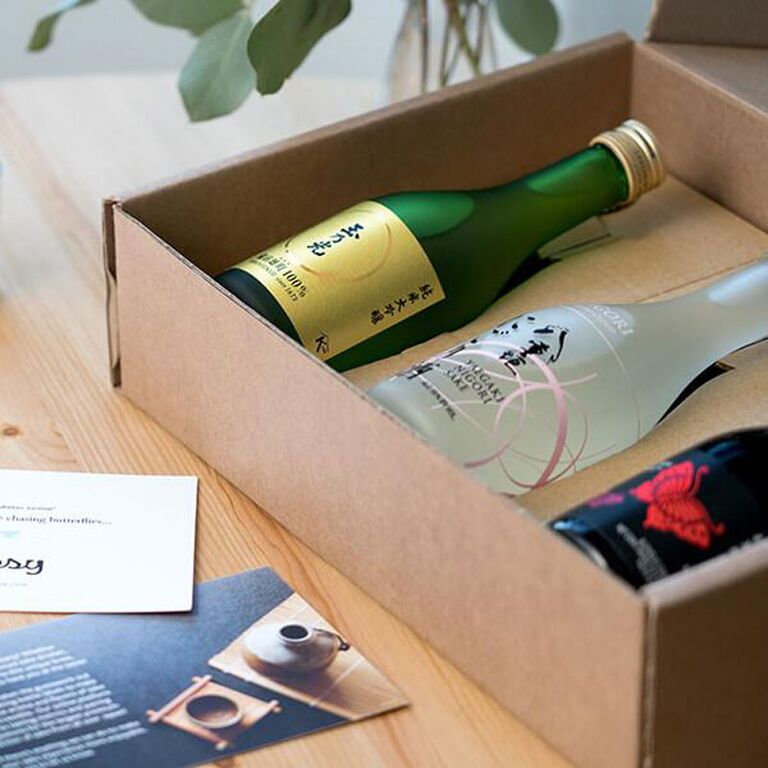 If you always show up with the same-old bottle of wine or whiskey, switch things up this time around. The sake experts at Tippsy have curated this gift set of mini bottles. In addition to three different craft sakes, your in-laws also get pairing and serving suggestions. It's one of the best gifts for your parents-in-law if they love to try new things.
A Keepsake Cutting Board
Maybe your in-laws don't have room in their lives (or on their kitchen counter) for another appliance, but that's not to say they won't appreciate any new cooking accessories. A solid wood cutting board will always come in handy, and it can easily be stowed away when not in use. This one comes engraved with their monogram, family name and a special year, so it's elevated enough to use as a serving board too. You really can't go wrong with a personalized present for your in-laws.
A Way to Display All Their Favorite Photos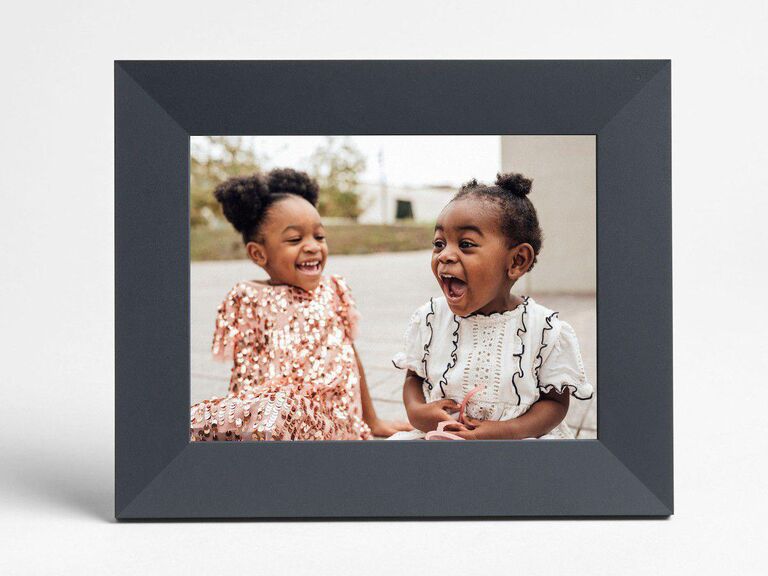 A picture frame is a nice present, especially if you fill it with a meaningful snapshot of your in-laws together, their grandkids or other loved ones. The only problem is trying to decide on one photo—but what if we told you they didn't have to? A digital photo frame will let your in-laws show off all their favorite pictures on a loop, so everyone gets their time to shine. Aura Frames are so easy to gift—you can even set up the recipient's WiFi and pre-load the frame with pictures before giving it to them.
Essential Spices for Home Bakers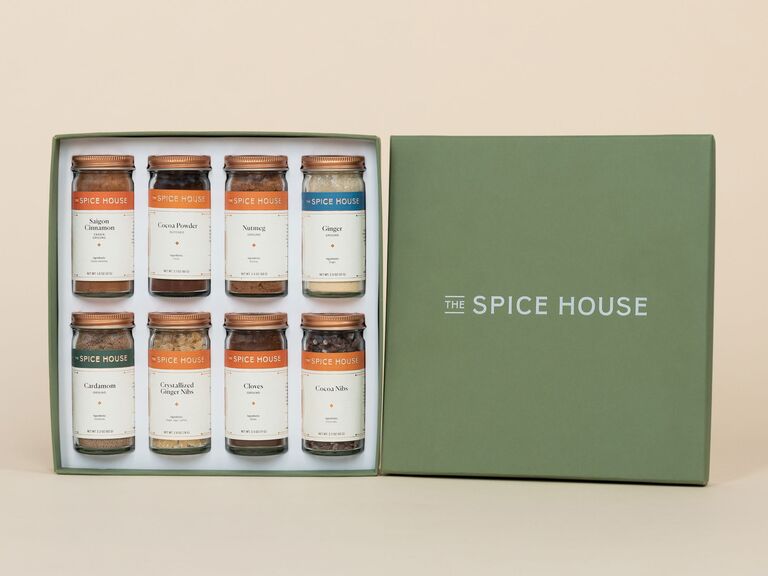 Stock their pantry with all the spices they could ever need to bake uh-mazing creations. This deluxe collection includes eight exceptional spices handpicked for baking. From Vietnamese cinnamon and crystallized ginger nibs to Dutched cocoa powder, your parents-in-law won't be left wanting. If you're lucky, maybe you'll even get a taste of their next bake.
A Custom Portrait of Their Home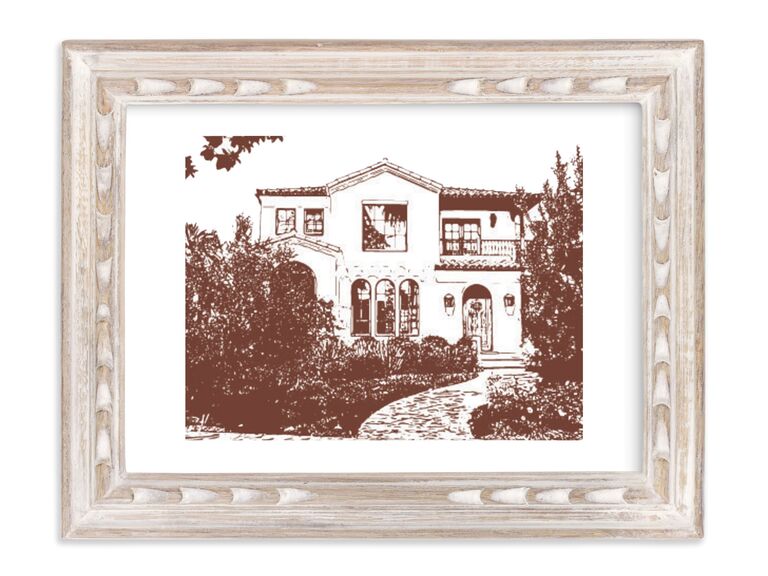 On the hunt for a unique holiday, wedding anniversary or birthday gift for one or both of your in-laws? Minted is chock full of meaningful wall art ideas that will hold space in their home, and their heart too. When you show up to the holiday gift exchange with a custom portrait of their house, they'll know you really understood the assignment. Add a chic wood or metal frame for an extra-special finishing touch.
A Genius Tea Timer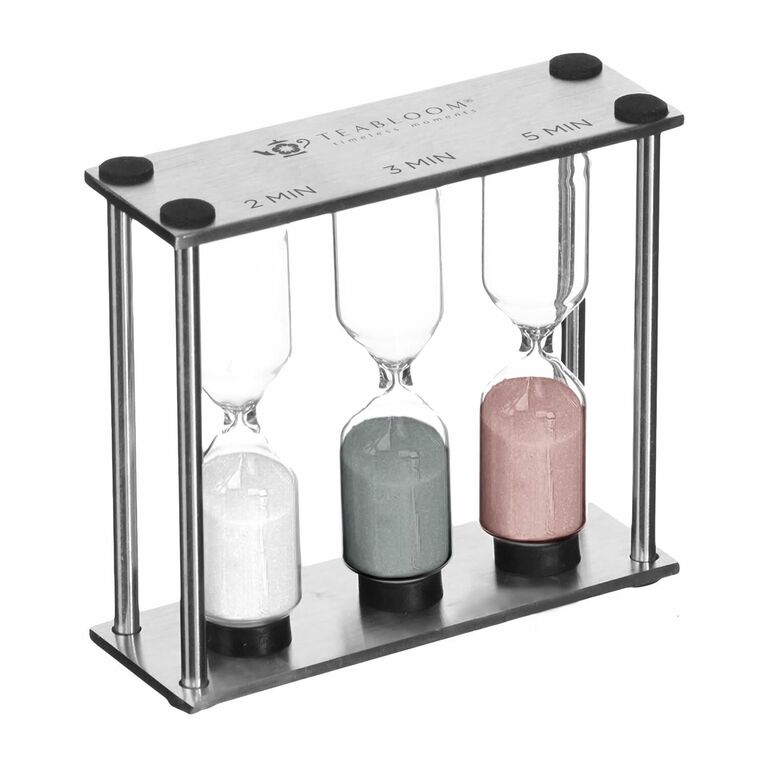 There's nothing wrong with giving your in-laws a practical gift, especially if they're practical people. Anyone who enjoys tea as part of their daily routine will be blown away by the thoughtfulness of this unusual present. While they probably already have a teapot or favorite mug, we bet they don't have a tea timer. This compact addition to their countertop helps them keep track of when their tea is perfectly brewed (and it'll certainly make an impression on visitors too).
A Decadent Gift Basket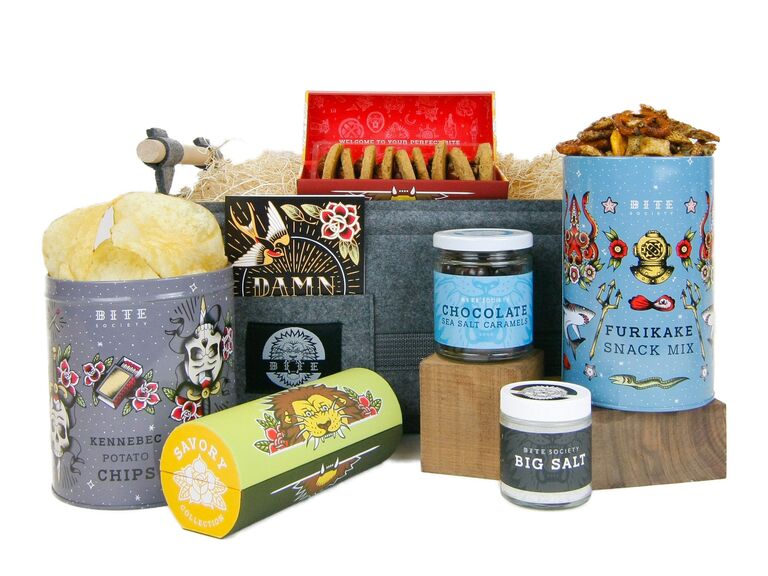 A food basket is one of the most versatile gifts for in-laws as they make a welcome present for any occasion (think: Hanukkah, Chinese New Year or Christmas). Gift baskets are also a nice "just because" or thank-you gift. (Is there anything they can't do?!) This one contains six sweet and salty treats expertly curated by the foodies at Bite Society.
Sentimental Home Decor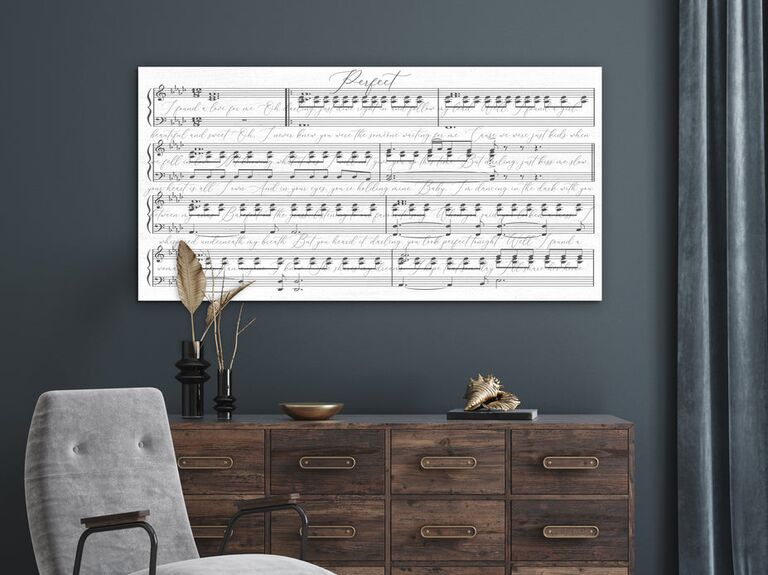 When was the last time your parents-in-law updated their home decor? If it's been a while, help them modernize with a personalized piece of wall art from Canvas Vows. The site will put the sheet music and lyrics to the song of your choice onto a beautiful canvas that's ready to mount. Choose something that's important to them, like the first dance song from their wedding. In the end, you've got an extra-meaningful gift idea for your in-laws.
A Journal for Holiday Memories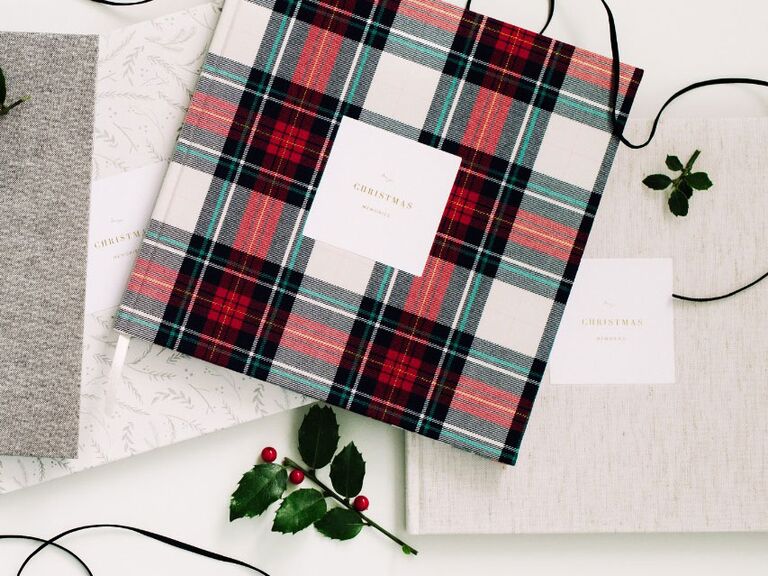 Are the holidays their absolute favorite time of year? If the answer is "Yes" with a capital Y, consider this special gift for your in-laws for Christmas. Promptly's beautiful Christmas Memories journal will help them commemorate the holiday season in style. The site is known for its gorgeous (and thoughtfully curated) journals, including an autobiography one that's great for grandparents. The holiday-inspired version has 16 prompts to inspire your parents-in-law each year and space for up to 30 years of memories, including photographs.
Cookware They'll Never Want to Put Away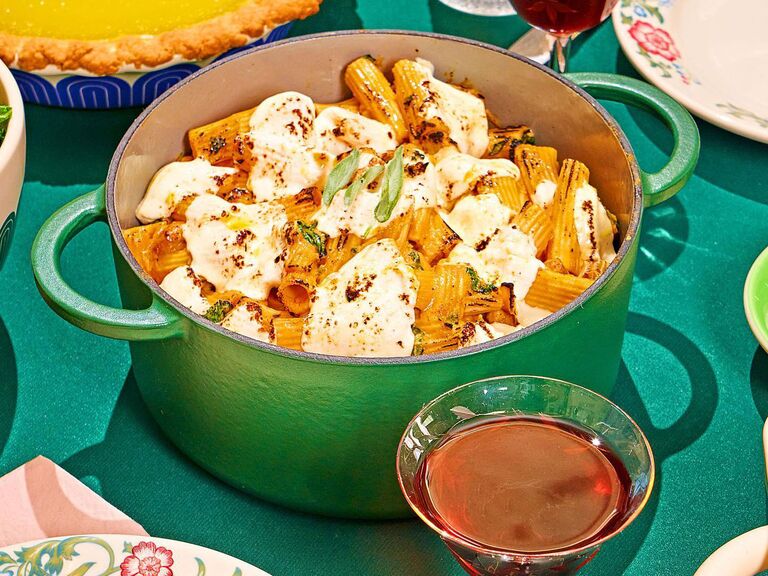 Pretty much anything from Great Jones will win your parents-in-law over, but we're especially taken by the cute miniature version of their classic Dutch oven (aka "The Dutchess"). Fittingly coined the "Dutch Baby," this beautiful cookware boasts all the bestselling features of its mama, including wide handles, a stain-resistant gray interior and a snugly fitted lid. It's great for cooking smaller batches and side dishes, and it nests right inside the brand's original oven. That said, it's so pretty they might just want to leave it out on the countertop. (BTW, you can get 15% off using our code THEKNOT15 until November 25.)
A Planter for Dog Parents
For the in-laws who like to joke that their fur baby is their favorite child, we've found something they'll love. These handmade planters are an adorable addition to any dog lover's home. It's a thoughtful housewarming or holiday gift idea for your parents-in-law that'll most certainly be put to use.
The Ultimate Home Organizer
How about giving your parents-in-law the latest tech to help organize their home? The Echo Show 15 allows them to keep track of their calendar, shopping list, important notes and more through handy Alexa-powered widgets. Home cooks will appreciate the daily recipe ideas and cook-along feature, while media enthusiasts can stream their favorite TV shows, listen to music and catch up on the latest podcast episodes. The family-friendly tool blends right into their home when not in use by displaying digital artwork or photos.