A $20,000 Flash Mob Proposal From Gilt Groupe
by Simone Hill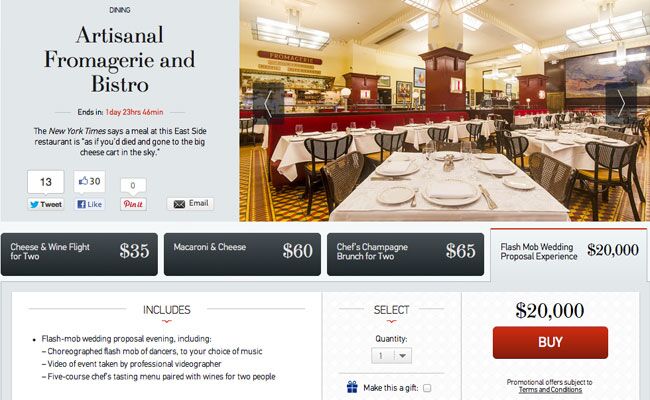 If you're out of ideas for your over-the-top public proposal and you have $20,000 lying around, then consider purchasing the all-inclusive flash mob proposal for sale on Gilt City right now.
The deal is being offered by Artisanal Fromagerie and Bistro on Park Avenue in New York City. While it costs a pretty penny, the deal includes "dancers who will pose as diners," a professional videographer, and, of course, a five-course meal by the restaurant's award winning chef.
On the one hand you wouldn't have to worry about about making sure your proposal goes off without a hitch (did I mention the flash mob will be professionally choreographed to the music of your choice?). While on the other hand, you'll have to adhere to the terms and conditions of the sale, like you must make the proposal on December 12 (12/12/12!), which might take away some of the spontaneity.
So what do you think, is a $20,000 flash mob worth it?
> A Flash Mob Proposal in a Hurricane!
> Top 10 Most Cliche Marriage Proposals