18 Reasons Why You Need a Metallic Wedding Cake
Metallic is the new naked cake.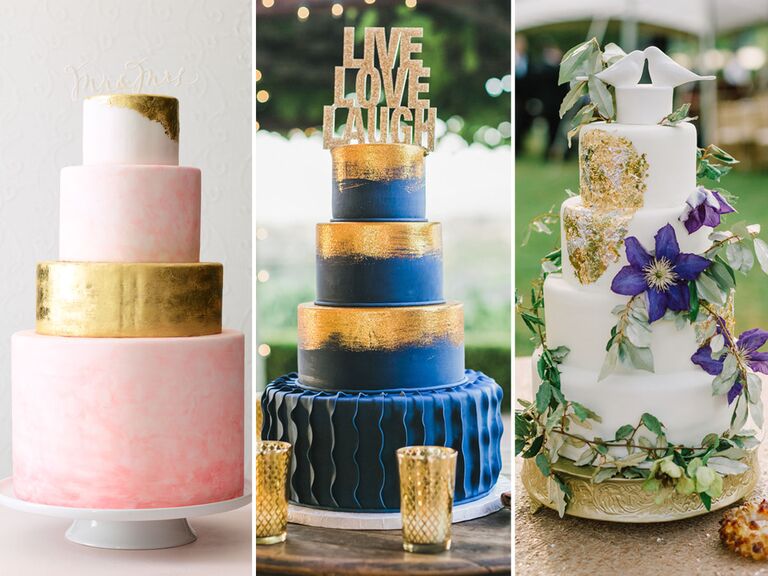 Philip Ficks; Milou + Olin Photography; Harwell Photography
Naked cakes, geode rocks, hand-painted illustrations—wedding cakes are a canvas of ever-changing trends. What's hot now? Metallics. Shimmering details are finding their way back into wedding décor (which makes sense—their reflective qualities brighten up fall and winter weddings), and those metallic details are landing right on the cake too.
Your cake is the centerpiece to your reception. Sort of the exclamation point on the evening. So why not have it decorated with one of these regal hues to really stand out? If you want something less flashy, tone it down with just a silver foiled tier, or go for all out with a painted gold design. There are so many ways to personalize the trend to your own style.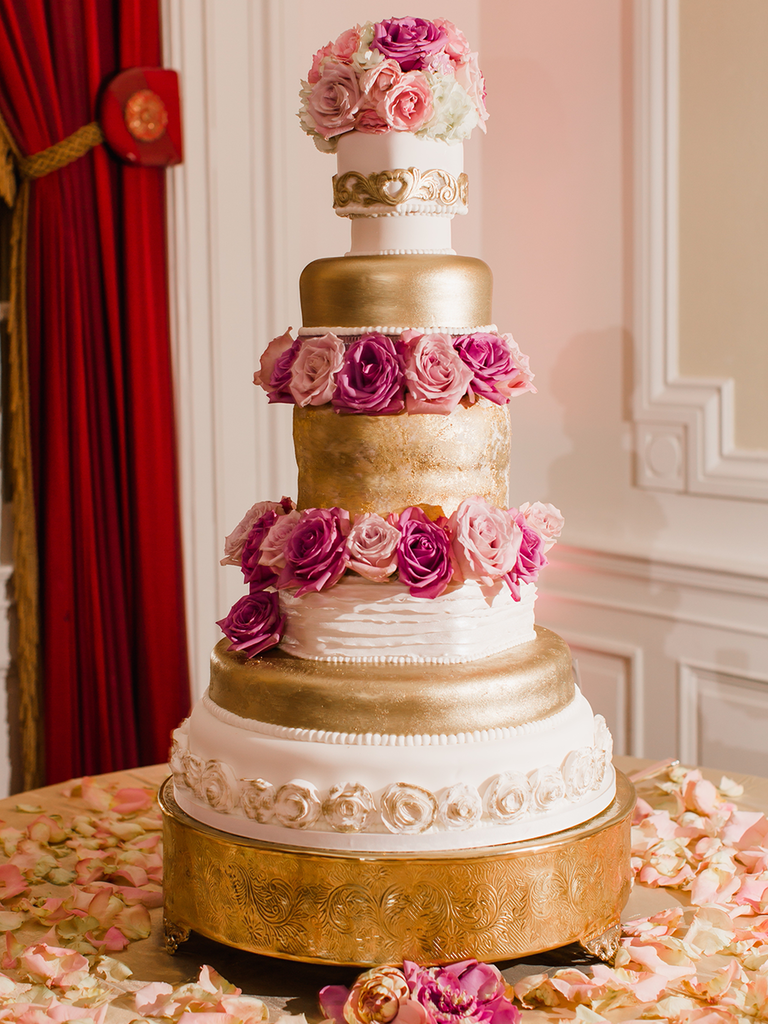 Blush and fuchsia roses arranged between gold-painted tiers bring a romantic twist to the trend.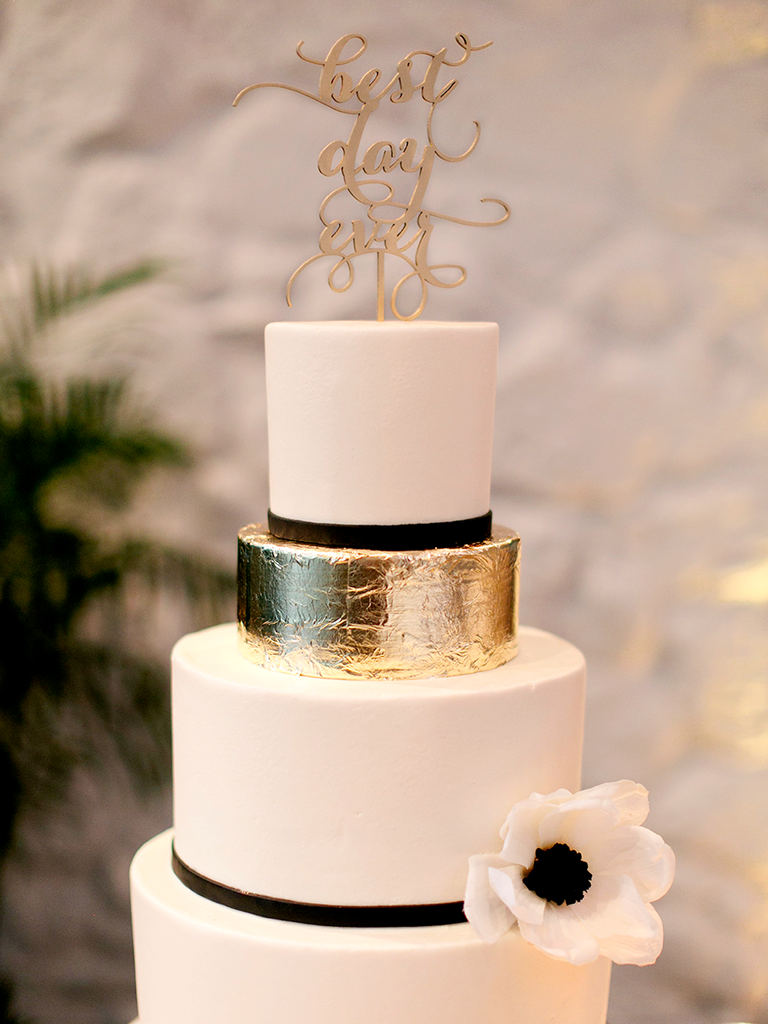 Accent a minimalist black-and-white design with a single tier of reflective foil.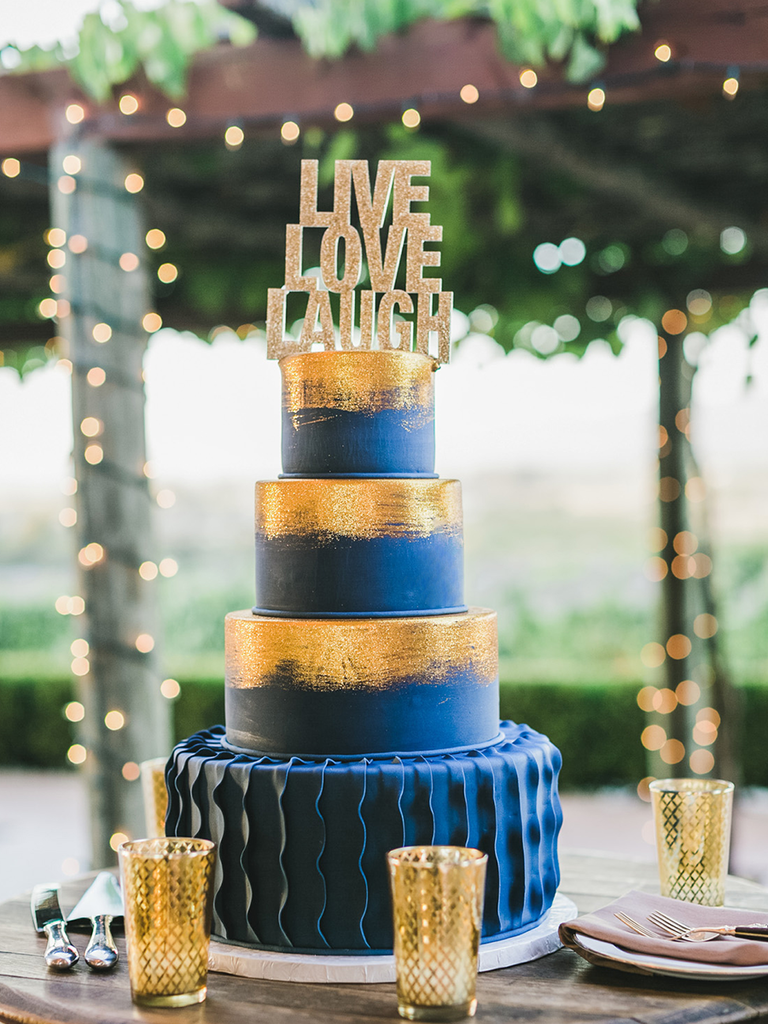 A dark-navy-colored fondant creates a fabulous contrast to glimmering brush strokes.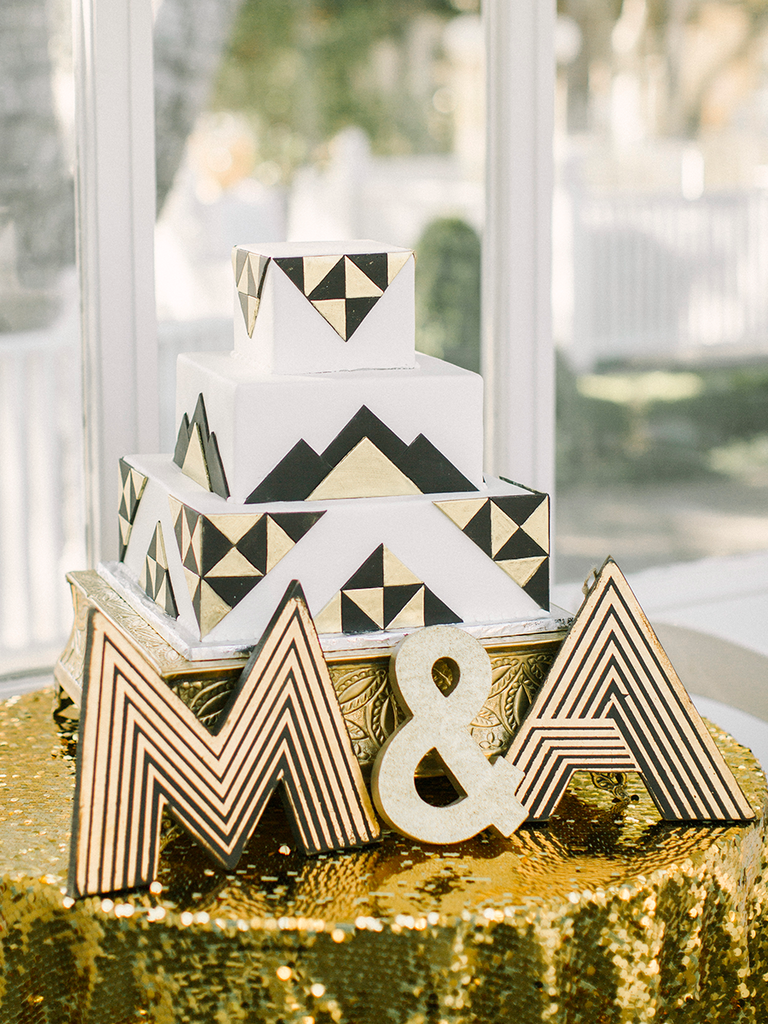 Keep the metallic theme going with a sequined dessert table covering.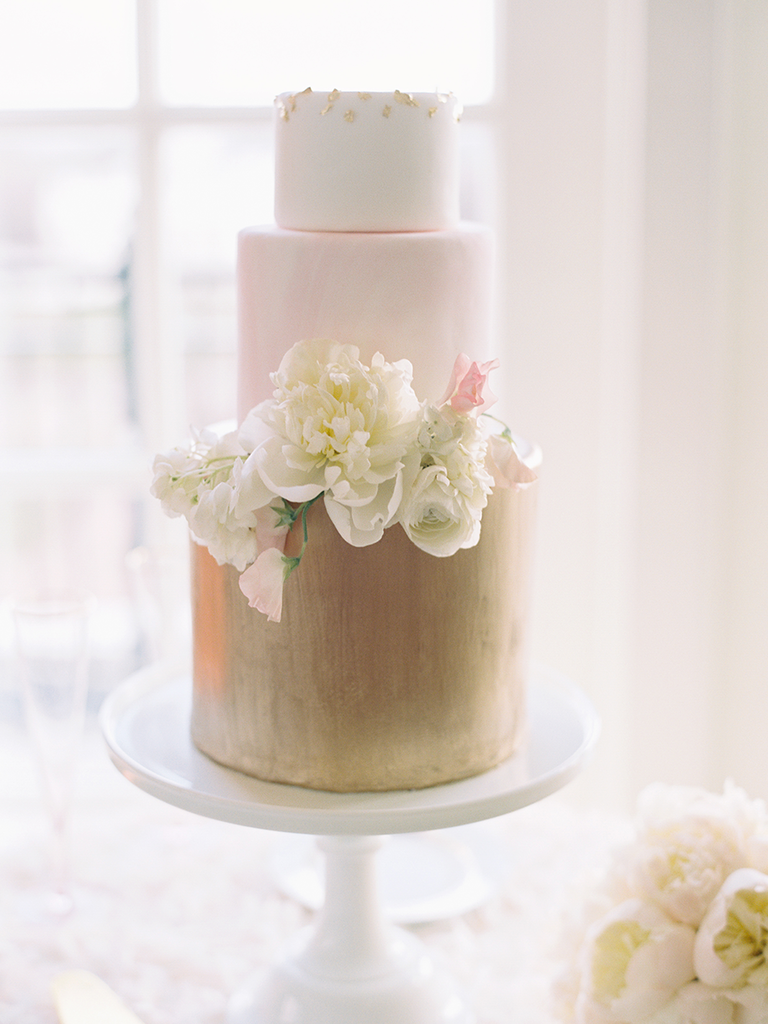 You can ask your baker to play with different metallic materials. Maybe one tier is totally covered while another has textured gold leafs to tie the design together.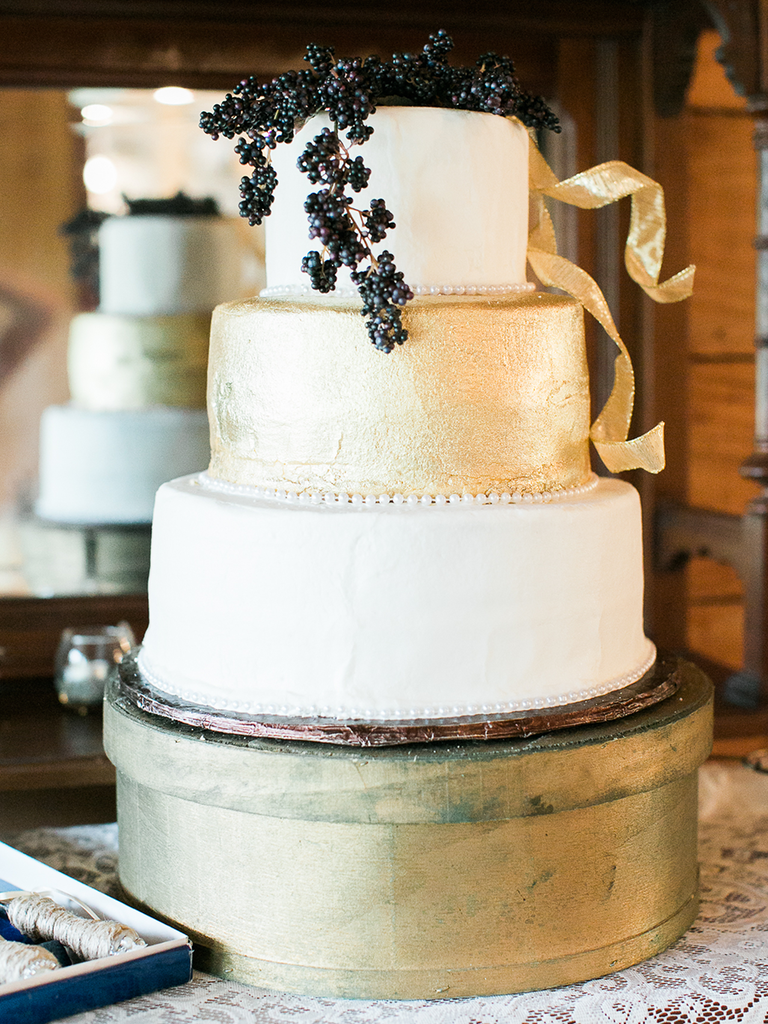 Shimmering buttercream is just as beautiful as a foil or fondant design. Ask your baker what they specialize in to get the best possible results.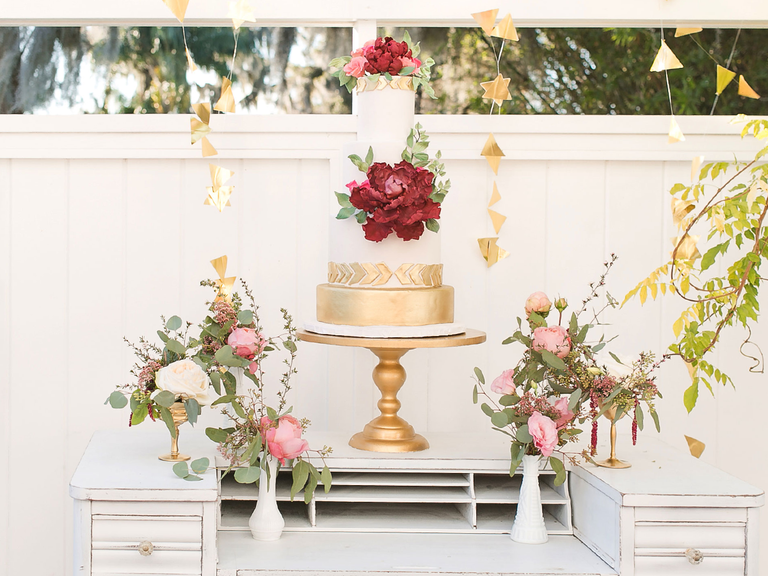 Love the boho arrow design on your wedding cake? Mirror it with a cutout garland to create a coordinated display.
Cake inspiration can come from just about anywhere. These two were replicas of the venue's wall décor that can be seen behind the dessert table.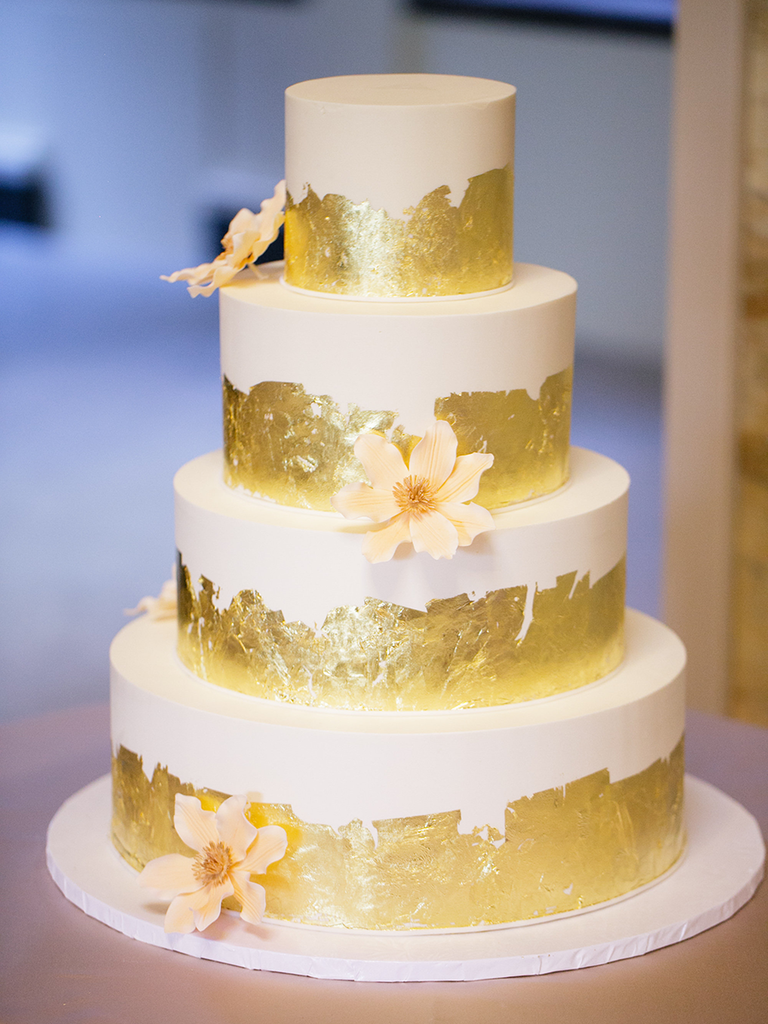 Clean edges and smooth lines make for a very modern, chic look.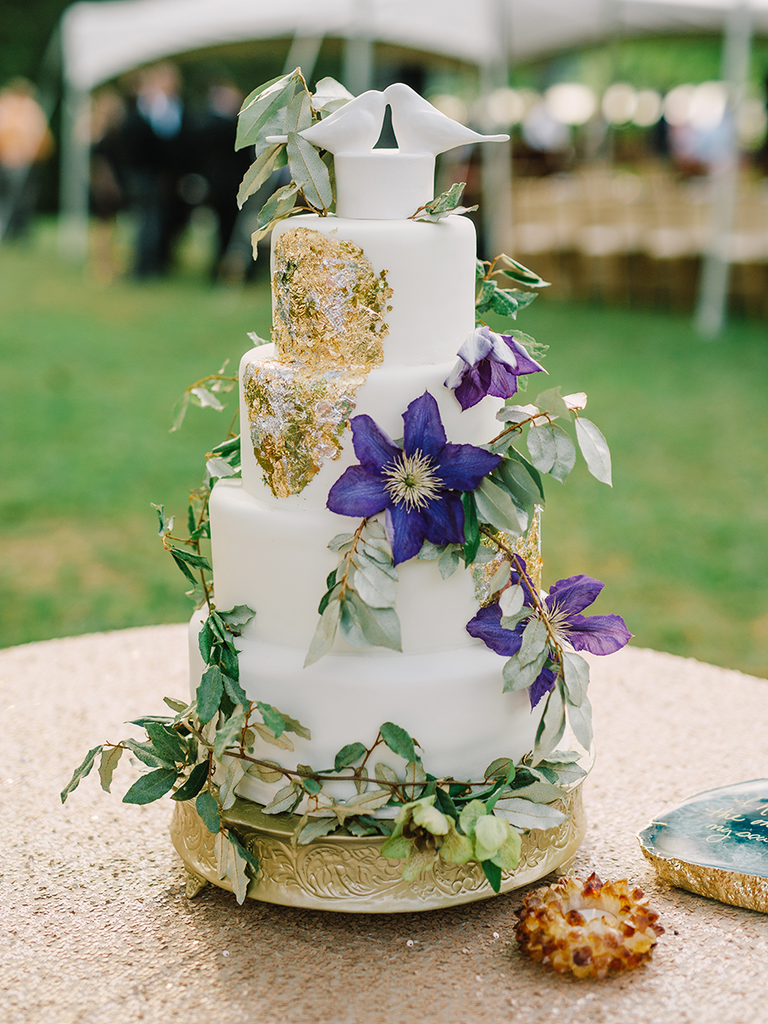 For a romantic style, consider a sweeping floral vine with small metallic accents to fill the bare spaces.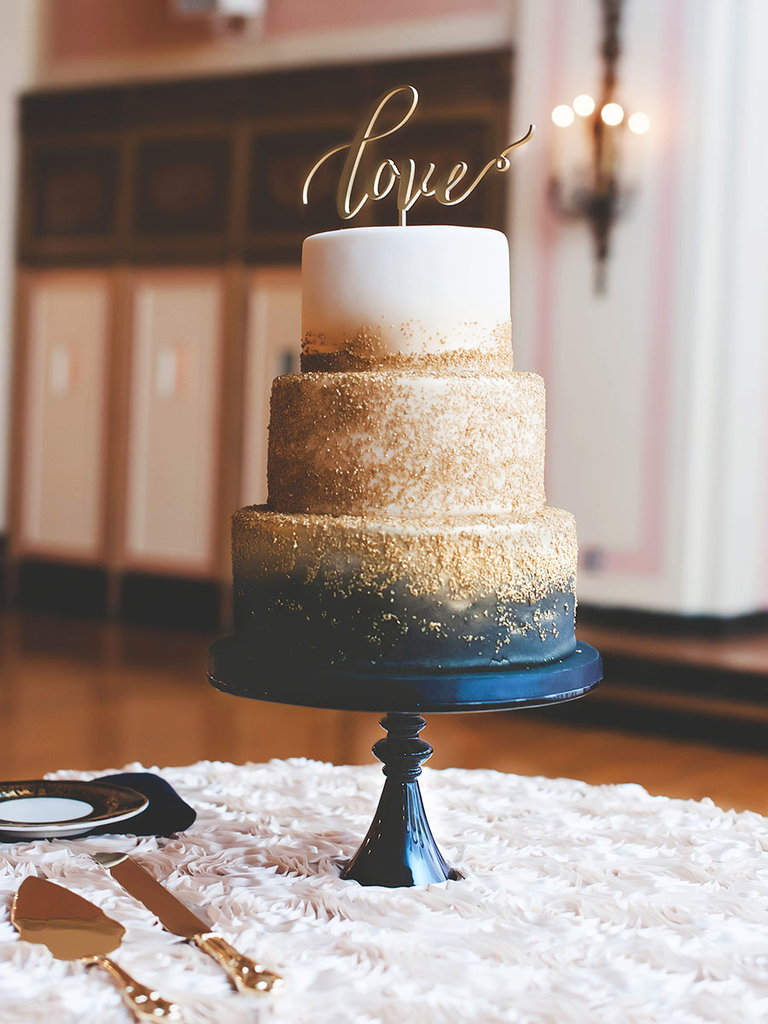 Include your cake stand into the fun with an ombré color scheme leading up from the platform. With a translucent metallic glitter accent you can still admire the design without too much being covered up.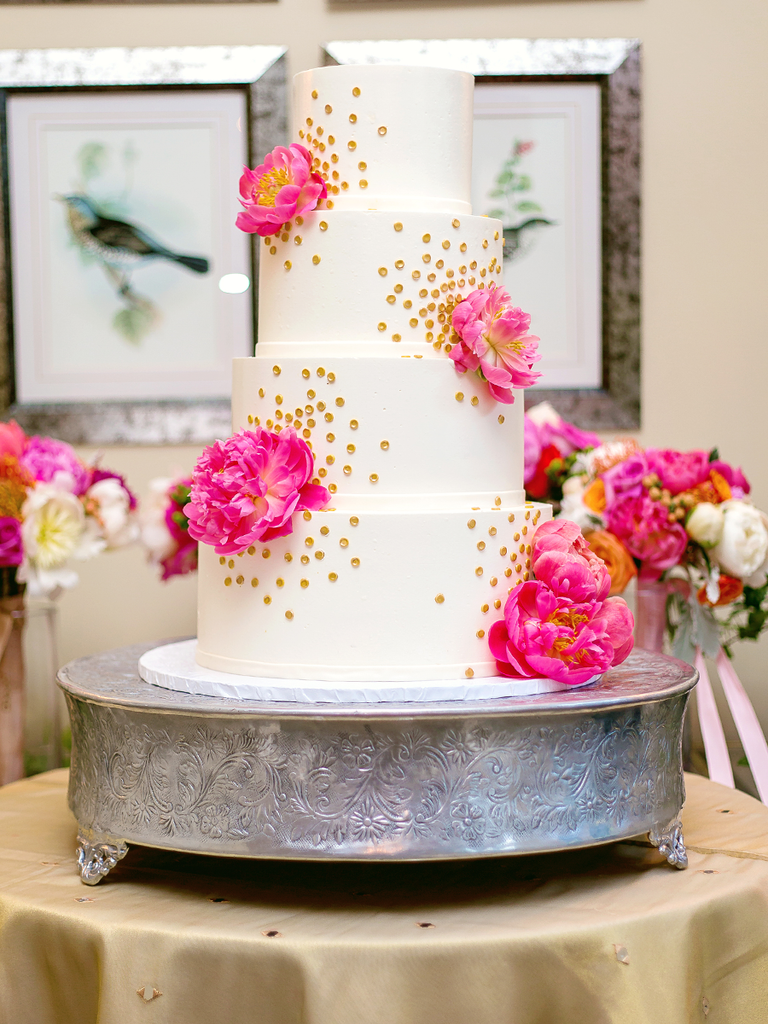 If you're going for a preppy look, accent with fresh peonies and gold polka pots for an extra pop.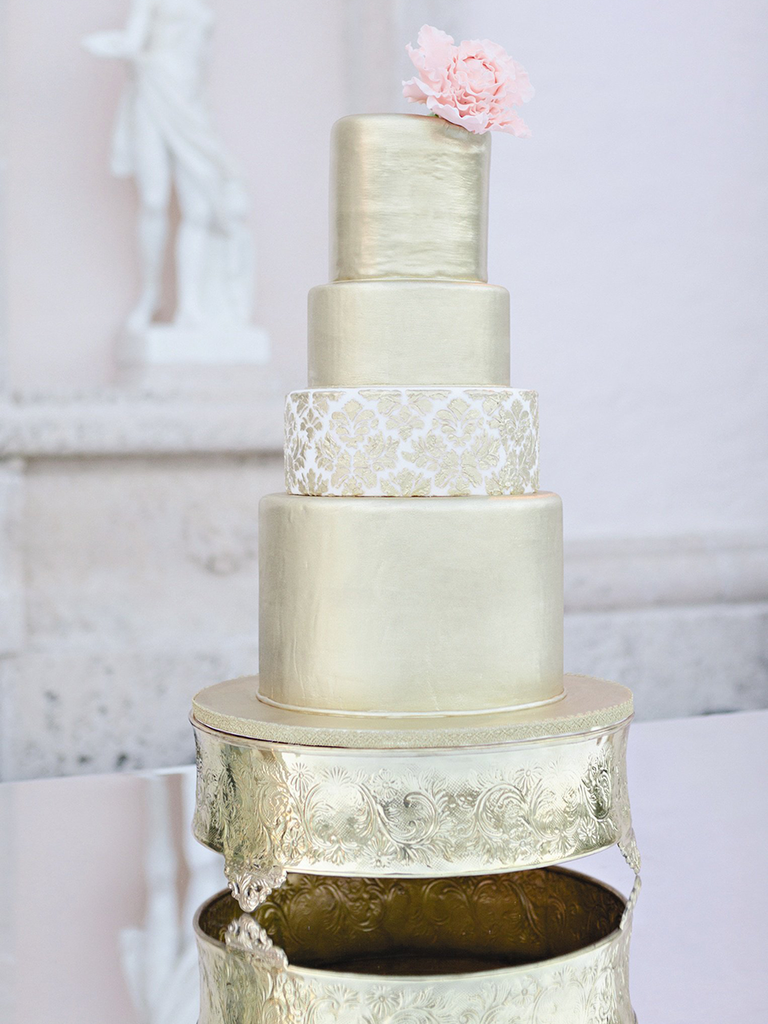 Instead of just accenting with a metallic, let it can take center stage. Consider a totally covered cake with a single tier of a smaller metallic print to add intrigue.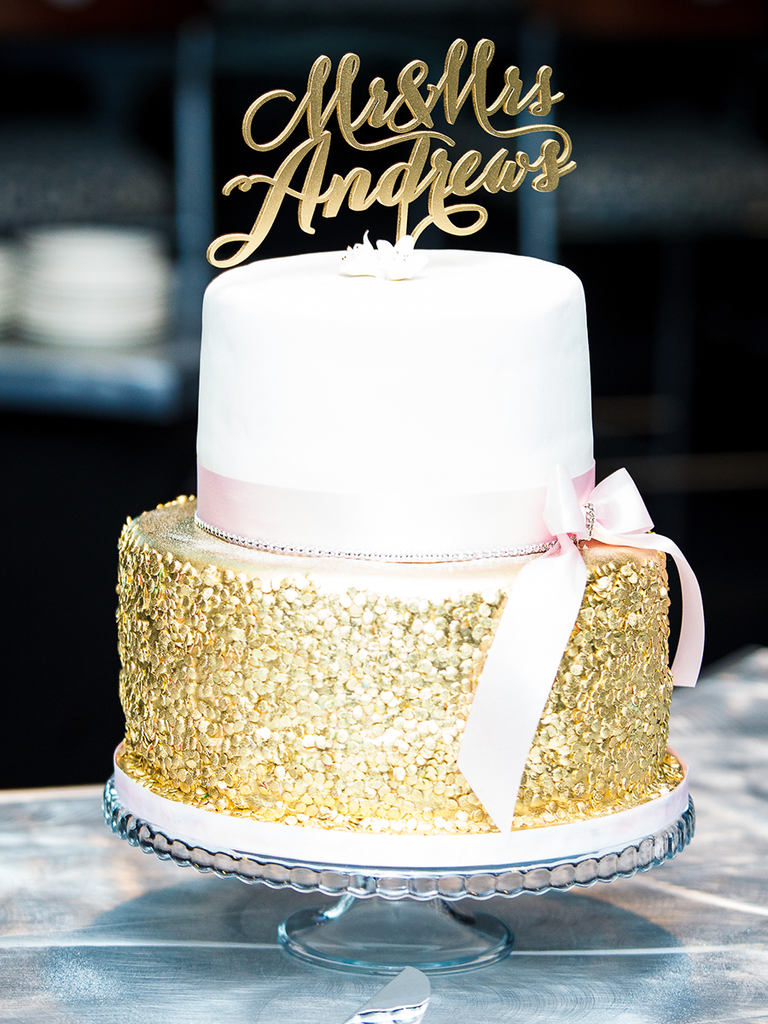 A tier fully covered with polka dots gives the illusion of texture and depth.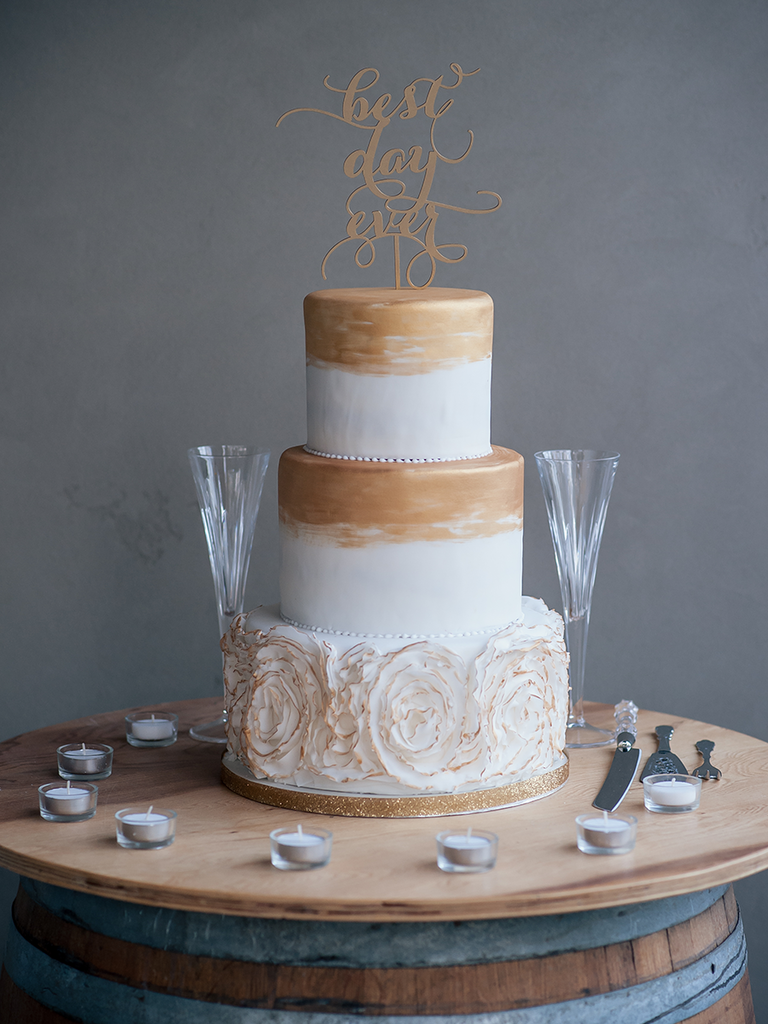 Full-scale rosettes with gold edging add an architectural element to the bottom tier of an otherwise simple confection.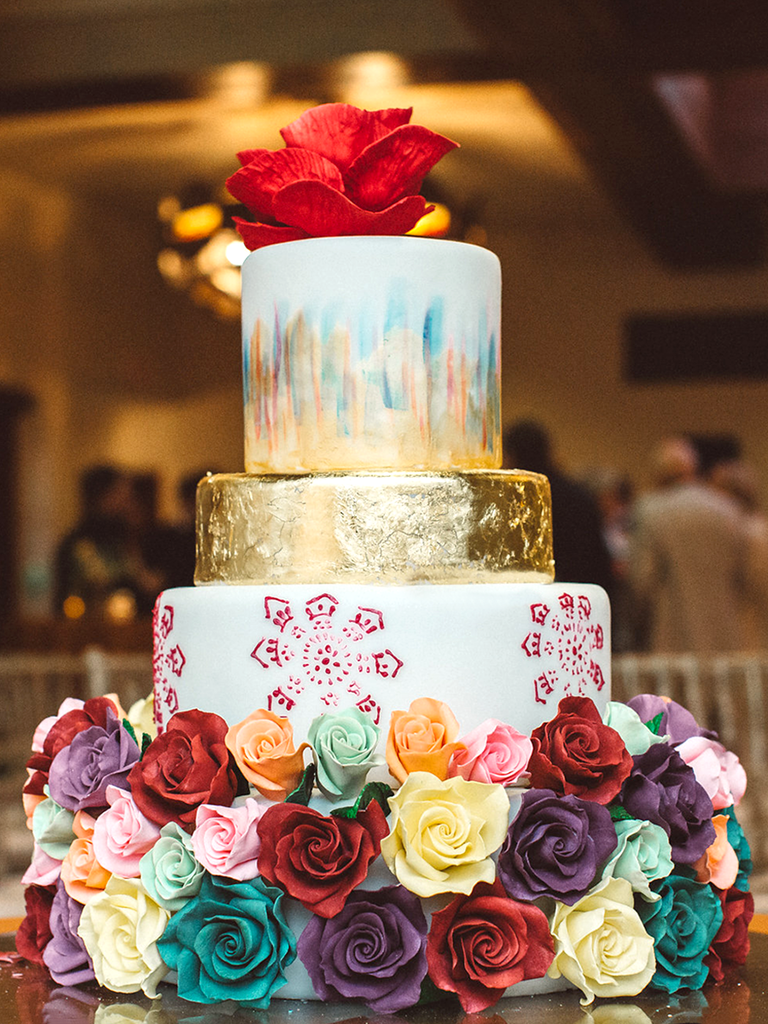 Metallics can accent any color scheme, including a rainbow palette of red, blue, teal and pink.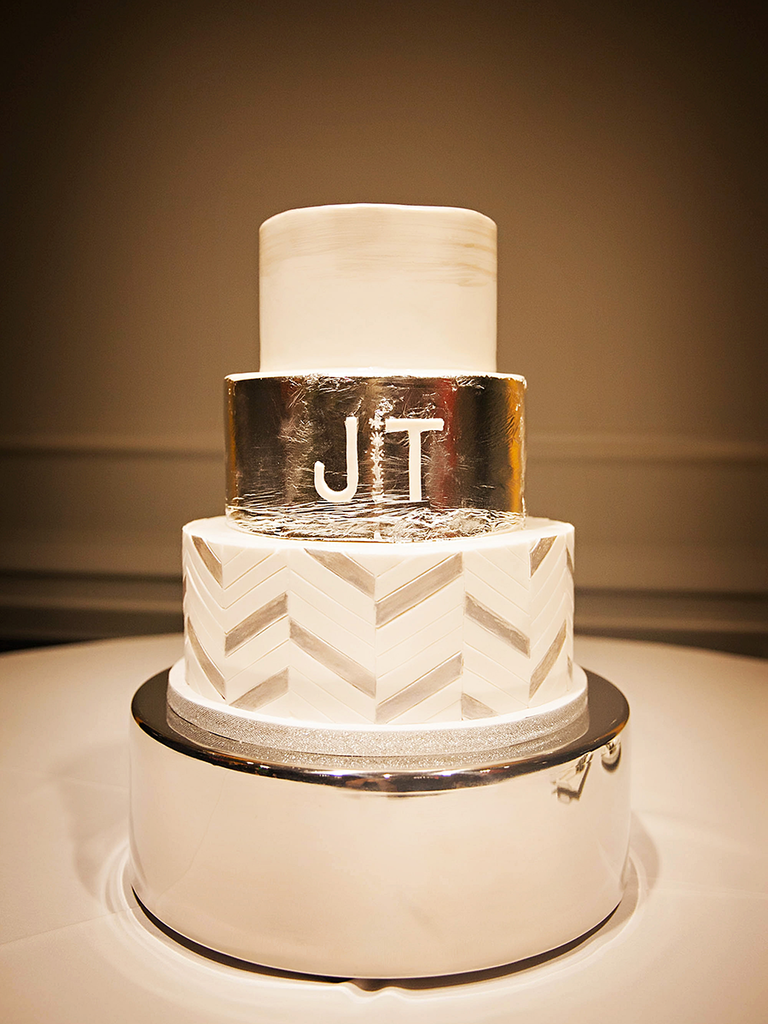 Depending on your venue or surrounding décor, silver might be the right metallic for you, or ask your baker what other options are available (like copper or rose gold).
Ready to find your
cake baker
?
Want more? Of course you do!
> What makes this cake cost $20 a slice?