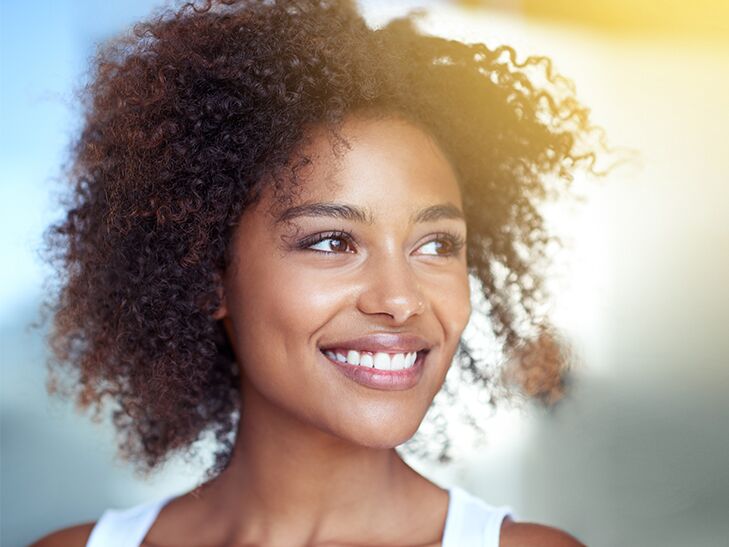 Forget finding the perfect shoes; your number one accessory come wedding day is your skin. Sure, you've got a lot on your mind (and your to-do list), but if you rack up too many late nights and skimp on your beauty routine, no amount of airbrush foundation or highlighter will give your complexion that lit-from-within glow. Here, six simple tips guaranteed to give your skin a boost.
1. Get your beauty rest
You know you should snooze at least seven hours each night to feel your best. But not logging the recommended hours could also cause dull skin that shows more fine lines and wrinkles, says dermatologist Jennifer Chwalek, MD, of Union Square Laser Dermatology in New York City. Science shows that while you sleep, skin goes into repair mode, fixing daily environmental damage from pollution, UV light and stress. If you stay up late night after night to edit your vows or redo your seating chart, you'll not only miss out on this natural glow-getting process, you'll likely have a surge in stress hormones that can lead to unwanted skin concerns like acne.
2. Stick to a regular skin care regimen
Getting into a routine with the right products can change the quality of your skin over time. In the Olay 28 Day Challenge, researchers studied women who used Olay Regenerist Micro-Sculpting Cream or Olay Total Effects Anti-Aging Moisturizer twice a day for 28 days. The formulas are specifically designed to improve skin texture and reduce the look of fine lines, and the study showed their effectiveness: Participants saw visible results immediately, and younger and more radiant-looking skin after four weeks of use.
3. Load up on H2O
Keeping your body hydrated is just as vital as a consistent skin care routine, since water helps clear inflammation- and blemish-causing toxins. "When we're dehydrated our skin becomes dry and dull," Chwalek says. While exactly how much you need to drink is up for debate (due to factors including your diet and activity levels), Chwalek says eight glasses a day is still a good amount to aim for. To get your fix, carry an insulated bottle that you can refill on the go.  
4. Curb your sweet tooth
Sugar and processed foods can cause inflammation in the skin and break down collagen and elastin, making skin look dull, saggy and wrinkle prone, Chwalek says. Try curbing sweet cravings with skin-boosting fruits like watermelon, which is rich in both vitamins A and C, says Naomi Whittel, author of Glow 15: A Science-Based Plan to Lose Weight, Revitalize Your Skin, and Invigorate Your Life. "Vitamin C assists the body in producing collagen, which helps give our skin strength and elasticity; it's essentially the 'glue' that helps hold the body together," she says. "Vitamin A is an anti-inflammatory and supports the health of our skin cells."
5. Exercise often
You may be exercising more frequently to get fit and work off stress leading up to your big day. But increasing your sweat sessions can also help your complexion look more radiant over time. "Exercise is important because it increases blood flow to the skin, which facilitates the removal of toxins while also bringing oxygen and nutrients to the skin," Chwalek says. "Any exercise that gets your heart rate up will help to create a glowing complexion, but yoga in particular can reduce stress and cortisol levels," Chwalek says. When cortisol is elevated, "it can aggravate skin conditions such as acne, rosacea and eczema."   
6. Roll away the puffiness
Jade rollers have been used since ancient times to massage the skin and reduce puffiness. "They can help to promote lymphatic drainage and improve circulation," Chwalek says. After going through your skin care routine, start with the large end of the roller at the center of the face and roll outward using short, gentle strokes, then use the smaller end to go gingerly around the eyes. Pro tip: Keep your roller in the freezer or fridge for a cooling sensation and to help with depuffing.

Want clearer, more glowing skin in time for your wedding? Learn more complexion-boosting tips here, including how the Olay 28 Day Challenge can help.