21 Mouthwatering Gourmet Foods for Your Wedding
Make your wedding the most talked-about foodie event of the year.
Food is one of the best ways to bring people together at your wedding, especially when it's worthy of a foodie's five-star rating. Not only does interesting food get people talking, but when small bites are brought to them by way of an attendant, it encourages non-stop mixing and mingling. (Think: they won't have to leave their social circle to stand in a food line!)
When thinking about your foodie menu, the most important factor to consider is seasonality. For example, late summer is the perfect time to count on the height of tomato season to deliver an amazing caprese salad. Your wedding season dictates what your freshest (aka most delicious and affordable!) options will be. Here are 21 of our favorite gourmet picks that are sure to be approved by even the most bourgie palettes.
Caviar-Topped Canapes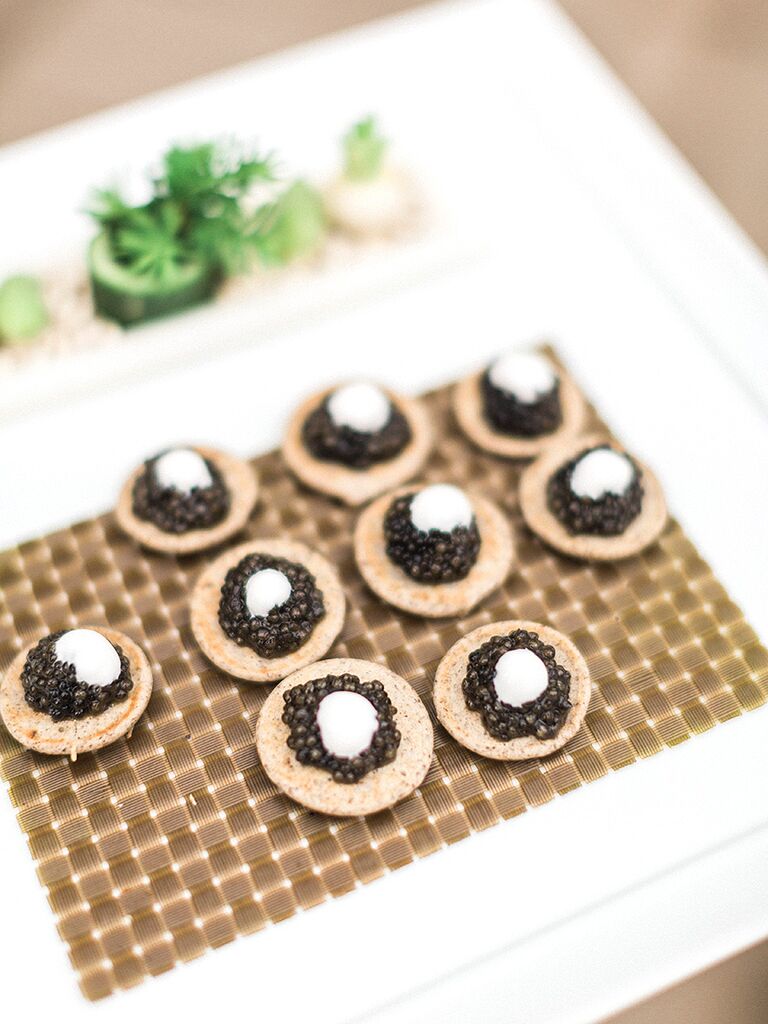 From: A Stunning, Intimate Wedding at 620 Loft and Garden in New York, New York
Prosciutto and Freshly Shaved Parmesan
From: A Bright, Modern Wedding at 404 NYC in Manhattan, New York
Elegantly Stacked Appetizer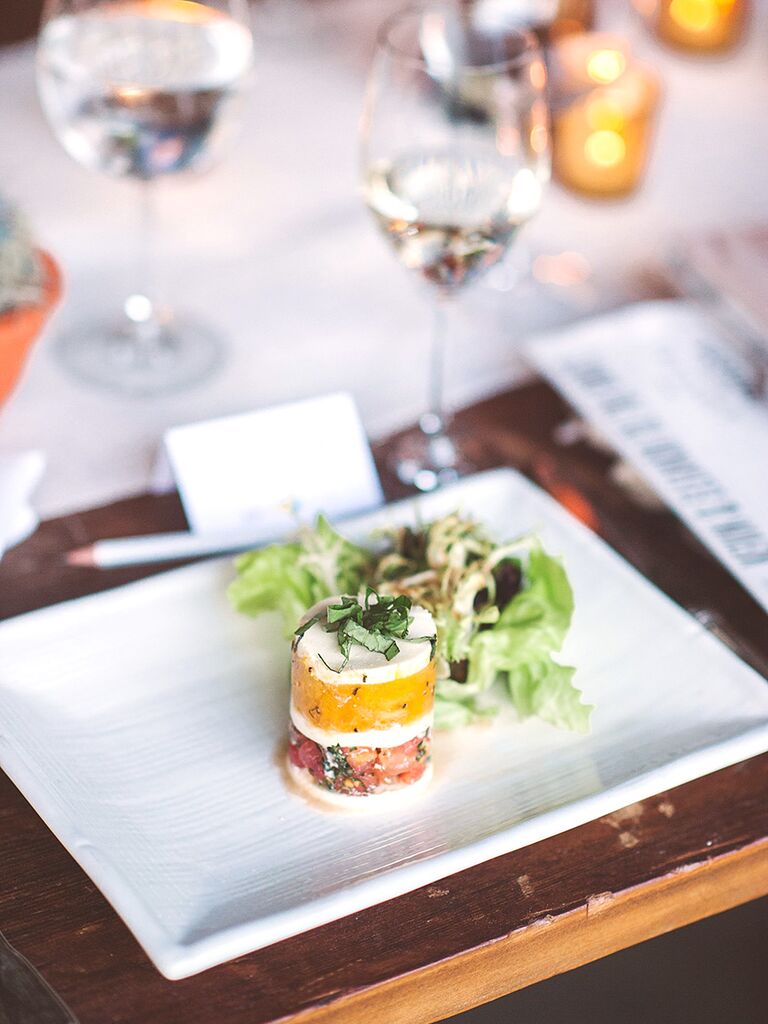 From: A Murray Hill Wedding in Leesburg, Virginia
Lamb Meatballs With Rosemary Yogurt Appetizers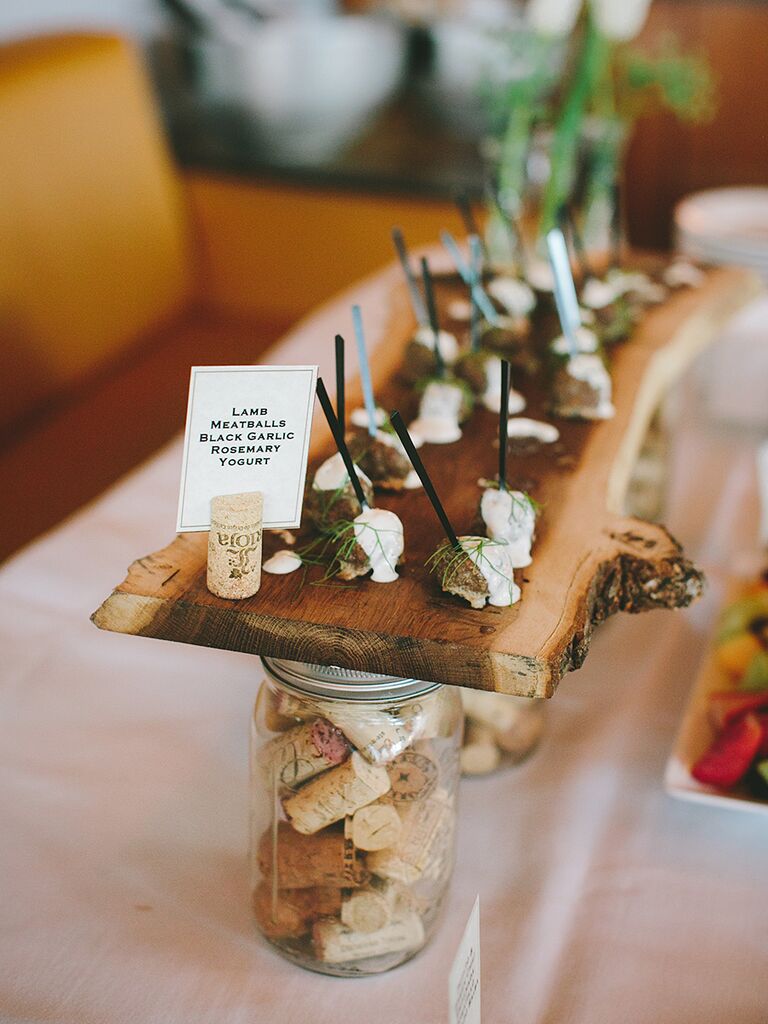 From: A Romantic Neutral-Colored Wedding at South Park in Lawrence, Kansas
Shrimp Cocktail Shooters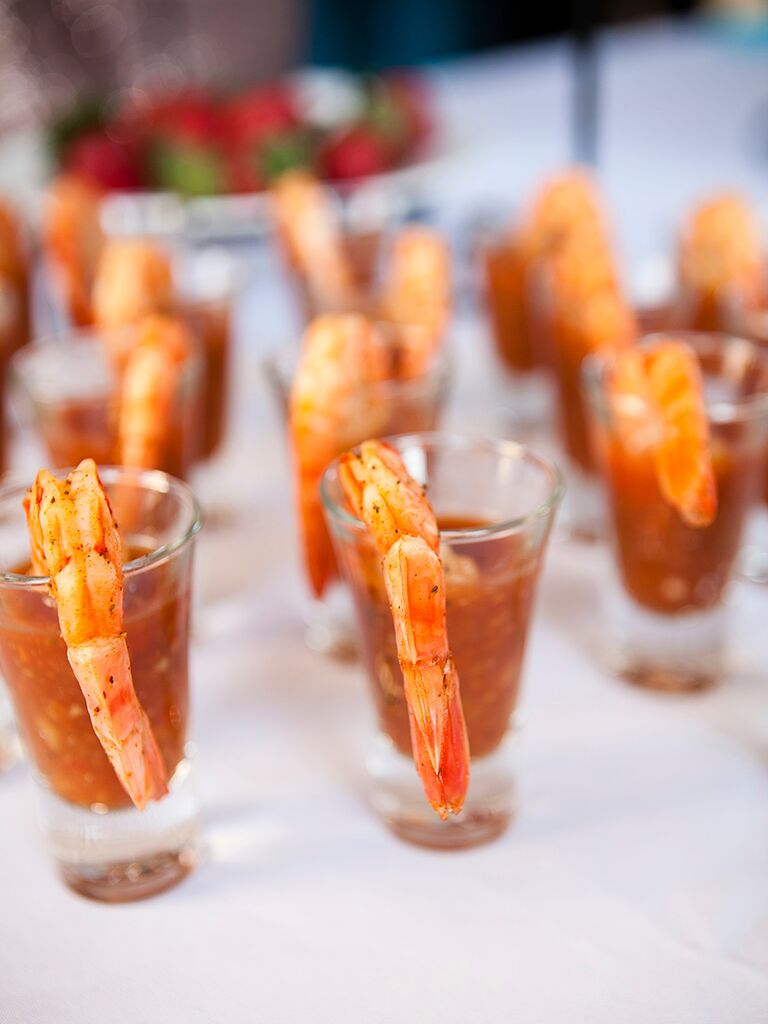 From: A Playful Classic Wedding at the Spoleto Festival USA Building in Charleston, South Carolina
Watermelon Cubes With Burrata and Balsamic Vinegar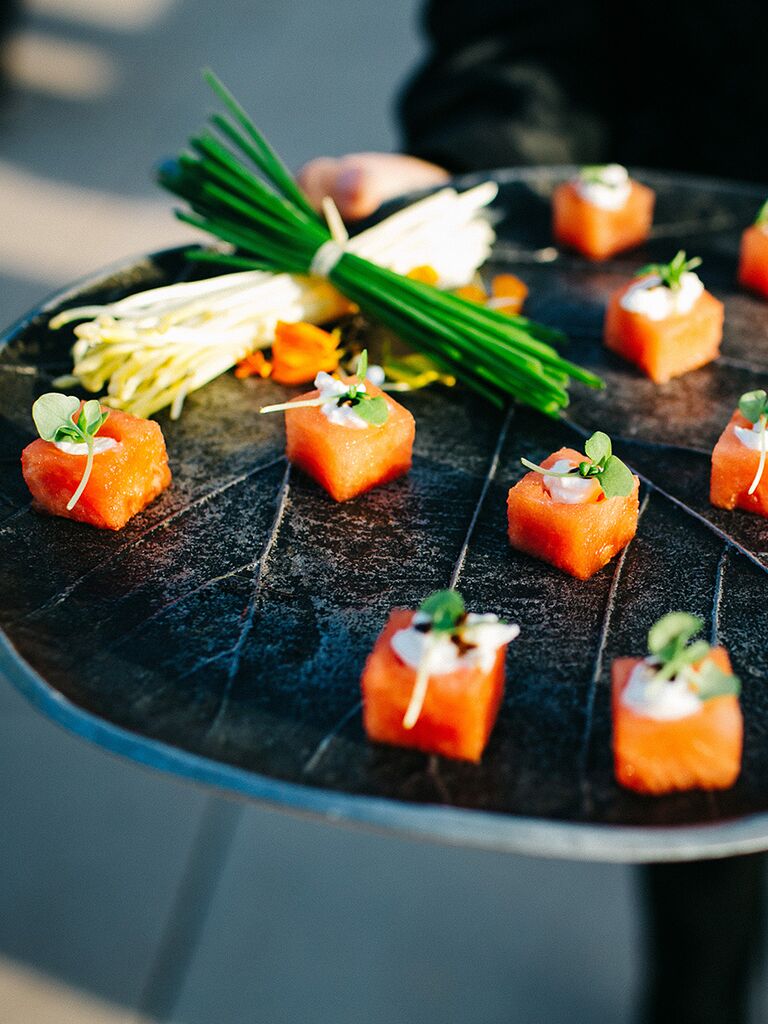 From: A Modern, Garden-Inspired Wedding at Morgan Manufacturing in Chicago, Illinois
Tempura Green Beans With Spicy Mayo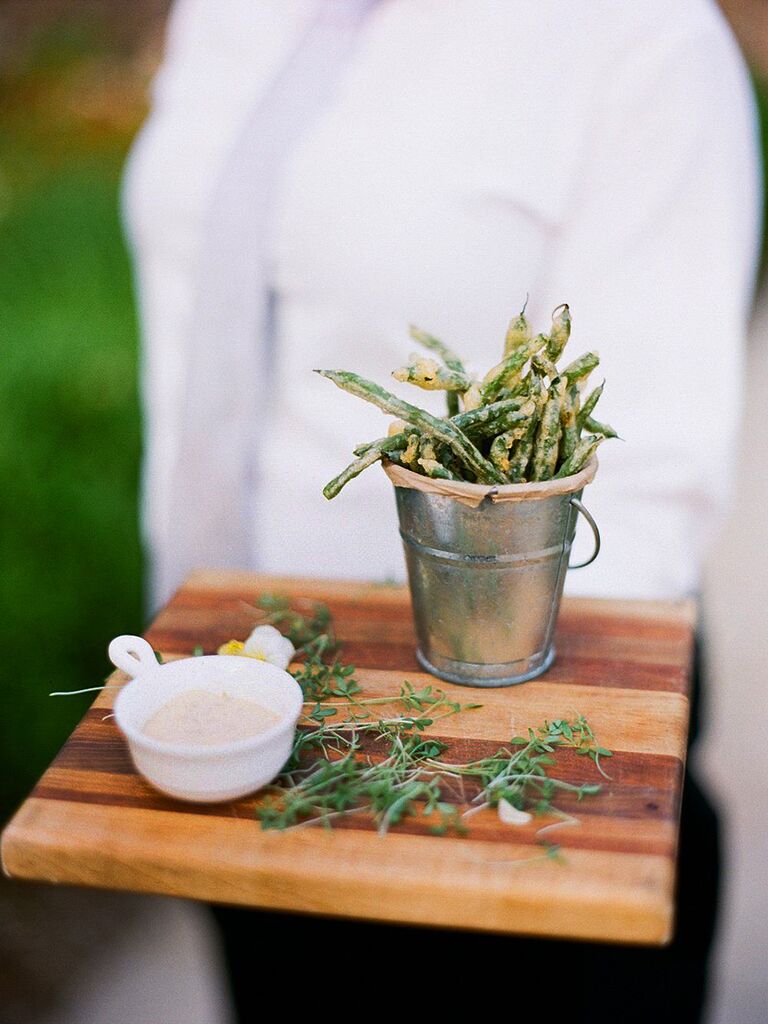 From: A Timeless Elegance Wedding at Pippin Hill Farm & Vineyards in North Garden, Virginia
Lobster and Mashed Potatoes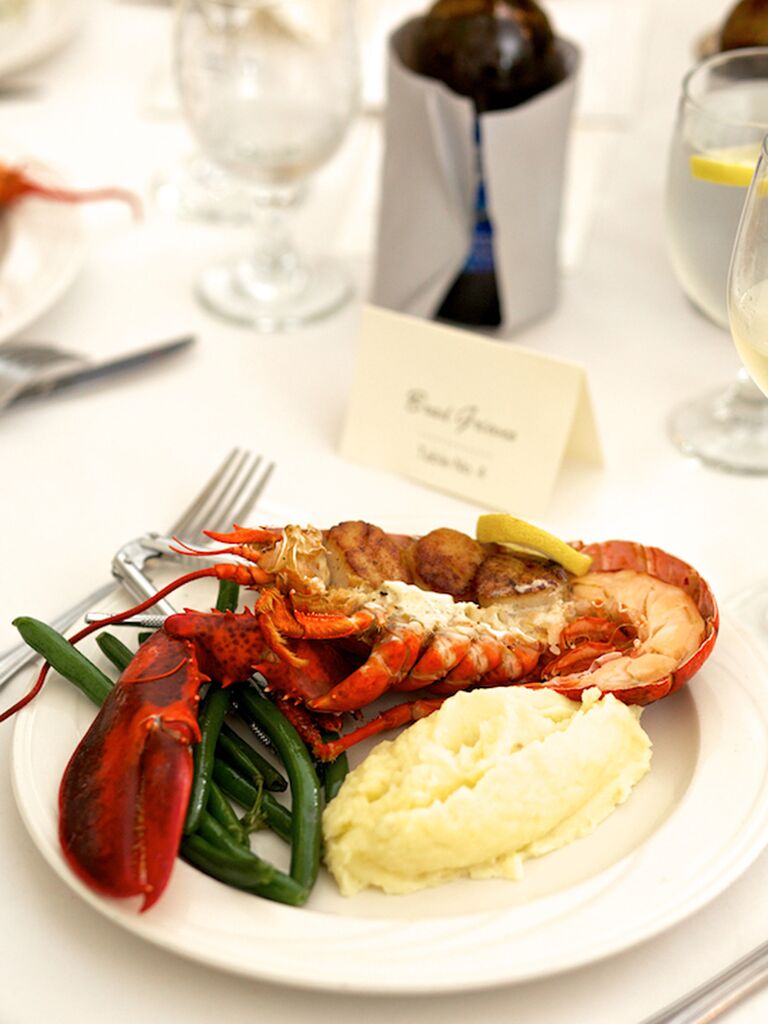 From: An Elegant Fall Wedding at The Water's Edge at Marshy Point in Baltimore, Maryland
Prosciutto Wrapped Persimmons With Goat Cheese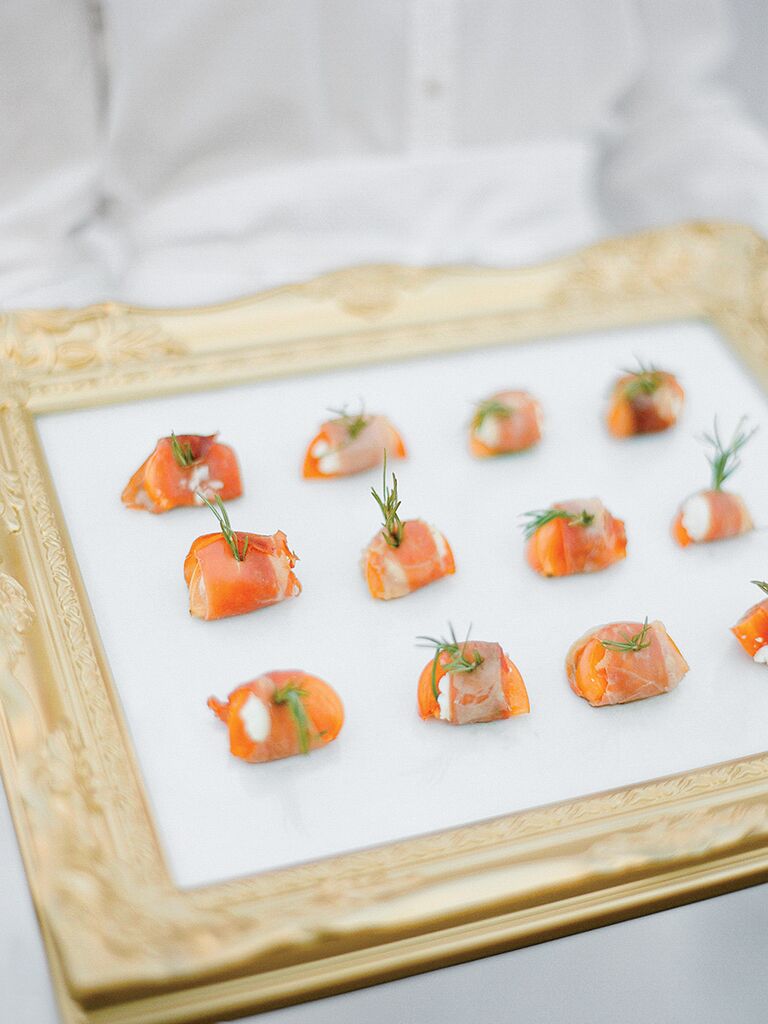 From: An Eclectic Wedding at Miller Nurseries in Canandaigua, New York
Mozzarella and Roasted Tomatoes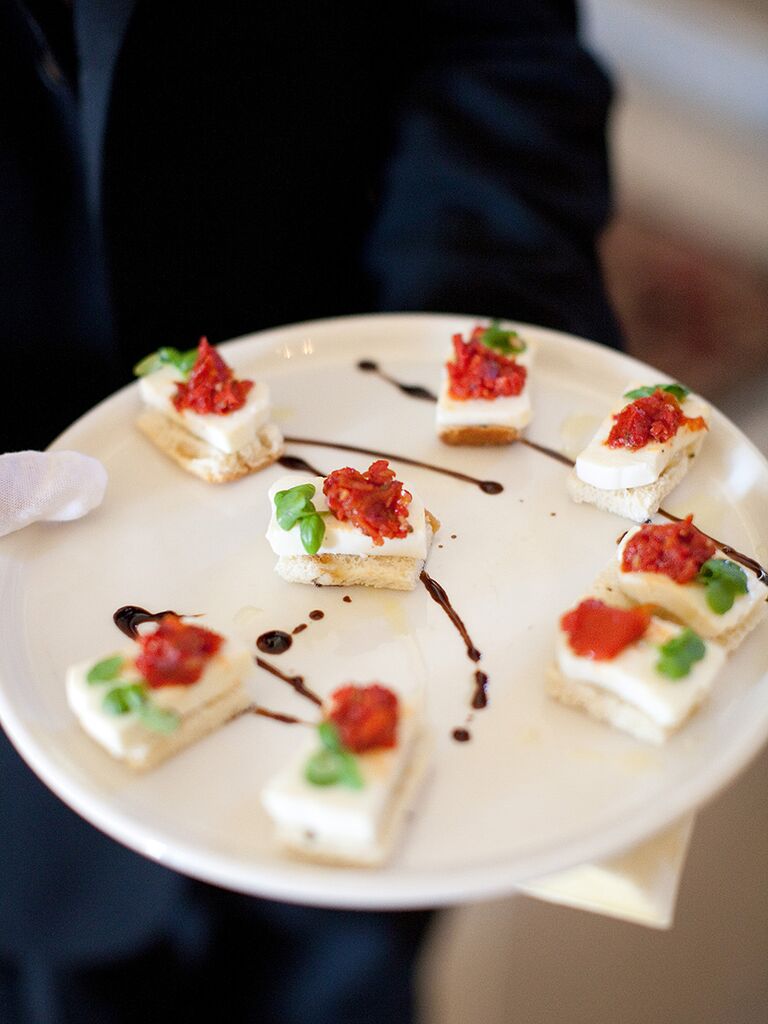 From: An Oheka Castle Wedding in Huntington, New York
Small Taco Bites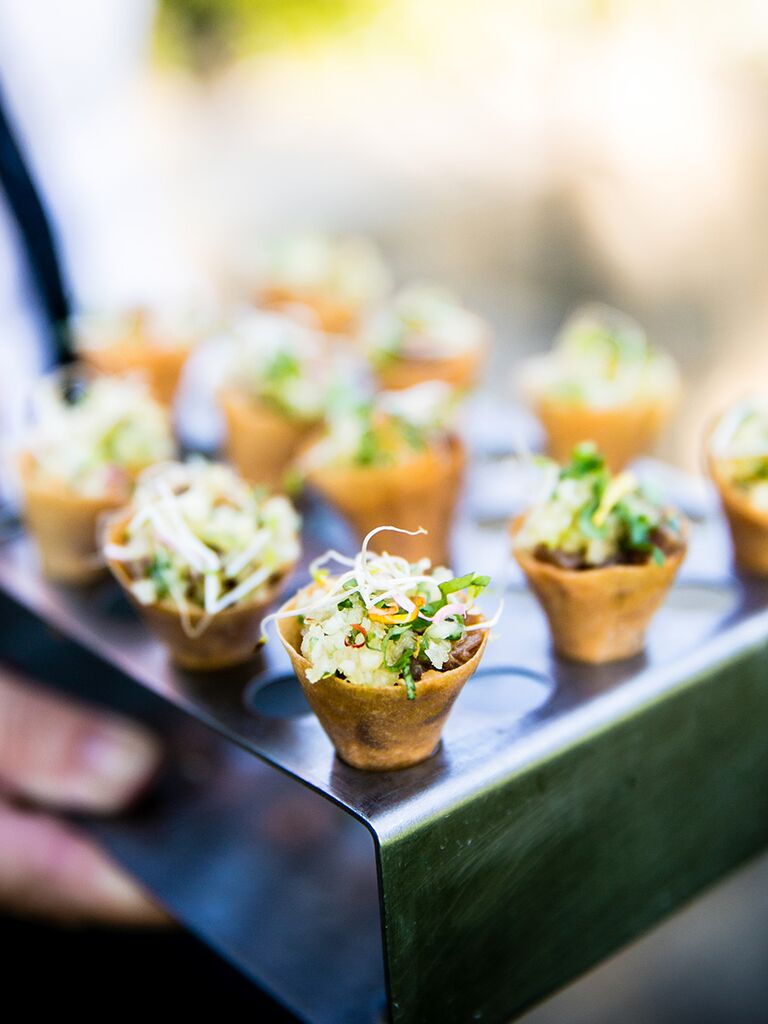 Fresh Cheese and Herbs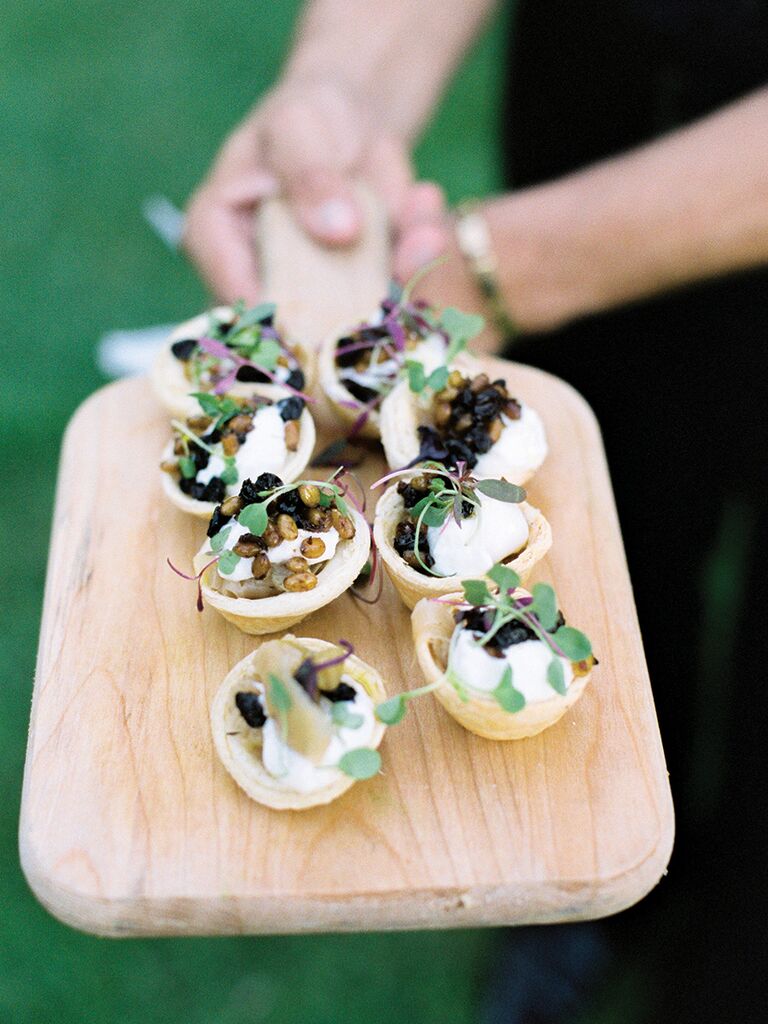 From: A Rustic , Organic-Inspired Wedding at Saddlerock Ranch in Malibu, California
Seared Tuna with Wasabi Seaweed Salad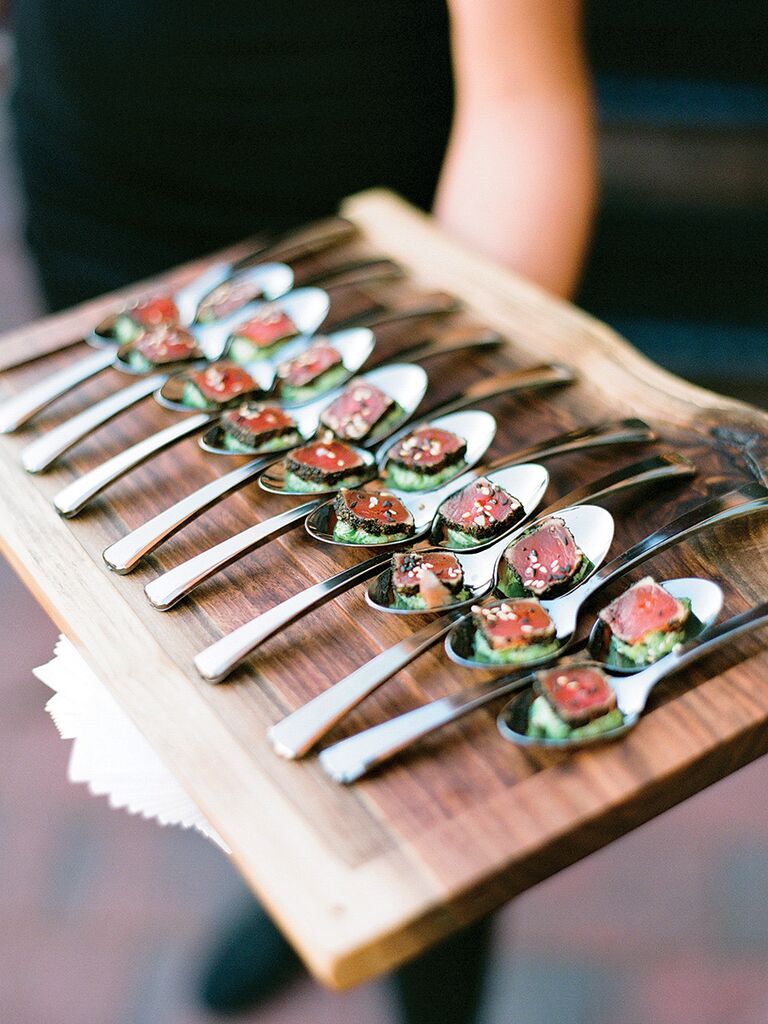 From: A Romantic, Book-Themed Wedding at Liberty Warehouse in Brooklyn, New York
Meatballs and Sugar Snap Peas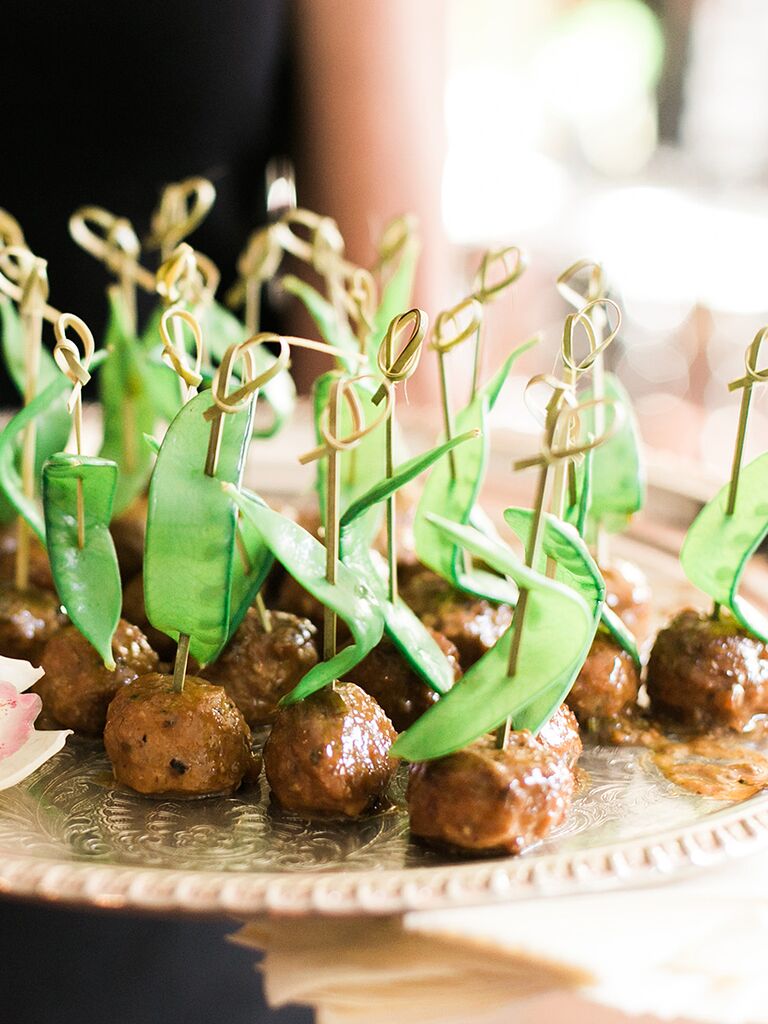 From: A Romantic, Vintage-Glam Wedding at Lord Thompson Manor in Thompson, Connecticut
Goat Cheese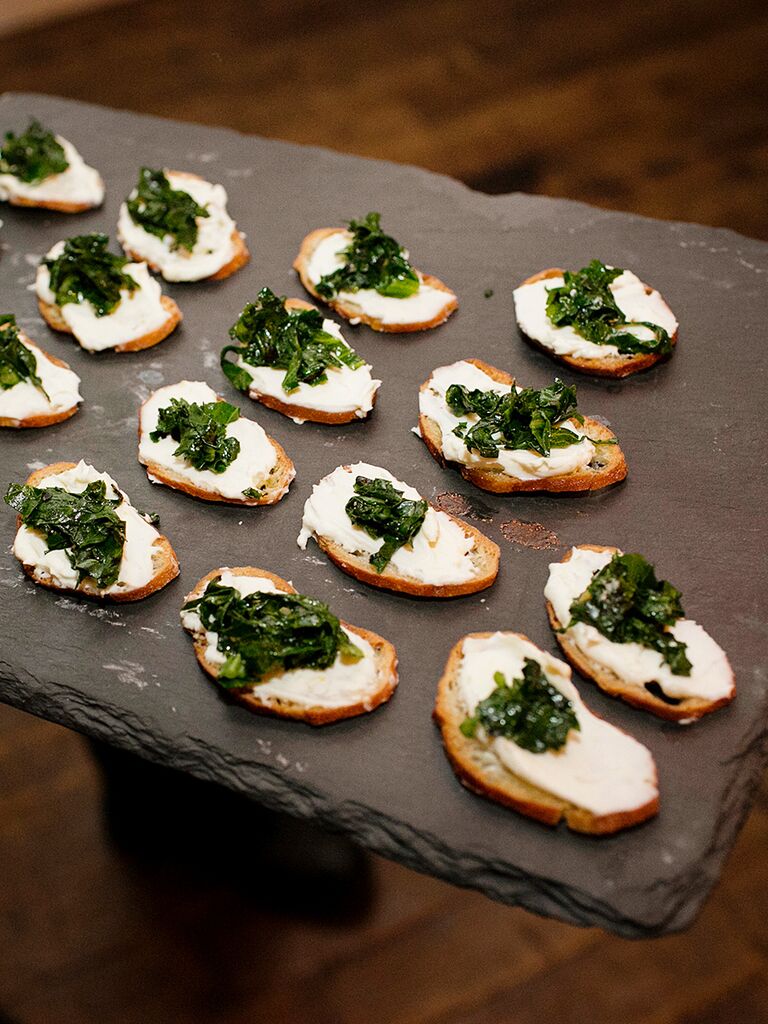 From: A Sophisticated, Chic Wedding at Haven's Kitchen in New York, New York
Pot Sticker Dumplings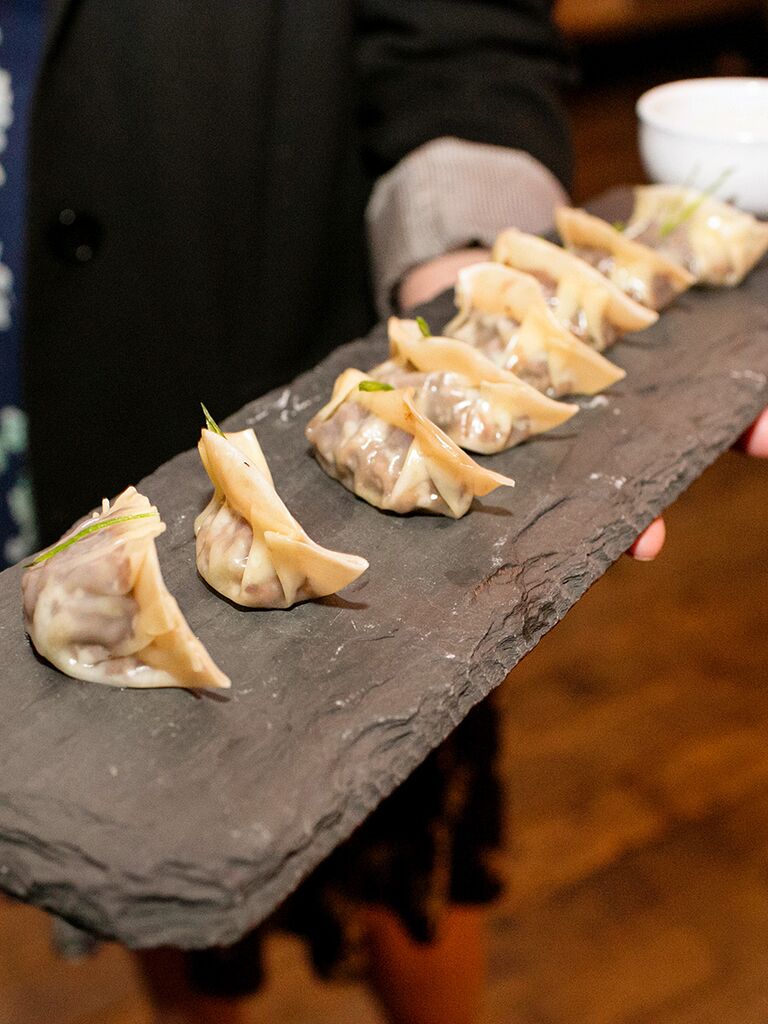 From: A Sophisticated, Chic Wedding at Haven's Kitchen in New York, New York
Fresh Tomatos and Mozzerella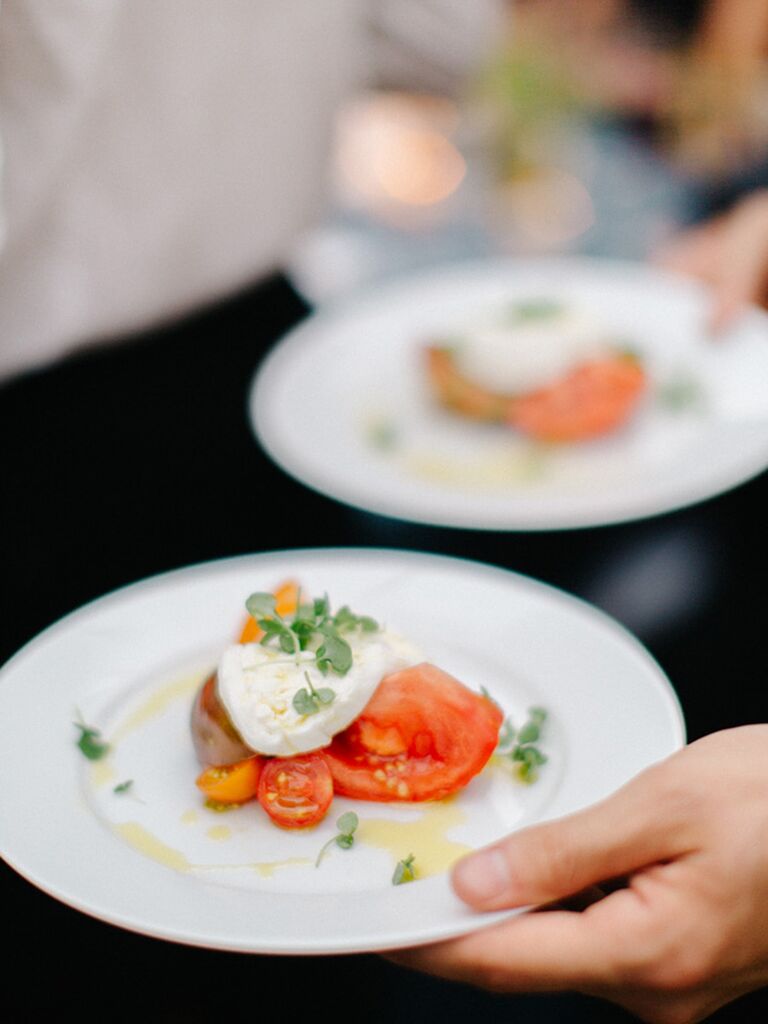 Maple Bacon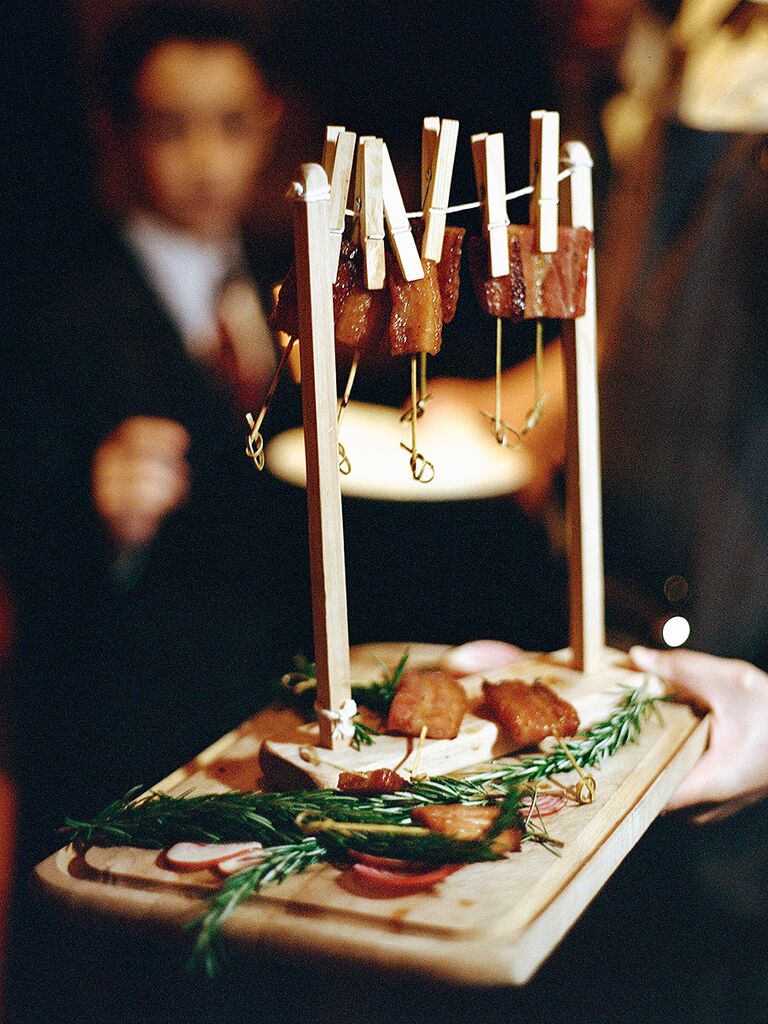 From: An Intimate, Garden-Inspired Wedding at David Burke Kitchen in New York, New York
Lobster Dumplings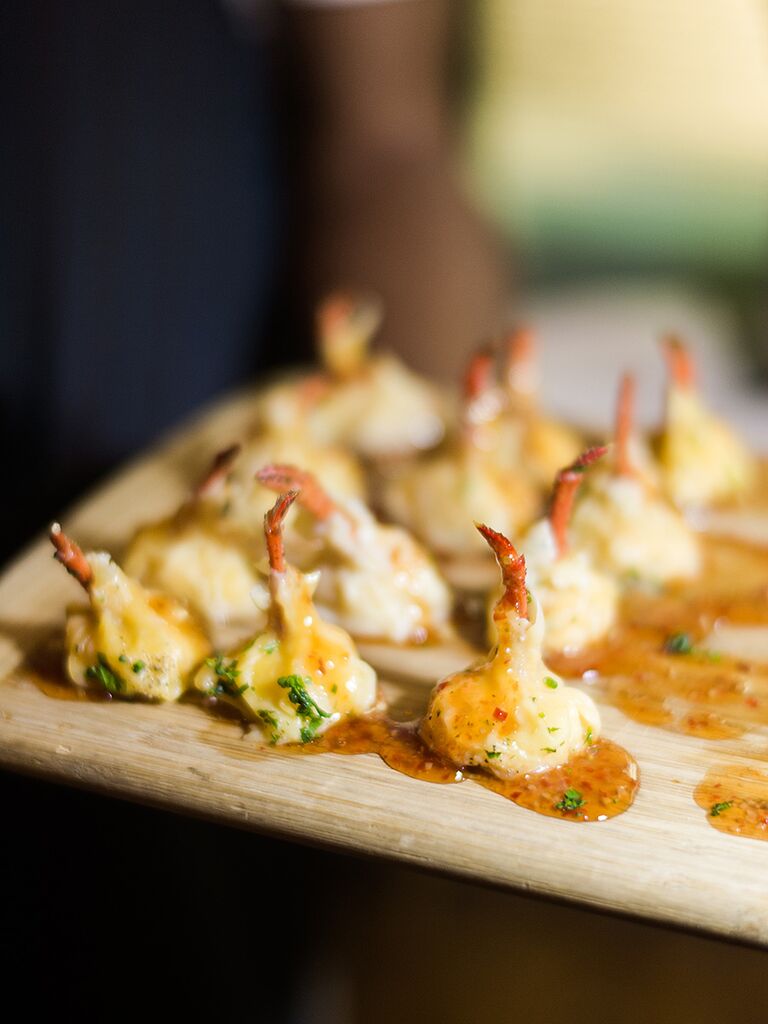 From: An Intimate, Garden-Inspired Wedding at David Burke Kitchen in New York, New York
Fresh On-the-Vine Roasted Romatos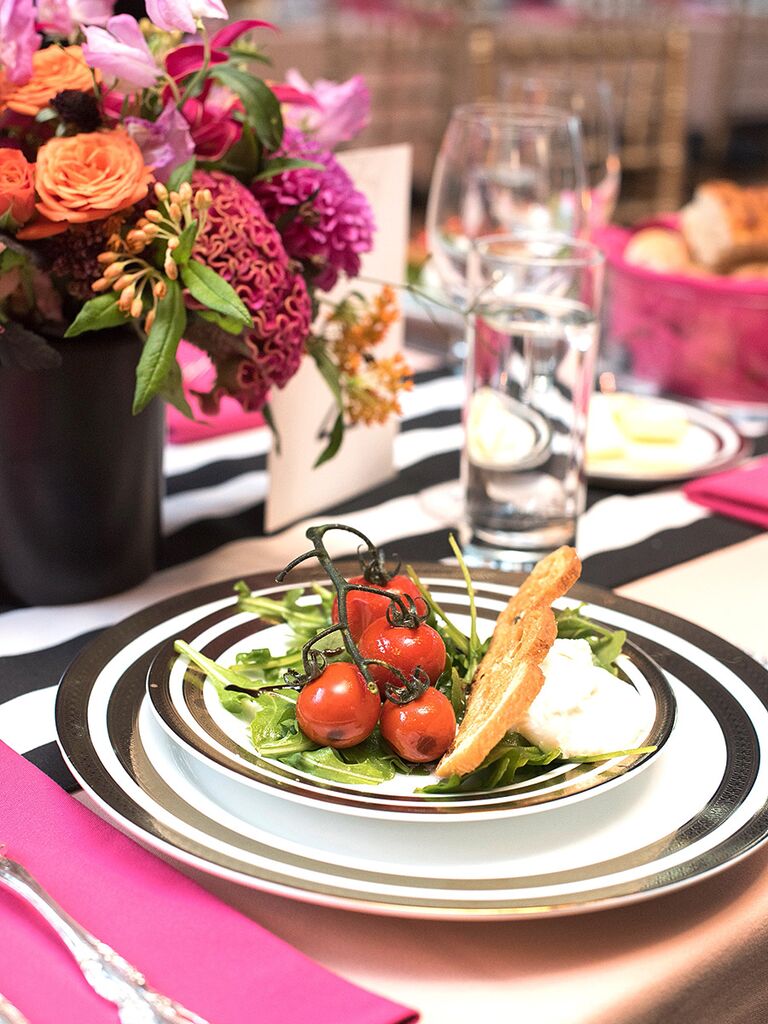 From: A Vibrant Summer Wedding at 501 Union in Brooklyn, New York
Stacked Cheese Wheel Wedding Cake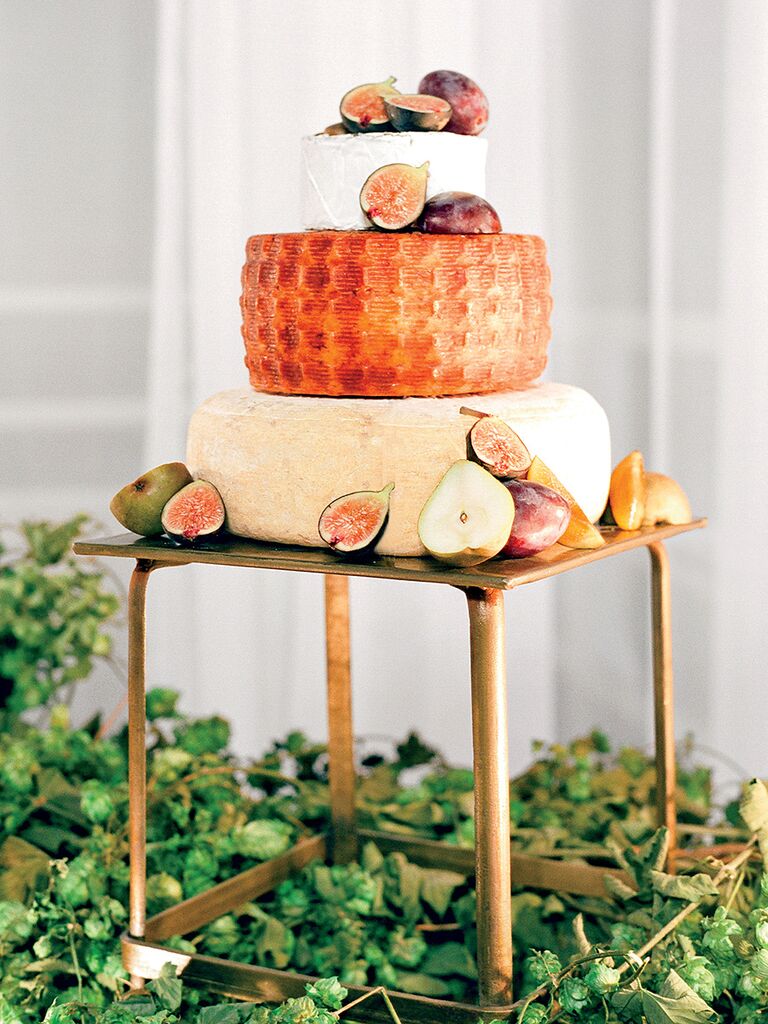 From: An Eclectic Wedding at Miller Nurseries in Canandaigua, New York