You're Going to Love The Newest Grace Loves Lace Collection
Get ready for the sequal to "Pinterest's Most-Pinned" wedding dress.
by Andrea Fowler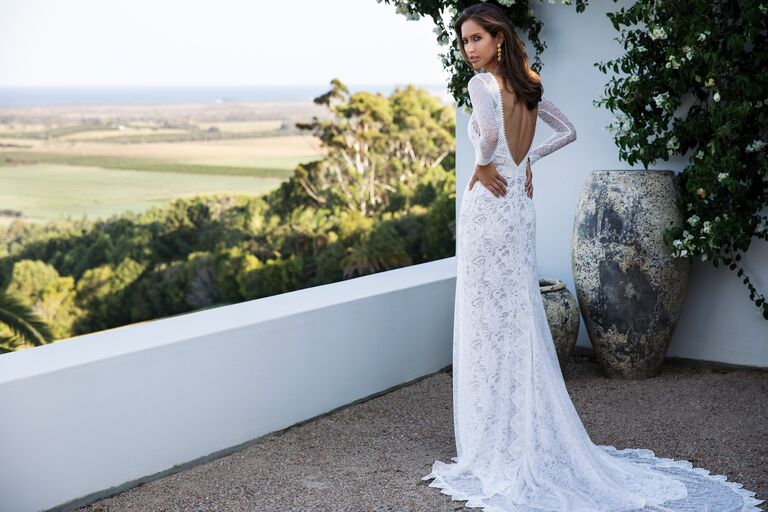 Grace Loves Lace/Jen Stenglein Photography
Remember the most-pinned wedding dress? Get ready for round two. Grace Love Lace just released their Elixir collection, filled with effortlessly romantic dresses that are perfect for the boho bride thanks to the fun off-the-shoulder details, unexpected fabric combinations and sexy silhouettes. 
What kind of bride was the collection designed for? "She's Electric," says Megan Ziems, Founder and Creative Director of Grace Loves Lace. "She's passionate, captivating, she has soul. We don't design with the Bride in mind—we always have a strong sense of who the Woman is."

Gowns range from $1,500 to $4,000 and are available online and in their showrooms. Check out the new dresses below!
Grace Loves Lace/Jen Stenglein Photography

Grace Loves Lace/Jen Stenglein Photography

Grace Loves Lace/Jen Stenglein Photography

Grace Loves Lace/Jen Stenglein Photography

Grace Loves Lace/Jen Stenglein Photography

Grace Loves Lace/Jen Stenglein Photography

Grace Loves Lace/Jen Stenglein Photography

Grace Loves Lace/Jen Stenglein Photography

Grace Loves Lace/Jen Stenglein Photography

Grace Loves Lace/Jen Stenglein Photography

Grace Loves Lace/Jen Stenglein Photography

Grace Loves Lace/Jen Stenglein Photography

Grace Loves Lace/Jen Stenglein Photography

Grace Loves Lace/Jen Stenglein Photography

Grace Loves Lace/Jen Stenglein Photography

Grace Loves Lace/Jen Stenglein Photography