The Reason Why This Grandpa Was Best Man in His Grandson's Wedding Is Seriously Sweet
And will definitely make you cry.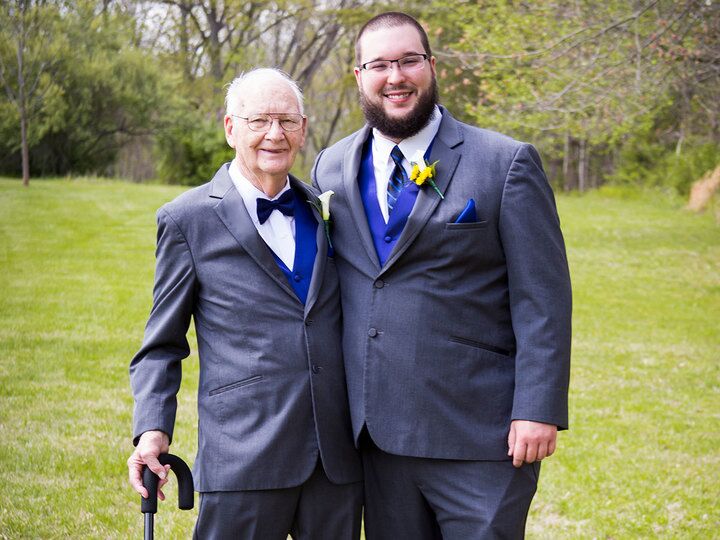 Imari's Imagery
We've seen our fair share of grandmas serving as bridesmaids and flower girls in their granddaughters' weddings, but a recent news story about a grandpa who was the best man in his grandson's wedding may have brought a tear or two to our eyes.
According to WDRB, the groom, KC Schafer, has wanted his 90-year-old grandfather Charles to be his best man since he was 7 years old. KC and Charles were especially close because KC and his mother lived with Charles and his now late wife, Shirley, growing up. Charles was also retired when KC was born, so they got to spend lots of time together. He always attended KC's baseball games and practiced with him in the backyard.
"He was always getting into things, crawlin' around," Charles told the outlet. "He was rambunctious, but he was a good ol' boy. Good kid."
However, he didn't pay much attention to KC's best man comments, thinking it was just something funny a child says. But when KC got engaged to his partner, Sarah, he didn't forget his wish and asked Charles to be his best man. Before he knew it, they were trying on tuxes together. Even sweeter is the fact that Charles and his wife, Shirley, who were married for 65 years until she passed away in 2016, were married on April 15—which was KC and Sarah's wedding date too.
"It just happened to be on a Saturday as well," KC says. "So it worked out perfect, like it was meant to be... I always said, if I could have half the marriage and be half the man he is, I'd be doin' well. I feel blessed to have him in my life. I wish everyone else could experience the love and guidance he has. I wouldn't be the man I am today without him."
See the photos of Charles and KC on his wedding day below, shot by Imari's Imagery.