44 Gray Bridesmaid Dresses in All Your Favorite Shades
This cool neutral color is hot right now. Dark gray bridesmaid dresses? Light gray bridesmaid dresses? We've got them all and everything in-between.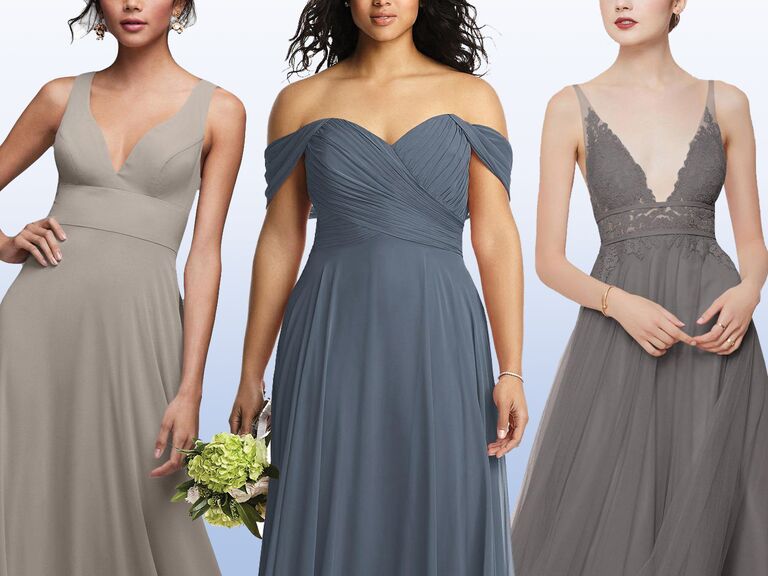 We have included third party products to help you navigate and enjoy life's biggest moments. Purchases made through links on this page may earn us a commission.
There's a reason why gray is quickly becoming one of the most popular wedding colors: It makes any color palette feel instantly sophisticated, and it's soft enough not to feel overpowering. That's also why gray bridesmaid dresses, more specifically, are taking the wedding world by storm.
From über-chic blue and purplish slate to trendy greige (think: a pretty combination of gray and beige), the hues work with a variety of fabrics and are also perfect for mismatched bridal parties. Opt for charcoal sequins for an ultra-glam feel or go for ethereal dove gray for a more bohemian vibe. Whether you choose dark gray bridesmaid dresses, light gray bridesmaid dresses or any of the many shades in-between, your side of the aisle will be a hit.
No matter the natural hue you choose, you can't go wrong with this cool color. Keep scrolling to shop for some of our favorite gray bridesmaid dresses, conveniently broken out by popular length and shade, including those gray bridesmaid dresses that are long and elegant for your formal wedding. Be forewarned, though: there's lots of overlap between the different sections, so we recommend scrolling through the whole list to avoid missing out on any of the gorgeous options.
Gray Bridesmaid Dresses by Length:
Gray Bridesmaid Dresses by Shade:
Gray Bridesmaid Dresses by Length
One of the easiest ways to narrow down your bridesmaid dress search? Choose a length and filter your options from there. We've rounded up long and short gray bridesmaid dresses for every style here. Can't decide on a hemline? Gather your 'maids to try on a variety in-store. Or, better yet, have each attendant order a few options to try on at home—an amazing program Brideside offers.
Long Gray Bridesmaid Dresses
In simple terms, long equals formal. These gorgeous gray gowns exude elegance and are ideal for a fancier affair.
1. Watters Brielle bridesmaid dress in Pewter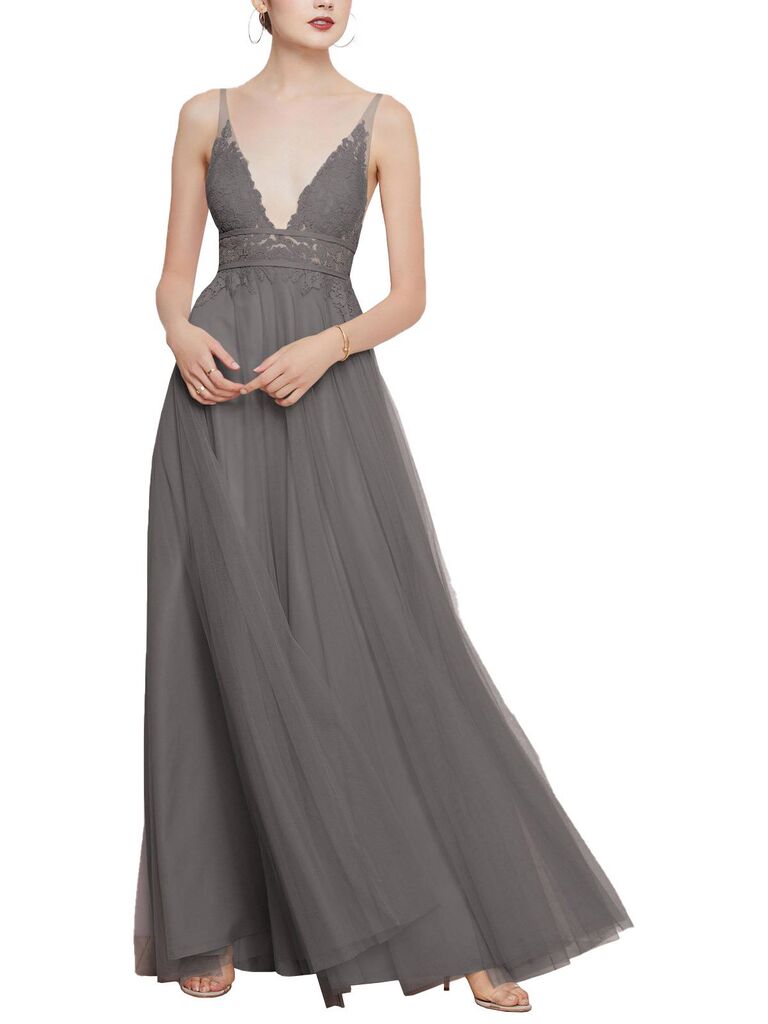 We'll kick things off with this ultra-romantic dark gray bridesmaid dress. The embroidered bodice is oh-so dreamy and perfectly pairs with an ethereal theme. Plus, like many other Brideside options, it's available in extended sizes including plus sizes.
From $310, Brideside.com
2. After Six Style 6808 bridesmaid dress in Platinum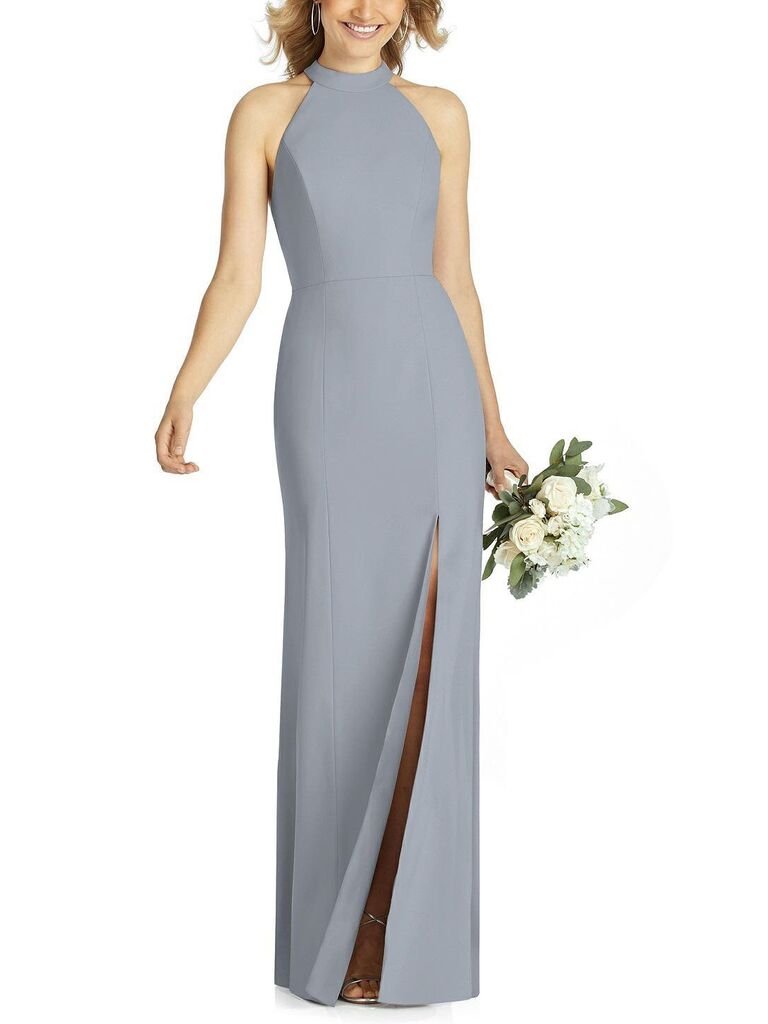 The glamorous high neckline sets this silvery gray bridesmaid dress apart. The silhouette is giving us major Meghan Markle-wedding-reception-dress vibes.
From $250, Brideside.com
3. Studio Design bridesmaid dress 4542 in Frost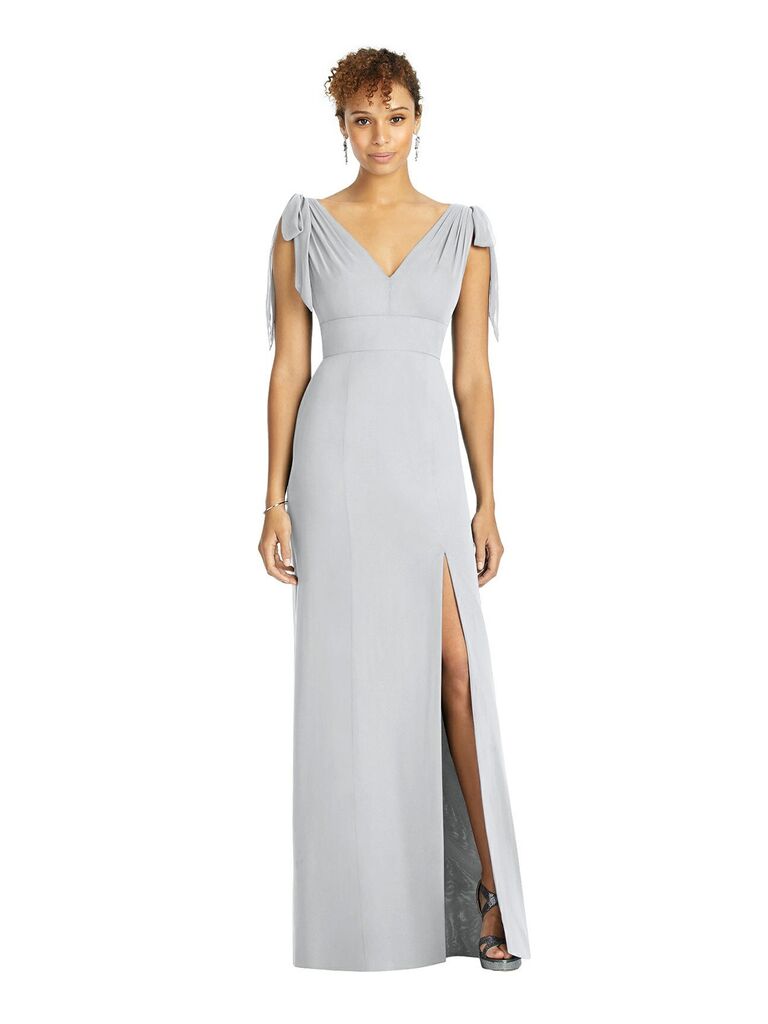 This long gray bridesmaid dress features wispy tied shoulders we love.
Price upon request, Dessy.com
4. Jenny Packham bridesmaid dress JP1013 in Platinum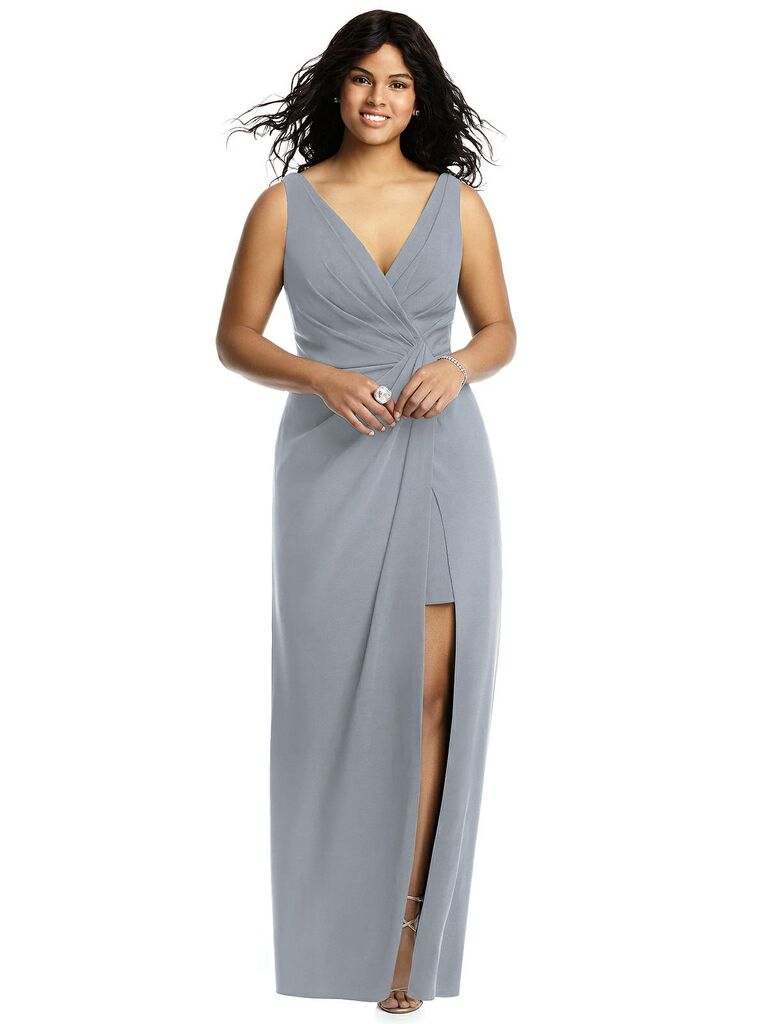 We're big fans of this sheath silhouette with a modern skirt side slit. This long gray bridesmaid dress also boasts a chic gathered waistline. We'll also take this opportunity to note that every gown The Dessy Group carries comes in plus sizes—we'll cheers to that.
From $268, Dessy.com
5. Bella bridesmaid dress BB124 in Charcoal Gray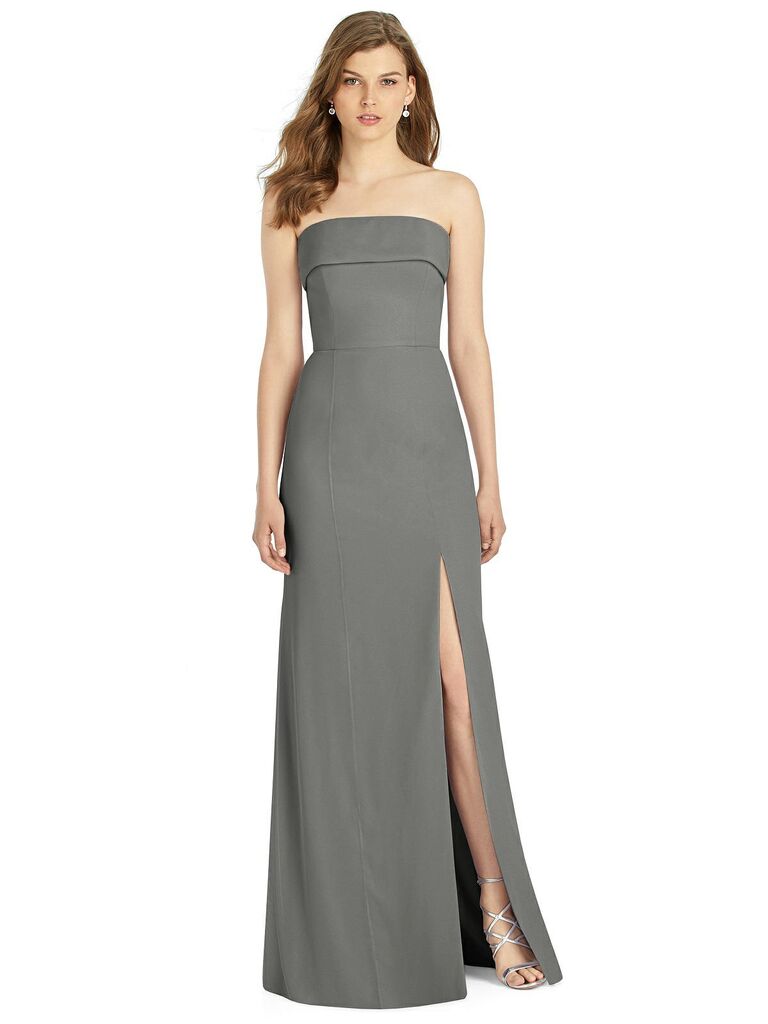 This structural long gray bridesmaid dress, in a dashing charcoal shade, suits a contemporary celebration.
Price upon request, Dessy.com
6. Watters Darcie bridesmaid dress in Stone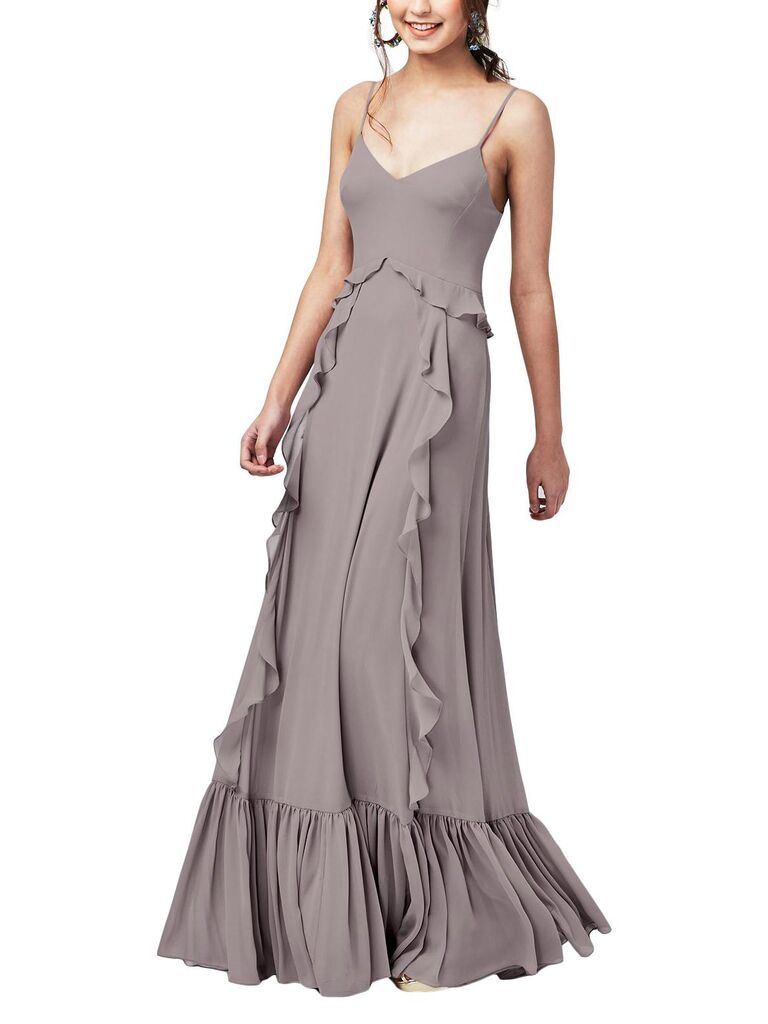 Of course, gray bridesmaid dresses with long skirts aren't necessarily super-formal. Take this ruffled bohemian number in a natural, dusty hue.
From $290, Brideside.com
7. Dessy twist wrap jumpsuit in Graphite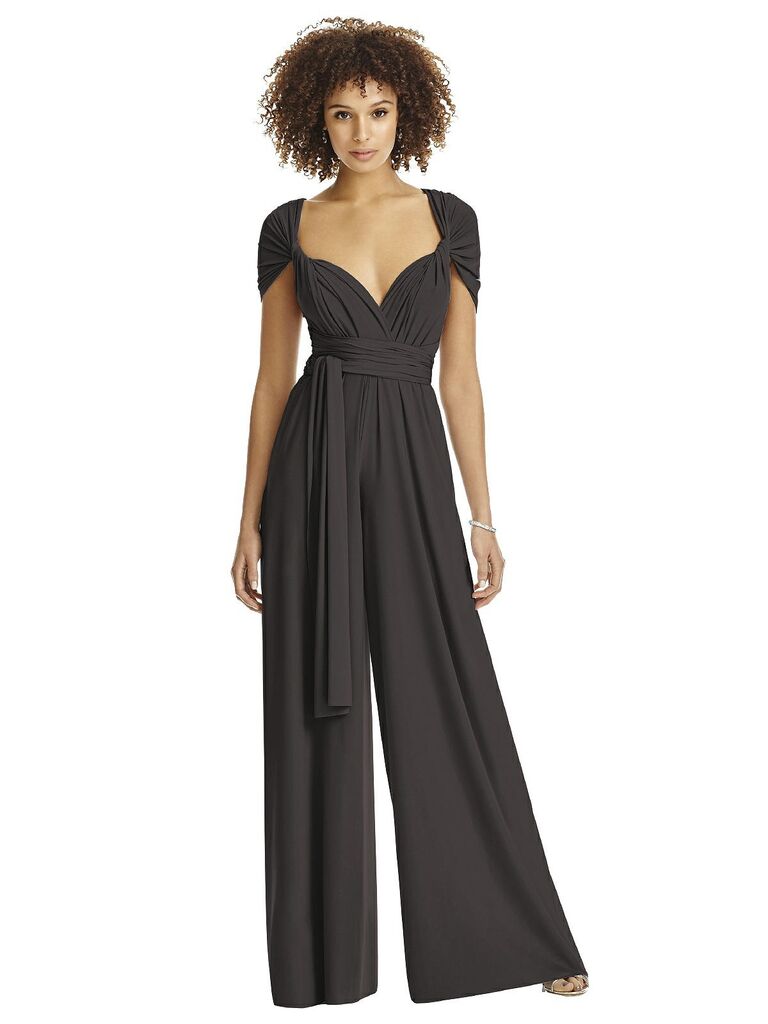 We had to include just one jumpsuit in the mix to show that you can still get sophisticated length without a skirt. And FYI, The Dessy Group sells lots of other jumpsuits where this convertible one came from. There's one for every member of your crew or just a few if you want a mismatched dress-and-jumpsuit look.
From $168, Dessy.com
Short Gray Bridesmaid Dresses
Having a less formal event? Try one of these short gray bridesmaid dresses with hemlines higher up on the leg.
8. Alfred Sung bridesmaid dress D765 in Pewter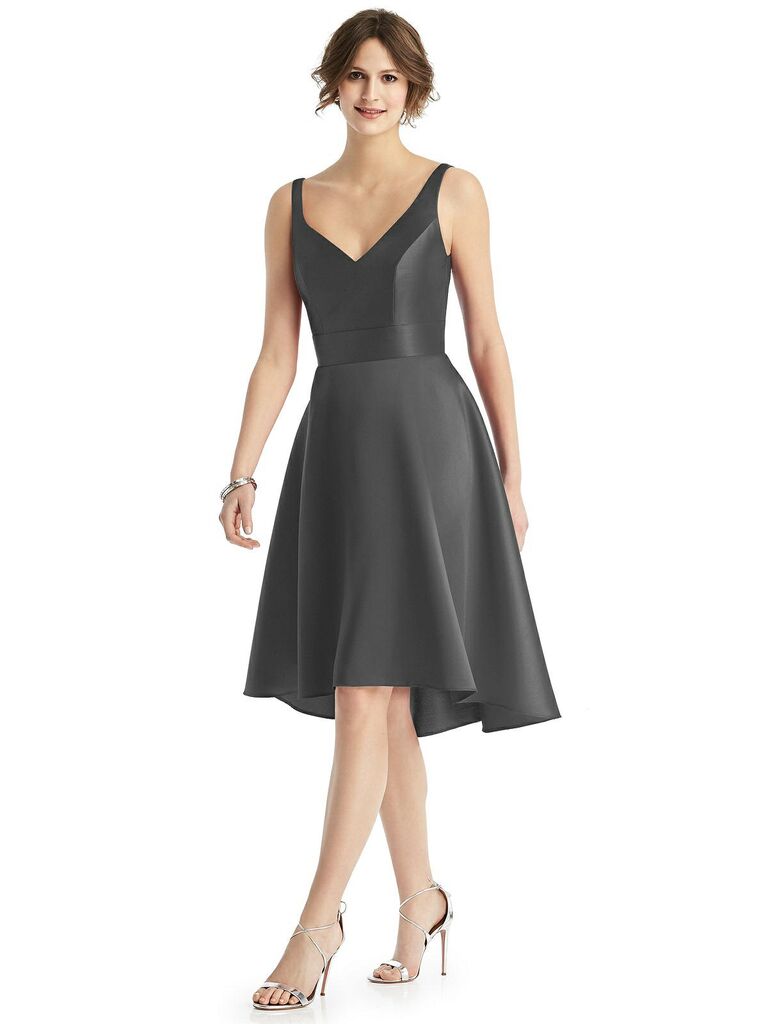 We're here for this short gray bridesmaid dress' subtle high-low hemline.
From $221, Dessy.com
9. After Six bridesmaid dress 6796 in Taupe,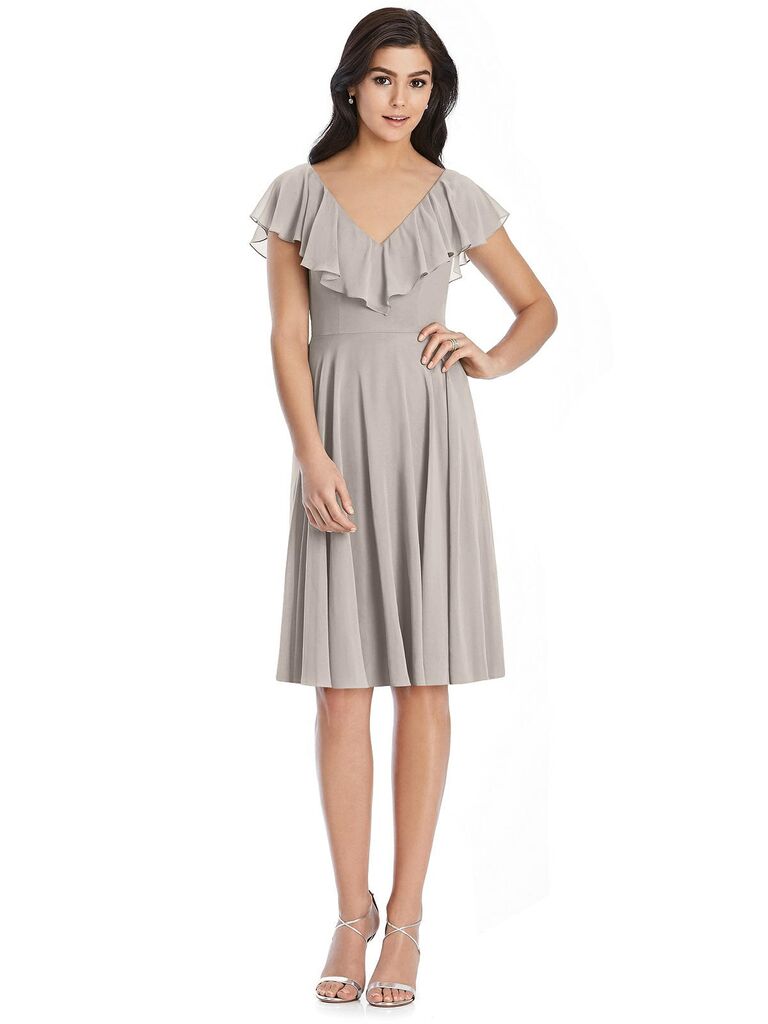 How fun is this flouncy V-neckline? We also like the greige-y shade that'll fit right in beside a range of other earthy neutrals.
From $221, Dessy.com
10. Alfred Sung Style D610 bridesmaid dress in Dove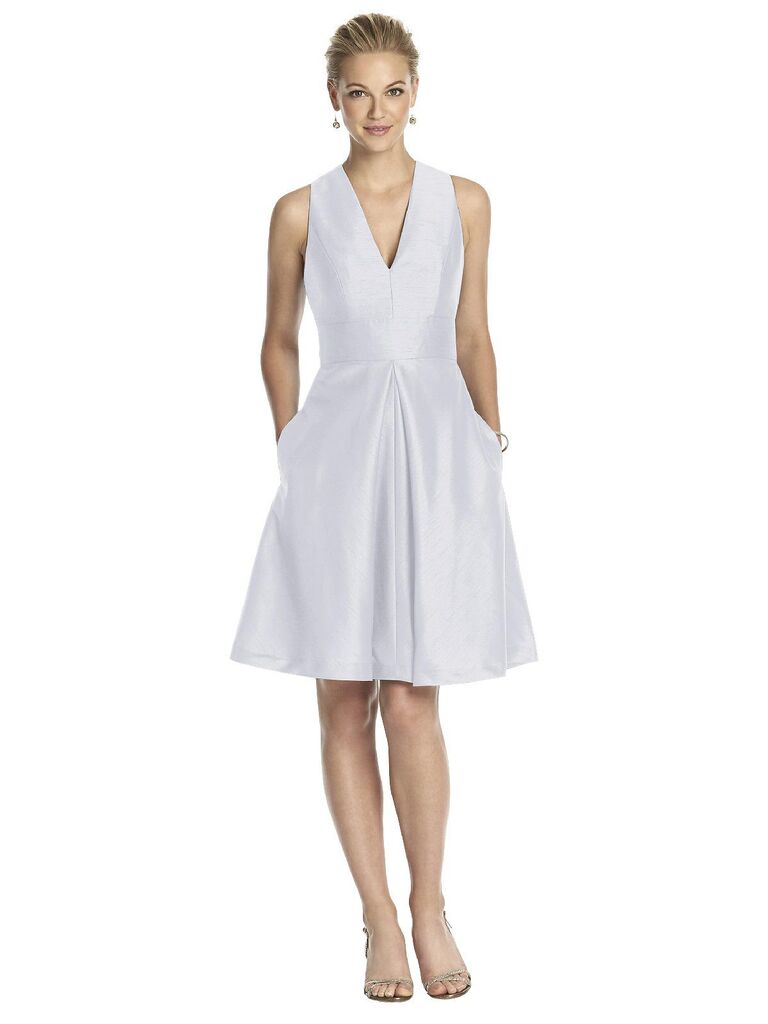 Here's another light gray bridesmaid dress with a short skirt. The weighty fabric looks especially luxe, as does the soft purple-toned fabric.
From $208, Dessy.com
11. David's Bridal W10844 illusion tank dress with short cascade skirt in Mercury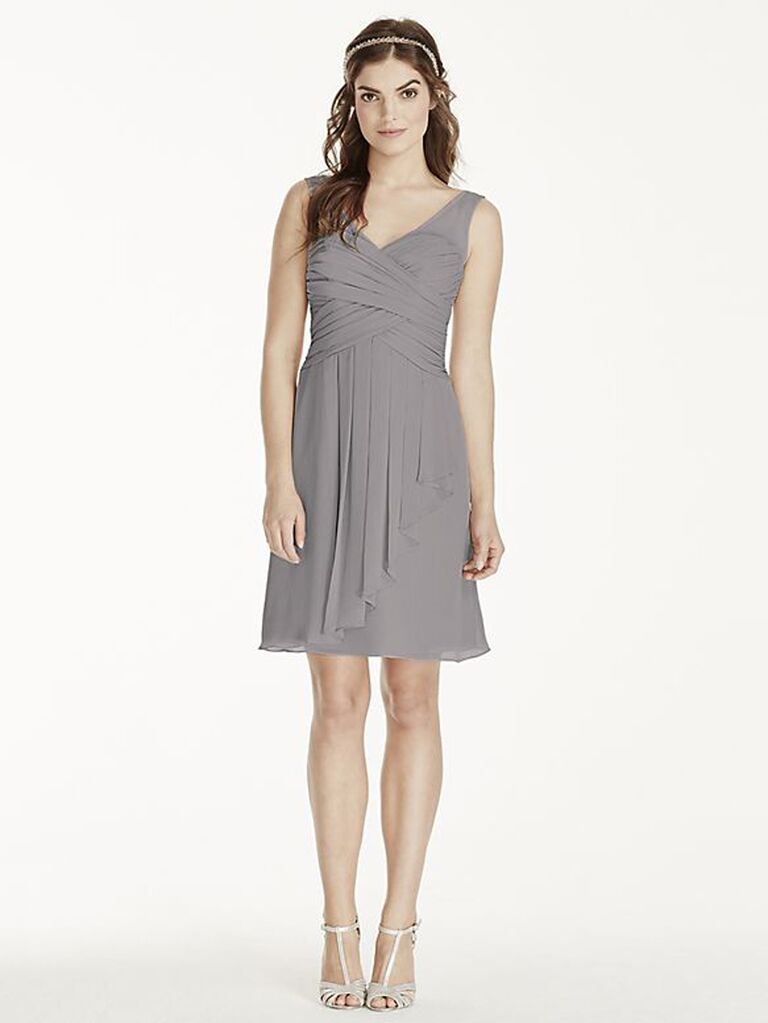 This pleated short gray bridesmaid dress has a timeless, casual feel.
from $80, DavidsBridal.com
12. David's Bridal F19751 soft mesh halter short bridesmaid dress in Pewter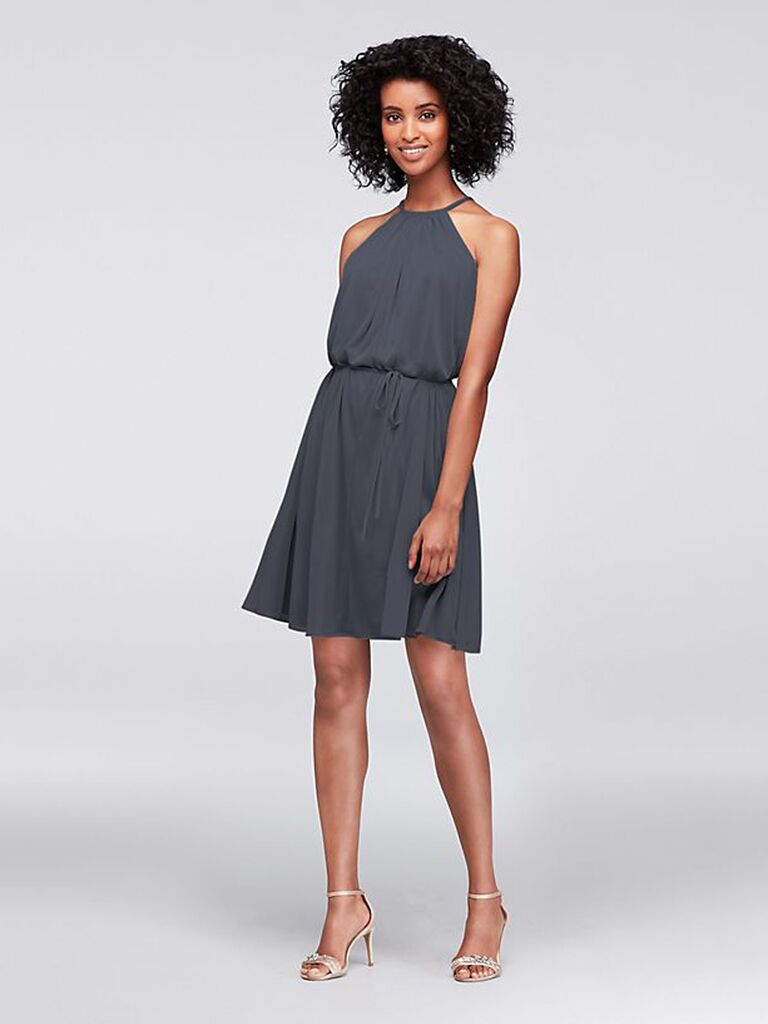 And this short gray bridesmaid dress is perfectly flirty, courtesy of the blouson halter-neck top. It also comes in plus sizes, as do many other David's Bridal garments. One more bonus: it's under $100, making it one of the most affordable options, even though it doesn't look cheap.
From $70, DavidsBridal.com
Gray Bridesmaid Dresses by Color
You searched, we delivered. Below, we've spotlighted picks in popular shades of gray, aka the hues you (and other brides and bridesmaids) love. But a word to the wise: bridesmaid dresses rarely look exactly the same in-person as they do online. Luckily, shops like Brideside let you purchase color swatches to preview before you settle on anything. Or, sign up through their website to score three for free. Show them to your 'maids, your planner—whoever—to make sure the shade you pick complements the wearer and the rest of your event.
Light Gray Bridesmaid Dresses
As we've already touched on, gray bridesmaid dresses run a serious shade spectrum. Here are some options on the lighter end of things. Use their undertones to help decide what other colors they go with. (For example, a light, sandy gray might work best with warm oranges and pinks.)
13. Watters Cameo bridesmaid dress in Sandstone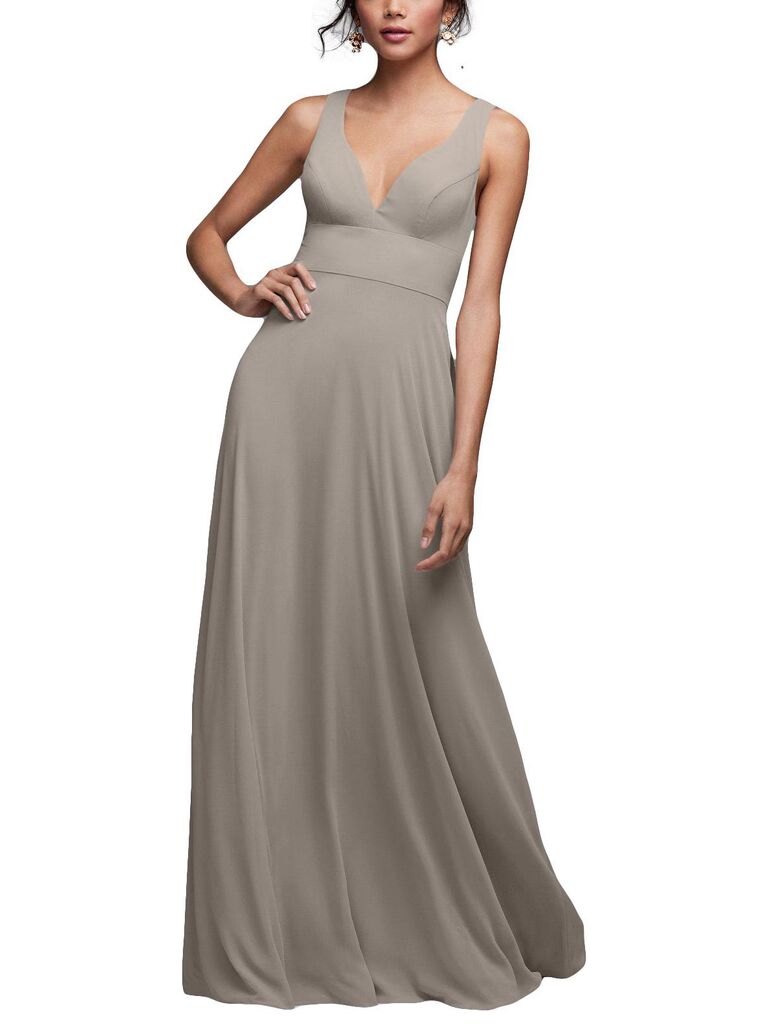 Speaking of sandy gray, here's a neutral bridesmaid dress we'd love to see at a wedding with similarly colored scenery.
From $260, Brideside.com
14. Studio Design bridesmaid dress 4541 in Frost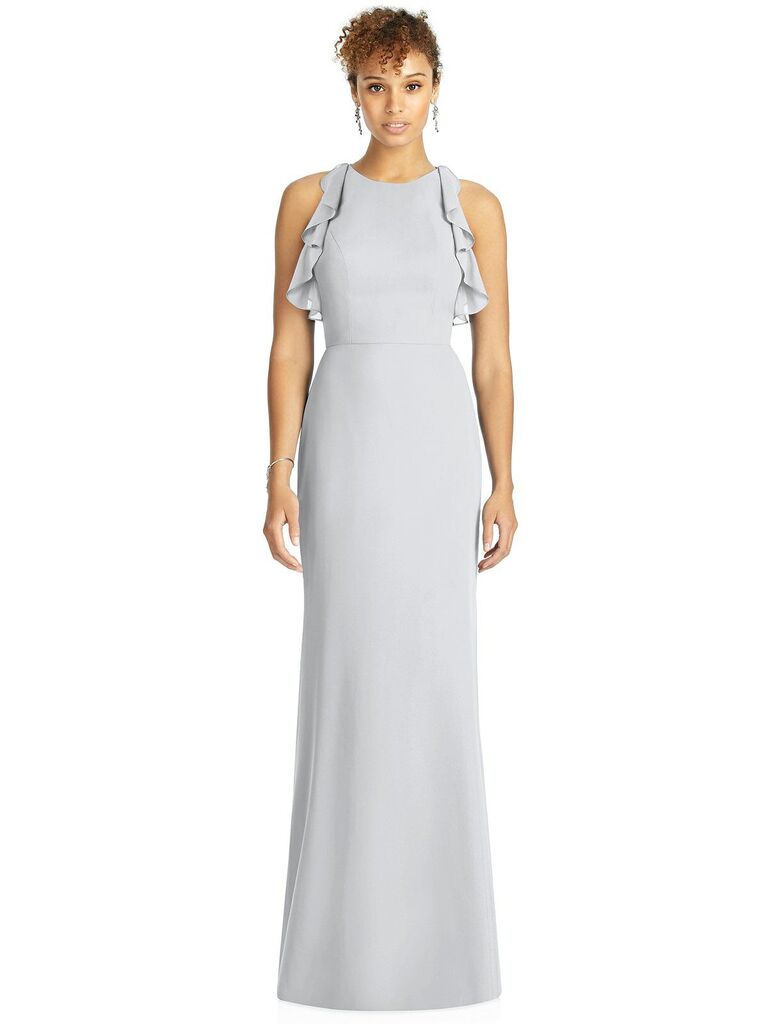 Consider this icy, light gray bridesmaid dress—complete with chic ruffle accents—for a winter (or early spring) wedding.
Price upon request, Dessy.com
15. Show Me Your Mumu Noelle wrap dress in Dove Gray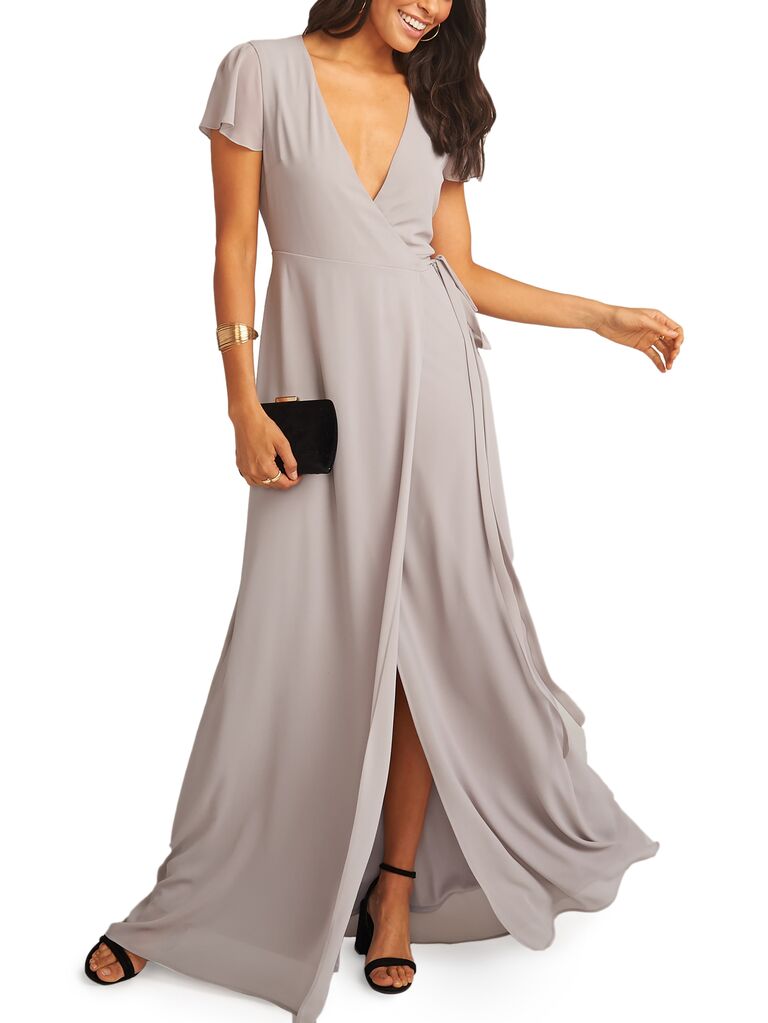 It's no wonder Show Me Your Mumu is winning big in the bridesmaid dress category: The brand sells lots of soft and flowy numbers just like this one.
Priced at $198, Nordstrom.com
16. Little Mistress Plus lace embroidered top maxi dress in Gray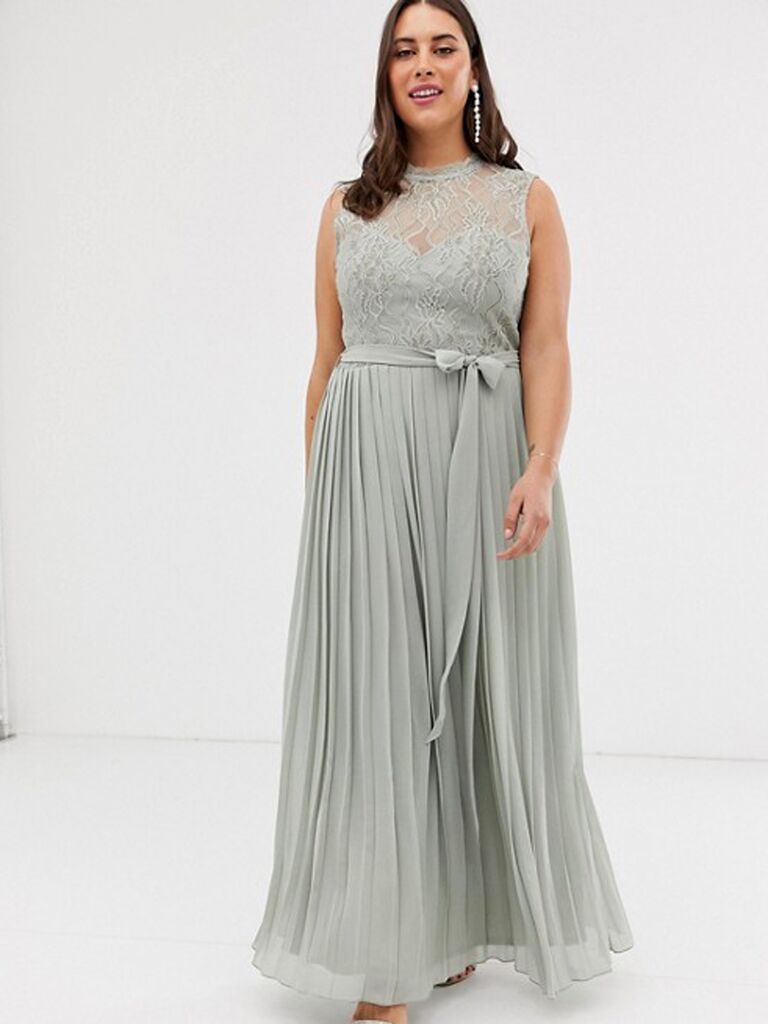 ASOS is yet another go-to source for some seriously stylish gray plus-size bridesmaid dresses (not to mention tall and petite ones)—and especially more affordable ones. Check out this lacey, light gray and prettily pleated gown.
Priced at $143, ASOS.com
17. Jenny Yoo Ryan bridesmaid dress in Earl Gray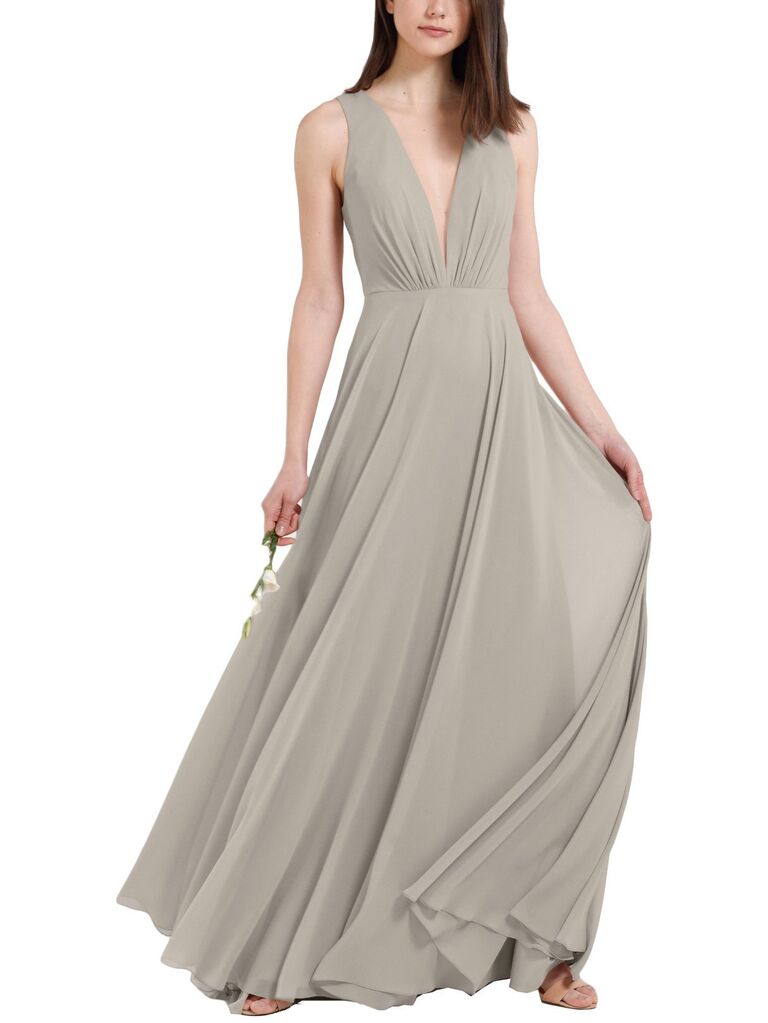 This sleeveless, light gray bridesmaid dress with an airy A-line skirt is beautifully simple.
From $285, Brideside.com
18. ASOS DESIGN bridesmaid maxi dress with pleated cami bodice and fishtail skirt in Soft Gray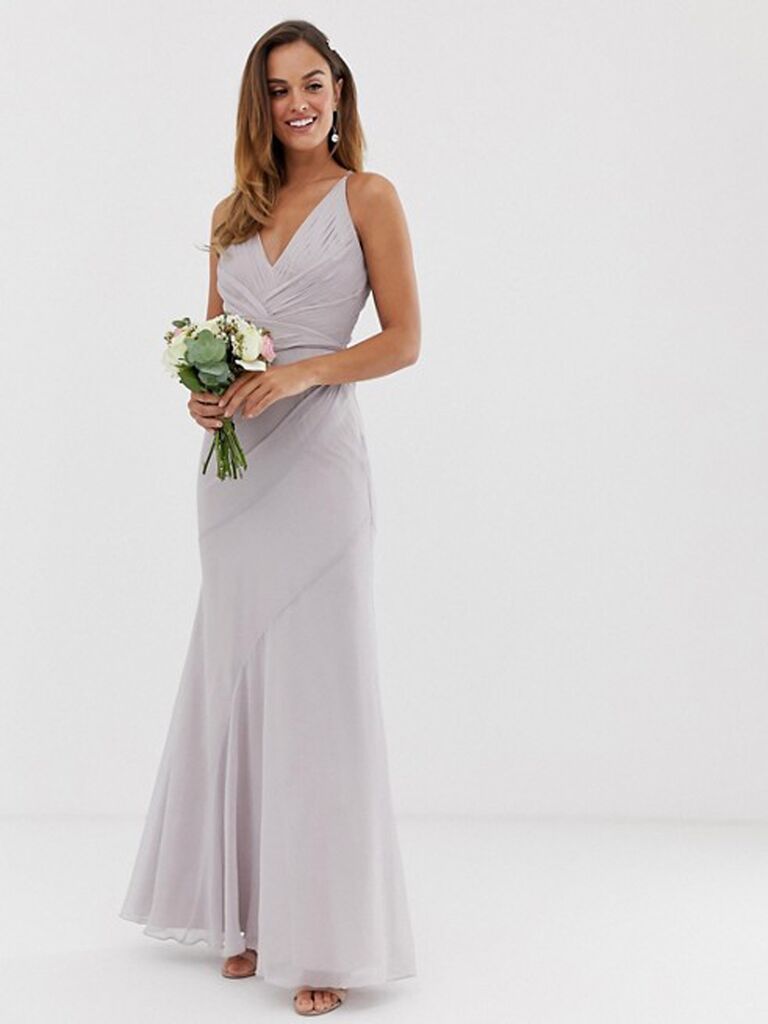 This formal, ruched mermaid gown has the dreamiest light purple hint.
Priced at $119, ASOS.com
Dark Gray Bridesmaid Dresses
Whether you're after something edgier or on the opposite end, ultra-refined, we've found dark gray bridesmaid dresses that fit the bill.
19. Wtoo by Watters Jordi bridesmaid dress in Stormy Gray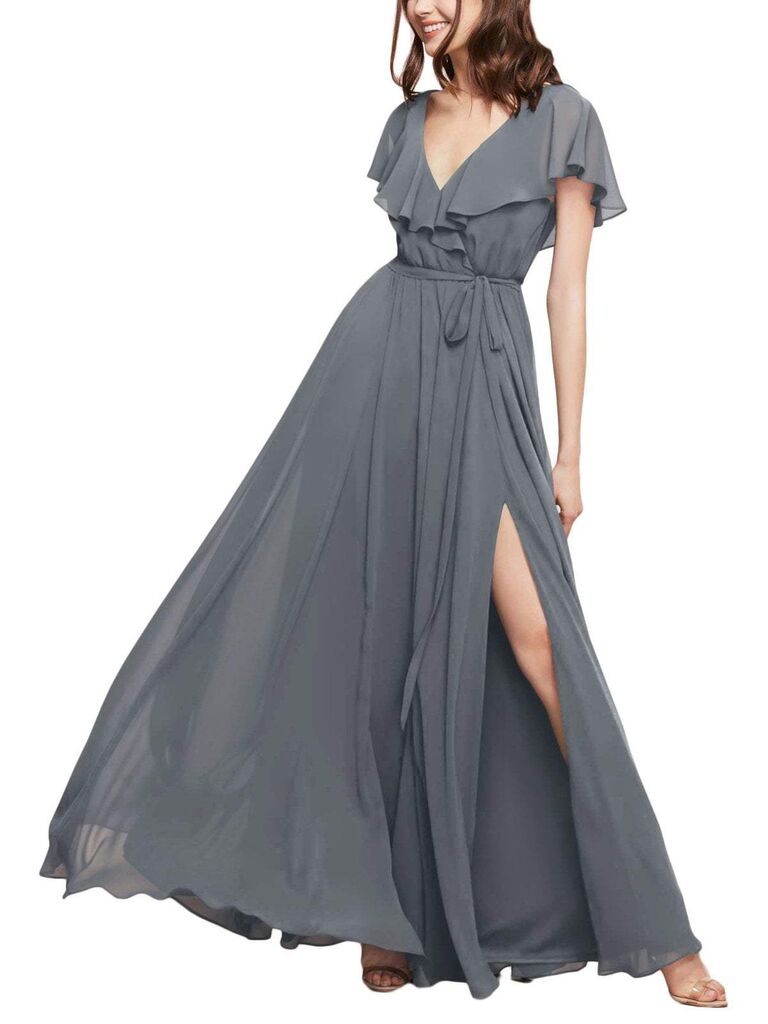 This flouncy A-line dress is moody and romantic—two things that make it downright stunning.
From $220, Brideside.com
20. Jenny Yoo Liana bridesmaid dress in Charcoal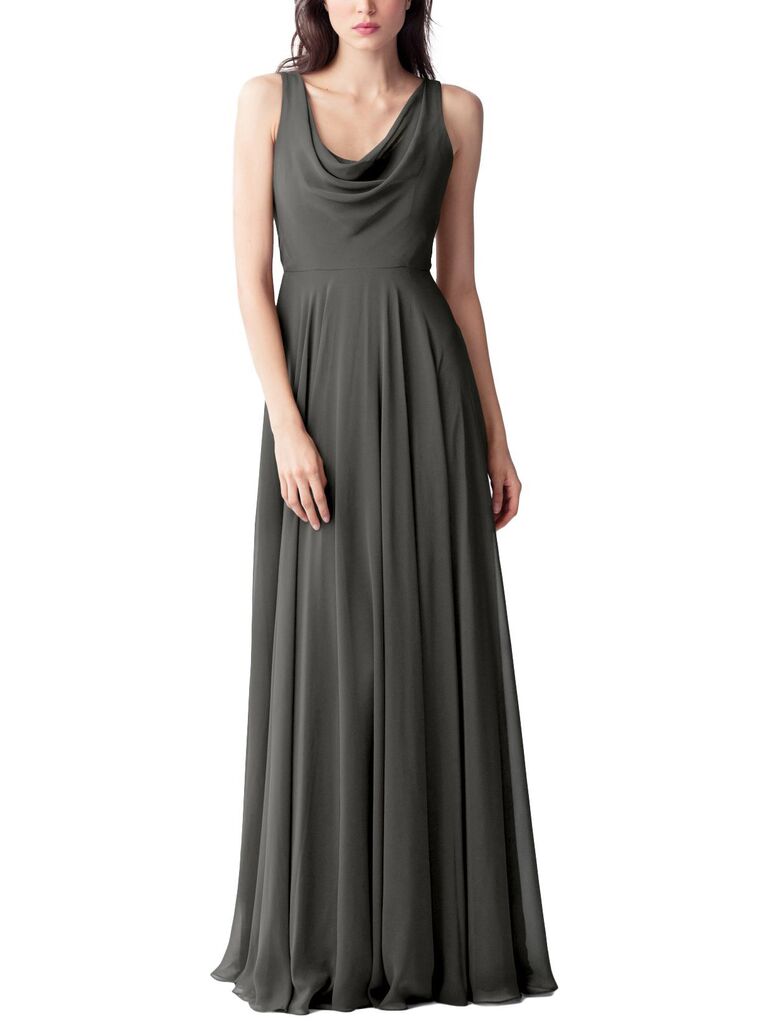 Your attendants will feel like Grecian goddesses in this charcoal gray bridesmaid dress with a draped cowl neck.
From $285, Brideside.com
21. Dessy Collection Style 3012 bridesmaid dress in Silverstone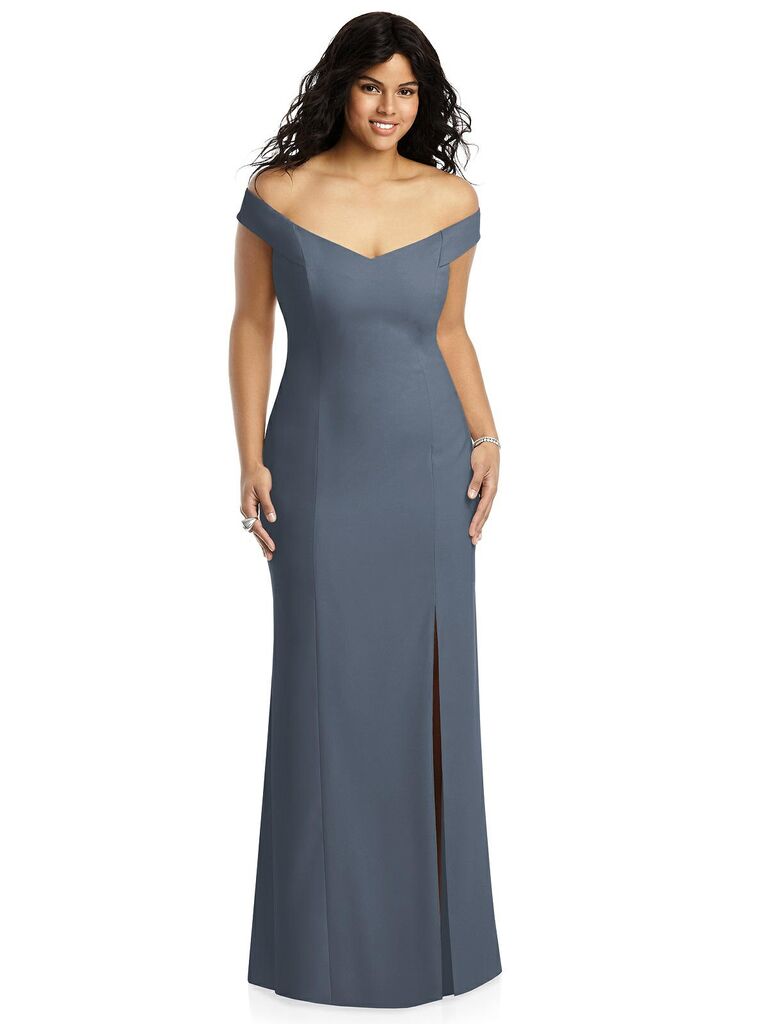 Off-the-shoulder necklines are all the rage, and it's obvious why: They can be über-elegant. Especially when they're part of an overall silhouette as sleek as this one. The dark and stormy blue-gray hue is just the icing on the cake.
From $257, Dessy.com
22. David's Bridal F20038 off-the-shoulder georgette wrap bridesmaid dress in Graphite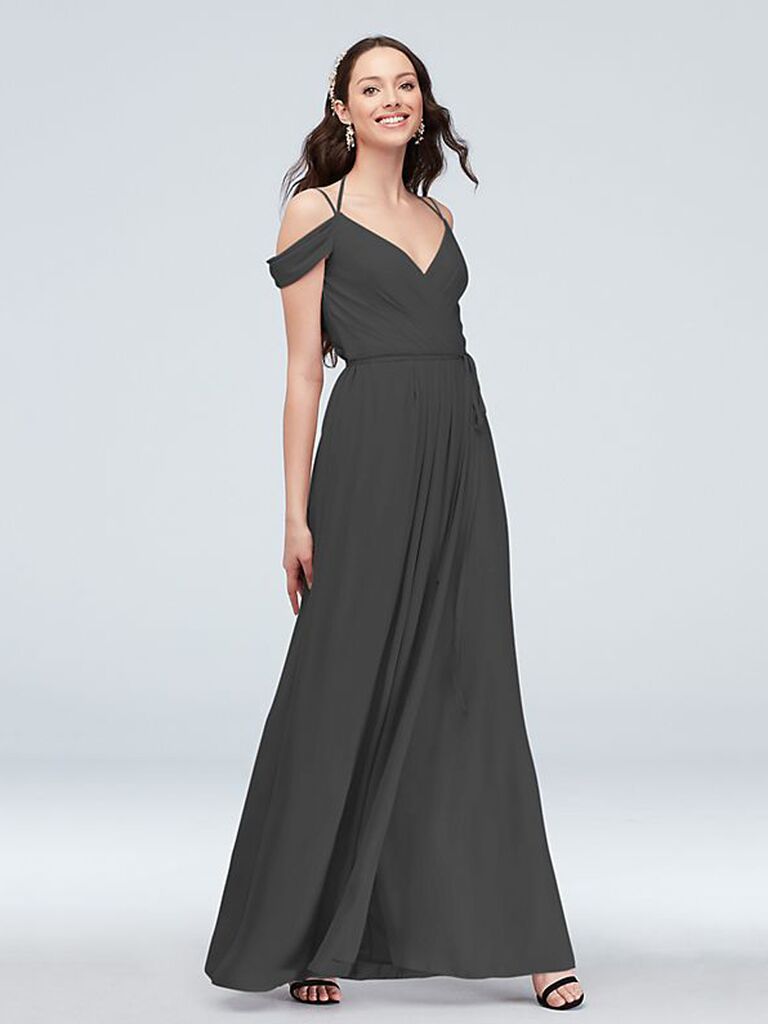 Also trending? Cold shoulders. This charcoal gray bridesmaid dress has a cool, strappy neckline.
From $120, DavidsBridal.com
23. Alfred Sung bridesmaid dress D758 in Pewter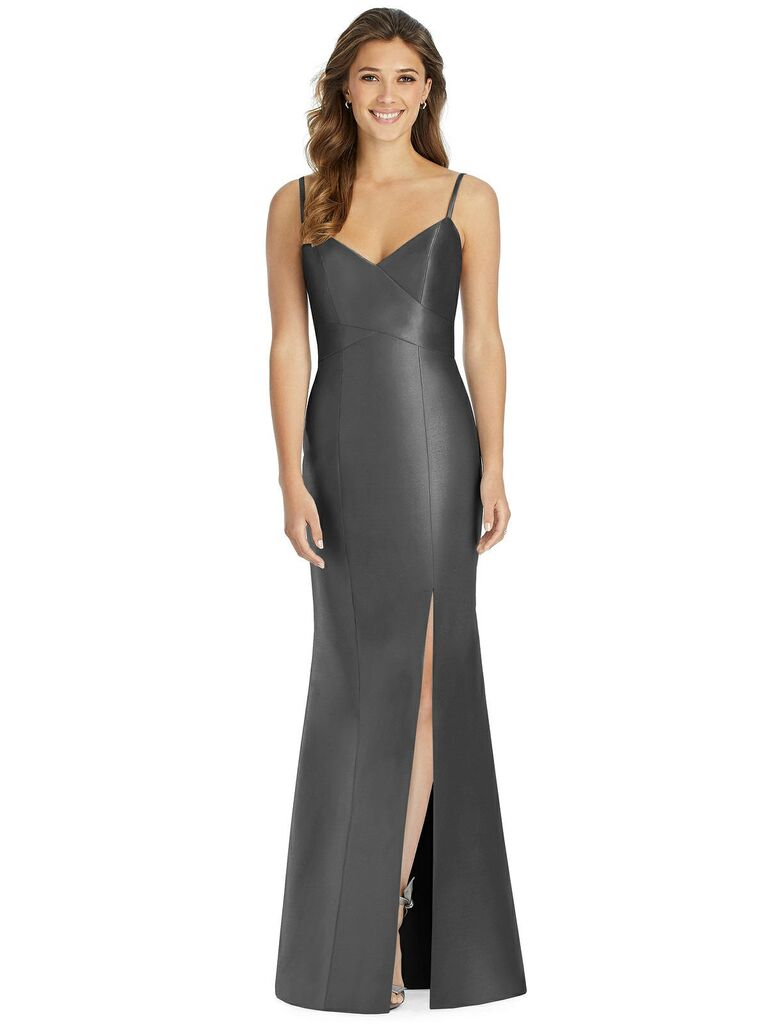 Bring on the drama with this shiny, sultry dark gray number. It's edgy in the best way.
From $242, Dessy.com
24. David's Bridal F19773 flounced crinkle chiffon sheath bridesmaid dress in Pewter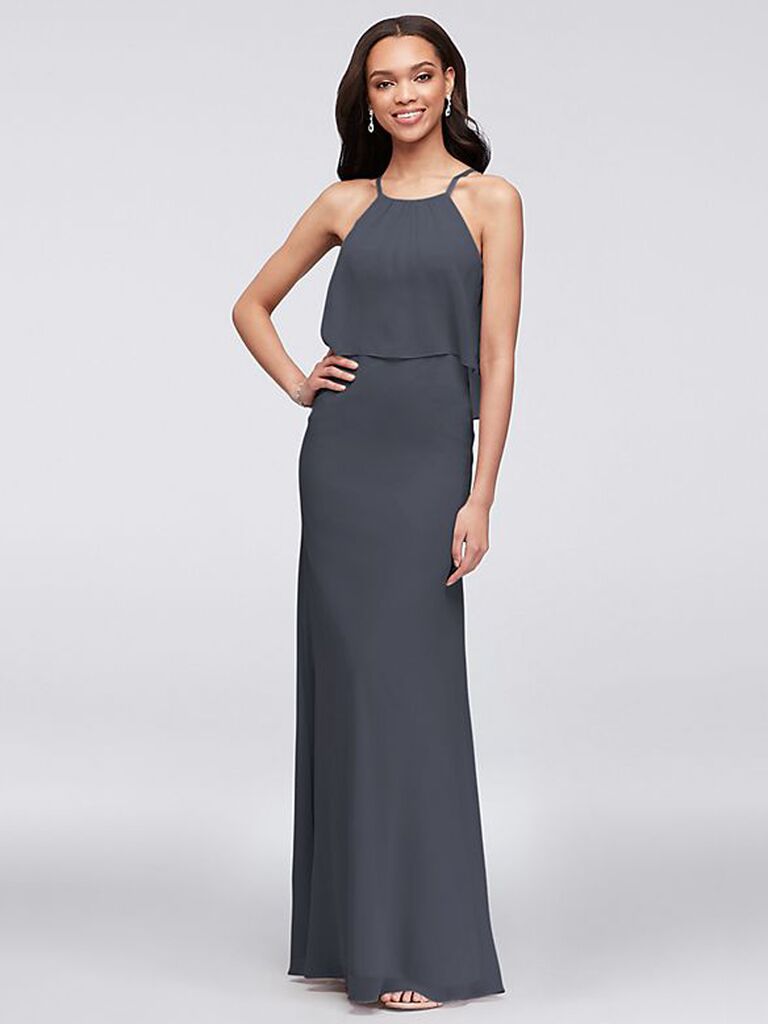 This dark gray bridesmaid dress has an on-trend halter neck and a unique open back.
From $100, DavidsBridal.com
25. David's Bridal F20057 lace and mesh V-neck bridesmaid dress in Grey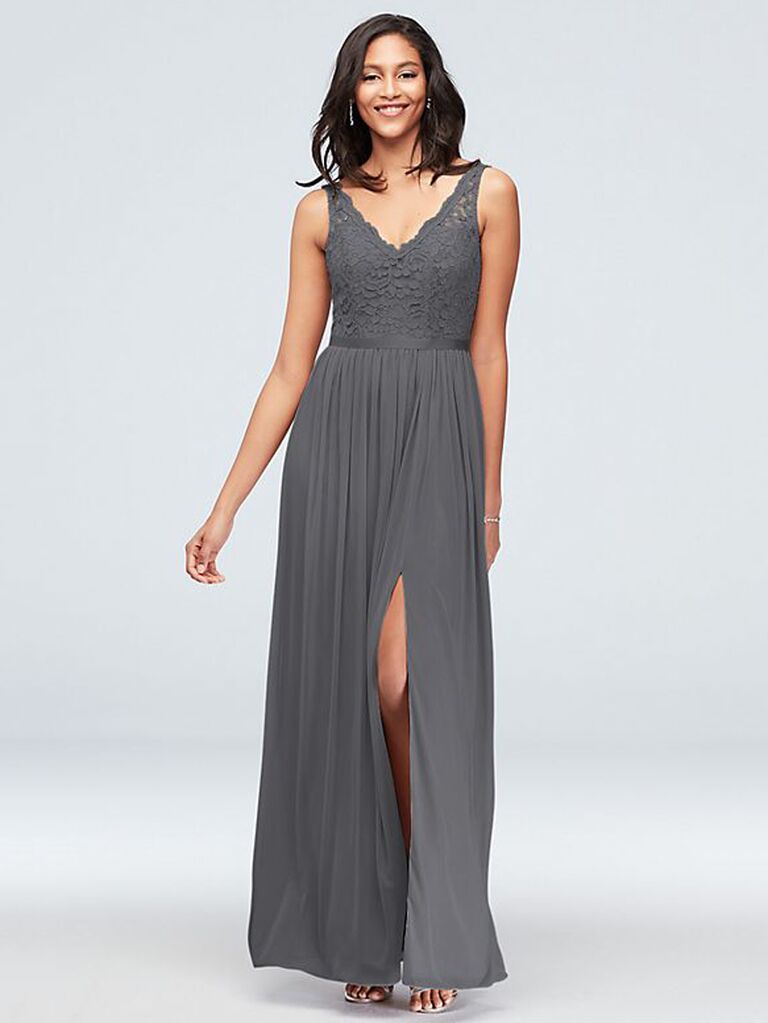 Meanwhile, this dark gray lace bridesmaid dress has a V-neck and A-line silhouette that oozes timeless appeal.
From $150, DavidsBridal.com
Blue-Gray Bridesmaid Dresses
Gray bridesmaid dresses don't have to be fully gray. Try grayish versions of your favorite colors—like blue—too. These alluring hues draw inspiration from the sea and sky, which is perfect if you're planning a nature-themed event. But regardless, they're just plain pretty.
26. Jenny Yoo Mira bridesmaid dress in Denmark Blue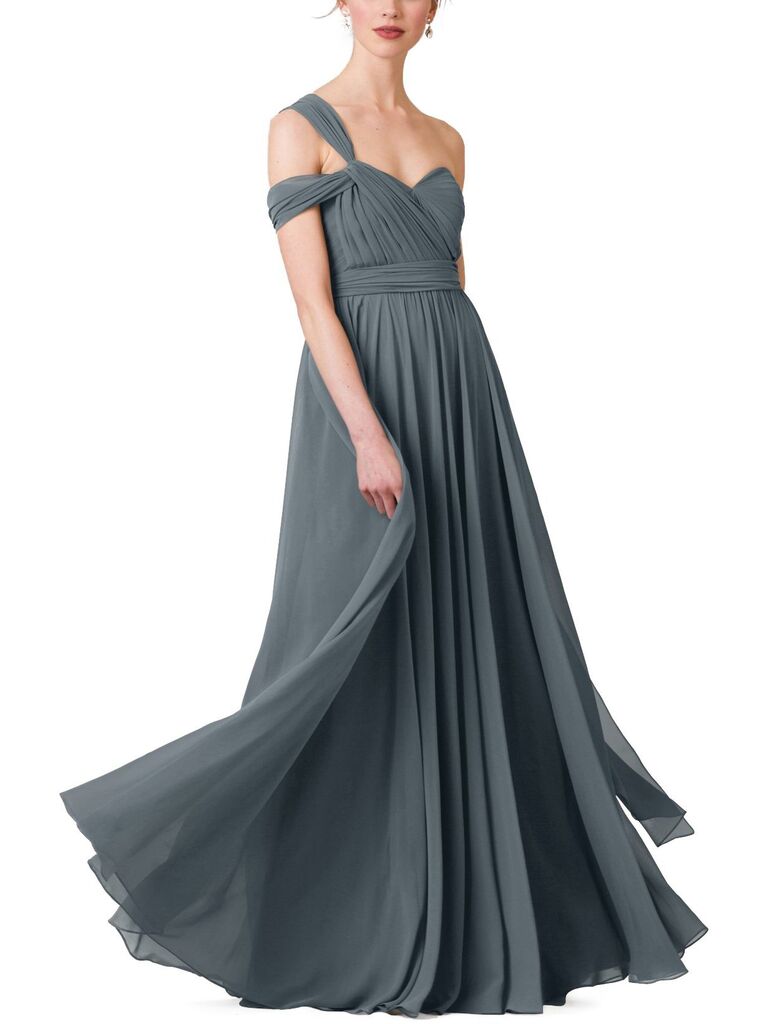 Did you know you can achieve a mismatched look even if all your 'maids are technically wearing the same dress? This gray-blue bridesmaid dress has a convertible neckline that allows just that.
From $285, Brideside.com
27. Jenny Yoo Kayla bridesmaid dress in Morning Mist
This light, blue-greenish shade of gray is beautifully soft, but that's not the only reason we've picked the dress. The gown is simple in the front but features a unique strappy back.
From $275, Brideside.com
28. Sorella Vita Style 9110 bridesmaid dress in Slate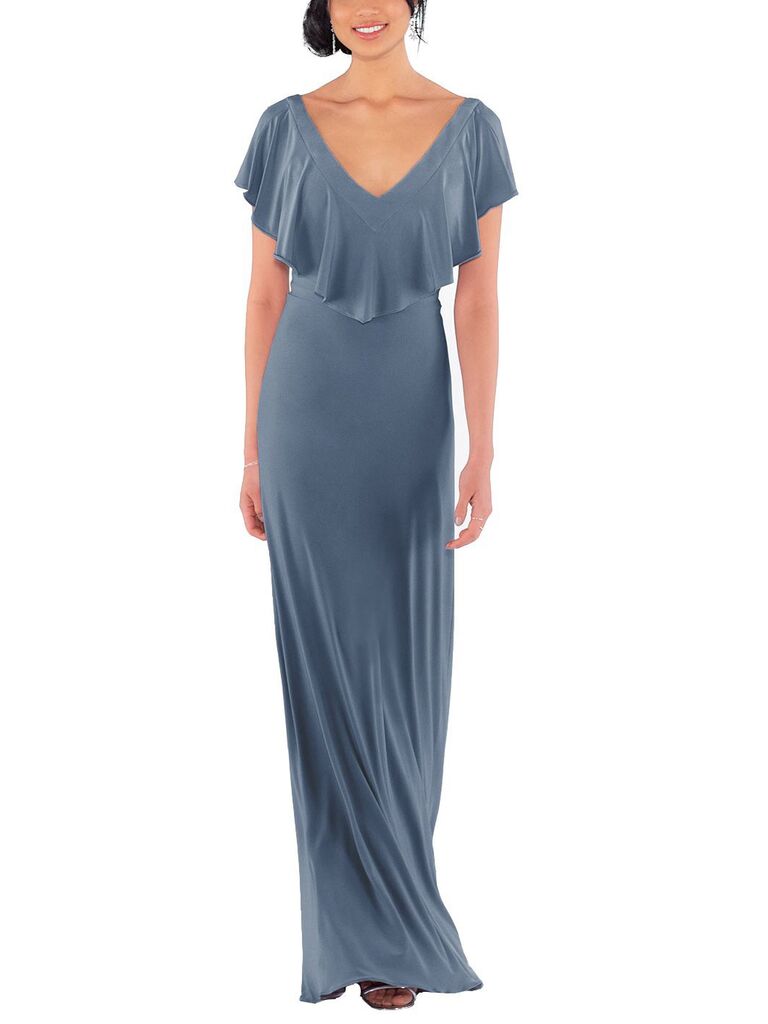 This blue-gray bridesmaid dress is stylish and stretchy—because fashion and comfort can coincide.
From $249, Brideside.com
29. David's Bridal F19941 blouson high-neck mesh bridesmaid dress in Steel Blue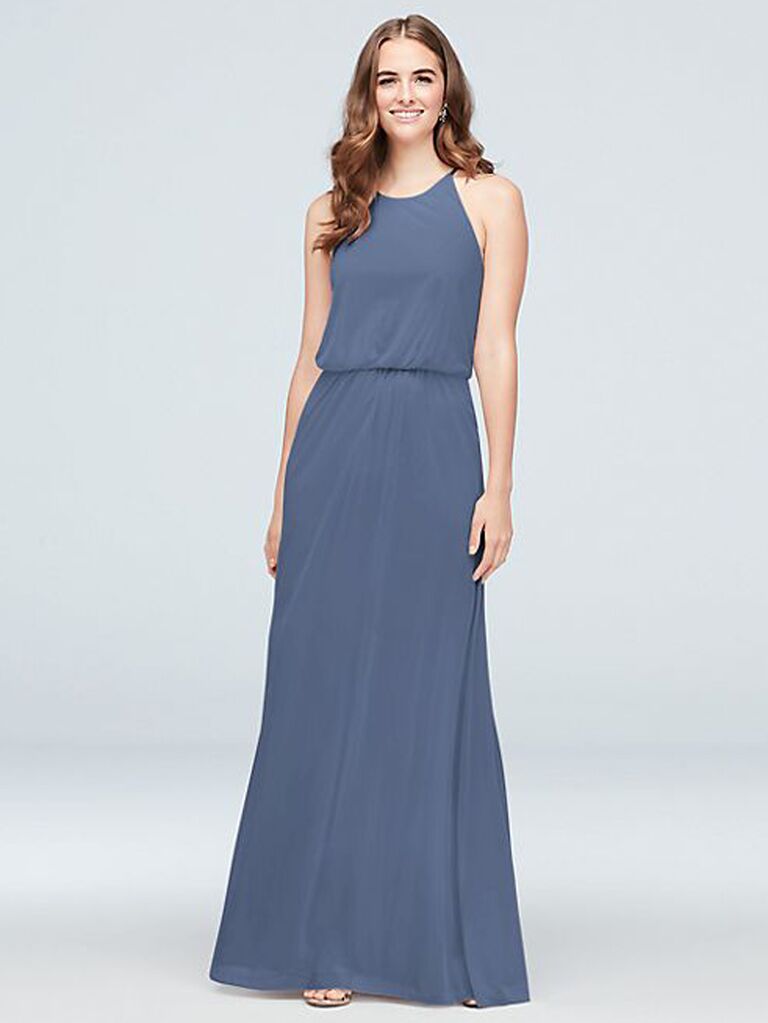 Can you tell we like high necklines? Here's another blouson gown, this time in an eye-catching steel blue.
From $100, DavidsBridal.com
30. #Levkoff halter chiffon A-line gown in Slate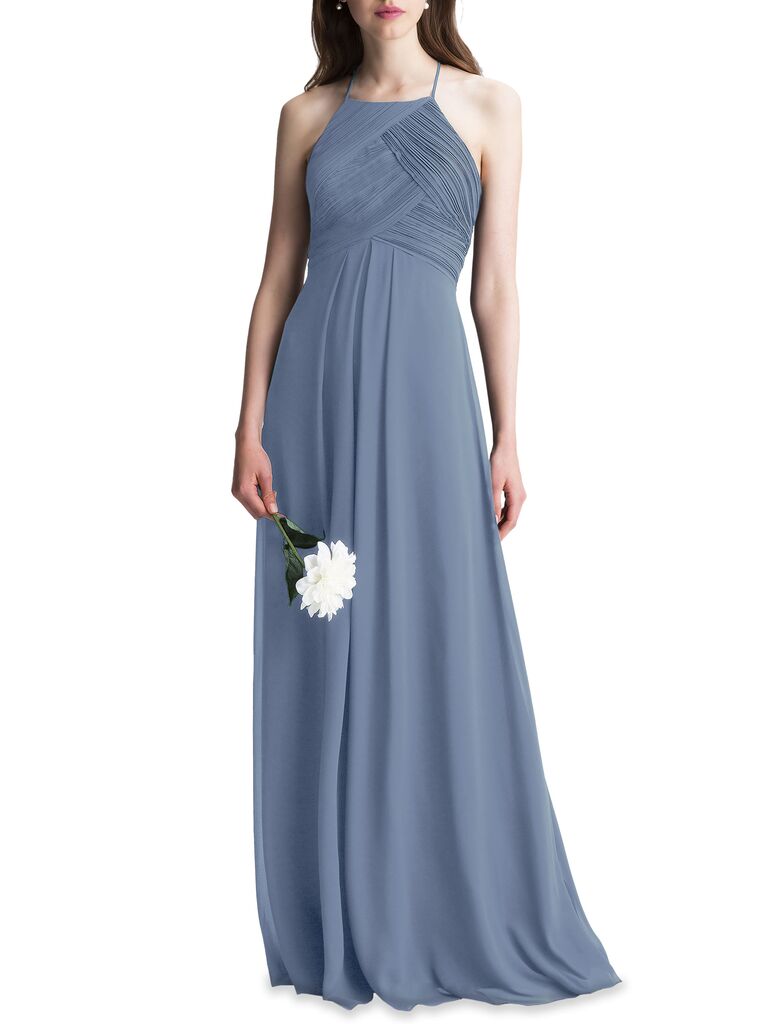 This gray-blue bridesmaid dress' bodice has a unique front and back: The former features a ruched halterneck, while the latter has pretty chiffon panels and a cutout.
Priced at $150, Nordstrom.com
31. Jenny Packham bridesmaid dress JP1023 in Mist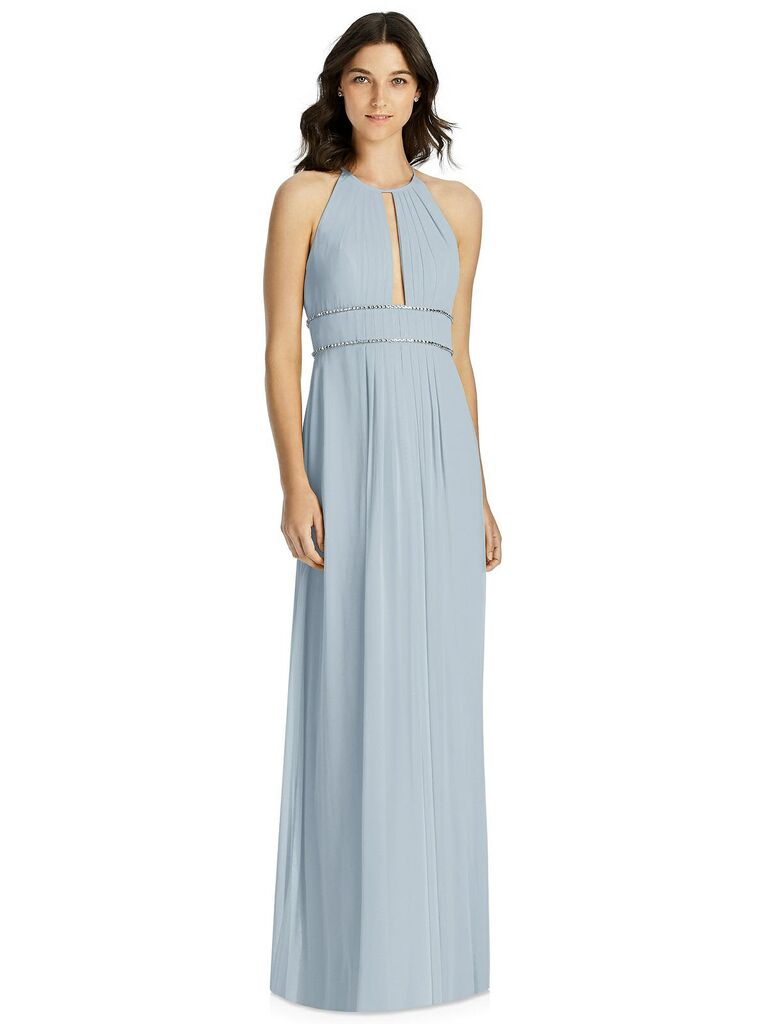 On the other hand, this light blue-gray bridesmaid dress has a stunning cutout in the front. It also includes a silver jeweled waistline for an extra dose of glam.
From $311, Dessy.com
32. Dessy Collection style 2970 in Silverstone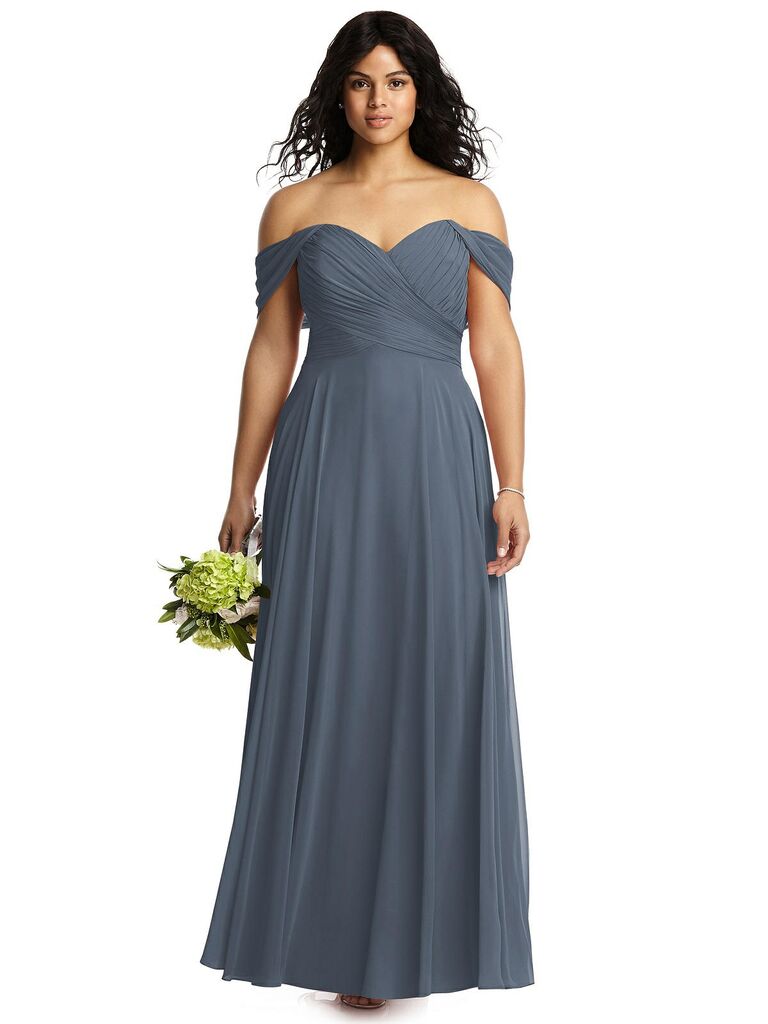 Loose off-the-shoulder sleeves and a sweetheart neckline make this blue-gray bridesmaid dress so beautifully romantic.
From $284, Dessy.com
Silver-Gray Bridesmaid Dresses
Silver-toned (and full-blown sparkly) gowns are great to intersperse between more matte gray bridesmaid dresses in your attendant lineup. We like how silver-gray garments contrast against many of the dark-gray and blue-gray bridesmaid dresses above. Of course, all your 'maids can wear silvery numbers too! In the end, it's always about making sure they tie into the rest of your wedding's color palette. Here, find some silver-gray bridesmaid dresses we stand behind.
33. Sorella Vita style 9132 bridesmaid dress in Steel
This long gray bridesmaid dress comes in a pretty and slightly glossy silver shade.
From $199, Brideside.com
34. After Six Style 6777 bridesmaid dress in Stormy Silver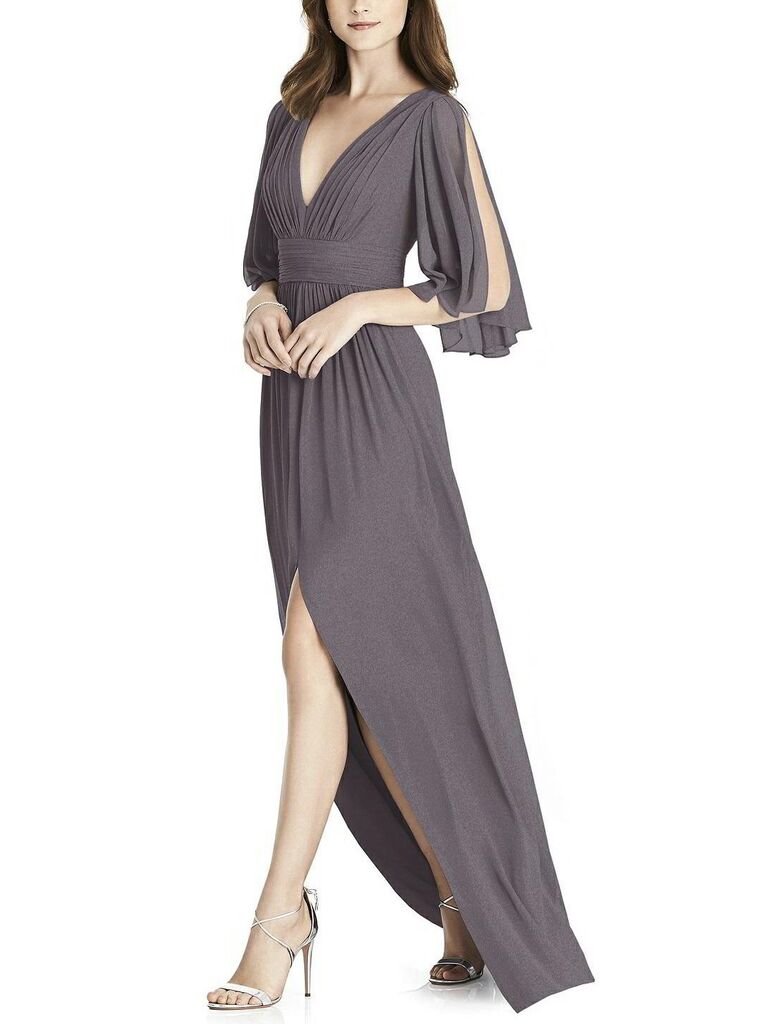 Shopping for long sleeves? We're obsessed with these open, airy ones. The dark gray bridesmaid dress also benefits from subtle silver sparkles.
From $244, Brideside.com
35. Maya Plus bridesmaid V neck maxi tulle dress with tonal delicate sequins in Soft Gray Microchip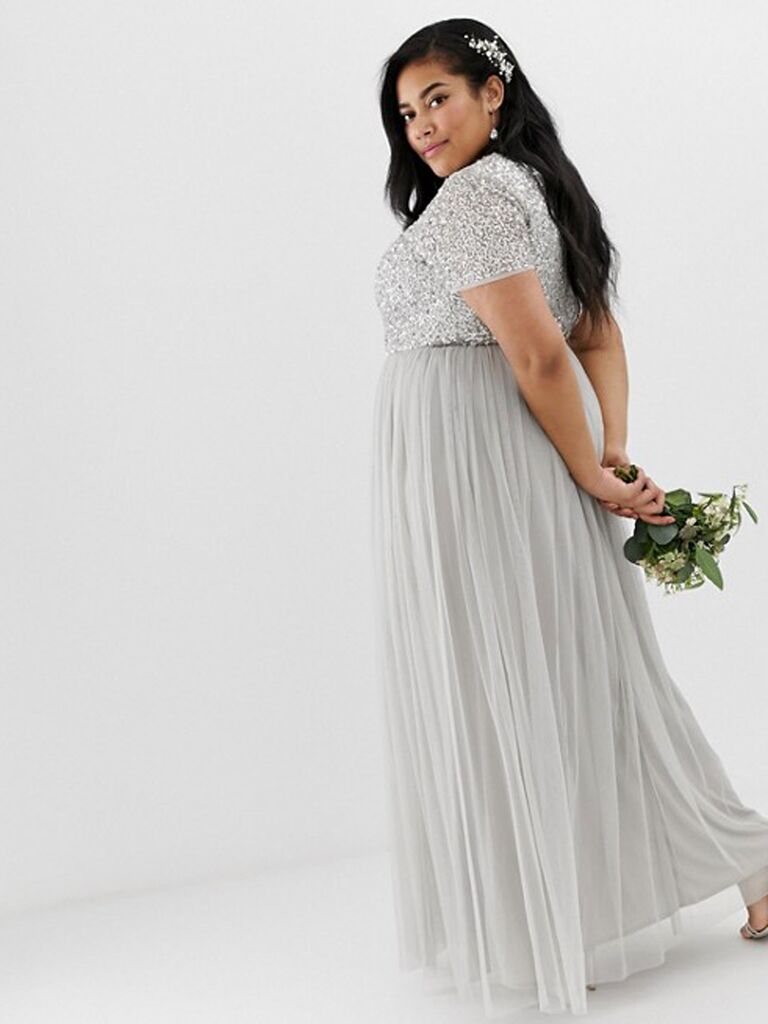 Or, try short sleeves. This light silver-gray bridesmaid dress—with a sequin top and luxurious tulle bottom—puts a twinkle in our eye.
Priced at $109, ASOS.com
36. After Six bridesmaid dress 6741 in Charcoal Gray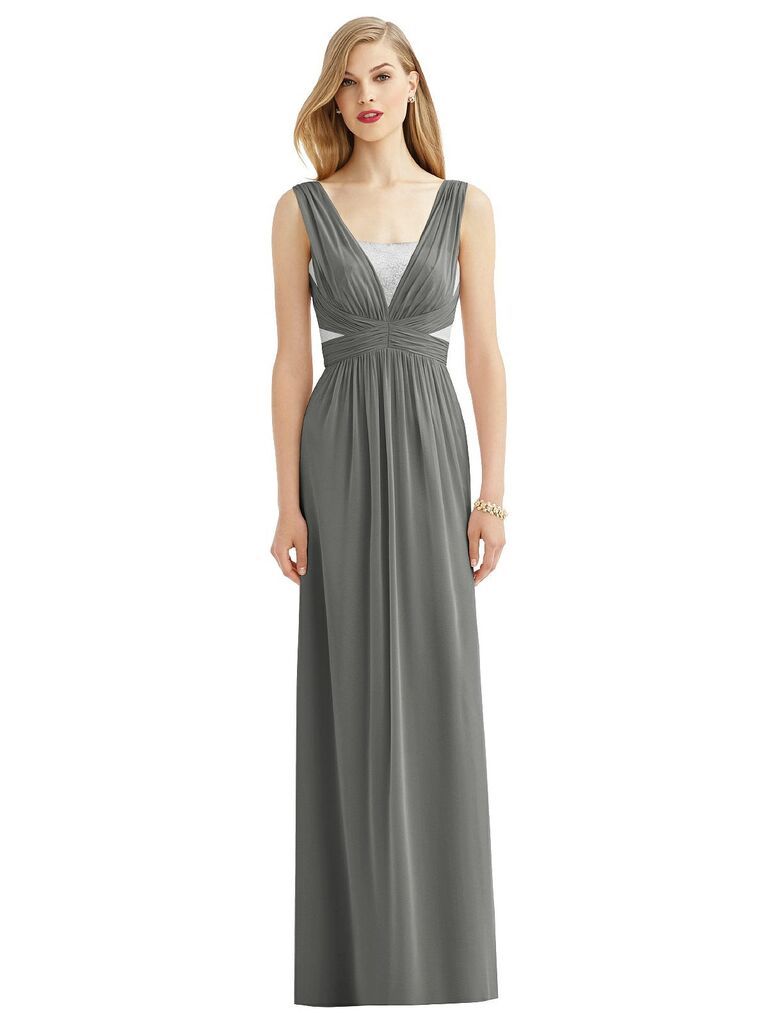 This dark gray bridesmaid dress is mostly matte, but the sparkly silver peekaboo fabric on the bodice is a fun, unexpected touch.
From $263, Dessy.com
37. After Six Style 6728 bridesmaid dress in Platinum Silver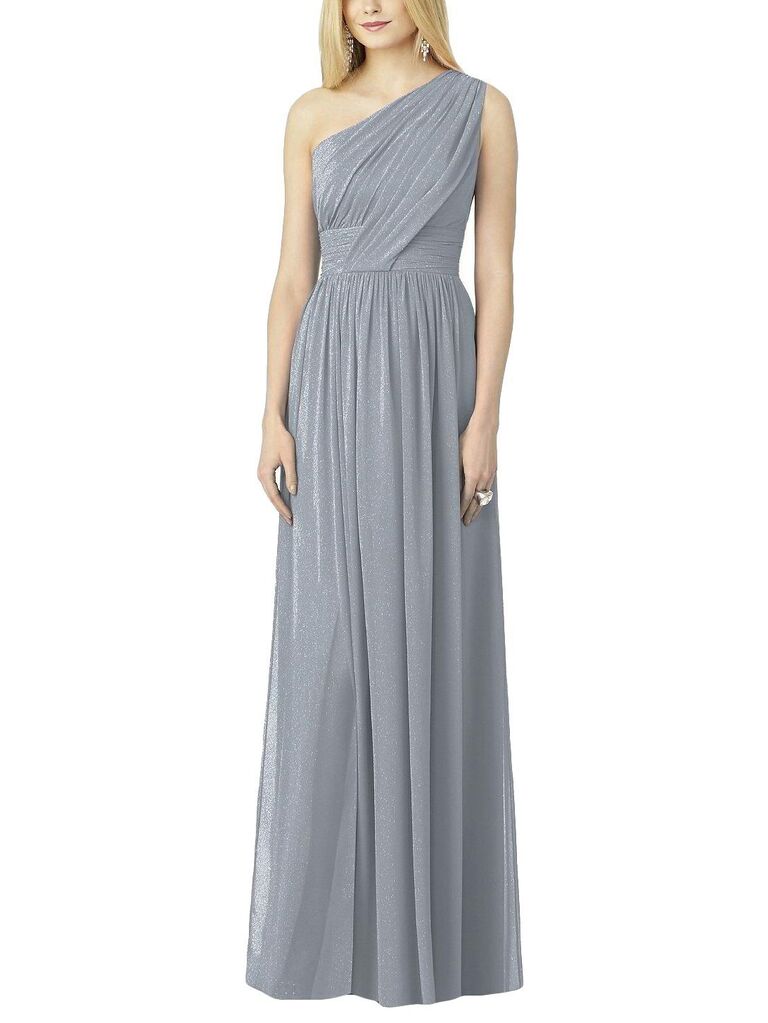 Here's some more fancy chiffon with sparkle woven throughout. The one-shoulder neckline is also ultra-elegant.
From $250, Brideside.com
38. Alfred Sung bridesmaid dress D611 in Quarry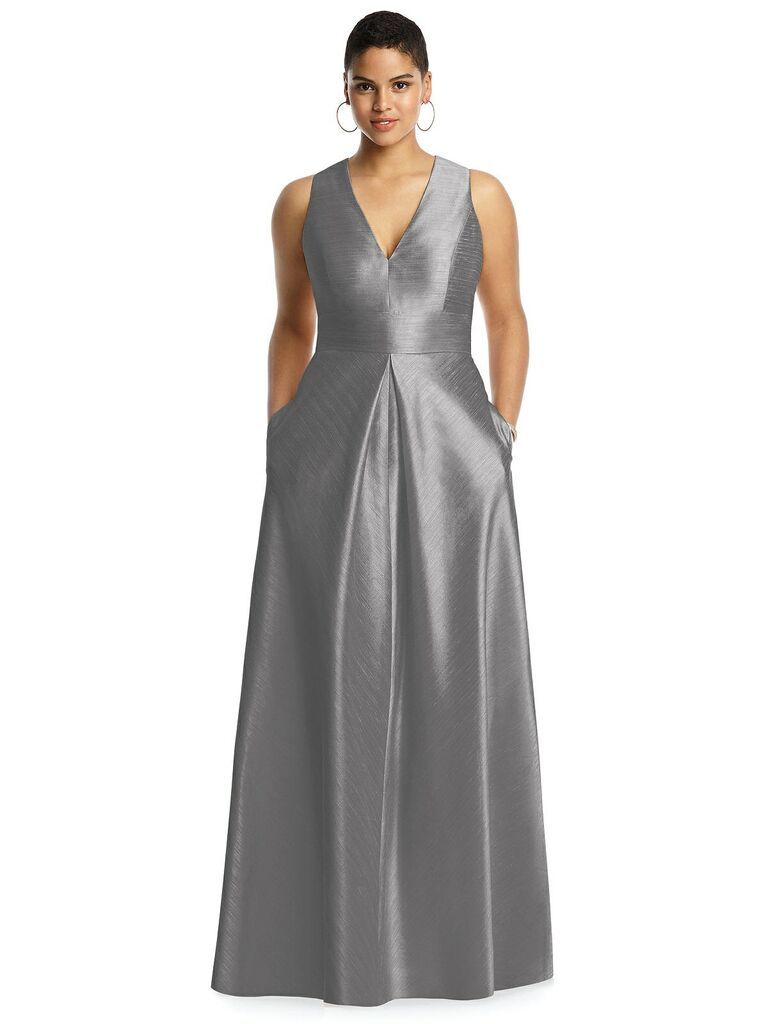 Of course, you can still get some shine without sparkles. This metallic, dark gray dupioni bridesmaid dress has plenty of luster. (Oh… and there are pockets—score.)
From $242, Dessy.com
39. Sorella Vita style 9146 bridesmaid dress in Platinum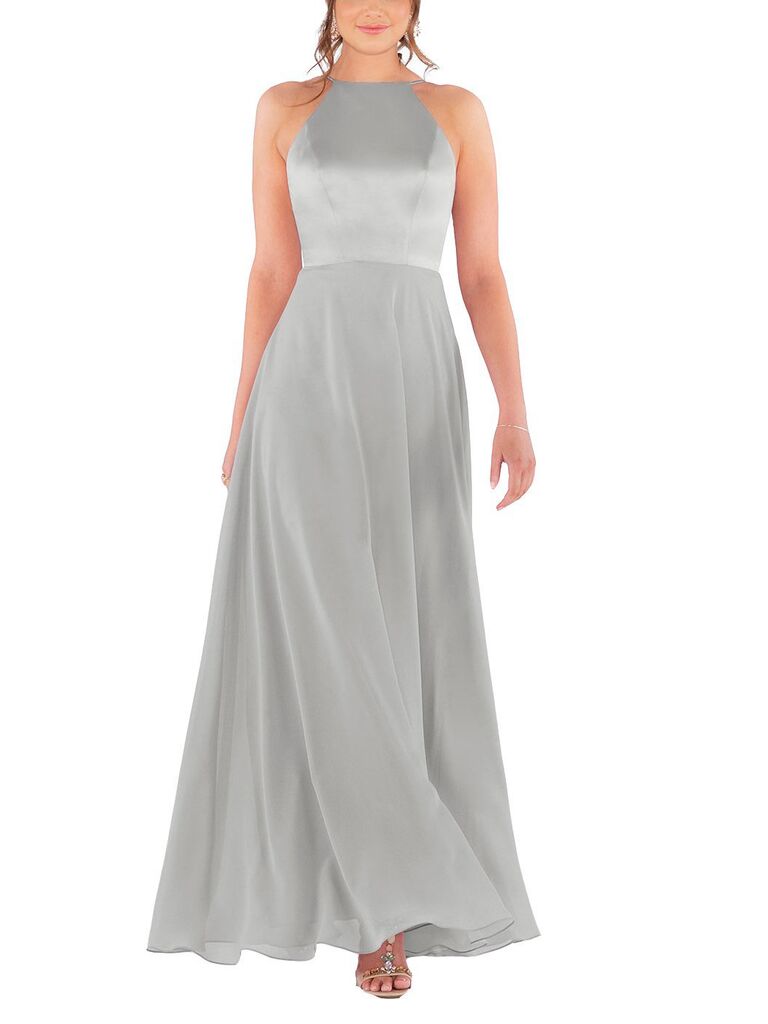 The sheeny fabric doesn't stop! Say hello to this minimalist silver-gray bridesmaid dress.
From $229, Brideside.com
Purple-Gray Bridesmaid Dresses
Purple-gray bridesmaid dresses are almost as popular as gray-blue bridesmaid dresses, but equally as gorgeous. They're very versatile, ranging from romantic and whimsical to downright modern. And, as expected, they pair perfectly with true purples, as well as soft greens like sage. That being said, the possibilities definitely don't end there. Get inspired by the picks below.
40. Wtoo by Watters Kenly bridesmaid dress in Victorian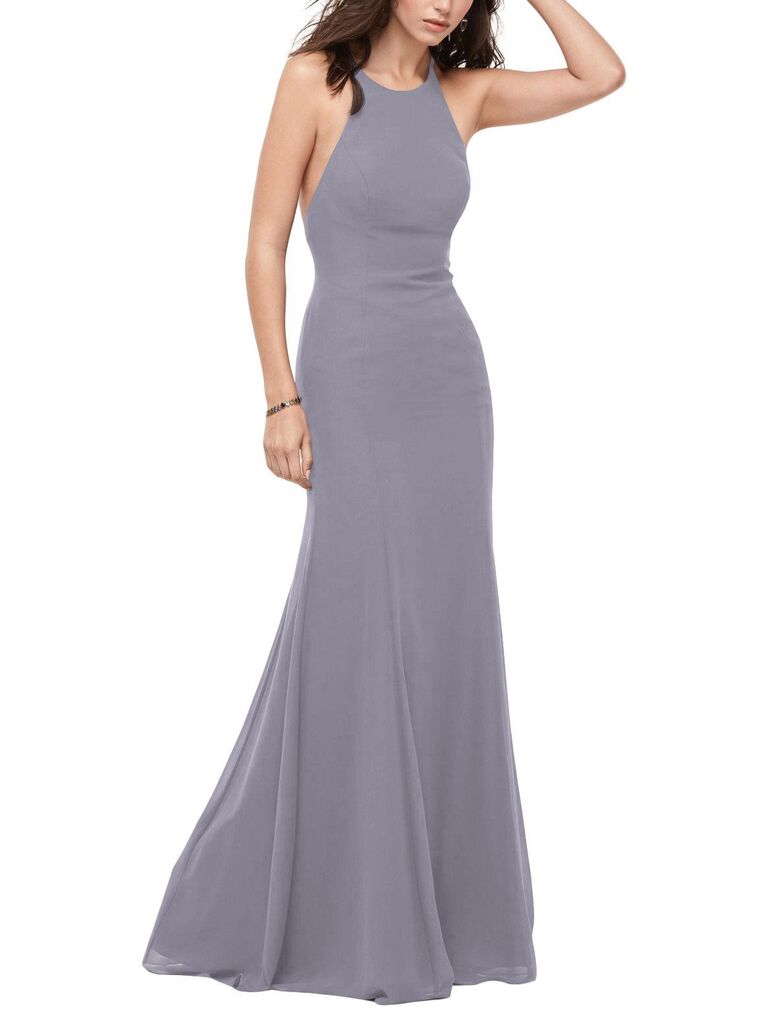 This sleek, contemporary bridesmaid dress is just barely purple-toned. We appreciate the structure in the front paired with the long, laced boho ties in the back.
From $195, Brideside.com
41. Watters Desiree bridesmaid dress in Pewter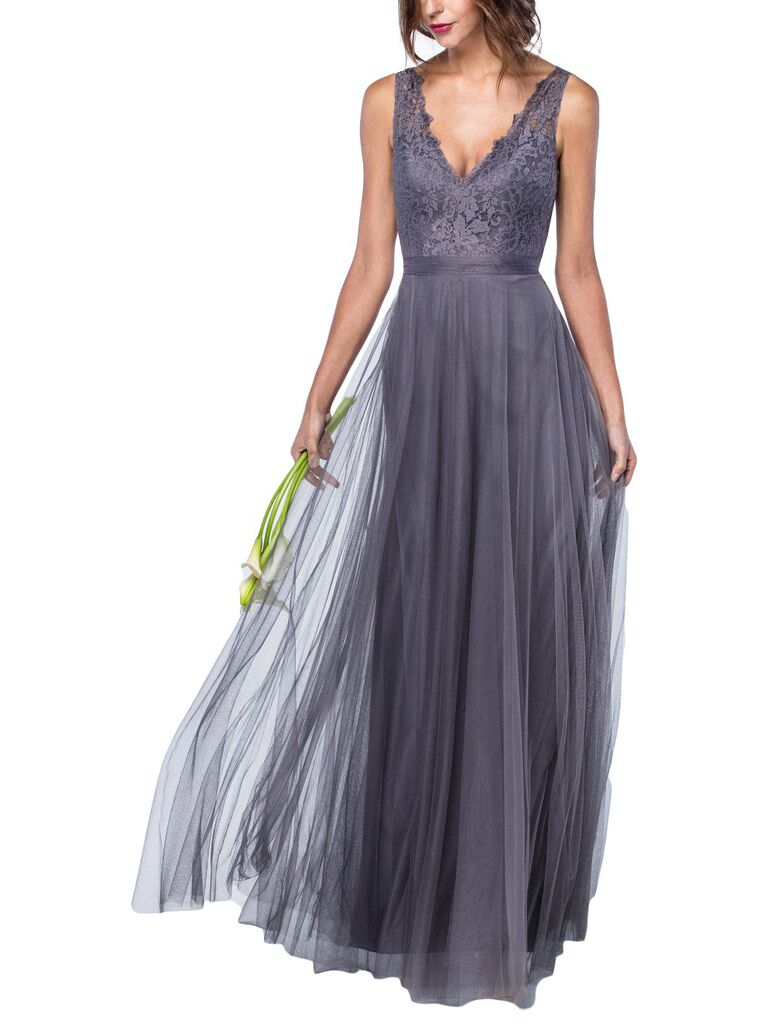 Searching for more gray lace bridesmaid dresses? Keep this purple-tinted number, with super-luxurious materials, in mind.
From $295, Brideside.com
42. ASOS DESIGN maxi dress in delicate linear sequin with long sleeves in Dusky Gray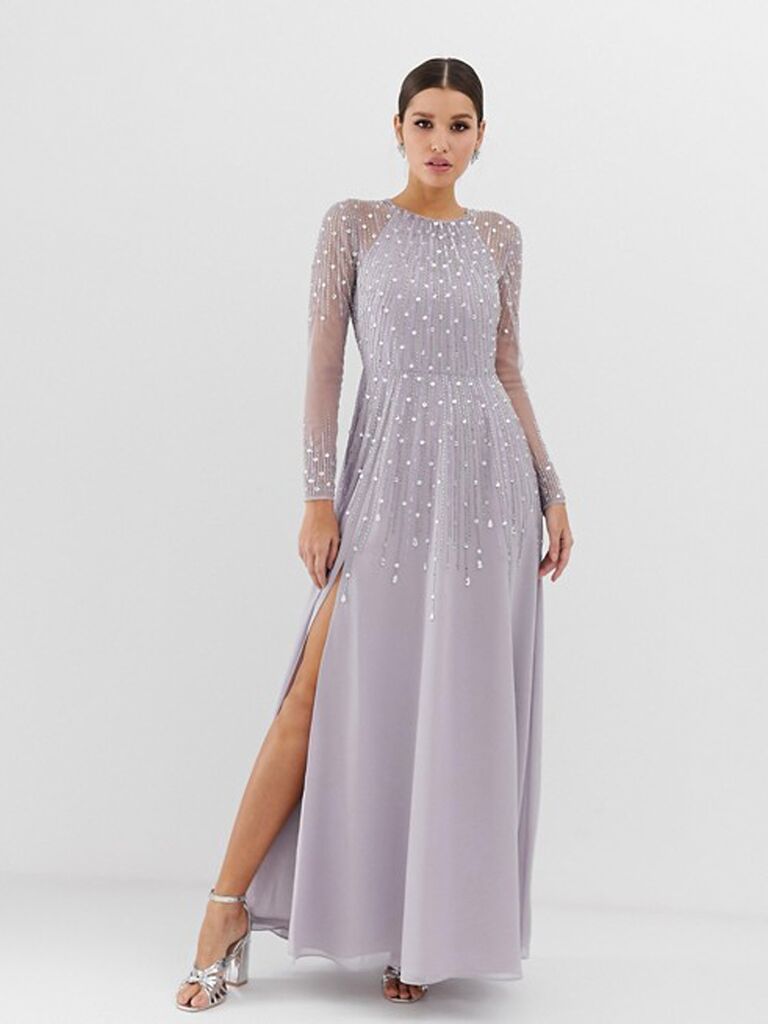 There's something so dreamy about light purplish gray. Take this lilac gray bridesmaid dress, which also boasts long, sequin illusion sleeves.
From $151, ASOS.com
43. Social Bridesmaids Style 8189 bridesmaid dress in Moondance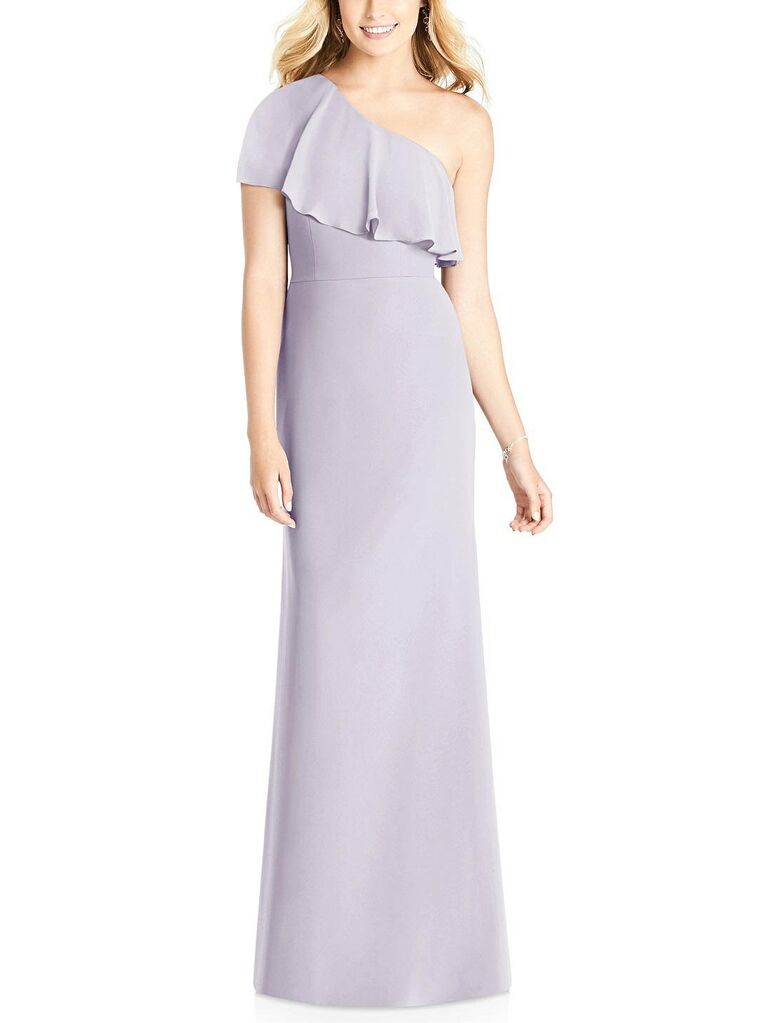 The pastel lilac hues don't stop there. Here's a one-shoulder number with a fluttery overlay that defines pretty.
From $198, Brideside.com
44. Wtoo by Watters Style 444 in Heather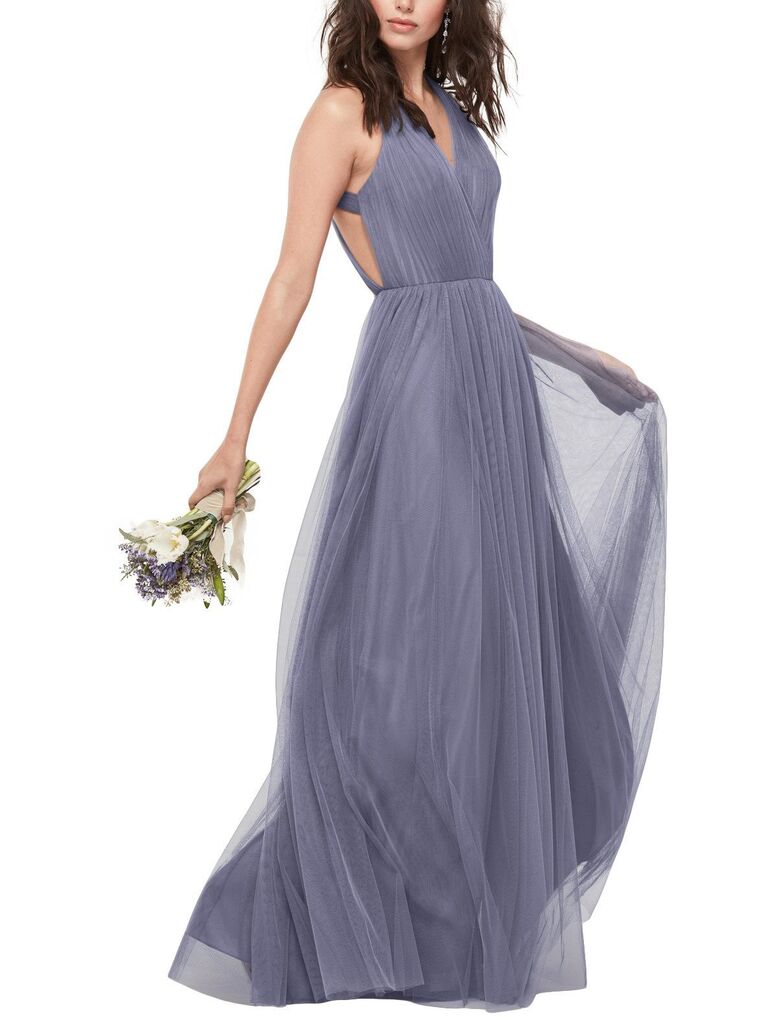 Obviously, we're proponents of cool shapes and silhouettes. This tulle style comes in a dark purple-gray and has a high, strappy, open back.
From $245, Brideside.com