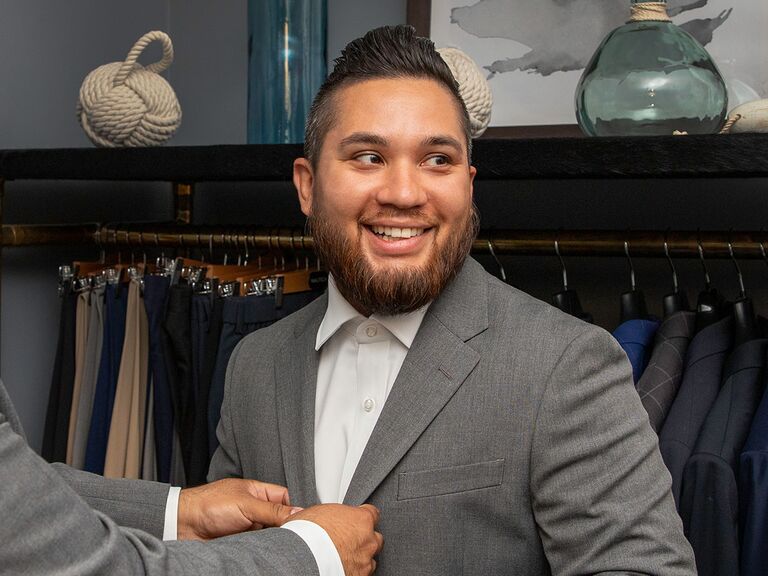 Cameron Gilson, Beyond Studios
Here at The Knot, we're big believers in helping people make their dream wedding a reality. That's why we teamed up with Nautica Tailored Shop for a sweepstakes to outfit one wedding party in stylish suits for the big day. Winner and groom-to-be Gabriel and his fiance, Melissa, are having a formal wedding on a golf course in the Bronx, NY, next June, and are going for a "romantic and vintage style," he explains. Winning the sweepstakes helped him score a look that fits the vibe of the event—and stay within his wedding budget. Read on for a behind-the-scenes peek at what it was like for Gabriel and his groomsmen to pick out their suits at the Nautica Tailored showroom.
Choosing the Perfect Suit
Cameron Gilson, Beyond Studios
With plans to get married outside on the golf course, "we want to go with something light," Gabriel (at right) says. While Nautica offers some vibrant-colored jackets and preppy patterns like plaid, he decided on a classic gray suit jacket and matching dress pants. "I liked the fact that I was able to choose a suit with a solid color that's better suited for a summer-themed wedding," he says.
Trying It On
Cameron Gilson, Beyond Studios
Whenever he has to get dressed up for a formal event, Gabriel pays close attention to the details. "I'm definitely an accessories guy," he says. "Accessories can make a suit stand out, in my opinion, and give it personal style." However, he plans to hold off on choosing his finishing touches (bow tie, handkerchief and potentially a vest) until Melissa decides on the color her bridesmaids will wear so they can coordinate.
Dressing the Guys
Cameron Gilson, Beyond Studios
When it came time to pick out the groomsmen's suits, Gabriel remembered how much he liked the looks from his friend Anthony's wedding last year: "He wore the same suit as us groomsmen, but stood out with different accessories in the same color." Gabriel decided to follow that example, choosing the same gray jacket and pants and white shirt for his party. But to set himself apart, he'll wear a bow tie and have the groomsmen wear neckties in the same shade. We think Gabriel made a great choice selecting a suit for himself and his groomsmen, and can't wait to see how their final looks come together at his wedding next June!
Shop their look: Nautica Venture solid suit jacket in Blackwatch Heather, Ceylon solid dress pants in Blackwatch Heather, long sleeve slim-fit solid wrinkle-resistant shirt in Bright White
This article is sponsored by Nautica Tailored Shop. Shop for upcoming weddings and other occasions at Nautica.com.