8 Situations That Prove Guys Need a Wedding Emergency Kit Too
They're not just for brides.
by Samantha Bowers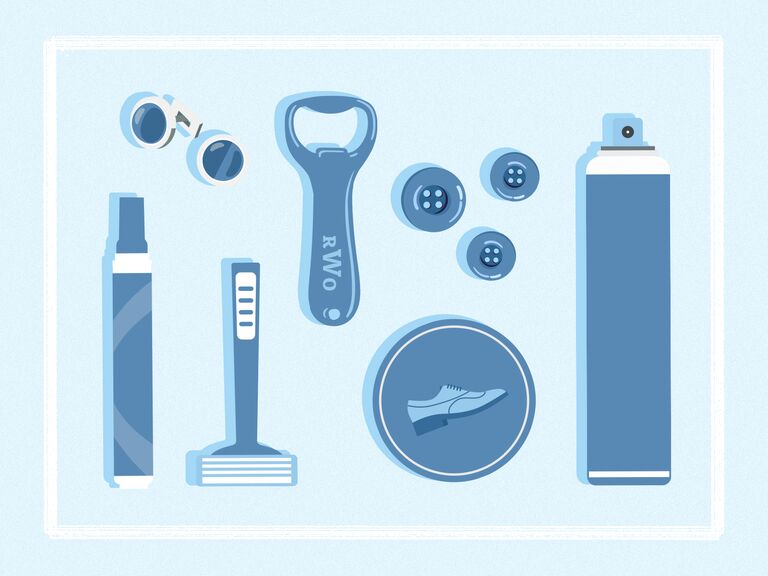 Rule number one on your wedding day: Expect the unexpected. Even if you've planned in advance and gotten your whole look taken care of months ago (thanks to Men's Wearhouse), there are plenty of potential day-of mishaps you should be prepared for. That's why every groom or groomsman should have a wedding emergency kit. You'll want to include the basics—like breath mints, floss, lip balm, pain reliever and a lint roller—plus the picks below recommended by wedding pros. With these items on hand, you'll be able to handle just about any emergency, from a red wine spill to a missing jacket button, without breaking a sweat. Want even more pro tips? Check out the Men's Wearhouse blog for expert wedding planning advice.

The Emergency: Scuffed Shoes
Even if they're spotless when you put them on, it's Murphy's law that you'll end up with a scuff or two before you can even get down the aisle.
The Solution: Alia Wilson, co-owner of Firefly Events, says a cream or paste shoe polish is a must-have item in any groom's emergency kit. A quick touch-up will make your kicks look good as new.

The Emergency: Sweating at the Ceremony
You can just feel the beads of sweat starting to form on your forehead (and you don't even want to think about the pit stains that could be coming next). Maybe it's the weather or nerves?
The Solution: To help keep your cool, plan ahead and choose a Kenneth Cole Awear-Tech suit, made with temperature-regulating fabric. Whatever you're wearing, being prepared can also make a big difference in staying calm (and, in turn, less sweaty). "Try everything on a month before (or at least before the rehearsal dinner), so you have plenty of time to deal with any last-minute issues," says stylist Jeanne Yang. Another tactic Yang recommends: Before getting dressed, use Herban Essentials peppermint essential oil towelettes under your arms, down the middle of your back, and all over your neck and chest to keep your body temperature low and prevent perspiration. And of course, throw deodorant in your emergency kit and keep a handkerchief handy, just for good measure.

The Emergency: Untamed Hair
Whether it's a windy day doing a number on your locks or an unruly cowlick, this is no time for a bad hair day to strike.  
The Solution: Even if hair spray isn't a regular part of your routine, you'll want to toss some in your emergency kit to help tame and smooth your hair. "Flexible hold hair spray is easy to use and forgiving," says professional hairstylist Russell Cordeiro. You'll also want to bring any other hair products you use on a regular basis, like a paste, cream or clay. Just stick to products you're familiar with and avoid trying new techniques or tools the day of your wedding, says Cordeiro. But if you need a little help from a pro, rest assured there's a "rule of order" when it comes to wedding day hairstyling—and luckily for you—the groom comes second in line to the bride.

The Emergency: Stains on Your Tux
You grabbed a glass of wine at cocktail hour to celebrate—and next thing you know, there's a dark red stain running down the center of your white shirt. Oops.
The Solution: Calm urgency is the name of the game, says Wilson. She recommends treating a stain with Shout wipes or a Tide to Go pen (stash them in your emergency kit) quickly before it sets in, then dabbing club soda on the stain to dilute it. And if it happens to be a red wine stain, know that white wine is often helpful to pull it out. Want to be extra prepared? Keep a backup shirt on hand. "If you're renting your tux, simply add an extra shirt or two to your order," says Wilson. (You can thank her later.)

The Emergency: Missing Buttons
You go to slide on your jacket to suit up for the day, but discover the front button is nowhere to be found.
The Solution: Keep a sewing kit, hem tape and extra buttons on hand in case of any last-minute wardrobe malfunctions for you or your groomsmen. No idea how to sew? Yang suggests investing in the Buttoneer fastening system, a tool that can quickly reattach a button—no sewing skills required.

The Emergency: Five O'Clock Shadow That Arrives at 2 p.m.
(And no, it's not part of your planned look.)
The Solution: Even if you shave the morning of, depending on how quickly your hair grows, you may find yourself in need of a last second touch-up before the day's events unfold. That's why a disposable or electric razor, shave gel and aftershave are must-haves in your emergency kit, says Cordeiro. (And if you are rocking facial hair, don't forget to toss in your beard grooming products.)  

The Emergency: Forgotten Accessories
Sure, maybe those cuff links fell out of your bag—or maybe they never made it into your bag at all.  
The Solution: A little advance planning is all you need. "Triple check to make sure you have everything you need the day of, so you don't forget anything by mistake," says Shelley Brown, beauty and fashion editor at The Knot. Same goes for your groomsmen too. Communication is key to ensure your guys show up to the ceremony prepared. "Make sure your groomsmen know what is expected of them, what they're wearing and where to bring it," Brown says. But it can't hurt to keep an extra pair of cuff links and a pocket square as backups, just in case.  

The Emergency: No Bottle Opener
You're about to pop a cold one with the guys before the festivities begin, only to realize you forgot one (major) thing.
The Solution: Throw a bottle opener in your emergency kit—or better yet, order personalized ones as gifts for your groomsmen. After all, there's no better way to thank them for being part of your day than with something you know they'll actually use (maybe sooner than later).
The Knot and Men's Wearhouse Present Groom Style—a sponsored series full of inspiration and advice for putting together the perfect look for your wedding events. To check out more of the latest styles, visit MensWearhouse.com.