The Knot Guide to Personal Loans for Weddings
Financing a wedding or engagement rings can be worth it when handled responsibly. See The Knot guide to using wedding loans, how to get them and credit basics.
by The knot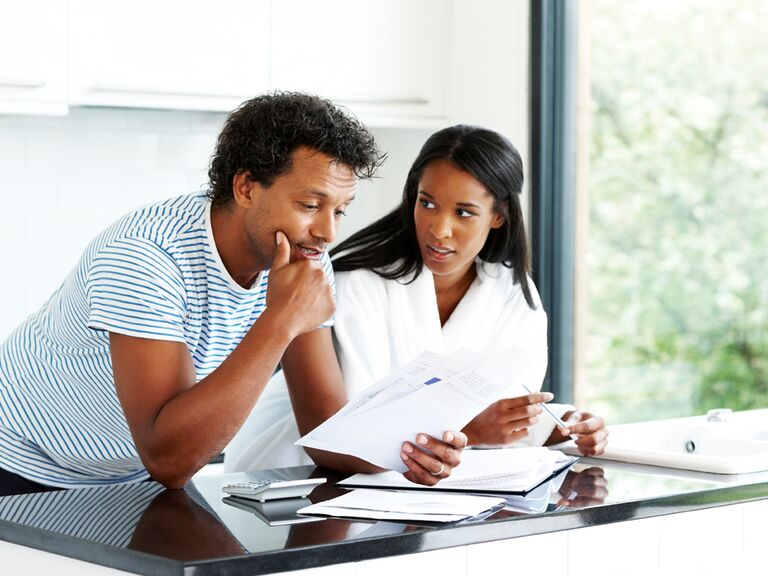 For many couples, planning a wedding is an exciting way to express their personal style and tastes (take our Style Quiz to figure out yours) and celebrate their love for each other in front of friends and family members. Affording that wedding, on the other hand, is not always so easy. According to The Knot 2017 Real Weddings Study of nearly 13,000 couples, the average cost of a wedding in the U.S. is $33,391, excluding the honeymoon. In many instances, cutting back on expenses isn't possible.
Spending a few years working hard to save money can be equally daunting, especially if you're planning to start a family or are waiting until after your nuptials to move in together. In these cases, financing your wedding, engagement ring, or even your honeymoon through an unsecured personal loan, colloquially referred to as a wedding loan, may be a viable alternative. After all, your wedding is one of the most memorable and important days of your life. It should be special, which is why some people decide to use a personal loan or other financing method to create the wedding celebration they've always imagined. And there are trusted sources to help you do so, like Upstart. But before you finance any element of your wedding, you should understand what it's actually going to cost you.
Qualifying for a Personal Loan
Prioritize What's Important to You
Know the Facts Before You Secure A Wedding Loan
Personal Loan Basics
Before you start talking to lenders about obtaining a "wedding loan," it's important to understand that no such loan exists. What you're seeking is an unsecured personal loan, which can then be used to pay for your wedding expenses. When you go into a bank or speak to an online lender, make sure you understand these key terms:
Unsecured Personal Loan: An unsecured loan is a loan given on faith. In other words, there is no real property or anything of value, such as a house or car, used to "secure" the loan for the lender. As such, personal loans are considered a larger risk for the lender and thus carry higher interest rates.
Loan Term: Most personal loans used as wedding loans are short-term loans issued for a period of three to five years, sometimes less.
Principal: This is the total amount of money borrowed, which the borrower must repay.
Interest: The amount charged by the lender that the borrower must repay for the ability to use the money. This number is frequently expressed as a percentage.
Annual Percentage Rate (APR): Often, there are other charges and fees involved when taking out a loan. The total cost of the loan is reflected in the Annual Percentage Rate, or APR. This rate includes the interest rate as well as all fees charged for obtaining credit. When shopping around, be sure to compare both the interest rate and the APR between lenders.
Amortization: This is the formal term for the organized repayment process of a loan. The amortization defines the repayment schedule and the agreed upon amount for each payment, including how much of that payment is dedicated to interest vs. principal for the entire term of the loan.
How Much Can You Borrow?
The actual amount of money you can expect to borrow when you take a personal loan for financing a wedding varies. According to personal finance website NerdWallet, personal loans are given in amounts that range from $1,000 to $50,000 or more. To secure a high level loan your credit score needs to be strong, typically above 760. However, traditional lenders are generally willing to work with anyone whose credit score falls into the low to mid 600s.
When it comes to personal loans, your credit score is the number one determining factor used by most institutions to determine whether you're a good candidate for a loan, as well as how much money you receive and at what interest rate. However, other platforms like Upstart consider education and employment history in addition to credit history in underwriting. Credit scores take into account past financial decisions, including how often you pay creditors on time, whether or not you've successfully paid off loans in the past and how much debt you currently have.
A Note on Loan Terms
It's important to consider the term of your loan and how that impacts how much you pay each month, as well as how much you pay over time. There is an inverse relationship between these two numbers—longer term loans result in a lower monthly payment. To reduce the impact of loan terms, it's important to cultivate your credit score from a young age, making sure to pay all bills on time and limiting debt, which helps you to qualify for a lower interest rate. Upstart will also reward you for other hard work, such as strong employment and good education. Once you receive financing for your wedding and the day has passed, it's important to continue to make payments on time to protect and improve your good credit score.

Qualifying for a Personal Loan
Because personal loans are unsecured, banks and other lenders can be very cautious when it comes to issuing them. These institutions thoroughly review a borrower's past credit history and current financial situation of all parties named on the loan. Some are more conservative than others and may be less comfortable issuing personal loans. As a result, they may ask you a number of questions about what this money will be used for and why you need it.
In addition, most institutions look at your credit report and ask for proof of income and other assets, such as a house, insurance policies, retirement accounts and more. Basically, they need to ensure that you're a responsible borrower and that you have resources that allow you to repay the loan.
Calculating Interest Rates
Most borrowers have a basic understanding of what interest rates are (cost to use the money borrowed), and that a low interest rate is best. However, the more complex aspects of interest rates can be difficult to grasp, which can turn a loan into a bad financial situation. Borrowing $10,000 at a 10 percent interest rate is not as straightforward as owing $11,000 at the end of the term of the loan. This is because interest rates may accrue monthly or daily. Interest may be calculated as a flat fee multiplied by the lifetime of the loan, or you may be required to pay interest on both the principal amount and the interest from the past year, month or other period, otherwise known as compound interest. For these reasons, it's important to always check how interest is accruing when applying for a loan.
Understanding this difference can cost you hundreds or even thousands of dollars, depending on the amount of your loan. But before accepting a loan, be sure to thoroughly review the final approval disclosure, because it'll breakdown the total number of payments, APR and finance charge. Upstart has a calculator you can use to estimate monthly payments. Each month, part of your monthly payment will go toward paying down your principal, and part of it will go toward interest. The amount of interest you pay in each payment is related to your outstanding principal balance.
Remember to Budget
Taking out a loan, especially for such an important day, should not be taken lightly. Before you sign on the dotted line, make sure you understand the impact that this loan payment has on your life and your finances. Draw up a budget that considers all of the expenses you and your partner are expecting to incur after the wedding, and make sure that your loan payment fits into it.
If necessary, use this loan as an opportunity to evaluate your personal financial picture as a couple, including monthly income, debt payments and spending habits. You may have to make some changes in order to ensure that your new loan gets paid on time.
Financing Your Reception
From the deposit needed to secure the wedding venue to adding your favorite off-season flowers, using loan money to finance a wedding reception can make the planning process easier and more enjoyable.
Before you obtain a loan for your wedding, take the time to write down all of the reception expenses you hope to cover with it. Next, map out a schedule that ensures each vendor gets paid on time to avoid late fees or other issues, such as losing a deposit or a reservation with your favorite photographer.
Financing Engagement Rings
Like the wedding itself, the average cost of engagement rings is on the rise. The Knot 2017 Real Wedding survey found that the average couple pays $5,764 for the engagement ring alone. In order to bear the burden of this expense, many couples opt for engagement ring financing, which generally comes in one of two forms.

In-store Financing
Many national and well-known jewelry stores offer their own financing programs in the form of credit cards. Qualified buyers can apply in-store or online for a credit card that can be used to pay for an engagement ring. Most of these cards offer enticing offers, such as zero percent interest for the first 6 to 12 months or no money down. Additional promotions include low interest rates for a period of 18, 24, 36 or even 48 months. These plans vary from store to store and are based on how much you spend—longer terms are usually limited to purchases above a certain dollar amount, generally $5,000.
It's important to keep in mind that many of these promotional rates require on-time, equal payments and may require a down payment of up to 20 percent. If you miss a payment, the promotion is often no longer valid and higher interest rates may apply.
Getting A Personal Loan
To keep things simple, many couples opt to use their personal loan to finance an engagement ring along with other aspects of the wedding day. This makes payments simple to track and reduces the likelihood of a missed or late payment, which helps to preserve your credit standing.
Obtaining one loan vs. multiple lines may mean fewer hard inquiries on your credit report. This protects your credit report from being run too many times, which may help when it comes to determining the interest rate you're required to pay on the loan.
Can I Still Get a Loan with Bad Credit?
While it only takes a short amount of time to harm your credit, building it back up again can take years. Fortunately, personal loans for people with bad credit do exist, although the rules that apply vary.

What is "Bad Credit?"
To most lenders, "bad credit" is any score below 600. However, people with "poor" (600 to 649) and "fair" (650 to 699) credit scores may also find securing a personal loan difficult. If you want an unsecured personal loan, banks typically look for a credit score above 700. Other institutions, including lending platforms such as Upstart may approve you if you have credit score about 620, by taking things like employment and education into consideration. Regardless of where you obtain a personal loan from, lower credit scores usually means higher interest rates.

How to Increase Your Credit Score
To ensure your score is as high as possible, there are a few important steps to take. First, check your credit report for accuracy. Make sure that all accounts, missed payments and payment history is accurate, and dispute any that are not. Disputes can take up to three months to resolve, so plan ahead and make sure you have enough time between checking your credit, applying for the loan and paying for the wedding.
You can increase your credit score through responsible financial management, including paying down or consolidating existing debt, settling collections and staying on top of your bills. If you have a history of late or missed payments, staying on track for six months or more goes a long way toward showing lenders that you are working to improve your financial habits.
Co-signer Option
If you are having a difficult time qualifying for a personal loan on your own, you may want to consider asking someone else who has a strong credit score to cosign with you. As long as you pay your loan back responsibly, this option brings minimal risk to the co-signer. If you don't make your payments then a co-signer is responsible for them, which negatively impacts their credit as well as yours. Be sure to conduct research and carefully discuss a repayment plan with your co-signer to ensure that everyone involved in the transaction is a comfortable with the deal.

Prioritize What's Important to You
The best way to manage your wedding costs and minimize any negative impact of a loan on your long-term financial health is to prioritize. Use the "rule of three" to decide which wedding expenses get the benefit of your loan. These three wedding expenses are typically non-negotiable and are the most important to you, such as the wedding dress, reception venue and wedding bands. These are the first—and possibly only—elements you use the loan for.
Next, list three things that aren't as important to you, such as flowers, a DJ and invitations. To counteract the effect of the loan, find a way to cut costs and pay outright for these three elements of the wedding day, which helps to minimize the amount of money you need to borrow.
Ways to Save On Wedding Costs
To follow through on the "rule of three" and cut costs in areas that are less important to you, consider some alternative ways to finance your wedding and save.

DIY Wedding Elements
One way to keep wedding costs down is to consider personal touches you can make yourself. From wedding programs to welcome baskets or escort cards, you can have a beautiful wedding while also keeping costs in mind. Check out some of our favorite DIY wedding ideas.

Catering Considerations
A major cost in almost every wedding is food. Fortunately, there are so many ways to include some of your favorite foods without going over budget. Consider these ideas to reduce your catering budget:
Serve heavy hors d'oeuvres and dessert only, rather than a full meal
Reduce the number of courses
Limit the number of guests
Opt for a buffet
Focus on comfort food that may be less expensive
Select a simple two-tier cake for presentation, and serve sheet cake to guests
Offer beer, wine and a signature cocktail instead of a full bar
Off-peak Season Wedding
What time of year you choose to be married directly affects the cost of almost everything wedding-related, from the venue to the waitstaff and the flower arrangements. Having your wedding during the "off season," or on a Friday or Sunday is a simple compromise that saves a lot.
Want more info? Check out the dates you need to avoid from 2018 to 2020 to help save money on your wedding day.
Wedding Grants
Lesser-known financing option are wedding grants, which are typically reserved for couples in need or in extenuating circumstances. Many of these programs operate in a similar manner to the scholarships and grants you apply for to attend college. In addition, you can sometimes apply for grants that provide a free service or two, rather than finance the entire wedding.
Wedding grants generally require a formal application, which may include preparing elements such as videos, essays and photos. To learn more, perform a local search or check out wedding expos in your area, which may have a variety of giveaways or grants available.
Know the Facts Before You Secure A Wedding Loan
Paying for your wedding is no small task. Whether you plan to host a large event for over 300 people or an intimate ceremony for 50, it's easy for costs to add up quickly. Fortunately, personal financing is available to help make your wedding day a beautiful and joyful experience for you, your partner and your guests. Before you make a final decision, make sure to explore the variety of ways available to finance a wedding — including secured loans such as home equity lines of credit (HELOCs), credit cards and family loans. Regardless of the decision you make, thoroughly researching the risks and benefits makes paying for your wedding not only possible, but less stressful in the long run.
Disclosure: This post contains affiliate links, some of which may be sponsored by paying vendors.
XO Group Inc. and its affiliates do not provide tax, legal, financial, accounting or similar advice. This material has been prepared for informational purposes only, and is not intended to provide, and should not be relied on for, tax, legal, financial, accounting or similar advice. You should consult your own advisers before engaging in any transaction.