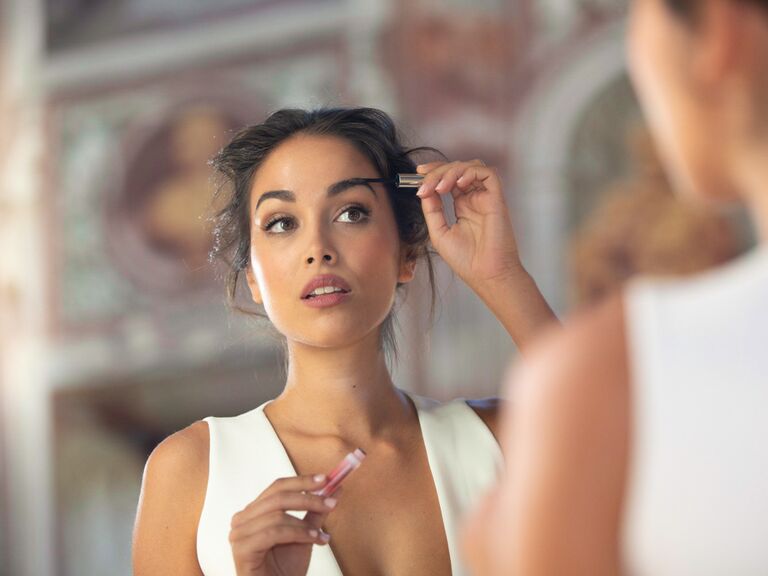 Whether you've been waxing for years or are just considering it for the first time, banishing a hairy situation on your brows, bikini line or other body parts requires some special know-how—especially leading up to your wedding. Let's face it, the stakes are high: from facing a lifetime of photographic evidence on your big day to sporting new lingerie on your wedding night. But making sure your skin feels soft and comfortable starts with knowing what to do (and what not to do) before, during and after your appointment. To help you get the smoothest wax imaginable—and guarantee a shave-free honeymoon (yes, please!)—the pros at European Wax Center utilize a special four-step process to make sure your skin is properly prepped, protected and soothed. Read on for our tips to make sure your appointment goes smoothly.
Do start early. 
...Especially if you're a newbie. Waxing something for the first time? Start doing so about three months before the wedding day. This way, you'll know exactly what to expect and how your skin will react afterward. (Bonus: European Wax Center offers a free brow, underarm or bikini wax for first-timers.) Also, practice makes it less painful. Meaning, the more you do it, the less discomfort or irritation you'll feel. Consistency (going about every four weeks) keeps the hair finer, softer and sparser—all the more reason to stick with it.
Don't wax too close to the wedding. 
Timing your appointment right is key, just in case you have a negative reaction—or decide you need to go back for some sort of revision (i.e., trading a basic tidying for a Brazilian). Schedule your service no later than three or four days before the wedding so your skin has enough time to settle.
Do keep your skin clean.
It's best to show up sans makeup and lotion so your specialist has a clean canvas. This way, she can focus on sculpting the perfect arches or get a better grip on tiny bikini hairs. For a little extra prep, exfoliating the skin a few days before your appointment will help the pro give you better results. Two products to try: Reveal Me Body Exfoliating Gel, a gentle scrub that turns dry, dull skin smooth and radiant; and Slow It Body Wash, an exfoliating cleanser that visibly slows hair regrowth between waxes.
Don't shave before you wax.
Avoid the temptation to tidy things up before your appointment (or trying to buy more time between waxes). Your hair should be at least a quarter-inch long (about the length of a grain of rice), so the wax has something to hold on to. Depending on how fast your hair grows, this translates to going about two weeks without shaving. You can do it!  
Do inform your specialist about any medications. 
In order to make your experience as safe as possible, tell your aesthetician what medications you're taking. This is important, because certain meds can cause skin irritation when combined with waxing. European Wax Center advises stopping the usage of prescription skin creams such as Retin-A or Differin seven days before your reservation and resuming seven days after your wax. PSA: Waxing while on Accutane, or waxing if you've taken Accutane anytime in the past six months, is very dangerous. Discuss with your doctor if you have any questions.    
Don't consume alcohol or chug several cups of coffee beforehand.
So basically, don't get waxed right after your bachelorette party. Significant amounts of caffeine and alcohol can cause your pores to tighten, resulting in a more uncomfortable experience altogether. Hold off the celebration until a later date when you're already fuzz-free.
Do relax before you wax.
Take a deep breath. The pain that's associated with hair removal is mostly caused by the anxiety you might feel while on the waxing table. (Keep in mind, you're also more sensitive around your period.) The more relaxed you are, the less painful the experience will be. Do whatever it takes to help you stay calm (focus on your breathing, meditate, think of your honeymoon on the beach); it'll be over before you know it.     
Don't go in the sun right after your reservation. 
European Wax Center suggests waiting 24 to 48 hours after a wax before exposing the area to the sun. Freshly waxed skin is more susceptible to burning and sun damage. Instead, build up a faux glow with Glow It Gradual Glow Body Lotion, a natural-looking self-tanner that will also help mask hair growth between waxes. And if you do dare to bare while outside, protect yourself from head to toe with a broad spectrum SPF.

Do help calm your skin. 
You might notice a few bumps thanks to some postwax aggravation. (Note: Wearing soft cotton undies after waxing is recommended to minimize irritation.) While these should disappear on their own within a few days, you can proactively help ease any issues with Smooth Me Ingrown Hair Serum, which soothes skin and treats any ingrown hairs, bumps or breakouts. And if you've just gotten your upper lip or brows waxed, use Renew Me Restoring Serum to relieve redness and moisturize skin.
This article is sponsored by European Wax Center. To learn more about waxing for your wedding (or your honeymoon) or to schedule a complimentary first wax, visit WaxCenter.com.