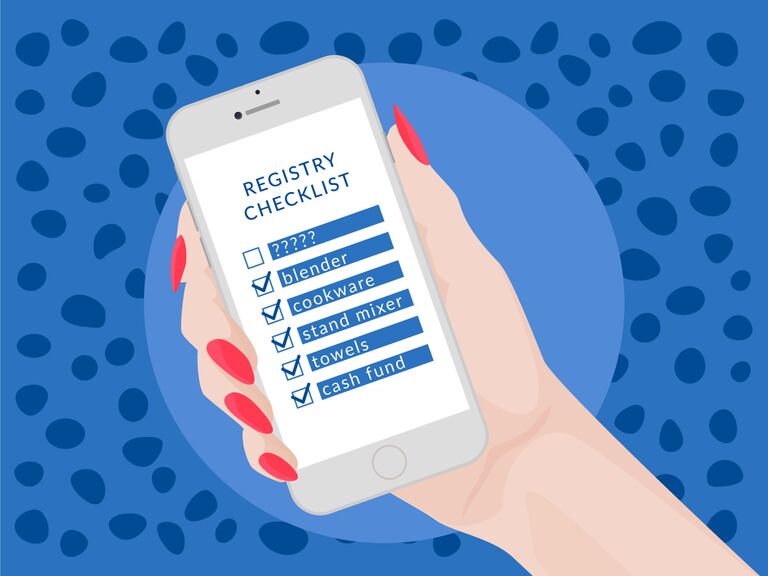 It's pretty easy to get excited about registering for certain things—say, your honeymoon fund or that state-of-the-art blender you've been wanting forever. But trust us, you don't want to forget to add some of the household basics to your list that you'll end up using on the daily. One item that you might overlook, but definitely shouldn't? A good handheld steamer. Read on to find out all the ways it'll come in handy leading up to your wedding, on the day itself, and during day-to-day married life—plus the best steamer to add to your registry. (Hint: If you want to be sure to get it before your wedding, it might just be worth buying for yourself.) 
Before Your Wedding
For All Your Prewedding Event Outfits
From your engagement party to your rehearsal dinner, you'll want your outfits to look fresh and wrinkle-free. Luckily, a handheld steamer is easy to transport and works fast, whether you're running late to your own party (hey, it happens) or stopping off at the hotel to freshen up before dinner.
During Your Wedding
For the Wedding Dress and Bridesmaid Gowns
Even if you've kept your dress pristine, last-minute wrinkles are bound to happen—particularly if you're traveling from afar to your venue. Unlike a regular old iron, a steamer can smooth out your gown without damaging delicate fabric, beading or appliques. The same goes for bridesmaid, flower girl or mother-of-the-bride and groom dresses—a quick steam and they'll be ready for the walk down the aisle.
For Suits and Accessories
A handheld steamer is a must-have for your entire wedding party's suits or tuxes too. (Don't forget the ring bearer!) You can also use it to knock out any unwanted creases on ties, pocket squares and handkerchiefs so everyone looks sharp and photo-ready.
After Your Wedding
For Your Work (and Everyday) Clothes
Your steamer will be your morning getting-ready go-to—especially when you're in a hurry or just need a quick touch-up. It's the secret to keeping your work clothes looking (and smelling) fresh, even if you haven't gotten to the dry cleaner in a while. 
For Around the House
You can use a steamer to de-wrinkle so much more than clothes (think: curtains, sheets and other bedding), and to kill dust mites and remove odors from upholstered items like your couch, pillows, your pet's bed...the list goes on. 
Wondering which steamer you should get?


Our Pick: Conair Turbo ExtremeSteam® handheld fabric steamer, $55, Target.com

With this super-powerful steamer, you can ditch your iron and clunky ironing board for good. It's quick and easy to use, heats up in just 40 seconds, and the ceramic-coated sole plate glides over fabric, so you can essentially iron vertically. It has five different steam settings and a three-in-one attachment that make it customizable for all different types of jobs. Bonus points for the built-in creaser that helps you get perfect pleats and folds, and the extra long cord that lets you move around the room.