6 Must-Know Calligraphy Tips from Harts & Quills
Texas calligrapher, Crystal Hartmann, shares her tips and tricks on how to choose your style of calligraphy, stationery and style.
by Shelby Simon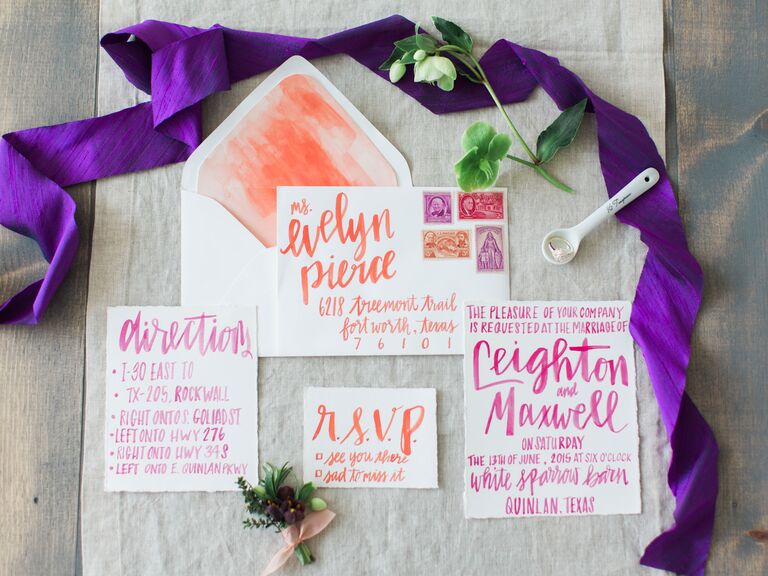 Jess Barfield Photography
Crystal Hartmann
Harts & Quills

Dallas, TX
What advice do you have for couples who have no idea where to start with their wedding stationery?

When it comes to calligraphy, I think the first step is understanding your wedding style. Are you more traditional? Modern? Whimsical? This way, when you start the stationery process, you'll have a general idea of the kind of calligraphy you need.
What about style? Where should couples begin with inspiration and how should they organize their cohesive style?

Style is different for everyone -- even couples! For example, the bride may be more traditional and the groom may be more modern. I love mixing up styles, flourishes with print or adding a vibrant color to a traditional color palette. All of these things can help different styles come together.
Any over-the-top details you planned worth sharing? Can you do extravagant details without breaking the bank?
Over-the-top work for me has included writing on the concrete floor of a venue in chalk, escort cards made with stones and 7-foot tall program signs. These examples are all 'wow' factors without breaking the budget! I love these kinds of jobs and welcome them!
What are the biggest pieces of advice you find yourself telling couples throughout the whole process?

As soon as you start planning your wedding, get your invited guests' addresses immediately. Nothing slows down the invitation process more than not having a complete guest list. Secondly, stick to your guest list once it's complete. It can be stressful and confusing for all involved when you take away or add more to the list.
Anything local brides can incorporate into their wedding stationery or signage?

I'm in love with florals right now, so adding bluebonnets to signage or as an accent within your invitation works. I've seen brides incorporate local trees, too. Dallas has an amazing skyline and could be fun detail to add to rehearsal dinner invites. I also know a lot of couples who've incorporated their college alma maters into their wedding, but I'd shy away from doing this with your stationery.
Anything else you'd like to add or advise?

Calligraphy adds such a classy touch to a wedding. It says this is going to be an exceptional event, but it's also a great way to showcase your style and personality. Be sure to have some fun with it!