Flashmob Proposal in a Hurricane? Watch the Video!
by Jamie Miles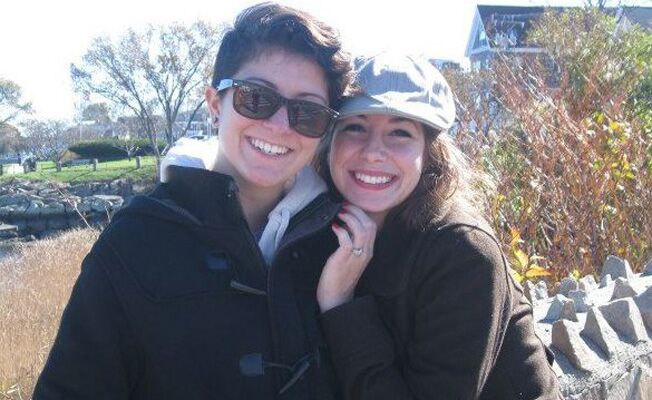 photo by
Courtesy of Jerilyn Sawyer

The days leading up to a proposal are generally full of angst for the person who is doing the asking. From wondering what to say to fretting over the response you'll get, millions of thoughts are running through the person's mind. For Rosana Gambino, she was most concerned about the effect the oncoming hurricane would have on her proposal plans to girlfriend Jerilyn Sawyer. "Frankenstorm was on her way," Rosana wrote on her blog. "As the day grew nearer, so did the looming threat of my beautifully planned proposal being washed down the drains of Massachusettes Avenue."
But Sandy didn't get in the way of this awesome flash mob proposal. The couple's anniversary was during October and Jerilyn wanted to attend a ghost tour to reenact their first date. Jerilyn found a haunted tour in Harvard Square and the couple decided to get tickets and invite family along. Little did Jerilyn know, Rosana was planning to propose that night. Rosana had gotten together a flashmob made up of various dance groups at Northeastern University where she went to school. Rosana had hired a DJ for that night and had attended several rehearsals leading up to the date, while Jerilyn unsuspectedly thought she was at dinner with friends. On October 28, as everyone arrived at the ghost tour Jerilyn heard music playing in the square and soon 15 dancers were performing right before them. When "Marry You" by Bruno Mars came on Rosana danced a solo towards Jerilyn and asked her to marry her. "The rain and chill in the air from the incoming Hurricane Sandy didn't seem to matter anymore," she says. "All I could feel was complete shock."
Jerilyn says she was "blown away" by the proposal — now referred to as the Harvard Square Flashmob Proposal.
> Watch another romantic proposal video!
> See 50 romantic proposal ideas here!